Sunday, Sept 18, 2016 – Day 5 of London
<—Previously, we avoided imprisonment at the Tower of London
We only had one thing planned on Sunday, and that was the walking tour with London Walks called Magical Mystery Tour, which obviously represents the Beatles! Yep, it was Beatles time. But that wasn't until 11am, so we were able to sleep in quite a bit, which was nice. We then headed a block or so from the hotel to a Cote Patisserie for breakfast, and it was wonderful. French, and we no longer cared about making it British. :-).
The Magical Mystery Tour London Walk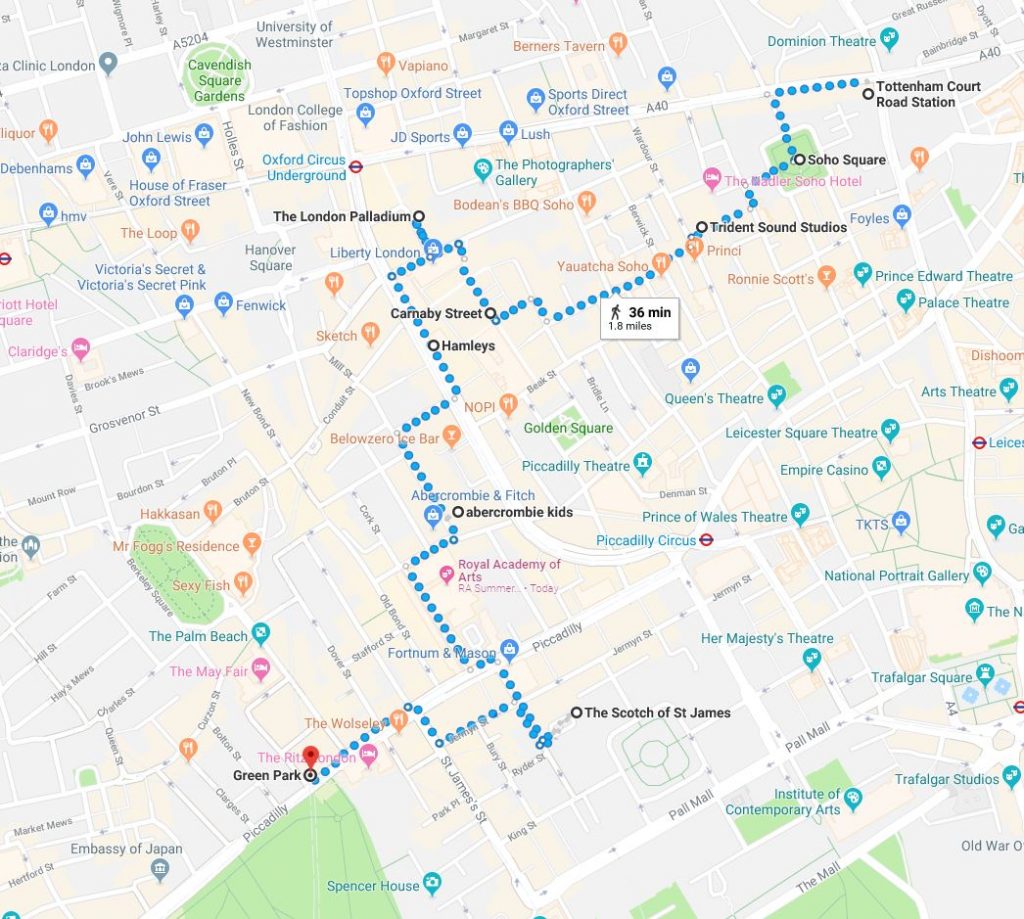 Another cool thing after going back to the room was realizing the meetup point was the Tottenham Court Road station, which was walking distance and one we'd been to many times. SoHo is a great place to be. We met there and immediately saw a few cute guys also in the group, and all was well. There was one who looked so much like Liam Hemsworth, but cuter. Hard to believe, but yes. There was also a hot guy that looked a bit like David Schwimmer, but way hotter. Anyway, so the tour! We immediately learned that we had been staying and walking amongst music history while being based in our SoHo hotel. We learned that as the tour first went back to SoHo Park as that's where Paul McCartney's music offices are. HOLY SHIT. Then around the corner from our hotel is Trident Studios, where a large part of the 60s and 70s music was recorded, including a big part of the White Album, David Bowie's awesome stuff, Queen, Elton John, Carly Simon, Genesis….etc. Lots of awesomeness.
The tour then took us over to the Palladium where Beatlemania was born, Carnaby Street where the Swinging 60s epicenter was, Savile Row and where the previous Apple HQ was and also the site of the last Beatles performance on its Rooftop, as well as the alley area that has both the hottest club where Keith Moon asked to be in the Beatles along with the art gallery where John met Yoko. CRAZY.
Off to Abbey Road!!!!!!!
But the absolute best was yet to come, as we all then took the Jubilee line a few stops north to St John's Wood, which is the closest Tube stop to Abbey Road!!!!!
Yep, we ended the tour at Abbey Road Studios, which of course is where most of the Beatles output was recorded as well as the location of the crosswalk best seen in the Abbey Road album cover.  So yeah, after the tour ended there, we all took pictures on the crosswalk.  Larry & I got a few good pictures solo, but I finally asked someone if they could take our picture together on the crosswalk and it turned out fantastically.   Yay!  We then went into the gift shop at Abbey Road and ended up buying most souvenirs there that we'd bought the entire trip.  It was a magical place and a great gift shop.
Tea Time!
Once ready to leave, we then returned back into London. Larry had noticed a restaurant that indicated it had afternoon tea on our walk to the Tube station, and that was one thing I'd wanted to do. So we had filed that away and so came back to it, having afternoon tea! The tea was very good, but there's a lot to it that I'm not sure about. Finger sandwiches really weren't to my liking and most of the cakes were not something I'd like. But happily, there was also chocolate cake and a glass of prosecco. I'm glad to have done it. May not need to do it again, although the tea was great.
Strolling to Buckingham Palace and into the Churchill War Rooms
It was a great break though. At this point, with it being our last full day in London, we only had a limited time left to do stuff. So we decided to do a swoop of Buckingham Palace, St James Palace and end it with the Imperial War Rooms. We tried to walk by the St James Palace and see the Palace Guard you can take pictures with, but the entire place was fenced off. FEH. We did stop by outside Buckingham Palace for pictures (no inside visits), then to the Queen's Gift shop off to the side of the Palace to pick up Oliver!! We have a new Corgi puppy now. Ralphie will be pleased, I'm sure. After that, we walked through the park until we got to the War Rooms museum. It is amazing. I went there back in 2002 and remember it a little, but kind of get it confused with the Imperial War Museum, I think. So it was a lot of fun and it's very informative of a museum. I really do want to get some WW2 books into my collection and read about it more – Churchill is such an amazing figure. There really were some 'right people, right time, right place' situations. It's hard to believe.
Back through Trafalgar Square to get some Indian food at Kishoom
After that, as we were there until it closed, we walked back through town, through Trafalgar Square, and then Larry navigated us to Dishoom, a fantastic Indian restaurant in London. There was a line outside, and it's worth it. We probably had to wait an hour or so, but again, so worth it. The first stop after getting out of the line outside was downstairs to the bar, where we did chat with a solo black woman from Bermuda. That wasn't too long though as we then had our table back on the main level. The food was amazing, the wait staff were so helpful, there was a super hot waiter that wasn't ours but biceps for days, and was a wonderful way to wipe out the memory of the disappointing Ippudo. Larry was happy!!!
Then it was time to walk back to the hotel through our wonderful SoHo neighborhood. We were done with bars and food at that point and it was time to go back and relax. Yay! Sleepy time and a nice and great end to a wonderful trip.
Monday, Sept 19, 2016 – Going Home
Feb 2020: I'm writing this from waayyy in the future, a very sad future, but I want to put up as much Larry stuff as I can, and to close off my Travelogue open-ended pictures, as I got lazy.  
I don't know how I managed to miss posting our going-home pictures, but here we are.  Happily I did write some notes down for that last day, so here they are to explain things:
This morning, it was time to finally pack and get ourselves ready for the journey home.  We did get our shit organized first before grabbing some breakfast at this place called Princi, which seemed like an Italian joint of some sort with some super hot rough trade that Larry immediately loved.    Can't blame him.  But then it was time to finalize and go.  So we checked out.  Sadly, but okay honestly.
It was an amazing honeymoon and vacation, and I know both Larry & I are going to have interesting returns to work,  but I think we're both ready to go home.
We made our way by foot to Oxford Circus Station to then take the Bakerloo line to Paddington Station, which is where you take the Heathrow Express train.  We first turned in our Oyster cards at the Tourist office so we could get our 5 pound refundable amount back, so yay.  Then it was off to the train, which we just made.  At the airport, it was awesome to still have business class privileges and then check in via express, which we did and avoided the riff raff as we then spent the time until boarding in the Admiral's Club lounge.  Yes, it's awesome.
Once on the plane, we've watched some Bryan Cranston films that are fantastic:  All the Way (an LBJ biopic of his first year in office) and Trumbo (about Dalton Trumbo, a blacklisted screenwriter).  Good movies!  And now I'm watching The Meddler, with Susan Sarandon.  It's okay.  Got about 4 more hours left to go until we land.  Here's hoping we can somehow recover from the jet lag.
Honeymoon Picture Pages: