That song lyric/title came into mind while I was thinking about what to write for this post, and I guess it is that way as basically, the Janelle and Kaysar show is about to end, and we'll soon be at a point where Big Brother will effectively be restarting. It'll be that way because without "Jaysar" in the house, there won't be the fairly easy targets to discuss, and finally we'll have some intra-house drama. Alas, it does seem like the 6 that are aligned are pretty strong and honestly keep winning comps. The others outside of that 6 don't really seem to know it? Or know that they should probably get everyone else left together? I don't know – if the HoH competitions keep going to someone in the 6, then it's like, this season could be wildly straightforward. But that is never fair to assume as seasons always end up surprising in some ways, as the inevitable alliance breakdown will always happen.
I don't have the energy or motivation to do a full post about the ins and outs of the last two episodes, so here's what happened:
The Veto competition was all about balancing a ball on a disc. Memphis won and didn't use the power of Veto to backdoor anyone. Jaysar spared for one more week.
Nicole A fell for everyone else's words that Jaysar weren't on her side. She blamed Janelle for Memphis nominating her as well as not using the Veto on her….which, what? I always have to remember that people don't see everything we do while in the house, but still. smh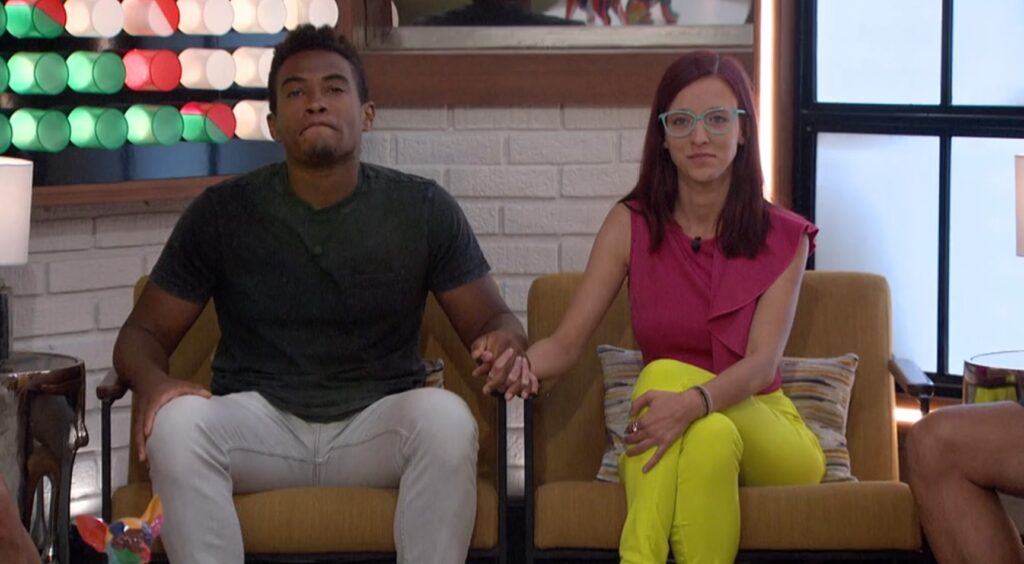 Nicole A didn't have nearly the amount of allies she needed and David was spared, although it wasn't a unanimous vote, with Kevin and Enzo both voting against David, while obviously the 10 others did vote against Nicole.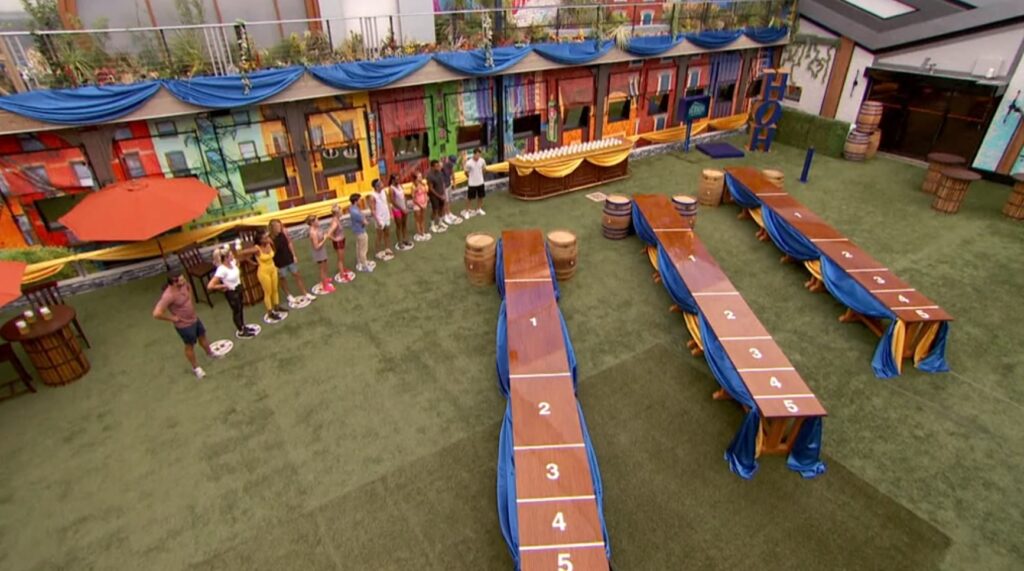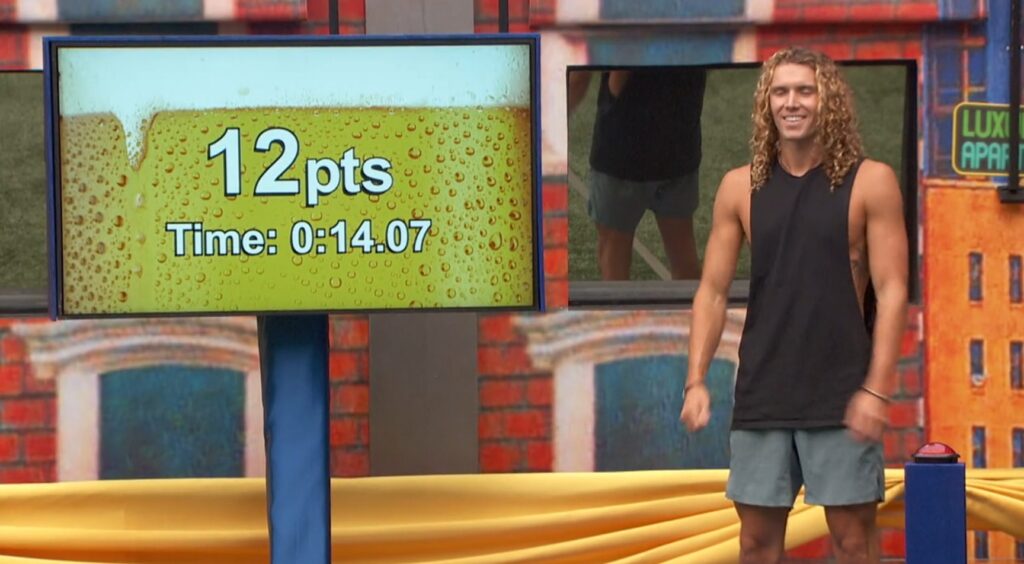 At the HoH comp, the goal was to slide three beer steins, one on each of the long shuffleboard tables above. Whoever could slide and accummulate the most points across all three tables would win HoH. Janelle and Kaysar were last to go so there was some drama, but in the end, Tyler was able to get the most points and nobody could touch him.
With Tyler the new HoH, there is some potential for it not being an obvious week ahead, but from the feed info I have gleaned, yeah, the first phase/chapter of this Big Brother season is wrapping up in an unsurprising manner. Truth of the matter is that while most fans are Janelle stans, the houseguests see her and Kaysar only as targets to get out. It's honestly not really the smartest thing, as the newer younger players really are bigger threats, but hey, that's the game that's being played. I'll miss having these two in the house as they both get taken out over the next two weeks (or one week if a double elimination sneaks up on us this week!), but as I wrote above, the next phase of the game will begin and it'll be interesting to see how that shakes out.
Status & Standings: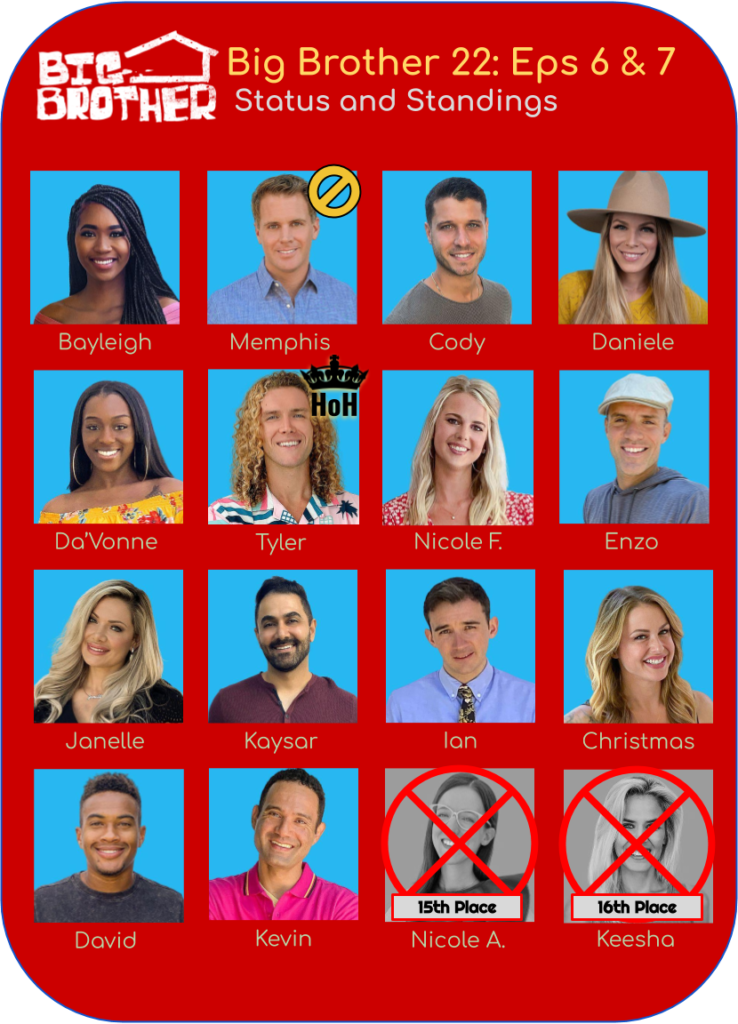 Outgoing Head of Household: Memphis
Nominated: David & Nicole A
Power of Veto Winner: Memphis
Veto Used? No
Evicted: Nicole A (10 – 2)
New Head of Household: Tyler
Quick thoughts on the houseguests (I saw my BB14 posts and liked that I had a sentence of two written about each HG so I'll try it again here):
Bayleigh: Her being in a duo with DaVonne gives her an ally, but I'm not sure what her social game is with the rest of the house. Floater-y at the moment.
Memphis: His allies and his foes were all tired of his shit this week. He's playing his own style of game but it only served to really annoy everyone and likely pushed his alliance standing lower.
Cody: With him not as HoH, he doesn't really contribute much to the convo. Still hot, and still a "leader" in the alliance, but how long will that last?
Daniele: She was notably annoyed with Memphis this week. She is also tight with Nicole F and a likely proponent of targeting Jaysar. Standing by to see if she makes a move against the guys eventually.
DaVonne: Her refusal to not vote against David seems short-sighted, although noble. Even when David flat out refused to give Day any info about who he has deals with, she didn't waver. I wonder if he'd have her back?
Tyler: I like Tyler a lot, I just wish he wasn't in that alliance. I'd like to have him in a different alliance that made me happy.
Nicole F: She's honestly so annoying this season I can't deal.
Enzo: He's going to win this game. If not that, he still is going to make it to the end. His social game is so unique but he will never be the target unless he does something stupid.
Janelle: sniff, sniff. I want her to have had more allies and a bigger alliance, but that didn't happen. She's still the Queen.
Kaysar: There is a hot af pic of him and Janelle from Season 6 that just…damn. He is still very attractive, but him from 16 years ago (geez, all of us 16 years ago, amirite?)…. Anyway, he and Janelle needed better luck.
Ian: I love this guy, and he's so cute this season. I would love to see him organize a counter-alliance to the 6, but I'm not sure he's got that motivation. He probably feels his Final 2 with Nicole F is enough, regrettably.
Christmas: I honestly am fine with Christmas – I know she's on the anti-Janelle train which feh, but I also like that she has glimmers of doing her own thing, like with Ian. More of that please.
David: I guess he has Tyler's support for sure, but I don't know why he pushed Day away. He must feel more confident about his position than what we're seeing on the show would tell us.
Kevin: oh man, I don't know about Kevin. I know he turned on Janelle and fed Nicole A all sorts of hogwash to her which derailed her game. He's probably out shortly after Jaysar, if we're being honest.
Alright, there's that! I like that, and will do that again. Let's see how things turn out.