Saturday, Sept 17, 2016 – Day 4 of London
<–Previously, we were shaken, not stirred
So we were able to relax that previous night and have a bit of a sleep-in although not too much on the next day, as we had a private tour to the Tower of London with Context Tours at 9:30am. We did go back to Starbucks in the morning for a quick bite and happily there wasn't any rain going on but there was still a lot of cool (60s) temps and cloudy skies. For us, that was quite okay as we just didn't need anymore of the sweltering heat we'd been getting those first few days.
After finishing up breakfast and going back for a potty break, we finally started heading out and almost a bit behind schedule as I finally checked the route to get to the meeting point at Tower Hill Station and realized it would take 30 minutes to get there! Gotten very used to getting to where we needed to quickly and easily from our SoHo location, that's for sure. Happily, we trotted over to the Tottenham Court Road station and got on over to Tower Hill pretty quickly, beating the guide.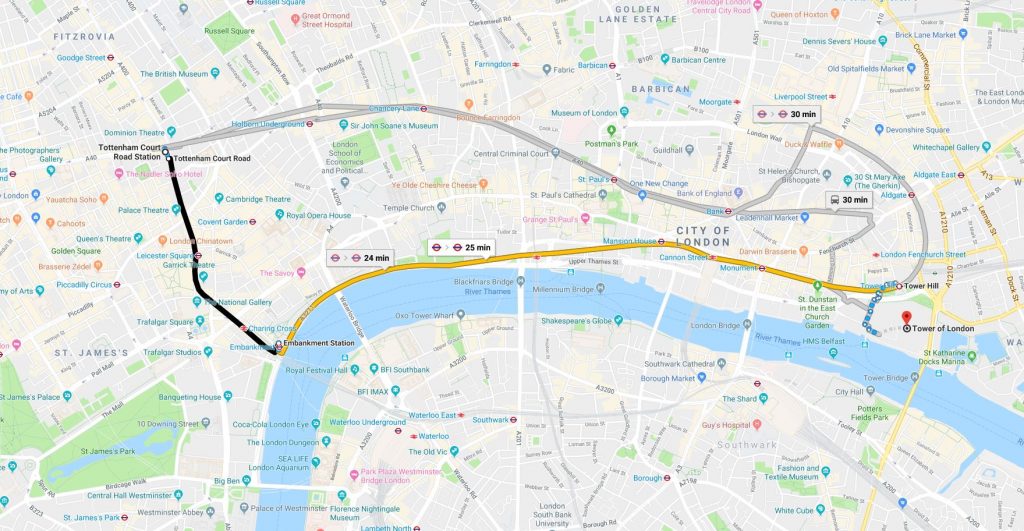 We met our charming guide Ruth at the large sundial outside the station and that was where we began our personal tour of English history and its relation to the history found within the Tower. The sundial actually has a great summation of London history around the ring of it, so she introduced us to many of the high points, which are many, including William the Conqueror, the construction of the Tower that scared the Anglo-Saxons, the plague, the great fire, the wars, etc. By the end of the tour, we both had a newfound respect for what London has managed to survive and endure for the last 2000 years since its establishment by the Romans.
The tour took us from that sundial over to the site of the execution site where many of the beheadings occurred, and we also got some of the stories about notable ones, especially the nightmarish ones like the Duke of Monmouth. UGH. His execution took at least 8 attempts due to a dull blade and an inexperienced executioner. OOF.
Private Tour of the Tower of London
We then entered the tower and went to the Crown Jewels, which are just staggering. The 2 biggest diamonds are found there, one in the scepter, one in the crown. They're glorious, along with the other enormous jewels found there.
The White Tower interior and now armory museum was our next stop, learning a lot about Henry VIII while also seeing the wonderful displays of armor for both man and horse. Also saw 2 off-duty (?) British Royal Guards wandering around on their break or something…heeyyyy. Got to also see one of the only preserved Norman cathedrals left in Europe that hadn't been converted to a Gothic style. On the top floor, saw some of the torture devices that had been in place during those days, including foul things to stop "gossips". Awful.
Outside, we were on the Tower Green and saw the site where the relatively few Royal Executions would take place, including those of Anne Boleyn and Katherine Howard occurred (two of Henry VIII's wives), Lady Jane Grey, and one fucking nightmarish one that required the axeman to chase the woman around the courtyard and attack her with an axe. It's said there are ghosts there. No shit. We also saw the home of the Ravens, official birds of the Tower. There are always 6. It's kind of awesome.
Finally on the outside of the Tower near the River, we looked at the Traitor's Gate as well as the new skyline of London before saying goodbye to Ruth. She was a wonderful guide and delightfully full of knowledge. Before leaving, we had told her our plans to head to the Tate Modern, so she recommended that we visit the Borough Market, which was on the way fortunately.
Walking the Thames
We walked across Tower Bridge first to get to the South Bank of the river, then walked along the river bank towards the boring London Bridge, which is where you know you're near the Market. It's a great, big outdoor market with lots of stalls for meat, produce, alcohol, oils, etc. Very crazy on a Saturday afternoon, but fun to see. We found a restaurant, Elliot's, right outside the market. Very hipster and pretty expensive (one beer cost 10 pounds here while at the pub the other night, it was under 10 pounds for 2 beers….so yeah), but it was still good. They served burgers with patties that were delicious, but obviously made of multiple cuts of meat mushed together. Regardless, it was quite delicious and much needed as a break.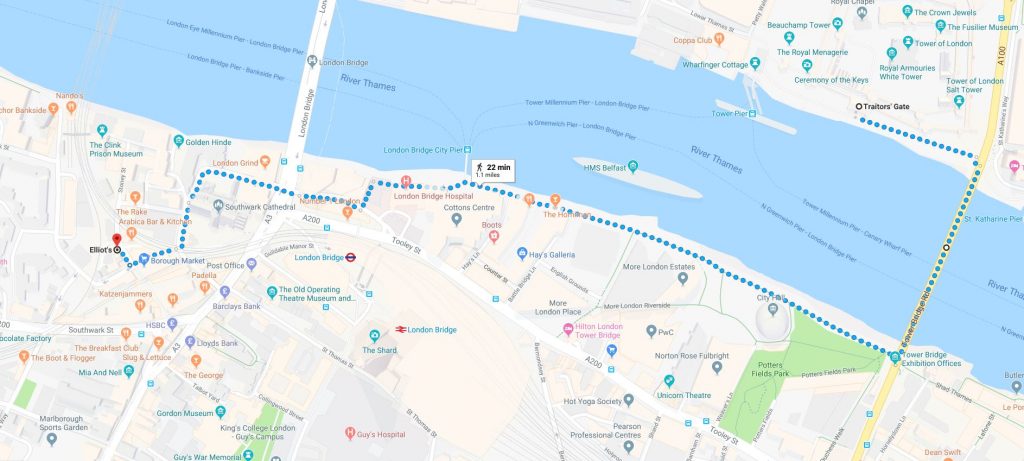 We left our lunch place and walked back up towards the riverbank, past the Clink museum and the Archer pub, as well as the new Shakespeare's Globe theater (saw it from the outside only), and on towards the Millennium Bridge, which is right outside the Tate Modern.
Being that it was a Saturday afternoon, it was pretty damn crowded at the museum. It was okay and understandable, so we did end up only exploring about 2 of the floors. I'm happy to have made it there finally as I've not made it there in any of my previous London vacations. There are a great variety of modern artists there, including a whole room of Rothko (these were those he had been commissioned to make for Seagram's Four Seasons restaurant and reneged at the last minute – they were wonderful and RED); a few Mondrians (including those that looked a lot like what I expect him to look like); some Dali; and quite a few others. Larry & I were both tired from our morning tour though, and had enough. Note: the museum is not the most well-designed or welcoming. It's actually kind of brutalist.. The exterior is terribly foreboding, and the interior is really not that much better. An interesting discovery, that's for sure.
Happily, a latte at the museum cafe woke us up a bit, but we were done with the museum after our hour or so there. it's one of those things you probably should spend a lot of time at, but that's not what we had, nor the energy to do. I also tried to open a door at the cafe that had instructions on how to open it but was politely told not to open that door since it was cold outside by one of the staff. Of course I then see many others use and open that door. So we went out that way in proud defiance! Viva la France!!!
The way we took back to our hotel included crossing the Millennium Bridge (a pedestrian bridge that can be absolutely mobbed by people), seeing a happy anniversary party boat cross underneath playing the best wedding reception songs (including Dancing Queen!), before heading towards St. Paul's Cathedral and it's accompanying St. Paul's tube station. It was then back to Tottenham Court Road station for us!
We then strolled back from the tube station through SoHo Park and a crazy amount of pigeons nearly killing us back to the hotel, where we just chilled for the next few hours as we were tired! It was actually very nice to do that. I don't even really remember what we did to pass the time, but it was necessary. I think Larry took a bit of a disco nap.
Taking in the West End
But we weren't done for the day though, as up next was a show in the West End, "Aladdin"!!!!!!
We headed over there a bit early, or so we thought, in order to collect our tickets, but yeah, even 40 minutes ahead of time, the theater was mobbed with people. We got our tickets, grabbed a drink, and enjoyed some time before the doors opened and we got our seats in the "Stalls" section, aka the Orchestra. We were a few rows back in Row U, but it was an amazing view nonetheless. The theater was absolutely packed. Aladdin, the Disney musical, only arrived in the West End back in June, so this is still a hot show, and rightly so. While waiting for the show to start, I realized that this was also the theater where Mamma Mia! Was playing when I saw it back in 2002. Crazy, right?
As for the musical? It's absolutely phenomenal. I'll give it to the actor who plays Aladdin – he has his work cut out for him to not be completely overshadowed by the performer who plays Genie. But he did amazingly, as did everyone. What was interesting was to see the inclusions made as it's not an exact remake of the animated feature. First, Abu the monkey, Jasmine's tiger, and Iago the Parrot are gone, replaced by actual human characters. Abu by 3 actual friends, the tiger by 3 attendants, and Iago by a guy. It's pretty clever and not distracting. Aladdin's 3 friends are awesome additions and the new songs are very good. The Genie though….just incredible. It's the same actor who originated the rule in Broadway, and YAY! He's amazing and has natural charisma for days. The show stopping number, by far, is "Friend Like Me" – oh my god, it's just fantastic and my poor words don't stand a chance doing it justice. The sets are sensational and do justice to the Cave of Wonders. After Act I was done, I immediately went out to the lobby and bought a program as it was just that good. Anyway, if you haven't seen Aladdin, please do. It's endlessly entertaining and reminds you why the movie was such a great success.
After the show, which was crazy as there's quite a bit happening directly outside the theater in that part of the West End, we went to Ippudo in London. Larry was very excited and unfortunately got a bit disappointed as we got there around 10 and it closes at 11. That means there's a lot not available, including alcohol (at least at first, happily they still got us drinks), appetizers (no gyoza for us!). Oh well, the ramen was pretty good, although I think I like Silver Lake Ramen better. Sometimes even Sapporo in Glendale is pretty good! I think I like thicker noodles better.
Honeymoon Picture Pages: