This year, 2016, has just been a shitshow.  Giant Asterisk, of course:  Getting married and going on our honeymoon in September was pretty sweet.  But other than that, it's hard to look fondly at 2016.  And here I am having the last weekend of my thirties and while I'm not considering jumping out of a window it still is kind of like a big WTF.  How did we get from this:
to this?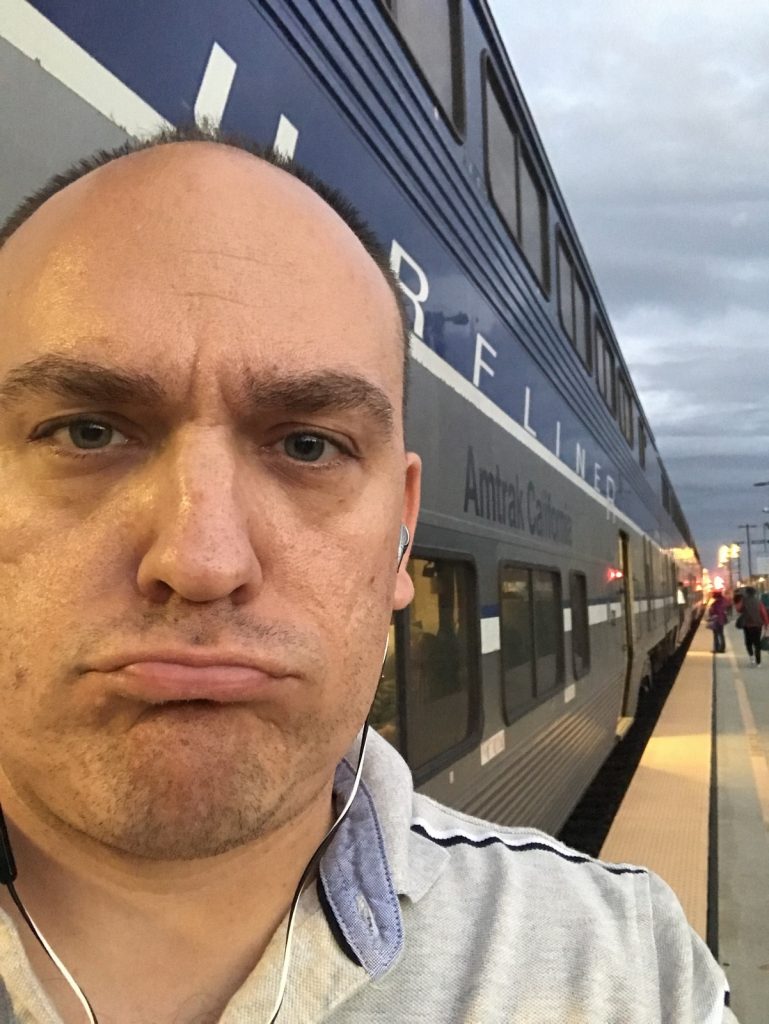 The 10 years in between have gone by like crazy.  Is it really possible that I ended up living in NYC and New Jersey for a stretch, met the love of my life, and then ended up back in Los Angeles?  That all really happened, didn't it?  I guess it did, and this here website kind of showed all those details too.  Still blows my mind though.  And maybe those 10 years didn't exactly go by in the blink of an eye, but now that I'm at the precipice of 40?  Sometimes it feels like it.  40 is the new 30, though, so it's all good.
Alright, I'm not quite sure I'm up to waxing philosophical too much more, so let's catch up on assorted pictures I've been too lazy to post over the last two weeks.  Gotta get these out of the way as I do expect there to be some 40th Birthday pics coming up soon!
Oct 22, 2016 – Nicki's + Krissy's 30th Birthday Party
So my best friend Nicki turned 30 (UGH, see above) two weekends ago and her twin sister, Krissy, as well as a few of their best friends from Georgia and elsewhere came out here to LA to celebrate in style.  They had quite a week of events planned but the main party was happening on that Saturday, the 22nd.  For the occasion, Nicki had AirBNB'd a house over in West LA on Crescent Heights Blvd that was absolutely fantastic.  Good idea, too!  So Larry & I were also invited to rent one of the bedrooms which was awesome as we didn't have to leave and could enjoy the party.  It was nice to welcome them to the 30s just as I am about to leave them!!!
Oct 23, 2016 – Afterwards
That weekend ended up being pretty busy!  So Saturday was the party with Nicki, we all crashed, then that Sunday morning, most of that group was off to the airport.  We made it back to Glendale and grabbed some food, didn't go for a Griffith Park run, and relaxed for a little before that evening's event, which was to celebrate Mom's birthday!
Oct 23, 2016 – Mom's Birthday at Benihana
It's true that we do go to Benihana's a lot for mom's birthday, but why not?  It's an awesome experience and the food is freakin' great.  We don't really go there except for this, so it's a very nice treat.  For this year, Auntie Helen also came down to spend time with mom, which was a lot of fun.  It was also raining like crazy, which surprise surprise, is great, but also not great when you're having to drive in it with a bunch of folks who don't really know how to drive in the rain.  Regardless, we got there and back safe and sound and had a wonderful time.
Oct 24, 2016 – Rain!
Getting rain is a big deal, guys.  I was working from home that day as I was going to be headed on a train to San Diego in the afternoon, and managed to get some pretty cool shots.  It had been at least 6 months since we'd gotten any decent rain, no lie.
Oct 24, 2016 – Stuck on a Train!
For the engagement I am working on, we needed to meet down in San Diego.  I was only going down there overnight, so I took the train on Monday afternoon which was supposed to get me there around 7pm.  Unfortunately, a police chase and non-fatal shooting occurred right next to the tracks in Encinitas which meant that whole area was a crime scene that needed investigating.  That meant all the Amtrak trains had to stop.  FEH.  My train was up in Oceanside when that news came over the intercom, and we ended up getting delayed for 2 hours.  FUN.  I didn't end up getting into San Diego and my hotel until 9pm and had a ridiculous time trying to get some dinner.  Room service is what finally was successful.
Oct 25, 2016 – A Nice Sunset on the Way Home
I ended up sitting next to the partner who is overseeing this engagement on the train ride home.  He's a really cool guy and helps remind me of some of the positive things about working where I do.  Our train was an afternoon train and we got to catch the sun going down while along the coast.  Here's the pic I took: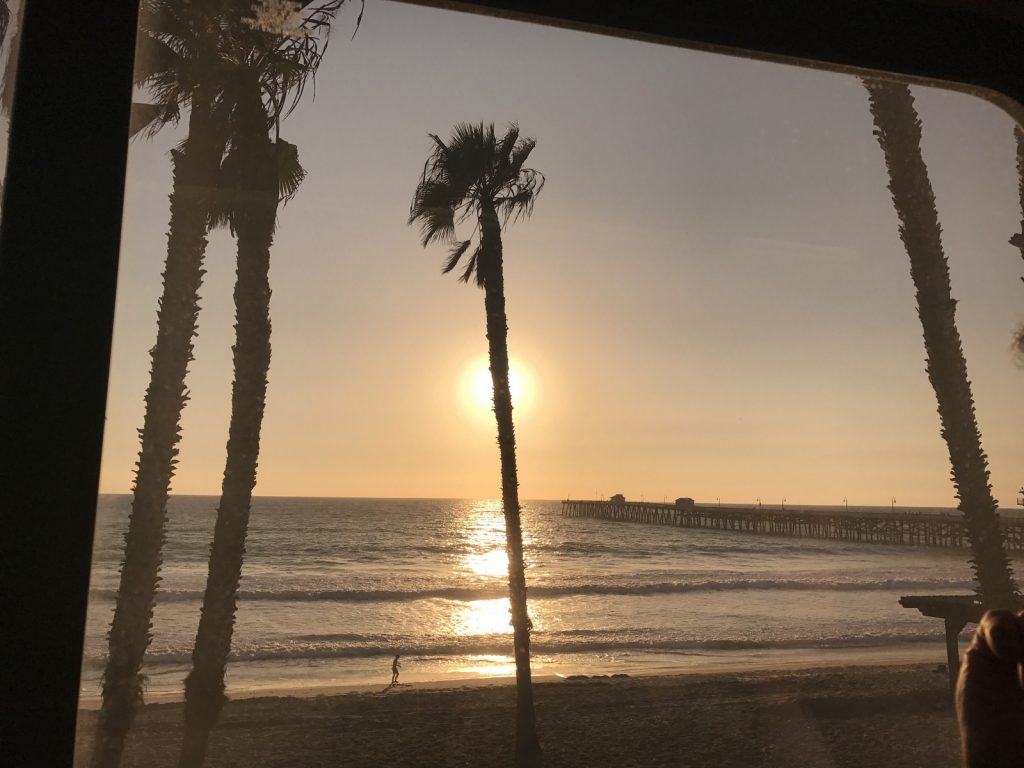 Oct 28, 2016 – Utterly Random Pics from a Partly Rainy Day
Got really nothing to say except it was a nice morning at the Glendale Metrolink station; then later, our building had an evacuation drill and one of the guys from the office lived nearby and got his cute dog.
Oct 30, 2016 – A new toy: the Amazon Echo
Fran & Joel surprised me with a pretty fun toy, the Amazon Echo.  I'd wanted one but had kind of resisted getting it as I just didn't need it….you know?  Joel had won one last year and when we visited them I had played around with it and even taught them some things it can do, like the fact you can just ask it to play music and it will.  That alone is kind of awesome.  So now we've got one.  Here's hoping one day it'll integrate with SiriusXM and then everything would just be incredible.  🙂
We got some really sad news today.  Fran's cousin Kathy (making her Larry's second cousin?) died yesterday, after having an intense fight with cancer.  She had just been sent home for hospice care in the last few days, and obviously she died almost immediately.  She had always been so warm and friendly to us and I'm so happy that she was at our wedding so she had a chance to share in the joy and also see a lot of the family from back east that had traveled out for the occasion.  We had just seen her briefly this summer at the Chicago Hollywood Bowl concert during the 4th of July weekend, and there'd been hope some of the treatments she was undergoing would work.  Rest in peace, Kathy.   You'll be missed as will your gregarious and hilarious personality.