Episodes 7 & 8: July 11 & 14
A lot of good stuff happened in these past two episodes – why? Â Because the decent folk in the house got the power and we got to see the bullies and bigots sulk and pout all over the house. Â GOOD FUN, I tell ya. Â Let's recap a bit, at least what I remember:
Candice + The Mom Squad Get a Clue
We had seen Candice speculating and deliberating with Helen about a boys super alliance but as you may have seen in my previous post, I had no faith that it would amount to much in the long run. Â Previous seasons have shown the relentless destruction of the house by the leading alliance and I was not convinced Candice, of all people, would be the one to buck the trend. Â I was wrong. Â Candice, Elissa and Helen all worked the shit outta that house before that vote. Â I was very surprised Jessie jumped ship but when shown why she should and would, it's not surprising.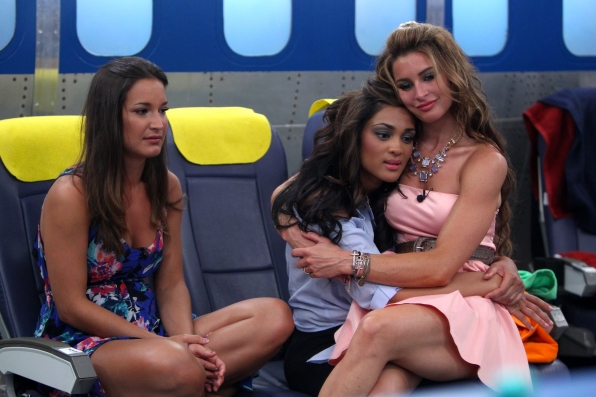 Sidenote: Â that initial Jessie edit of "I'm the prettiest" certainly went away, didn't it? Â She had a bit of the stalker vibe going on recently and that was brought up in this last episode again, but the initial candidate for Biggest Drama Queen is no way in the running anymore.
The Squad then went on the offensive some more, snatching up not only Spencer (surprise!) but also the McCrae – Amanda voting bloc. Â Clearly Amanda was on that side already, but McCrae grew tired of the Moving Company holding Amanda over him and forcing him to make a choice. Â Like he said in last night's episode, McCrae made one. Â Judd and Andy were no fans of being on the Aryan side of the house and rightly so, and sure enough, we got Nick's eviction.
The Moving Company goes Bankrupt

When the votes were cast during the live eviction, I remember being floored the moment Spencer voted Nick. Â I knew at that point, Nick's life in the house was looking less and less probable. Â Here's the 7-4 tally for your review:
Jeremy: Â 

Elissa

Kaitlin: Â 

Elissa

Andy: Â 

Nick

GinaMarie: Â 

Elissa

Judd: Â 

Nick

Spencer: Â Nick
Jessie: Â 

Nick

Howard: Â 

Elissa

(more on that later)
McCrae: Â 

Nick

Amanda: Â 

Nick

Candice:

 Nick
I figured Nick was going to stick around in the house wayyyy longer than this. Â I love being proven wrong in this game. Â I had based my assumptions from past seasons so it's refreshing to get a bit of change going on so that you don't get deja vu. Â I'll miss his cuteness, to be honest, as I am disgusted by Jeremy. Â All we've got left now are cute Andy and somewhat adorable Judd. Â If McCrae changed his hair, he'd actually be much more cute.
Queen Helen of HoHlandia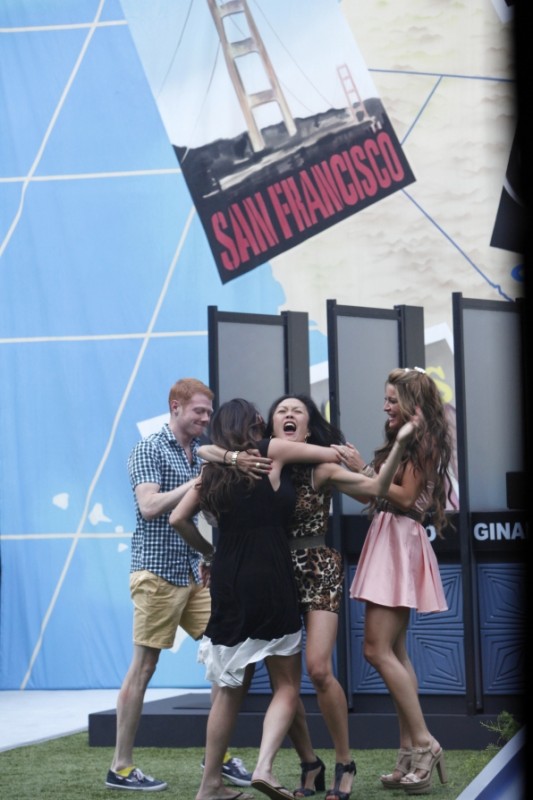 I like how this week is going so far. Â Not only did the Mom Squad rally an impressive victory and effectively destroy what had been the only alliance of note this season, Helen scored the HoH. Â In a traditional HoH challenge involving questions with a True/False option, she was the only of her core group to last until the end. Â There were then TWO tiebreaker number questions as almost everyone left got the exact # right for the first question. Â But Helen was closest on the last question and the worst week of Aaryn, Kaitlin, Jeremy and GinaMarie's Big Brother existence thus far commenced.
Oh, and GinaMarie? Â Your INSANE sobbings over someone who isn't actually dead are…let's just say, I'm Over It. Â Woman up. Â  If you're going to quit, then please do. Â I know that eventually the happy Mom Squad & Company will have to turn on itself but it seems that the next few weeks will just be an exercise in picking you guys off. Â If you want to quit and accelerate the process? Â Go for it.
Have-Nots and Miscellaneous Bitchery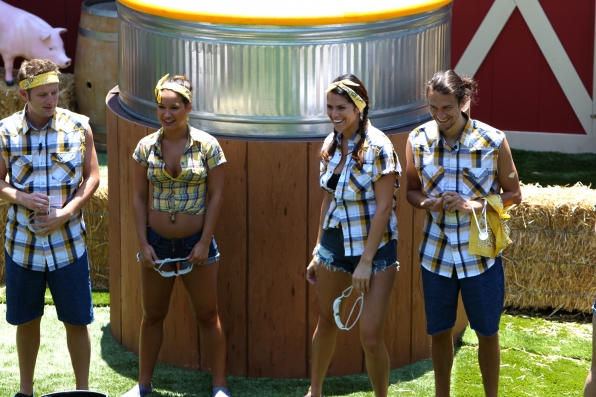 Oh, that Have-Not competition was sad. Â Howard was throwing the damn thing and they still were unable to beat Howard's blue team (which also had GinaMarie, Kaitlin and Aryan). Â I truly blame McCrae for their loss as his panicky splashings in the spoiled milk vat looked like an even more glaring attempt to throw it, but McCrae had no motivation to do so. Â So he's just sad. Â Regrettably, the insufferable jerks of the blue team avoided the Have-Not room yet again.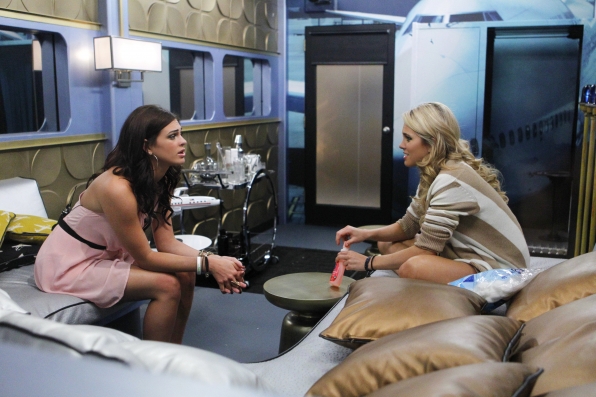 About the actions toward Candice and Jessie….UGH. Â It is so expensive to punch a television set, but at certain points, I think it would have been worth it. Â So fucking high school in nature but also so cold and mean. Â I loved my girl Amanda going in there and happily scrapping with them and accurately telling them what America is seeing of them. Â Those folks will probably be surprised by what the reaction has been, but do I think they'll change because of it? Â No chance. Â I can see Aryan marrying some IB who will enable his racist princess to rule her cul-de-sac with a bitchy fist. Â Kaitlin is just a mean girl, while GinaMarie is insane. Â Hoooboy. Â She's bordering on "Cappy" craptitude with that "I'm wearing Nick's blue hat and everything I do with it on my head is for Nick and I love him and ohmygod he's going to meet someone else and…." and that reference is from SEASON 6, so I am NOT messing around when I say that it is obnoxious.
I enjoyed seeing Kaitlin and Jeremy try to scramble – and I grudgingly will give Jeremy props for actually scrambling the right way. Â He's happy enough to throw his showmance away if it means he's staying in the house. Jeremy also (and most importantly) let Helen know everything that was going on in the house re: the Moving Company. Â  Helen has been fantastic in her interactions with all the houseguests, but she's been very political when it comes down to info. Â She's got a huge amount of intel now. Â As for Kaitlin, she really didn't scramble that much but in one of her final statements, she mentions she chose the wrong side of the house to align with, and knowledge is half the battle. Â  GinaMarie is crying in a corner somewhere while Aryan offers insincere apologies to Candice. Â I love that Candice accepted them but privately knows they're worthless.
As for Howard, I was very happy how he helped Candice avoid a nasty fight with the girls. Â Very disappointed in how he handled his discussions with Helen about his elimination vote and the Moving Company. Â He's made an enemy of Helen and he has no idea. Â Clearly Helen isn't about to make him aware that she's targeting him, but it's so clear – to us – that she's filed away Howard's deception and will use it when ready and necessary. Â Very exciting.
Nominated This Week:

In absolutely unsurprising news, the two queen bees were nominated. Â I guess Helen isn't interested in working with Aryan anymore in a secret final two….YET, I see Aryan being a PERFECT goat to take to the finals. Â I have no idea if Helen could stomach working with and living with Aryan for another 2 or 3 months, but if she could, damn. Â Quickest $500K vote ever.