Thursday, Sept 15, 2016 – Day 2 of London
<– Previously, we chunnel'd from Paris to jolly ol' England
We had scheduled to go on a day-trip of visiting Windsor Castle, Bath, and Stonehenge. These aren't near each other, so there's a lot of driving between each location. The fun started immediately in just getting to the departure point. When I'd done this with Susan and Jeff before, we went over to a nearby hotel for a pickup and got dropped off at the Victoria Coach Station.  This time, we got our selves there, which involves going to Victoria Underground Station at Victoria Train Station, but then having to walk outside that Train Station in order to go to the Coach Station. And once you're outside, the signs get a bit confusing. Anyway, we chose luckily and got to the Coach station in time….to see everyone and their mother was also going on tours. Whatever, we got there, got on a coach, and were on our way eventually.
Departure from Victoria Coach Station:
The first stop, after an hour or so of driving and listening to our charming English tour guide (who looked a little like David Attenborough) tell us about London and the upcoming Windsor Castle, was the city of Windsor.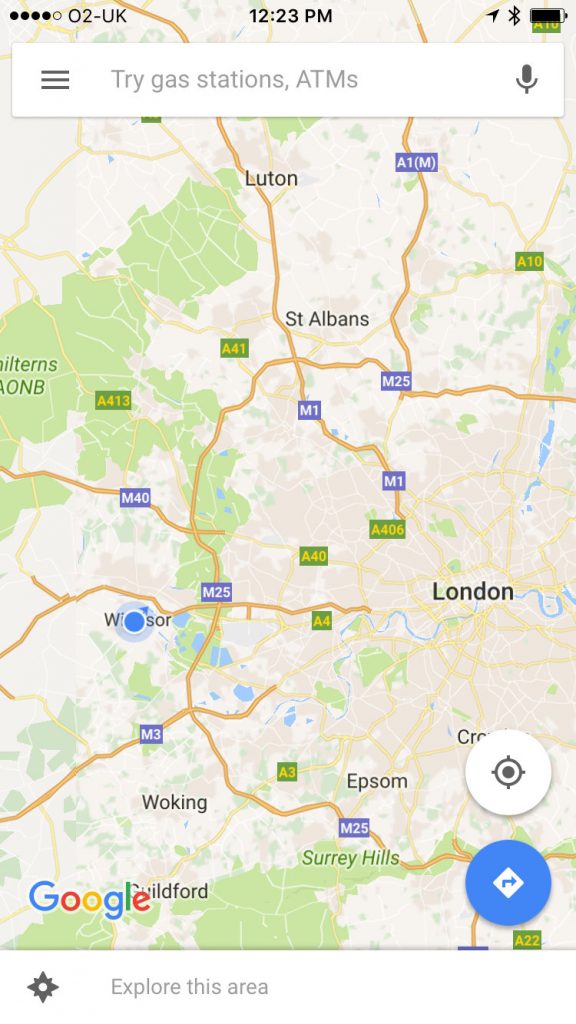 There was a nice walk from the bus parking to the gates of the castle, after which we were on our own.  Alas, they ran out of audio guides a few people before us, so we were on our own for that, which was okay.  We did first wander around and then caught the Changing of the Guard, which is a lot like the big one by Buckingham.  Although that's quite a bit bigger methinks.  After some time in the sun, and listening to the band play some of Adele's greatest hits (no joke), we walked into the St. George Chapel, which has a couple of cool burials within, including Henry VIII and Jane Seymour, along with Queen Elizabeth II's mother and father.  
Taking in Windsor Castle
Before we left, we managed to find the State Apartments and went into the special Shakespeare exhibit, which included actual copies from the 1600s of Shakespeare's first Three Folios. It was kind of amazing to see those. A lot of other cool Shakespeare memorabilia was there too, some related to As You Like It, which had some references to Windsor within.
Off to Bath!
After Windsor, there was a 2 hour or so drive to Bath. Both Larry & I passed out on that. It made for a nice arrival though.  The tour of the Roman Bath was similar to what I'd done before with Susan and Jeff back in 2007, in which you first tour the upper balcony overlooking the main pool, then you go through the museum to learn about the iterations of the Bath house and the Roman temple over the centuries/millennia, and finally getting down to the pool level and wandering through the various surface-level areas where you see how they captured the hot springs and used it.   It's a very well done tour, that's for sure.   Note:  Doing this kind of massive English countryside tour is exhausting – you're in the bus for a long time, and it is fascinating to hear about the various things you're driving through, but I'm not sure I'd recommend these massive day-long tours if you're wanting more time at each destination.  We had just 90 minutes or so to look at the Roman Baths before getting back on the bus and it's a beautiful little town which would probably be nice to explore further.  Anyway, we did grab some ice cream in the last few minutes we had before having to head on out to Stonehenge, as we were hungry!
The Final Leg of the Daytrip:  Stonehenge!
There was another hour or so drive from Bath to Stonehenge through beautiful English countryside. Turns out we were pretty close to Wales too, as at one point the guide pointed out that the scenery we were looking at was within Wales. Cool. Anyway, he then warned us that Stonehenge has changed a bit, at least the tour part. Sure enough, there's now a parking area about a mile away from the monument, unlike before. Previously, a parking area had been on the other side of the highway and you passed underneath it via a small pedestrian tunnel and then you were up by the monument. Now, you're parked and there's a huge visitor's center thing where you then get an audio guide (or in our case, don't, as the guide was in a rush, it seems) and then wait for a minibus to ferry you to the monument.
Well, despite not having an audio guide, we did enjoy the look around the amazing Stonehenge. Some rather glorious partly cloudy weather over the lowering sun made for some nice weather and light while viewing Stonehenge. Great pictures. Found out when we were heading back to the bus at the visitor's center that we could have downloaded an app for the guide. Son of a!  Ultimately though, the information about Stonehenge isn't changing too much, even with various new theories getting floated around about what it was, how it was built, etc.   It's a fascinating ancient monument and even this being my third time there, it's still just as mesmerizing and cool to see it as it was the first time.  It was Larry's first time there though, and as anyone is when they see it, he was blown away.

Back to London – and Time to Conquer Our Pub Fear!
It was about 2 hours then from Stonehenge back to London, and we passed out for most of that yet again. This got us back into town around 8:15 and not really back to our hotel until 8:30-40. We decided that Flat Iron would be our dinner and when hearing it was now a 1:40 wait, we signed in. Then we wandered around over to one of the nearby pubs, which was called the Clachan. While super crowded, it really only appears that way. It's just most people stand outside to drink and smoke, but you can easily go inside and get a drink, and sit in there if you don't smoke. Happily, we don't. So we had two rounds of London's Pride, which was a nice way to conquer our pub fears and also just reward ourselves for such a long day.
And then even better, we noticed the wait was growing shorter quite quickly for Flat Iron, as they have a nice electronic system and website to check your place in line. About an hour or so later, we were in to the restaurant!
Flat Iron was amazing. The food was delicious (sliced steak with your choice of sauce for each of us (peppercorn for me, bernaise for Larry), green beans, creamed spinach, and then shared chips (fries). The waiter was super friendly and nice, and quite cute. We talked to him about the Beatles a little and he gave us some recommendations on things to see while out there. We also followed it up with a delicious salted chocolate mousse dessert. YUM. Then wandered our way back to the hotel to pass out. We earned it.
Up Next, we indulged in our love of James Bond –>
Honeymoon Picture Pages: