I've discovered I can start crying at the drop of a hat.  Okay, to be more specific, grieving for me can be "okay one minute – absolutely crestfallen the next."  It's obviously what grief is in terms of a definition, but it just can take a lot out of you.  This morning, I woke up and just started crying, and that was because I started just thinking about all the things that have happened or are happening in my life, and it just made me sad and anxious.  I have to trust that there is a light at the end of the tunnel, but right now, it's all tunnel.
Why am I writing that?   Just that when nice things happen, it's good to enjoy them, as I can find myself very easily in the midst of crying.   So this past weekend, it got started out right by having dinner with Carey & Paras at the Sugarfish in Hollywood.  As I've raved previously, Sugarfish is the shit.  The best sushi around especially at the price point you get it at.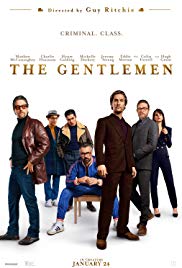 The key is to get there a little ahead of the rush – we got seated around 5:45, which was perfect.   When we left around 7, the waiting area was packed, and since Sugarfish doesn't do reservations, you gotta wait.  We then headed down the street to Arclight to see The Gentlemen.   I had barely heard of this Guy Ritchie movie, and let me tell you, it's fucking awesome.   An exciting and compelling crime story with a bunch of movie stars having a blast.  If, like me, you'd never heard of it before, by all means go check it out.  Fun stuff.  Hugh Grant is so far from his typical "Hugh Grant"-ness it's mind-blowing.
Jan 31 Night at Sugarfish and Arclight with Carey & Paras:
On Saturday, I went over to visit mom for the first time since going with her to Helen's for Christmas Eve.  I brought the wedding album I'd put together and she was able to remember all of that and the things we did then, and she managed to remember Larry had died, but it's just not the same person.  Stacie and I are going to have to look to find a place for her to live, such as independent or assisted living as it just can't continue on with how it is now, as it's no way to live.  So on the way back home, I just wanted to try to make Larry proud, so I picked up filet mignons (enough for 3 people) and potatoes and broccoli, as I invited Nicki and Sveta over for dinner.  Everybody pitched in to help make dinner, and we ended up having medium-rare filets, baked potatoes, and roasted garlic broccoli.  It was fucking great.  Ended up mostly just talking that night, although I keep wanting to play "Ticket to Ride", the actual board game. One day.
Feb 1 Filet Mignon Night with Nicki & Sveta:
On Sunday, I endeavored to try to start the process of cleaning up some of Larry's stuff.  As it is now, I can't even touch his clothes or shoes, whether they're in the closet or on the dresser.  It hurts too much to think about it and the tears, as explained above, come like clockwork.  So I thought I'd take it easy on myself and just try to clear out some of the bathroom pills and such.  Well, I did manage to clear out stuff that probably Larry should have thrown out long ago, as well as remove excess stuff.   Still couldn't get rid of things like his glasses though.  It's not like I can even wear his glasses as my head is too big for his frames; nor can I wear his pants or shoes, so it makes sense that I should probably work on those to go.  But it's just, I don't think I can bear to have the closet half empty, or the drawers only filled on my side, as right now, I'm not triggered when I walk into my bedroom.  There's something comforting about his stuff being there still.  But as I type this with tears in my eyes, I know I have to start bracing myself for that, and maybe I have friends with me when I do, but I don't even know if that will help.  Fuck all of this.
Yes, I've begun the process of seeing a therapist.  She's come over to the house a few times, and it's still been an assessment period, so I think the next time would be truly the first session?  But these first few times have felt like a way to talk about these things I'm feeling and I guess it helps.  I just want to see if the tunnel ends.
Later on Sunday, Nicki kept me company while we watched the Super Bowl.  Still don't really care about it, but at least the game was interesting and the commericals were okay.  The half time show was awesomesauce: