Well, damn, that was one hell of a 4th Quarter! Â As is usual, I could give zero shits about football but it's easy to get caught up in a game that has such amazing plays and occurrences. Â That insane bounce catch for Seattle with under 2 minutes left and then that insane insane insane interception by the Patriots at :20 left to ensure their victory? Â Wow. Â Good stuff. Â Still don't care who won though.
What was I there for? Â  Well, first, that Half Time show with Katy Perry wasn't initially something I was all jazzed up about, but I of course had my attention focused on it as well, it's the pop star stuff. Â Katy Perry's stuff was pretty good and I was entertained by the giant mecha-animal and dancing sharks, but I started to drift away until I heard some familiar beats…and then it was like, holy shit, is that Missy Fucking Elliott???? Â YES, Hobie, IT WAS.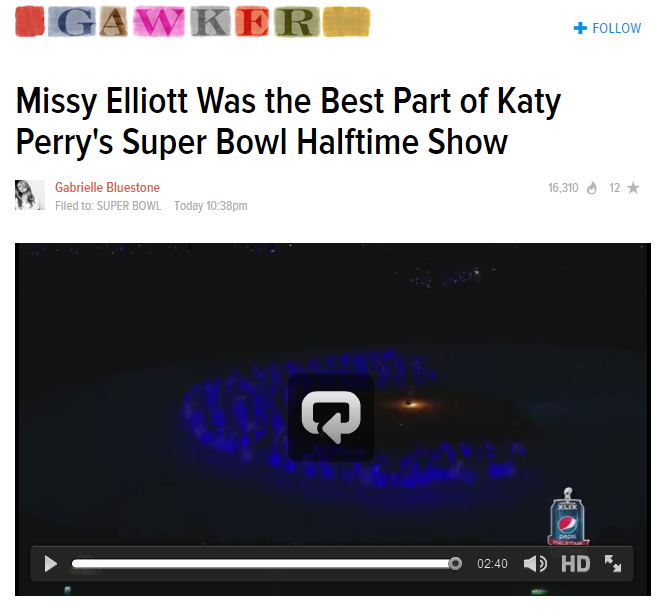 Gotta say I hope that this means that maybe just maybe Missy will be returning into the pop culture landscape soon. Â 2015 just may well be the best year for pop culture fun!!!!
The other thing I absolutely loved was that damn Budweiser commercial with the little puppy getting saved by his Clydesdale friends. Â Ever since it was revealed earlier last week, I've loved watching it and sobbing. Â It's just an overdose of cute.
It's not just the puppy cuteness, there's the whole sad and slow version of "500 Miles" and once the chorus hits when the Clydesdales come to the rescue….omg, the feels. Â Also? Â That owner is the HAWT. Â Ever since his first appearance 2 years ago, we've been fans of this particular campaign. Â The guy is just so damn attractive. Â  Â Let's review his previous Super Bowl appearances:
From 2014, it's the puppy's first appearance!!!! Â So damn cute.
This was the one where it's just so fucking emotional as it's set to Fleetwood Mac's "Landslide" and it's just so damn perfect. Â Plus, this is the first time we meet hella Hawt horse trainer. Â Shazam.