Going through each week is definitely an up and down experience.  I'm blessed to have the friends I do, as they are happily keeping me engaged and doing stuff.   As you'll see in these pictures, I do have fun.  And I can at times not think about Larry's death, and I don't feel bad about that, as I know it's good to embrace life however I can.   There are points of each day though that still break my heart and I need a moment.  Like today.  I decided to do another little bit of cleaning.   Last week I worked on streamlining some of Larry's stuff out of the bathroom cabinets.  I thought that would be the easiest to do, and it probably was, but it was still emotional, as there were still some medicines and things that he had to use during his cancer fight.   There was also stuff from before that, like LONG before that, that Larry should have thrown out years, if not decades ago.   So at least I could laugh at times.  Today though, I tackled the top of the dresser in our bedroom, as it was stacked with the clothes that he could wear at the end.   It hadn't made any sense to try to organize the while he was alive and needed them, as sometimes it was necessary to grab a quick change of clothes to keep him clean.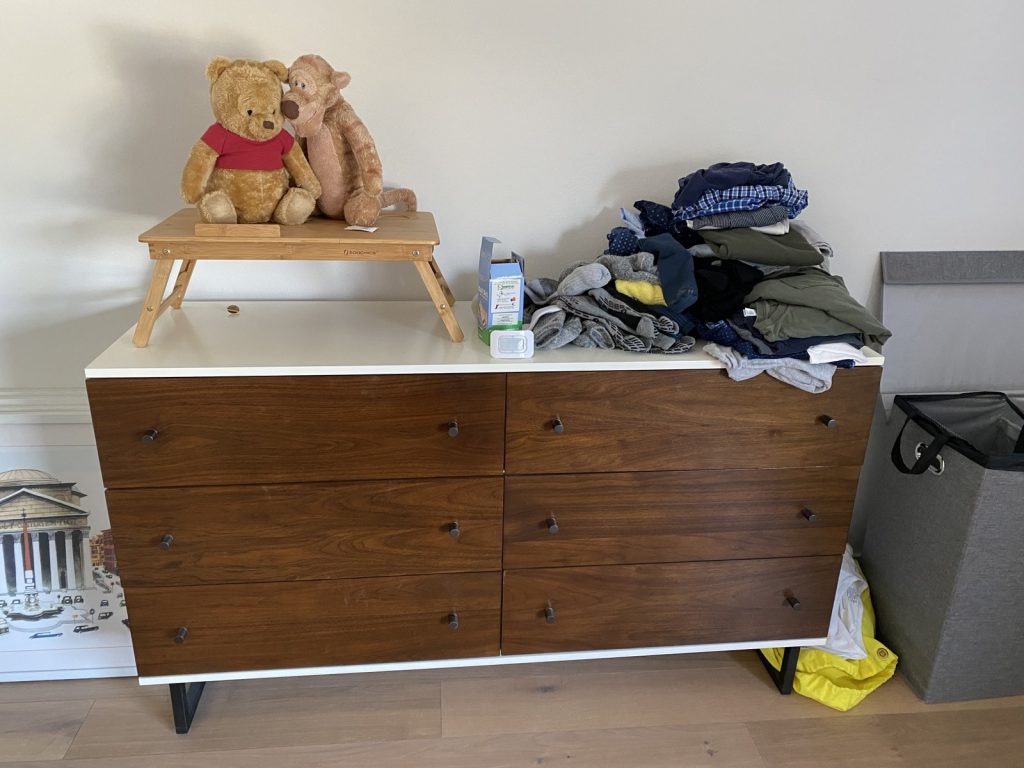 Obviously, this was harder than cleaning his bathroom stuff.  I did clean it up, and decided which things really weren't worth keeping, but I couldn't get rid of it all yet.  I kept some things for myself, and some things I folded and put away.   Larry's side was on the right in the dresser, and just opening those drawers up was painful and caused me to cry.  I really don't know when I'll be able to move to the phase of getting rid of his stuff.   There's obviously no need for me to immediately, but I also recognize it has to happen some day.
I then was in the office trying to just straighten some stuff up down here as it's admittedly a small mess here with a lot of paperwork and things kind of anywhere there is a flat surface.   I looked in his small drawers there and found a small Hallmark bag – apparently he had gone and bought a few cards for me, including a birthday card, a Valentine's day card, and an anniversary card.   That did the trick, and I had a full-on meltdown.  The cards hadn't been written in yet.   But it was nice.  Then of course at that moment, work called about some bullshit thing that just was like, thanks for reminding me I hate everything.  I'll never get rid of some things, and those cards definitely aren't going anywhere.   Glad I was able to see the Valentine's day card today – yesterday sucked but it was never a holiday that Larry and I went crazy for, but still, a "holiday' about loved ones still hurts a lot.
Anyway, I had a full week at work, although I only made it into the office once.   Had a few days where I just couldn't make it out of bed early, which is not good.   One night I had a full on panic attack about everything going on, so yeah, couldn't quite get the energy to go in.   But as I was getting to at the beginning of this post, my friends are really my rock and my strength at this point.   I don't want to take advantage nor become solely dependent on their presence, but some days it's just good to be with them.  I am on my own again at this point, and I am finding the strength to be okay with it.  I'm sad of course, as I don't really see me finding anyone else with how I look and my age, but I can still find things to occupy my time and be happy with, especially with friends, and hopefully just find some kind of meaning or purpose until it's time for me to die.
So here are some pics from the last week or so – there's been some really fun stuff.   To start, here's what I was doing last week with friends.  Rekha was celebrating her birthday in WeHo a little belatedly, but it was a blast.   Started at Rocco's WeHo for a drag brunch, and it was flamazing.  A few hours later, we walked over to the Abbey to enjoy the ambience and fun.   Can't deny by the end I was a little drunk and got melancholy, but my friends were there to help and support, understanding exactly what was happening.   Just miss Larry a lot.
Rekha's WeHo Birthday Fun – February 7, 2020:
The next day, I was a bit dehydrated from Saturday's activities!   Nicki and I had gone to dinner afterwards, so it wasn't like I had been drinking until the late night, thank god.   But still, a lot of beer (which is what I focused on that day) has consequences.   Anyway, on Sunday, it was the Oscars, and Ken had invited me to his annual party.  It was a lot of fun and I got to see the whole family, of course.  Before then, I had been assembling my Lego Empire State Building (which is massive, btw) and making my world famous chocolate chip cookies for the party, while watching Arrival.   What a movie that is, and it keeps rising in my rankings.  It's easily in my top 15?   Such an emotional movie, and even more so with how I'm feeling.   What a weird thing to contemplate – would you go through something having the knowledge of how it will go and end?  I know I would, and that's why I know that the 11 years I had with Larry were magical and worth it all.   I wish the cancer hadn't been part of his story, but that's neither here nor there.
Oscars Sunday, February 9, 2020
I enjoyed the Academy Awards – very glad Parasite won.   Sveta and I watched that a few weeks ago and it blew us away.
This past week, work kept me busy and in the evenings, I did usually have somewhere to go, which was nice.
On Monday afternoon, I did go into DTLA for work, but mostly so I could have lunch with Barb.  We went to the Joey's DTLA which is the same restaurant (but in Woodland Hills at the Warner Center) that Larry & I took Fran and Joel to one of the first times they stayed with us when we had moved in here at the Glen.  Always fun catching up and talking with Barb, and one of those people I'm so glad to have in my life.  You never know when a new addition to your friends is actually going to stick, and she has.
On Tuesday night, I met up with Nicki down at the Century City mall to eat at the Din Tai Fung there.   It's huge!  We wisely got there early enough and found a seat in their bar area.  But it gets packed, even on a Tuesday night.   That mall is a trip too – so much money there.  And lots of attractive guys?
On Wednesday, Sveta came over and I had a puff too many on the weed and got pretty fucking high for a brief moment.   I braced for a NYE 2014 situation but happily the wave crested and I came back down.   I think if I was expecting and aiming for super-high, it would be fine, but I am really aiming for just chilling out.  So yeah, two puffs is my max in a session.   That gets me to a nice place.
On Thursday, I went to a PwC going-away for a cool associate, Danny.  It was at this Korean BBQ in a mall in Little Tokyo I'd never known about – it was a lot of fun.   We walked over to the Angel City Brewery and played an epically long game of Sorry, which really is a bitch of a game.   Very funny though.  Mel and I won, of course.   And I was out till like 12, on a school night!!!  WTF.   I can't hang like that too much.  Was way tired on Friday.
And yesterday, on Friday aka Valentine's Day, Nicki took me out.   It was very sweet, and I appreciated it, as it is a hard day to not be doing something, especially with it being so close to Larry's death still.  We first went to dinner at El Coyote near her house on Beverly.  It tied together with the second part of the date, as we saw Once Upon a Time in Hollywood at the New Beverly Theater, which is owned and run by Quentin Tarantino.  Kind of a cool thing.   Plus, in the movie Sharon Tate is shown having dinner with her friends at El Coyote (the real one) on that fateful night.  The movie also shows Cliff and Jake having dinner that same night at Casa Vega, which is also a place we've now been to.  I'm such a hipster.   It was a blast of a night and that movie does not get old, and if anything, it just gets better for me.   Still can't get over how insanely violent that 10 minute section is.
Valentine's Day with Nicki – Feb 14, 2020
Finally, to end this ridiculously long post, I'm sharing this video that makes me ridiculously happy and has motivated me to even buy the Just Dance 2020 game for my Switch, just so I can play this and learn the moves.   In the 2000s, some of you may remember how obsessed I got with Dance Dance Revolution – who knows if it'll enter that level, but still, watch this video and be amazed at the dancing skill of the group and chuckle at how awesome the "Rasputin" song is!
You're welcome.