Larry & I are pretty damn proud of what we managed to get done ourselves across the spectrum of things in terms of the wedding ceremony and reception and various other elements leading up to it.  The first thing we got kind of clear is our overall look and theme.  We were inspired by the venue itself, with the whole 1920s Art Deco look, once we had locked down the Oviatt.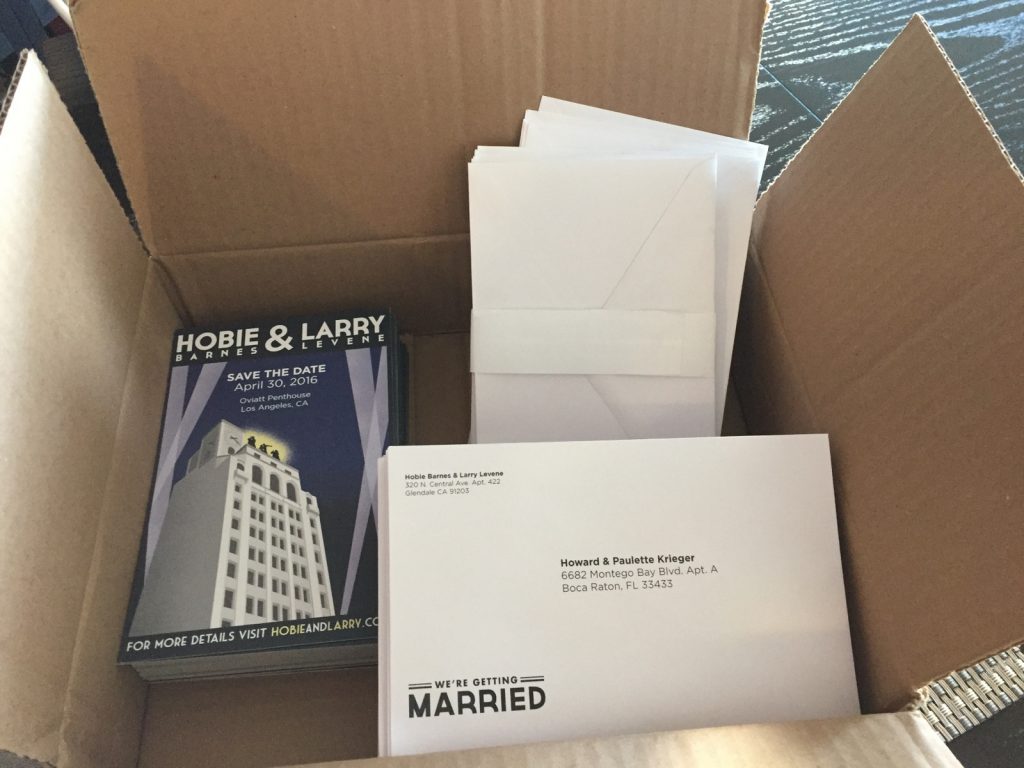 We also were influenced heavily by the cake!  Funnily enough, that's the truth.  We went through a few Pinterest boards and collected those we liked the most…
https://www.pinterest.com/lglevene/hobie-larry-wedding-cakes/
…and then ended up happily agreeing upon what we got, and which Porto's Bakery executed amazingly:
The angled layers and especially the blue and grey stripes really resonated with us, and as you may have noticed, that theming carried on heavily with regards to many of our signage and paper-based items.  Let's review!
The Invitations
Knowing that we liked the stripes above, we looked for invitations that we could order that had that theme.  Alas, they didn't really exist.  So we went to Minted.com and used their ability to design your own invitation.  Larry got to work designing that template using his awesome Illustrator skills integrating the options we had for what wording we wanted.  Invitations can get very complex and wordy, but we liked the idea of having just a simple one-sheet invite.  As those who were invited saw, I think we captured that theme pretty well!
Definitely recommend Minted.com as a great source for invitations.  Great quality and the price was right, although it's funny as I was having a discussion about the price for these with a coworker who's getting married next year and he couldn't believe they cost what they did.  I pointed out that of course it's a ridiculous price, but this was on the LOW end of invitation costs.  Everything associated with weddings is expensive.  Larry & I were really happy with how they came out though.
Various Signage
Keeping with the theme established in the invitations, Larry wanted to carry that through with the various signs seen at the buffet, the menu signs, the bar signs, and the seating chart.  They all came out fantastic too, although I realize I didn't get a picture of the menu sign or bar signs?  FAIL.
Through skilled use of Illustrator, silver ink pens, silver tape, and the local printing shop, Larry was able to get these various items up and running.  It was great to have the printing shop handy too, as things like the seating chart certainly were not within our purview.  Anyway, these all helped to carry the theme over into all the pieces and also ensured people knew what they were eating and drinking!
Wedding Favors
It was about three weeks before the wedding when we were trying to really lock most stuff down, but of course the best laid plans always need tweaking.  I kind of had figured let's just not worry about a favor.  Who cares?  Although we had decided against a program, and we also didn't have name tags or cards for the reception.  And Larry was getting really stressed about if people were going to remember what table they were sitting at – I myself had no sympathy for some one who couldn't remember ONE number after seeing the seating chart.  But Larry is nicer than me.  One night, he kind of just tossed out that he'd thought it could've been cool if we had custom poker chips made that had the table number on them.  He wasn't all that serious about it though, until I was like, HELLS YEAH.  Once Larry found out that we could get them made in time before the wedding, it was like, okay, design those mofos this second and let's place an order.  So we got in front of Larry's PC and designed them together.  The grey color just looked better than any of the available blues, and then we chose the Oviatt illustration Larry had developed for the Save-the-Date and put that on one side of the chip (instead of a picture of us – believe me, that WAS a consideration but we wisely decided against that) while then having a big white area on the other side.  Off went the order….and then of course they took longer to get here than expected, and while we kind of thought maybe we wouldn't get them after all, that Wednesday before we got them.  Yay!
By that point, Larry had already prepped it so the table numbers, which were vinyl stickers cut using his Cricut machine, were all set and ready for application.  I humbly think these favors were kick ass, and a great and easy way for not only remembering your table, but a cool favor to keep and remember this night by.
The Table Centerpieces
Alright, so this is a point where it probably helped it was two dudes getting married.  We had absolutely very little motivation to make flowers part of our wedding.  That probably saved us endless amounts of money all by itself.  Seriously.  I was talking to a coworker (different than the one I mentioned above) and she said one of her friends spent $16k just on flowers for that wedding.  OH HELL NO.  But like I said, it wasn't just that cost factor that dissuaded us from wanting flowers – we just don't really care that much.
We DID actually get some flowers, and it was great that Larry had a coworker of his own whose mother has a flower business. We used her to get some small decorative flowers for the tables – which actually had two purposes in the end as the small flower settings were up at the altar for the ceremony, then distributed to the reception tables.  Handy!  We also got bouquets for the wedding party, boutonnieres for both Larry & I, and corsages for the mothers.  But we did want something for the table.  Of course, it was Larry who had the idea about having something with lights in it.  At first we went to JoAnn's and saw some cool geodesic terrariums that would definitely have worked, but they were $30 a pop.  A definite Plan B if we couldn't figure something else out.  Larry then found that IKEA had some cool lanterns that might just work, and so off we went to our trusty Burbank IKEA to see for ourselves.  We found the black lanterns and were immediately sold on them, so we picked up 10 right then and there, as they were $8 each!  DEAL!
That was just the first part though, as we also wanted some cool lights inside.  At first, we thought maybe those battery-powered tea lights might work, but they're just not that bright or decorative.  Larry then found these LED battery-powered strings of lights on Amazon.com and they were also the right price, so we got 10 of those.  It was a risk, but then when we got all the pieces together and tried them out, it was better than we had imagined.
Next step was to get the table numbers on them, so Larry's Cricut machine was back at work printing out more vinyl sticky numbers.  What we immediately saw was that you could NOT read those numbers from any sort of distance when contrasted with the lights within.  We had some extra vellum from the invitations handy and once we put that in there, it was clear that was the solution.  We didn't want all the sides to be super opaque though, as those lights are pretty, so we then got some far more wispy and transparent vellum to make it have some texture but not completely see-through.  I think the final product just ended up perfect.  We kept #s 3 and 4 for ourselves when all was said and done.
Creating the Chuppah with Nicki
This major and final piece of DIY fun may have been one of the more impressive and impactful things of the wedding ceremony.  We were definitely having a Jewish-themed wedding and while it wasn't exactly kosher (you know what I mean), we adopted as much as we could about a Jewish wedding that we could.  Having a chuppah was something we both wanted.  Alas, we weren't entirely positive how we were going to get that.  The Oviatt didn't offer one for use, and further, if you had a self-standing chuppah, it likely wouldn't fit in the small elevators nor did they want you to try fitting in those said elevators.
Larry & I kind of thought the way to go would be to create a chuppah ourselves and have it be one that would be held up by our wedding party.  Obviously you'd not want it to be too heavy then.  There were thoughts of maybe getting pvc piping and painting it, but then we talked to Nicki, not only my "best man" but also wildly creative, who said she was up for the challenge and would build this for us.  Cut to a few weeks before the wedding and life is hectic for everyone and we weren't any closer to having an actual chuppah.   So the pressure was on!  We went one weekend, with Rekha, to JoAnn's Fabric and managed to find fabric for not only the "roof" of the chuppah but also grey and blue fabrics to drape around the poles.  We had a great day then with Nicki making that roof, but there was more work to do she would do on her own at home AND there was the question of what were the poles going to be.  Nicki took care of that shit like the MASTER she is but I don't think either Larry or I expected the magnificence of what she had done – I certainly didn't expect 4 tree trunks as poles, nor that it would be able to stand on its own (with the help of some concrete-filled tubs and lots of rocks!).  But holy shit, the result was epic and really made our wedding something special.  Even when it almost fell on us in high winds, the wedding party was on it.  Nicki was a super MVP on this and we'll always be grateful for her.
Alright, that's enough for this post!  Much more to come.
Wedding Links: