Fran made a Los Angeles visit at precisely the right time, as she was able to be out here while the pretty intense snowstorm / blizzard went on back east. Â That storm didn't end up dumping a ton of snow on NYC and New Jersey but it definitely hit Boston and New England pretty hard. Â She was originally due to go home on Monday but because of the storm, she was delayed until today. Â I'm glad that she had the chance to stay longer as I really thought she was going to anyway? Â  I'm posting the pics from the visit that I took below – the last few days we didn't really take many pics, but what can you do? Â Below these Fran pics, I am also posting some random photos that apparently I've neglected to post from things like going to the Pantages with mom to see Wicked and the Broad City Season 2 Premiere Party we hosted two weeks ago. Â So lazy of me!
22 Jan 2015 – Fran's Arrival / Dinner at the Dresden
Larry picked Fran up at the airport and took her to a few places before I got home from work, so I don't have pics from their endeavors going to a bagel place and walking around Sunset Junction. Â But I did get the photos going once I got home and then when we went to the Dresden for a fantastic dinner. Â It's still surprising how good the food is while also being very decently priced.
23 Jan 2015 – At the Grove
I was working this day so I entrusted my camera to Larry so he would take pictures. Â He actually did good! Â They visited Fran's cousin Kathy over at the Grove in West LA and by all accounts had a memorable time. Â When they got back, and when I was at home, we walked over to Esperanza, the restaurant right up Hyperion from here.
24 Jan 2015 – Universal Studios day!
Fran hadn't been to Universal Studios since the 1970s (or so she claimed!) and was excited to get a chance to go again and see how different it looks now. Â It was a perfect day to do this as the weather was spectacular. Â  We made it to pretty much all the attractions, with Fran being a true sport and getting on everything. Â We didn't make it to the Simpsons Ride, but that's fine. Â We got on the Studio Tour which was entertaining as hell and slightly different than other times I've been on it – it seems that's the case for every time you go on it that it will be slightly different. Â Also went on Minion Mayhem, Shrek 4D, ate at Mel's Diner for lunch, then down to the Lower Lot for Jurassic Park (Fran loved that ride), then The Mummy (she wasn't such a fan of that, understandably), and Transformers The Ride, which had been closed all day but suddenly reopened while we were killing time in the museum. Â We also watched the Waterworld Stunt Show and that was pretty damn cool! Â After that it was a good time to go home, and after resting a bit, we went out for some delicious dumplings at Dim Tai Fung at Americana. Â Very full day.
25 Jan 2015 – Day of Open Houses
We had a nice Sunday Brunch at Edendale before spending the following 3 hours going all over Glassell Park, Mt Washington, Highland Park, Burbank, North Hollywood and then Los Feliz/Silver Lake to look at Open Houses I'd found on Trulia. Â There were some very great houses that are actually kind of within our price range, including the following (you can click on the images below and the Trulia page for the listing will pop up in a new window):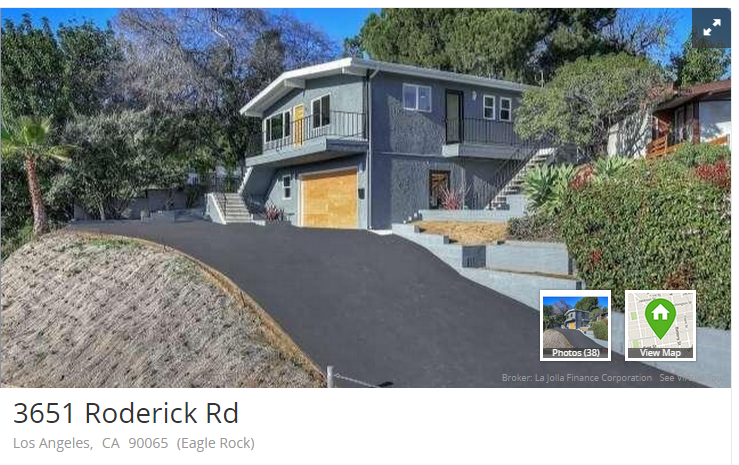 I think I liked this one the absolute most. Â It wasn't especially huge, but it's been gorgeously finished and the price is much more right than others I've lusted for previously. Â It's actually very much in the price range I'm looking at. Â The views are stunning and the location is pretty awesome. Â If this sticks around on the market until February or so, I may have to think seriously about this one. Â Also other things have to line up too, but I'm counting on things working out for the best.
There was another house we saw amongst the 7 that I also loved. Â This one was in Burbank and is just stunning. Â Not as affordable as the one above, and the bathroom situation is a little janky (the master bedroom's bathroom is a 1/2 bathroom, while the guest bathroom is the only full one), but still….everything else about this is just amazing. Â The neighborhood in Burbank is also pretty great.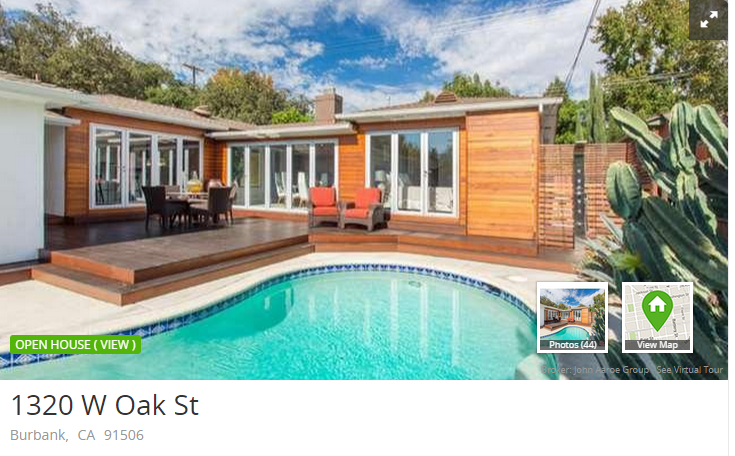 The others we saw were okay but nothing to really freak out about and post screenshots of! Â It's exhausting driving around town though – at the end we were trying to find this condo development in Silver Lake and the address was COMPLETELY wrong on Trulia, as it sent us on to Edendale Dr. Â I think Edendale Dr may be the most steep fucking street I've ever been on. Â It was frightening. Â  Anyway, we weren't too adventurous about dinner that night so we went up to Barbarella. Â They're going to be converting their Lago Pizzeria section into a BBQ joint in a week or two. Â Larry & I are really looking forward to seeing how good the food is.
The last two nights (Monday & Tuesday), we've kind of kept things pretty simple.  Monday was a rainy day and we went to Target during the day (exciting!) and for dinner, we made it back to the Morrison.  Also got Larry to see Fiddler on the Roof and he loved it, as he should.  Such a good movie!   Yesterday I went to work but when I got back in the afternoon, we had dinner at Cafe Beaujolais where we went for my birthday.  REALLY good French food.  Le sigh.
Fran left this morning to go back home. Â It was a wonderful visit and it was nice for her to be here during this kind of stressful time, and I know Larry loved getting to see his mom. Â Hopefully we'll be back east sooner than later to see the whole extended family.
In Other News!
I realize that I've been derelict in my duties concerning posting pictures from other festivities. Â In all honesty, it's been a fairly hectic January in that every weekend, we've had something planned to do. Â That's a nice thing but it's also an exhausting thing. Â It also means I get a little backed up in posting pictures!
10 Jan 2015 – Wicked at the Pantages
First up is that Larry and I took my mom to go see Wicked at the Pantages the day before we went off on our Disneyland 2-day trip.  I had only seen Wicked on my birthday back in 2007 when I first moved to New Jersey.  That time, I went with my roommate Shelly and it was a lot of fun.  I can't say the musical blew me away and I won't say much different about it now, but it really is an entertaining show.  The big numbers like "Popular", "Defying Gravity", and "Something Good" knock you out and are worthy of all the praise.  It's just that the rest of the songs are fairly meh, at least to me.  The actual plot of the musical is fantastic though and that's what keeps you interested.  It's fun to see how the threads of the movie start popping up in the show.  It was also cool that Madame Morrible was played by Kim Zimmer, who my mom and I both know from her days as playing Reva Shayne in Guiding Light, the now-cancelled yet extremely long-running daytime soap that was on CBS.  She was wonderful in the role.  The woman playing Galinda was absolutely killing it too – her comedic timing was pitch-perfect.  "Defying Gravity' is still stunning as the Act I ending.  I'm glad to have gotten a chance to see it again.  One day soon I'll re-evaluate my rankings of Broadway shows to consider this as well as all the new shows seen since my last iteration.
14 Jan 2015 – Broad City Season 2 Premiere Party!
The return of Broad City is always a reason to celebrate, so we did! Â We had a special guest in the form of Rekha, who had been out here to do some project turnover with Nicki while also visiting family. Â Additionally, everyone came over and it was wonderful. Â  Best thing was that Broad City came back very strong and was ridiculously good and funny. Â Here's hoping to a continued strong sophomore season.
Alright, I think that's everything. Â Like I said, January has been nuts and I'm hoping that things calm down and resolve themselves soon in February. Â That would be great. Â Also great? Â If we can find a new place to call home, especially one that is something we buy. Â I'd love the hell out of that. Â Anyway, first things first. Â Crossing fingers for a fabulous February.