I've been pretty bad at updating, as is my way.  So I'll try to rectify that here, with some pictures and general "here's how it's been going" updates.  Long story short though, Larry has been doing pretty damn great during Rounds 2 & 3 of chemo.
A brief update on the chemo story:  For Rounds 1 & 2 of his chemo, we were doing a "doublet" chemo treatment called Folfox.  I've linked to a site that kind of explains it so I don't have to get into the weeds.  This treatment approach is the typical standard one for colorectal cancers, and so that's what our oncologist recommended.   The goal though was to see how Larry took to these and if the side effects were going to be too much. Because his port surgery was still within 4 weeks, we did not do the +Avastin though, as that is the drug that inhibits capillary growth, to stop both cancer cells from building out but also good stuff, so healing Larry's surgery scars would have been impeded.  But we did Folfox for the first 2 rounds and while he definitely did experience neuropathy as expected, and of course fatigue and occasional nausea, it wasn't anything we couldn't manage.  And by the time each 2nd week came around, Larry felt pretty good.  So by the time it came time for Round 3, the onocologist (Dr Arzoo, who is an amazing man and doctor) let Larry decide if he wanted to increase the treatment potency.  There is a "triplet" chemo treatment that has been shown to be very effective too, Folfoxiri.  It's more aggressive and comes with heightened side effects, namely much more diarrhea.  Dr Arzoo was supportive if we were wanting to go for this, and after some consideration, Larry was on board.  It definitely adds more time to the chemotherapy process on Monday, and the neuropathy seems to be heightened, but the dreaded constant diarrhea really didn't manifest for Larry.  He's been actually doing pretty good during this Round, which is certainly hopeful for us.  Really hoping that will remain the case as we go into Round 4 tomorrow.  All thoughts and good vibes are appreciated!
Here are some pictures from Round 2, on July 30, 2018
Why don't I have pictures from Round 3 two weeks later?  Well, that's because Fran came in to spend some time with her boy!  Only one visitor is allowed at a time, so I stayed home while she went in for the Round 3 super dose.  I had told her that it wasn't such a long day, but Folfoxiri + Avastin does take a long time, so my bad!  I'll get to be there for the long day tomorrow.  Anyway, before she accompanied Larry on that Monday, we picked her up on the Sunday before from LAX.  Taking advantage of the fact that we don't typically spend much time on the West Side anymore, we planned an outing to the Century City mall – and went to Eataly for lunch!
Eataly @ Century City on Aug 12, 2018:
As far as other stuff that happened since, here are some pictures and stuff! One of the things Larry & I saw at the Hollywood Bowl was a live performance of Annie – which was amazing.  Much like Mamma Mia last year, it's basically putting on the Broadway show but keeping the sets from being too over the top.  In both of these cases, the sets actually were pretty flexible in that they took advantage of rotating sets to great effect.  In Annie, the letters themselves were able to be used as various locations by rotating them around to show they were hollow and had sets in them.  AWESOME. The cast of Annie, especially the lead and then the celebrity cast that filled in the other main starring roles, were all amazing.  Ana Gasteyer was great as Mrs. Hannigan as was David Alan Grier as Daddy Warbucks.  The girl who played Annie was fantastic.  I love the songs too, and they didn't disappoint with numbers like "You're Never Fully Dressed Without a Smile", "Tomorrow", and "Maybe" (and everything else, of course).
Annie @ the Hollywood Bowl, July 28, 2018
Early this month, Larry & I went back to the Glen to see how our house was coming along.  No drywall up (although we have heard that has started this week!) but we got to see that all the electrical and plumbing is in, as are all the windows, and a lot of the clutter on the floors was gone, so it was much easier to walk around and imagine the future.
The Glen LA, Aug 5, 2018
The day before Fran arrived in town, Larry, my mom, and I went to the Hollywood Bowl to go watch The Empire Strikes Back accompanied by the Hollywood Bowl orchestra.  It's a phenomenal movie and has one of the more iconic soundtracks – obviously it's the movie that first used the Imperial March, but it also has such great themes such as the love theme and the stupendous Asteroid theme.  It was a pleasure to hear it play out live.  Plus there were so many lightsabers in play it was a joy to see them all come out when certain actions or musical moments came on, notably when the Imperial March played.
The Empire Strikes Back @ the Hollywood Bowl, Aug 11, 2018
I have been working basically from home while Larry is going through this.  With the stuff I've been working on lately, that's been an option.  I do go in occasionally though just to make sure people see me or when others let me know they'll be in.  In this case, my ex-work wife Barb let me know she was going to be downtown one day AND she wanted to take me to lunch!  How could I refuse that offer?  Fran took Larry duty (I kid, honestly – he doesn't need such attention) and I went in and met her at her new office neighborhood and she then surprised me by saying we were going to 71 Above, the restaurant which resides at the top of the US Bank building.  It was spectacular, and since we got there around 11:45am, we beat the rush and got window seats.  It's kind of nuts.  The food was fantastic, and I definitely appreciated her generosity!
Lunch w/ Barb @ 71 Above, Aug 16, 2018
It's been a blur though, to be honest.  I can't believe we're on to Round 4 tomorrow, and that Fran has come and gone already.   There was fun to be had, as we did go and see Crazy Rich Asians which was awesome (go see it), we'd go for walks to keep Larry active, made dinners at home, Fran and I drank wine, she'd watch a lot of her British Netflix shows, and overall it was just an easy time, thankfully.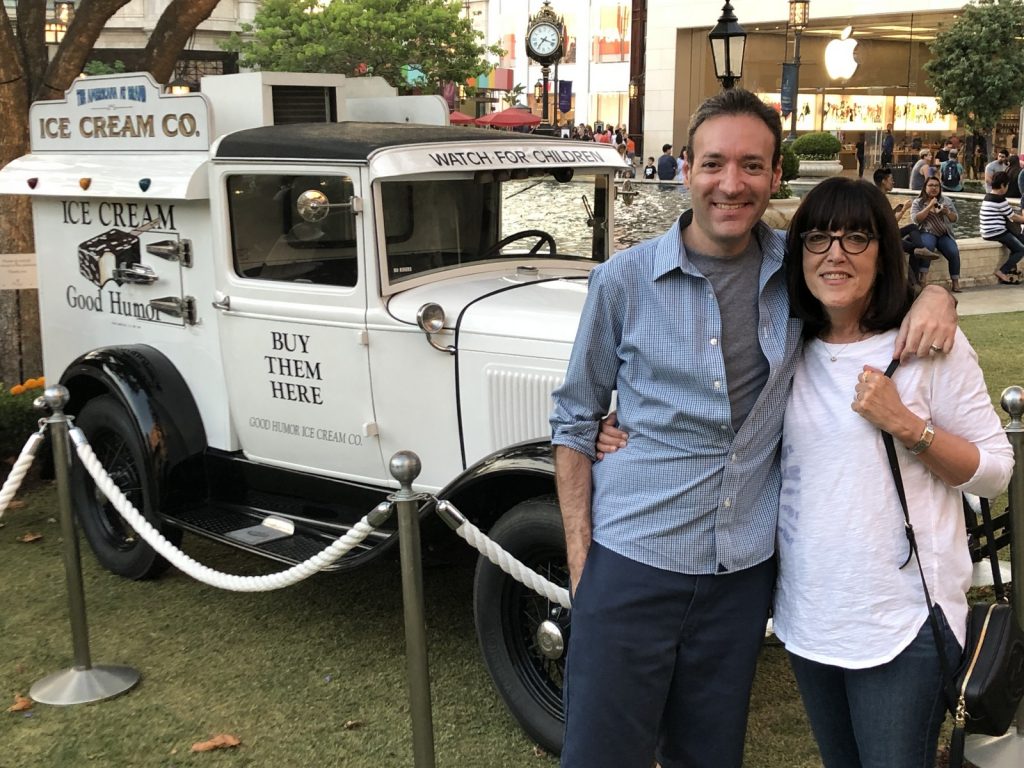 So here's hoping the good vibes continue.  We'd love to learn that the chemo is doing its job, but we won't know how well it's working for a little bit longer.  Dr Arzoo has mentioned we'll test levels after Round 6.  In the meantime, positivity and confidence it's all working out are the order for the day. In random news, I'm in love with this mop I saw at Bed Bath & Beyond: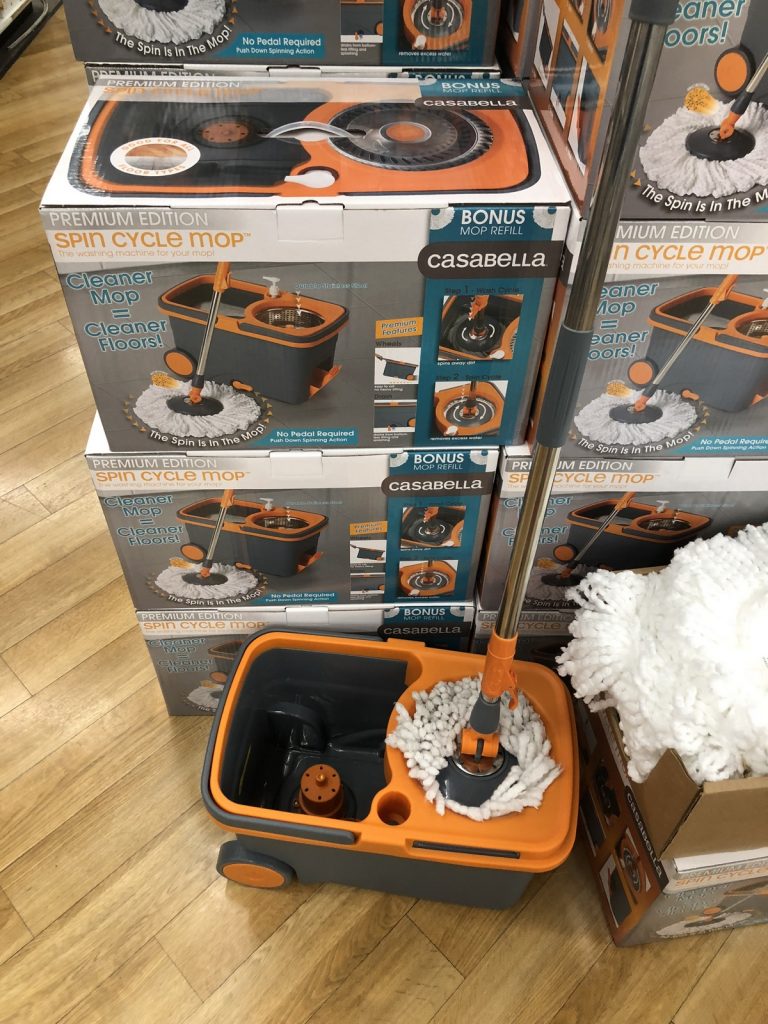 I got it and I used it yesterday at home and never again will I use those stupid Swiffer Wet Jet things.  Such a waste of paper and resources those things are.  This mop has a built-in spinner function to help you both wash the mop head and then a salad-spinner thing that helps you rinse off excess water before using it.   I'm sad to report that our floors were filthy, but damn if they're not clean now!