BB20 – Eps 21-23 – Aug 12, 15, & 16, 2018
This week really was a mess for Haleigh's side of the house.  You'd think winning the HoH means your side was okay, but nope, the Hacker twist seriously messed up the week for them and because they couldn't control the #s or win a competition to save their lives, the Level 6 alliance tore through them.  
I'm not interested too much in getting into the weeds after not having been on top of these posts this week, but a few quick bullet points should suffice:
Haleigh tried to get rid of one of Level 6 (Angela & Kaycee) although it's still pretty obvious that no one is sure or aware that Tyler is the hacker.
Kaycee winning the Hacker comp definitely was a worst case scenario for Haleigh's side, but it shouldn't have been insurmountable.
Kaycee played it pretty damn well covering up winning the Hacker comp, and Level 6 still manages to impress the hell out of me for keeping their alliance under wraps.
After taking herself off the block and replacing with Rockstar, there was still a chance to get rid of Angela.  That would be if Level 6 didn't manage to win a Veto.
Well, that Veto comp was a fucking ridiculous shitshow of exceptional proportion when ROCKSTAR HELPED TYLER WITH ONE OF THE OTEV CLUES AND HE MANAGED TO SAVE HIMSELF!!!!  That alone warranted Rockstar's justified eviction in my mind.  And when she ended up one-on-one against Tyler and she brought the wrong clue, I was like, just have the eviction now.  She's earned it.
Rockstar got evicted and while she was charming as hell with Julie's interview (when asked by Julie who she thought betrayed her the most, Rockstar answered that it was whoever created that Hacker twist which was a brilliant answer!)
Our next HoH isn't known yet as it was a long challenge, but it looked like Fezzie is potentially the front runner as he was hustling like hell on that slide-y surface without any problems.  So we'll see!
Status & Standings: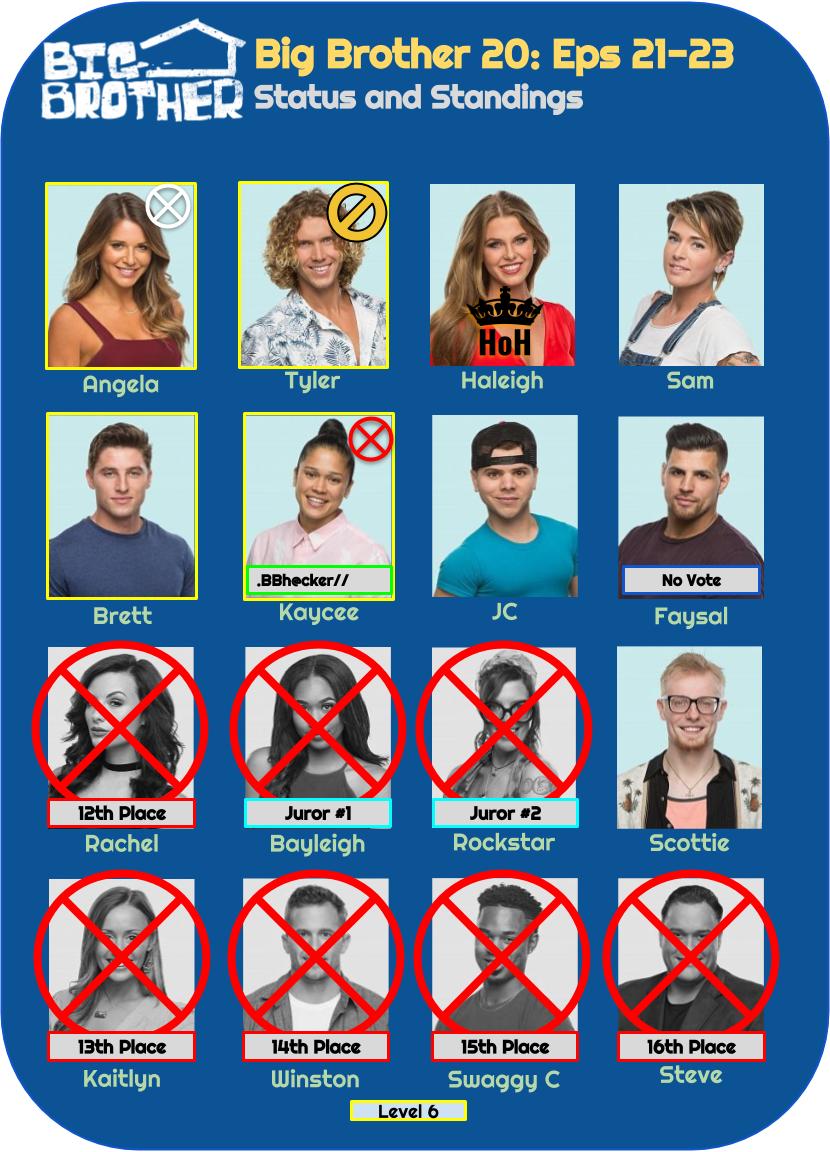 Head of Household: Haleigh
Nominated for Eviction:  Angela & Kaycee
BBHacker:  Kaycee
Nominations Changed: Yes, Kaycee replaced w/ Rockstar
Power of Veto Winner:  Tyler
Veto Used?  Yes, on Angela
Replacement Nominee:  Kaycee went back up
Evicted:  Rockstar (5-1, w/ Sam voting to keep Rockstar and Faysal's vote blocked by the hacker)
I anticipate I'll be able to do a better job of posting this week – last week was a lot of family time with Fran in town for Larry's third chemo treatment and it just wasn't as easy to write, let alone how FRUSTRATING it was to see Haleigh's side just bungle their way out of power this week and lose a member.  Ridiculous.