Sunday, Sept 11, 2016 – Paris, Day 1
<– Previously, we depart LA in style to get to Paris
Arrival in Paris:
Our flight got in without incident and we ended up getting a priority pass for Customs, which was good but probably not necessary for us as we got to customs first, but holy cow, after we had gotten into line, it seemed like EVERY flight arrived at the same time as that hall filled up fast. Soon enough we were through customs though, seeing our first French hotness, which there was plenty of during our time in Paris, and then it was time to get our pre-booked shuttle into town. That took a little bit of time, which was okay, as obviously we likely weren't going to get our hotel room as we were arriving around 8am.
The shuttle was a nice drive into town, with a bit of rain, which was the only day when we experienced any bit of precipitation.  The first drop-off was a hotel right near the Moulin Rouge which was of course going to be a destination for us shortly!  It was also nice to be driving around early Sunday morning as there was minimal traffic to deal with.
Hotel du Jeu de Paume – Our Parisian HQ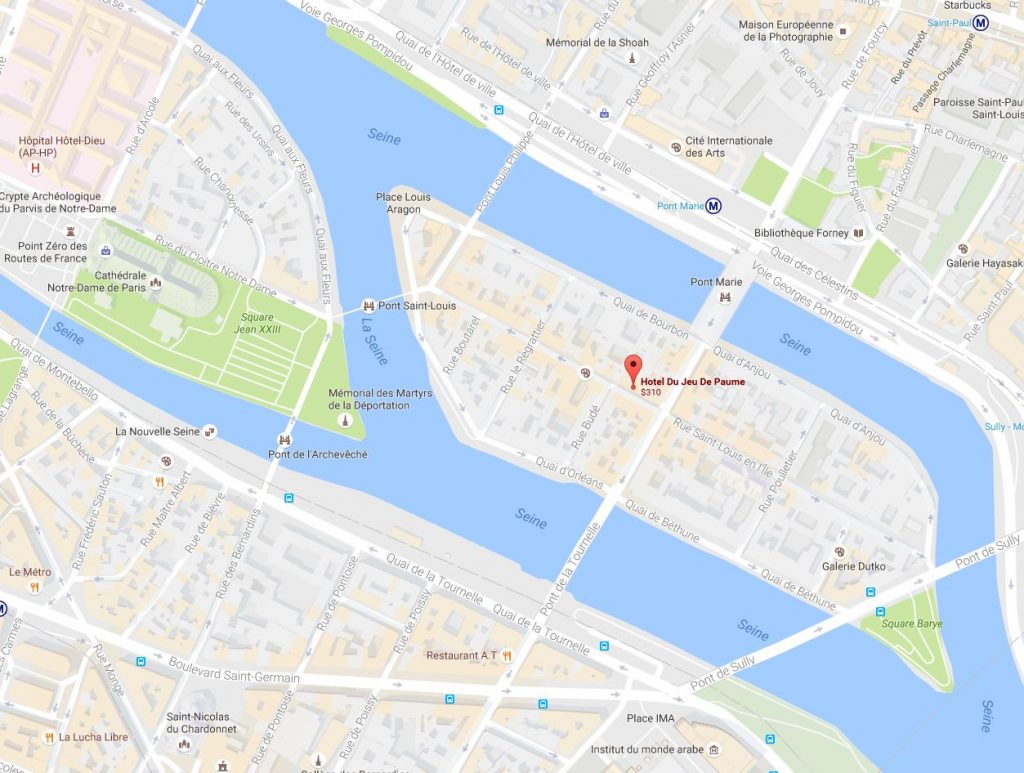 We arrived at the hotel  on the and it was just fantastic. A very very nice hotel but hidden away in a beautiful kind of gate and courtyard experience; it was also very modern, but in a comfortable and welcoming way. The concierge at the time checked us in and took our bags, but did say our room wasn't going to be available until closer to 12pm. He got us both our first coffee cream (cafe latte) of our trips, after which we then headed out for some initial Parisian exploration.
Tiredness Level:  Fluctuating, but energy levels were rising now that we had found our hotel and had some coffee.
Funkiness Level:  Rising steadily, but still tolerable.  Shower definitely needed soon though.
Exploring, Day 1 – Notre Dame, Rick Steves Historic Walk, St Chappele & Palais de Justice area and more breakfast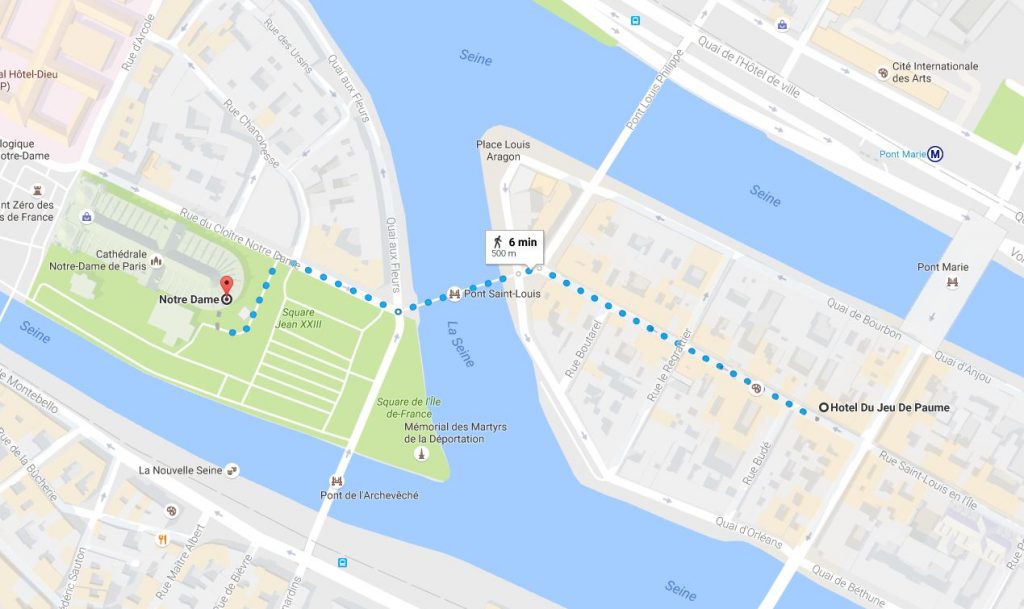 Our hotel was on Ile Saint-Louis, which is the island next to the island of Ile de Cite that Notre Dame sits on. So yeah, that was awesome, as when we walked down the street and crossed the bridge, excuse me, the Pont Saint-Louis, we were walking right up to the back of Notre Dame!
It was also very early on a Sunday morning, so we had quite a bit of the area to ourselves. We of course then went in and visited Notre Dame, which was awesome as it was also during a service, so it was quite an experience. Plenty of pictures and a bit of guidance from Rick Steves.  Larry hadn't actually visited Notre Dame in his previous visit, so this was a great way to check that box and enjoy some peace at a massive tourist attraction before the hordes of tourists arrived.  And arrive they did, by the busloads.  Ah, the bourgeoisie! Continue reading Our First Day in Paris →