Hey, look at this – I'm posting on my site!  YAY, for all of us.  I've got over 2000 pictures to sift through and post on this here site, and dammit, it's gonna happen.  It'll happen in bits and pieces, like all my mass photo collections do when I try to put them on the site, as there's a lot of writing and captioning to do.  And if you're going to do something, might as well do it right.
So!  As I'd mentioned before, Larry & I waited some time to go on our honeymoon as the time was right to wait due to vacation status as well as we got a pretty sweet deal through using my American miles and a very swank deal that American was running earlier this year using miles for business class flights to Europe.  It was kind of nuts how it all came about, as it was back in January when I was like, we better figure out the whole honeymoon situation.  And almost as if Facebook and Twitter read minds or something, a Points Guy post came through that indicated a deal to Europe using miles.  It was kismet!   Basically, 50k miles per person to get to Europe and another 50k miles per person to get back, for a total of 200k miles.  I had about 140k miles stocked up already from some traveling but also by using my AAdvantage card.  There were some direct flights from LAX to London available right when I checked that first day, but we didn't jump on the deal then…and sure enough, when checking back just a few days later, all direct flights to Europe were gone and you had to now stop in JFK.  Whatever, we'll make it work, and so we booked an LAX to JFK flight with what ended up being a brief layover there, followed by a JFK to CDG (Charles de Gaulle airport in Paris) flight, all in Business Class; happily the direct flights back to LAX from London were still quite available, so we got that in Business Class too.
Business Class is Where It's At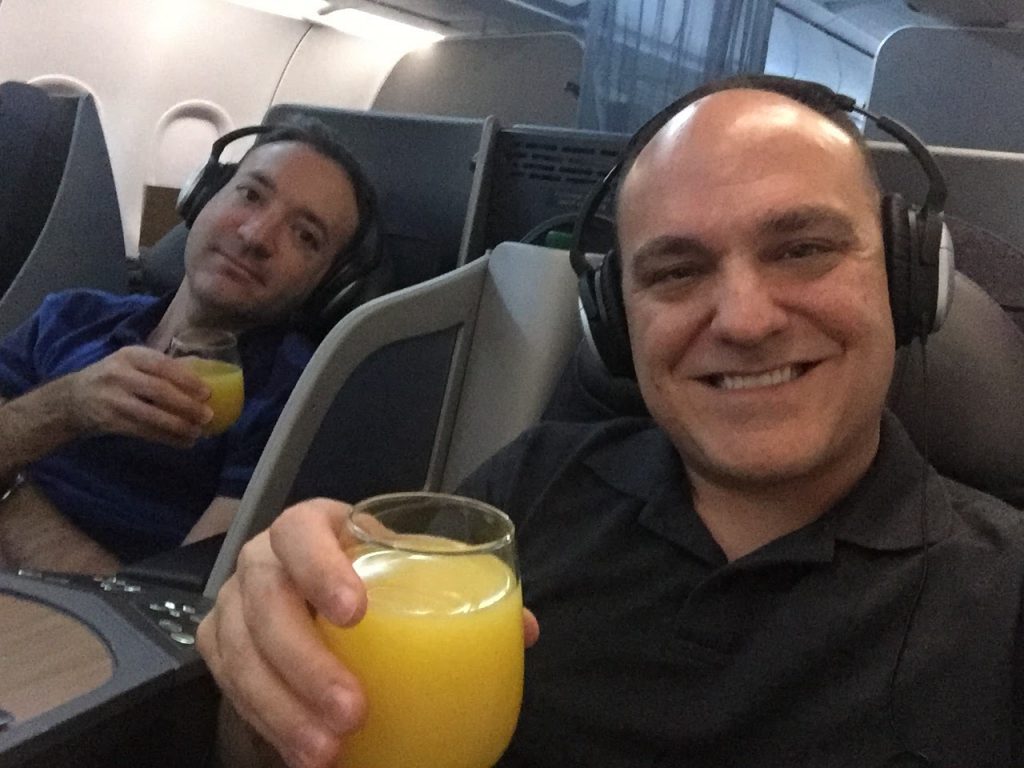 I'm spoiled.  After our experience flying out and back in Business, I'm not sure I can travel amongst the commoners in Economy again….
That's a Spy reference and if you haven't seen this movie, you absolutely must, but that's a tangent and let's not get distracted by shiny objects just yet!
But seriously?  Business Class is awesome.  Much better food, drinks are included, and all the in-flight entertainment is part of the deal.  And oh yeah, the seats recline all the way to a flat position.  You may not actually want that, but the fact that you can recline like you're in a la-z-boy chair is pretty damn sweet.
So if you can afford Business Class, or are thinking of saving it for a special occasion, DO IT.  Completely worth it, especially if flying such a long way. Continue reading We Went on a Honeymoon! →