Hey, look at this – I'm posting on my site!  YAY, for all of us.  I've got over 2000 pictures to sift through and post on this here site, and dammit, it's gonna happen.  It'll happen in bits and pieces, like all my mass photo collections do when I try to put them on the site, as there's a lot of writing and captioning to do.  And if you're going to do something, might as well do it right.
So!  As I'd mentioned before, Larry & I waited some time to go on our honeymoon as the time was right to wait due to vacation status as well as we got a pretty sweet deal through using my American miles and a very swank deal that American was running earlier this year using miles for business class flights to Europe.  It was kind of nuts how it all came about, as it was back in January when I was like, we better figure out the whole honeymoon situation.  And almost as if Facebook and Twitter read minds or something, a Points Guy post came through that indicated a deal to Europe using miles.  It was kismet!   Basically, 50k miles per person to get to Europe and another 50k miles per person to get back, for a total of 200k miles.  I had about 140k miles stocked up already from some traveling but also by using my AAdvantage card.  There were some direct flights from LAX to London available right when I checked that first day, but we didn't jump on the deal then…and sure enough, when checking back just a few days later, all direct flights to Europe were gone and you had to now stop in JFK.  Whatever, we'll make it work, and so we booked an LAX to JFK flight with what ended up being a brief layover there, followed by a JFK to CDG (Charles de Gaulle airport in Paris) flight, all in Business Class; happily the direct flights back to LAX from London were still quite available, so we got that in Business Class too.
Business Class is Where It's At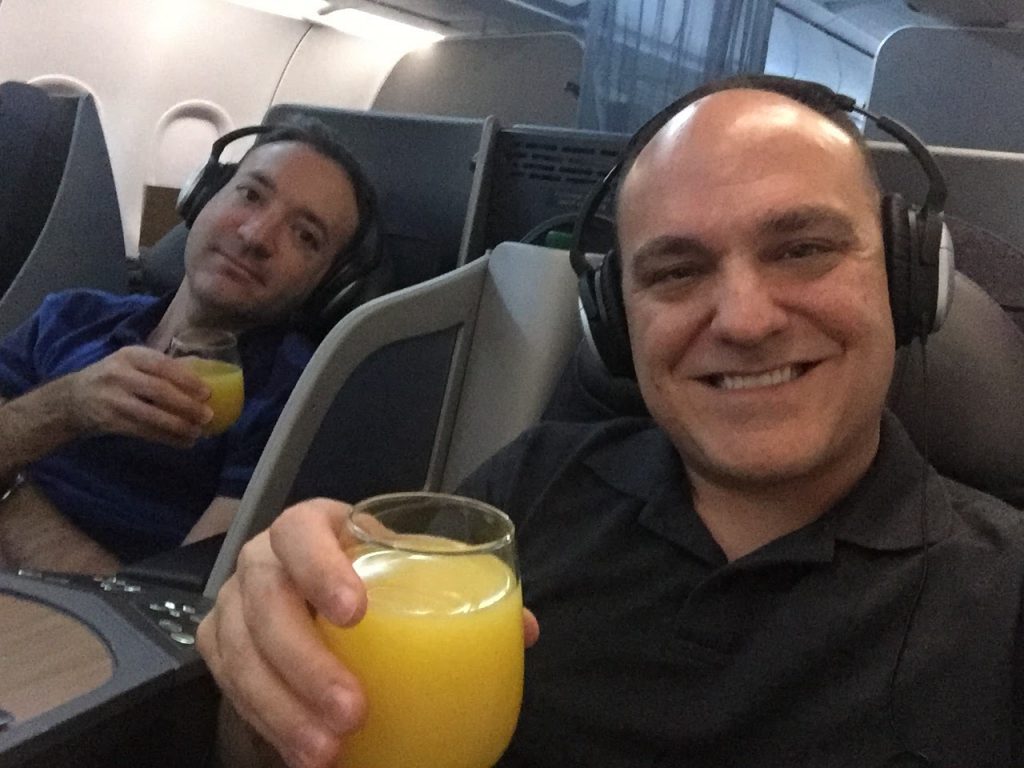 I'm spoiled.  After our experience flying out and back in Business, I'm not sure I can travel amongst the commoners in Economy again….
That's a Spy reference and if you haven't seen this movie, you absolutely must, but that's a tangent and let's not get distracted by shiny objects just yet!
But seriously?  Business Class is awesome.  Much better food, drinks are included, and all the in-flight entertainment is part of the deal.  And oh yeah, the seats recline all the way to a flat position.  You may not actually want that, but the fact that you can recline like you're in a la-z-boy chair is pretty damn sweet.
So if you can afford Business Class, or are thinking of saving it for a special occasion, DO IT.  Completely worth it, especially if flying such a long way.
Alright, let's look at some non-Europe pictures and get this started!
Saturday, 10 Sep 2016: O-Dark Thirty Departure
It was an early Saturday morning for us, but happily that means little traffic on the way to LAX.  What was actually kind of awesome was that not only was there little traffic on our way there, except of course inside LAX's traffic circle, but since we had business class and I had booked with my AAdvantage card, we had expedited priority check-in and got TSA pre-check.  That meant we had our own counter for checking in, didn't have to wait in the long-ass security lines, and basically got in to the terminal area within 45 minutes from leaving our house.  AWESOME.  So we then had some time to eat more breakfast (more for me as I had thought I should have oatmeal before leaving – little did I know I'd be having 3 breakfasts this day) and then it was time to board our first flight!
LAX & Flying to JFK
Had basically no problems with flights from LAX to CDG. The first flight was our first taste of Business Class and we were hooked (as I raved about at length above). Our seats were next to each other on that flight, and we ended up finally watching The Nice Guys on the flight, which was a great movie. Also started watching Everybody Wants Some!!! But stopped after a while as my entertainment system was possessed.  Will say that Everybody Wants Some!!! is an interesting but very aimless and meandering movie about hot baseball college guys in 1980 right before college starts.  Reminiscent of Linklater's Dazed & Confused for sure, and I definitely appreciated the scenery, and the soundtrack, but not sure what it was I actually saw.  Ha.  The Nice Guys was fucking fantastic though, and if you can catch it, do so.  Ryan Gosling and Russell Crowe are hilarious and the 1970s Los Angeles scene it takes place in is mesmerizing.
JFK & Flying to Paris
In JFK, we ended up having a little over an hour of a layover as our flight was early (yay) and we killed the time at a bar, but then saw that the flight to London was boarding much earlier than a standard domestic flight and ended up being some of the last people on the plane, and we had to chug big glasses of wine. :-).  Michancy would be proud.  Happily, it didn't matter that we were some of the last people on the flight as when you're in Business Class, you get so much overhead compartment space it's stupid.
That flight was also very comfortable, but it really isn't that long – only about 6-7 hours. We had a nice dinner to start and finished watching Everybody Wants Some!!!, which only left maybe 4 hours? I didn't take my ZQuil which may have been a mistake, as I didn't really sleep all that much – actually, I'm pretty sure I didn't sleep. It was kind of hard to do so when your body only thinks it is about 5pm.  So yeah, the first day of Paris was basically just a continuation of our day of flying – but hey, honestly, it didn't suck all that bad in the long run.
Honeymoon Picture Pages: