Another shit-ton of clips ahead, since we've got so many teams left to talk about! Â I'm growing more in love with Brooke the more she's on screen as she is just awesome and holds her own and more against Robbie. Â I've also got to say that Michael & Scott's set of videos are a bit worrisome, as they just don't seem that bright. Â Maybe it's excitement but I'm not so sure. Â  From these videos though, I think Amy & Maya are going to be in trouble if they're not able to play hard out there while Dennis & Isabelle prove they just weren't cut out for this race long-term. Â At all.
Extra / Deleted Scenes | At the Pit Stop | After the Race
Extra / Deleted Scenes: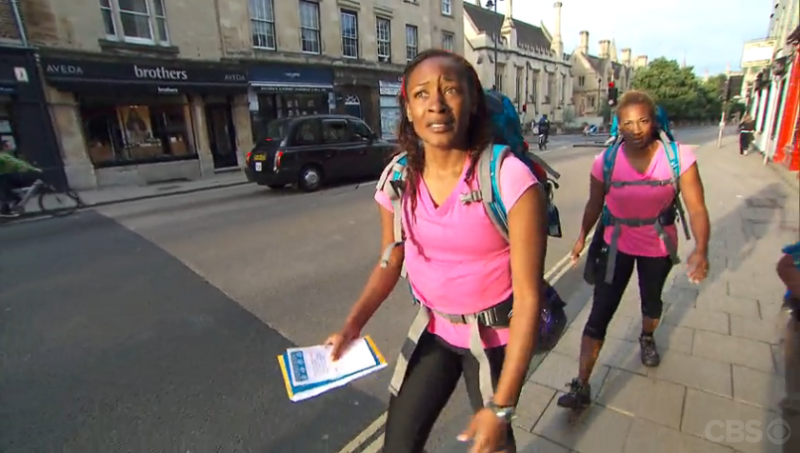 Epileptic Toes:  Shelley is trying her best to keep up with Nici in their scramble to the Pit Stop but can't keep up, complaining to Nici that her "toes are spazzing in her shoes."   Nici asks her if she wants to lose a million dollars due to a foot spasm?   Further she tells her that she just doesn't care that her toes are hurting.  Shelley asks Nici to just breathe and to give her a break as she was rowing the boat all by herself and is accordingly exhausted.  Nici doesn't care and won't let them lose because of Shelley's foot.  Nici insists she'll carry Shelley if she has to and keeps cajoling her to run.  Shelley is sounding like she's dying, while Nici shouts out motivational chants to keep Shelley moving.
---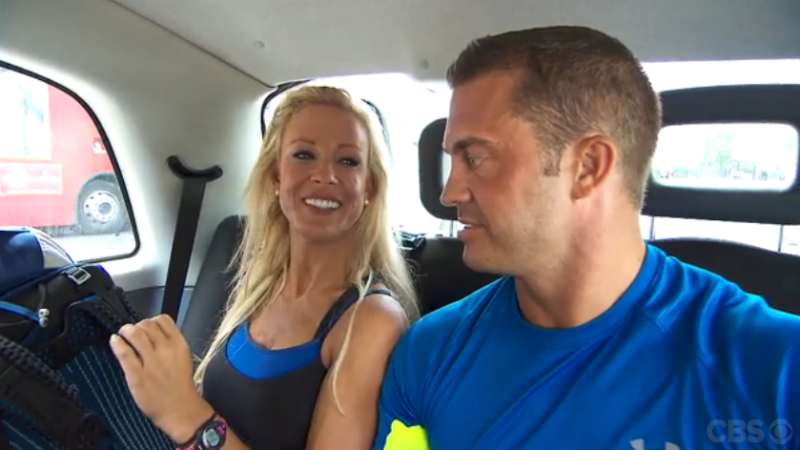 The Shamrock King: Misti & Jim are in a London cab which happens to be driving by the Tower of London. Â Jim explains that's where the crown jewels are, which Misti recalls are spectacular. Â Jim jokes that the 118-carat diamond in Queen Elizabeth II's crown is just slightly bigger than the rock on Misti's ring. Â Just slightly. Â Concerning the upcoming Detour, they're heading to Somerset House and are quite ready to be in a parade. Â Misti's been in a lot of parades as a beauty queen. Â Jim has also been in a parade with her once, as he was the Shamrock King.
---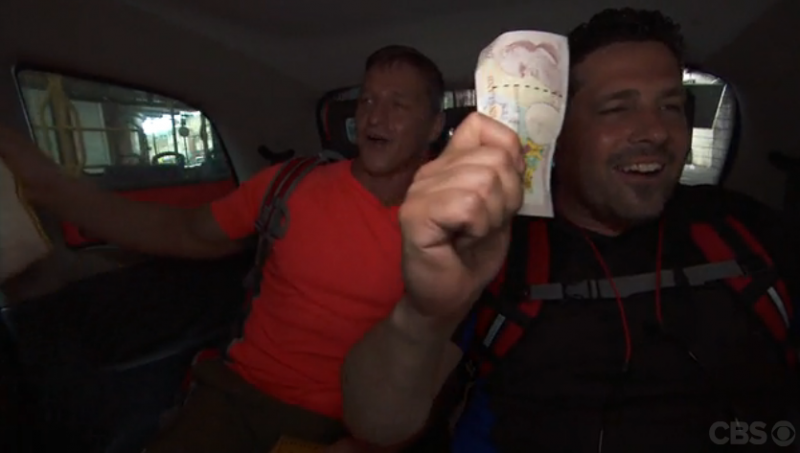 Poppycock!  Michael & Scott are in their London cab and it's currently passing Buckingham Palace.  Michael hopes the Queen is home and looking out the window right now, while Scott wants to thank her for defending freedom.  Uh, what?  They both talk about how England is our closest ally and we are always on the offense defending our freedoms.  So a big thanks to QE2.  Now we get a historical perspective of England's contributions to the world from Michael.   Moving on, it's time to discuss the "weird" pronunciation of the word "Thames," and it's about now that my mind checks out of this conversation.  These guys' smalltalk is mind-numbing.  Talk turns to British accents vs Boston accents, and Michael jokes that they get mistaken a lot for being British or Australian due to their accent.  Hmm… Continue reading Amazing Race 25 Leg 2 Bonus Clips →