Wow, there's a lot of videos ahead, but they're great for giving you an idea of these teams' personalities.  There were some funny moments especially around Brooke & Robbie, who I am LOVING, while we also see the struggles that Keith & Whitney had throughout the race.  Also, Shirtless Adam!  And guess what?  The most dysfunctional team award, as of Leg 1, goes to Dennis & Isabelle!  I have little hope for this team as they're thisclose to self-destructing at any moment.  Seriously.
Extra / Deleted Scenes | At the Pit Stop | After the Race
Extra / Deleted Scenes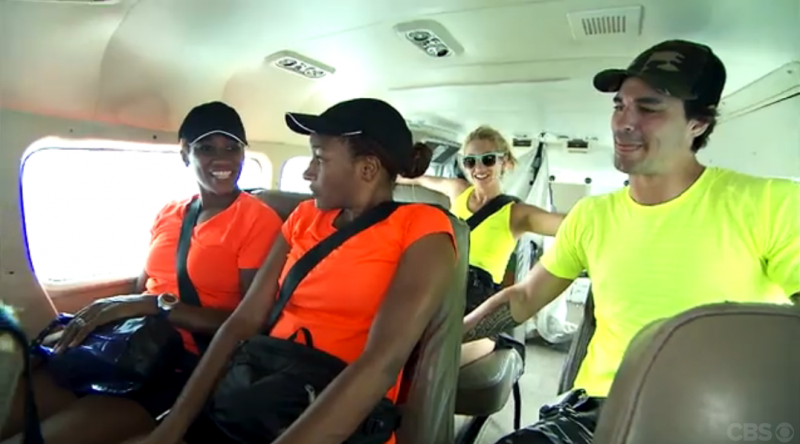 A Lifelong Fish:  On their seaplane ride, Shelley & Nici and Keith & Whitney discuss what the Roadblock is likely to be.  Shelley actually hopes it's going to be a Detour so they can work together on it, which Keith & Whitney happily agree with.  None are quite mentally ready to do something on their own yet!  Nici is happy to step up for the Roadblock if need be, although Shelley wouldn't mind getting her first Roadblock done right off.  Nici wants to do this Roadblock though as she loves being in the water.  Shelley tells them that Nici has been a fish her whole life and remembers a story when Nici was 4 and followed her dad from the hot tub to the deep end of the pool.  Shelley panicked but didn't need to.
---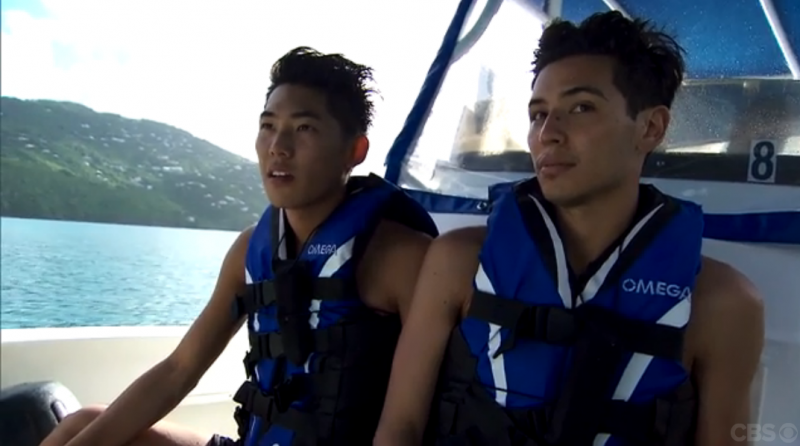 Shoeless:  On their skiff ride back to the mainland of St. Thomas after the Roadblock, Tim & Te Jay tell us that they took off their shoes before doing the cliffjump challenge thinking it was the smart thing to do in anticipation of the jump.  Turns out they shouldn't have done that, and now they're riding on their skiff to go back and get them.  But the captain tells them that the journey back is upstream and will cost them an hour and a half at least to go back there.  Te Jay thinks it's a terrible idea to go back and get their shoes as this is the Pit Stop they're heading to.  Tim is concerned that they'll be wearing these beach-shoes the rest of the time while Te Jay knows they can figure out new shoes later.
As they finally arrive at the shore, Tim is confused as there's no Pit Stop to be seen.  The captain points out that this is the dropoff point only and that they still have traveling to do to get to Fort Christian.  They both look confused but Tim finally re-reads the Clue and it says they'll get dropped off at Meagan Bay at which point they need to make their way further.  On the beach, they interact with some of the locals who are cheering them on, asking them which way the other team went.
---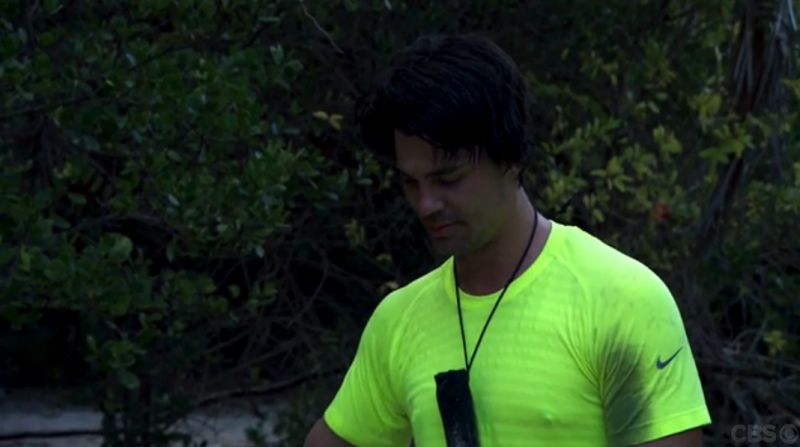 Suffering in the Sand:  Keith is upset because he's sure he's digging in the right place and all he's feeling from Whitney is criticism.  She points out she's trying to help.  The penalty talk begins and Keith tells her that that decision is up to her.  She doesn't want to make that decision on her own though.  Keith repeats that this is where the compass tells him to be and she responds that it's clearly not there, so either the compass is wrong or he's wrong. OOF.  Whitney wants him to start the process over again as he needs to try something as opposed to just bitching about it (my words, not hers).
It's a bit darker now and the penalty talk is back.  Whitney insists it's up to him to make that call if he is sure he can't find the treasure.  Apparently he's been digging for 4 hours!!  She suggests that they make a deal with the Firefighters to try to figure this out together.  Keith can't believe that the compass would be wrong, which leads me to believe he's reading it wrong still or that he's not measuring the lengths correctly.  Whitney tells him that she knows that he's their best hope as she knows if she was in his place there's no way she'd be able to do this.  She encourages him and that he's gotta be right near it.  Geez, Keith is looking rough now as he's freakin' exhausted.
---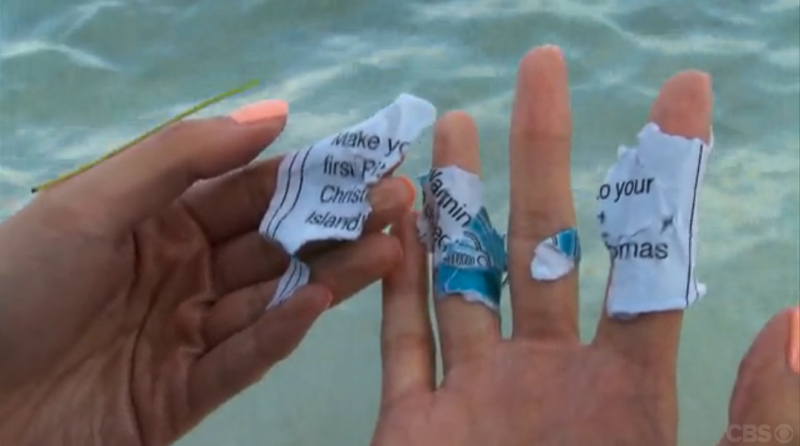 Clueless:  After the Roadblock, Dennis tells us that he handed the clue to Isabelle so he could wash his hands off, yet somehow Isabelle lost the clue.  "I guess I dropped the clue, I'm so sorry" she admits….this is not a good start to their race!  Dennis just tells the captain to head to the dropoff as they read the clue so they know where they  have to go (Fort Christian).  More tearful apologies follow from Isabelle as she knows Dennis worked so hard at the Roadblock.  She wonders if they should help another team so that they could share that team's clue?  He flips out at that suggestion as they're out in the water now per her guidance.  More apologies.
The boat's moving along now so they're obviously not going back.  Isabelle wonders if maybe the clue is in Dennis' shoes, but he reminds her that he wasn't wearing any.  Then he thinks that may be where the clue is, as he asked Isabelle to go get his shoes on the beach.  It's probably lying where they were.  Dennis immediately yells at the captain to go back to the beach.
Back at the beach, it looks like their clue was somehow washed into the ocean as Isabelle is finding scraps of their clue.  Dennis wonders if they can read it?  They can still make out the words 'Pit Stop' and 'Fort Christian' on it.  They stick around on the beach some more to look for more pieces and to dry out the clue.  Isabelle wonders if they should have trusted their memory and stayed on the boat since it turned out they were right.
---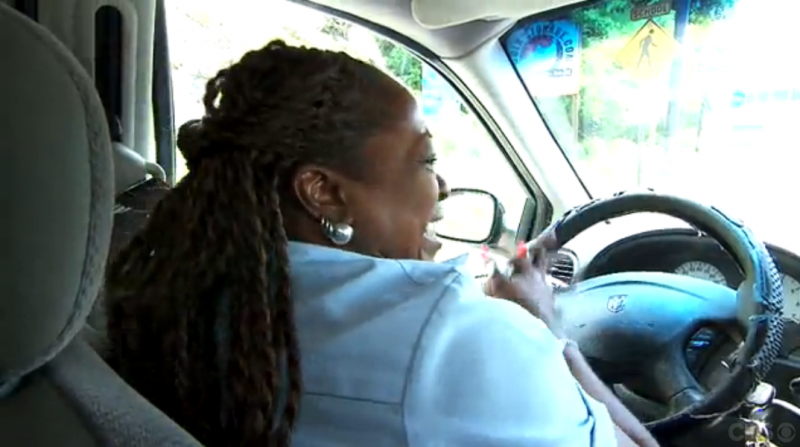 The Roadrunner: Misti & Jim are encouraging their taxi driver to hustle as everyone's in a race to get to Vendor's Plaza to sign up for a seaplane ride.  Jim knows it would be a huge advantage to get there first.    Missi is excited as their driver is just as excited as they are – the driver is the woman we saw in the show bragging about how she loves all this.   They're loving her sense of urgency and competition, although when Jim says she should "drive it like she stole it" it suddenly gets a little awkward.  Moving on, Jim is thrilled to be out of the gate first in addition to having been on the first flight.  The driver laughs as she's known as "The Roadrunner".  A little later it seems their driver was able to lose the other cabs following her which delights Missi & Jim.
---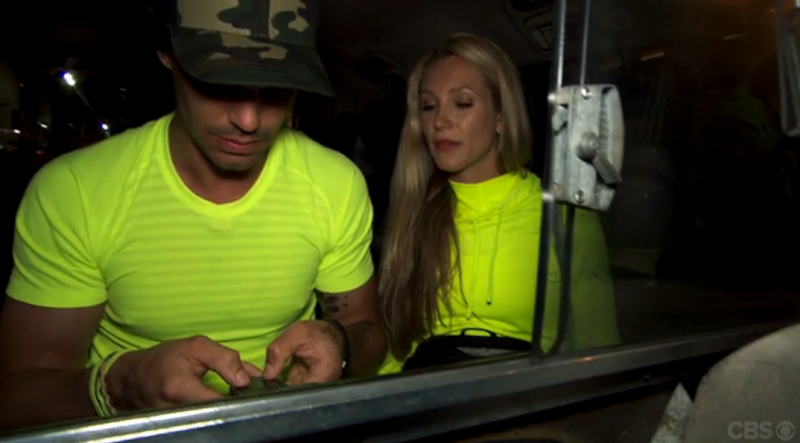 Success With a Flip Phone:  Keith asks the cab driver if he can borrow his cell phone as he wants to confirm that they're going the right place.  The driver hands it over but Whitney is shocked to see an actual flip phone and comments it's been a loooong time since she's seen one.  As Keith works on the phone (I guess he's using the flip phone's primitive browser?), Whitney works on keeping calm.   Keith finally admits that he has no idea how to work the phone.  As Keith works at it, Whitney excitedly mentions that it's the 25th Amazing Race and they're headed to where the first race ended (The Flushing Meadows Globe, although they don't know that for sure yet).
Whitney cheerfully asks the cabbie to go as fast as possible but they're continually hitting red lights.  He tells them once they're on the highway it'll go faster.  Keith is still having no luck deciphering the clue.  As Keith bitches about the phone, Whitney keeps reassuring the driver there's no offense intended.  He finally has a successful search attempt and finds a site that lists the info but they have to navigate the website and read through the entire entry until they finally get the info confirming it's the Flushing Meadows park.  They're relieved as they're going the right direction and thankfully return the phone to the cabbie.
---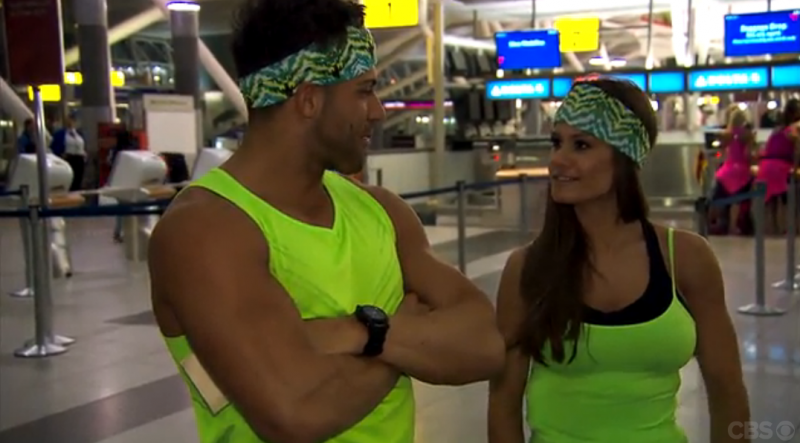 Domestic or International? At JFK, Brooke humorously chortles that at least they're not in last place and gestures towards Lisa & Michelle as they walk in the background and is glad she's ahead of them.  She's absolutely thrilled that she & Robbie are competing against them as she knows they're easy competition to beat.  Robbie segues into admitting that he's confused as to if they're flying internationally or domestic?  He asks if Brooke knows and she patiently tells him that it's domestic as it's the "U.S." Virgin Islands.  Robbie is still confused as to how St. Thomas is also the Virgin Islands.  Oh boy.  He looks perplexed and Brooke looks amused.  When he asserts he has to double-check this info, she turns away laughing which he mock-indignantly objects to.  They're way more charming than I ever expected them to be.  He then gives the camera a triple-wink which Brooke knows is going to annoy us.  He jokes that triple-wink is what won Brooke's heart, which she adamantly insists was NOT the case.
---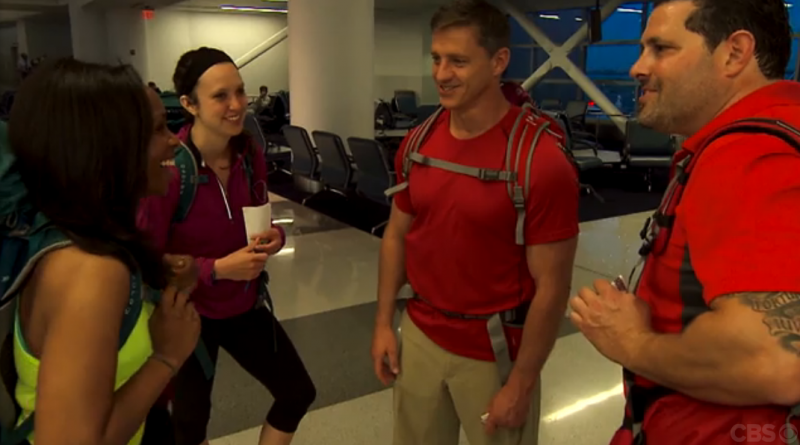 Willy Wonkas: Michael & Scott and Amy & Maya get to know each other at JFK and ask about their occupations, with the girls telling about their food science background.  The guys start joking around about "science!" and periodic tables which the girls allow and laugh along with.  Amy points out that it's specifically candy and ice cream though and Scott gets a lot more excited about their career!  He admits they're suddenly his dream women and that they're like Willy Wonkas.  Maya totally agrees that is exactly what they're like.  They're both ready though to be done with grad school.  They admit they eat a ton of their candy but they have to work out a lot, which amuses Scott as he points out he also eats a ton of candy.
When Maya asks what Michael & Scott do, they immediately recite "unemployed exotic dancers."  The girls are stumped as to how to respond as I'm sure they can see Michael but Scott maybe not so much.  Amy wants to see a dance though but the guys expect some money first!  Maya's not buying it and wants to know what they realllly do.
---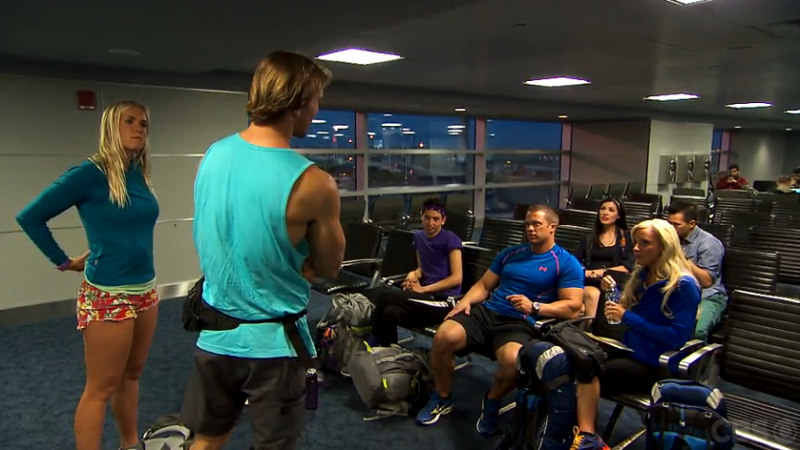 Making Friends:  While waiting around in JFK for the flight to depart, Adam & Bethany are wandering the terminal and have decided to go make friends with the group of racers sitting around.  As they approach, Jim jokingly asks if they had stopped for dinner and a massage.  Misti & Jim introduce themselves while Adam has remembered who Tim & Te Jay are.  Jim asks if there's anything more they should know about them besides that they're surfers.  Bethany brings up that she's from Hawaii and Te Jay tells her that's where he's from too.  Talk goes to Adam who tells everyone he's from Kansas but that they both live in Hawaii now.  Apparently it was Adam's 26th birthday yesterday which excites Isabelle as hers was 3 days ago, making them both Geminis.  Dennis points out Isabelle loves astrology and Isabelle wants to know if Bethany is an Aquarius, which she is.  Dennis and Isabelle get realllly excited about that and tell a story about how they met.  It's been a perfect match, and Jim jokes that Dennis found the only girl who using "what's your sign" actually worked on.
---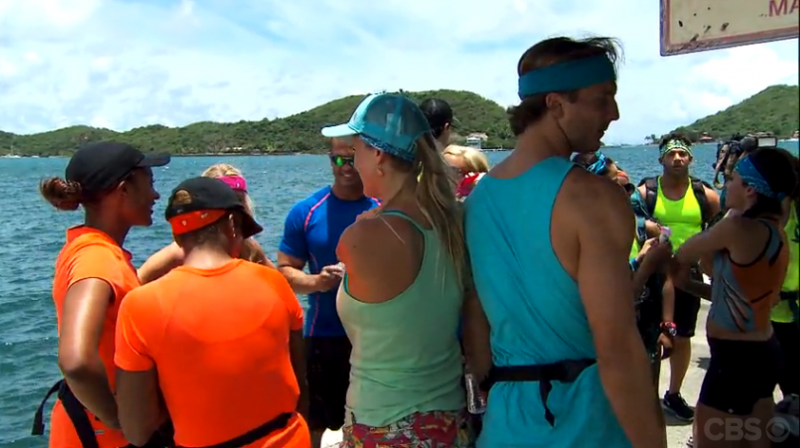 Are You Sisters?  While waiting for their seaplane flights, Adam & Bethany, Lisa & Michelle, Misti & Jim and Shelley & Nici all get to know each other.  Shelley had already recognized Bethany as the surfer girl.  Jim and Nici talk about South Carolina and then he asks if she & Shelley are sisters, which of course she tells him that's her mom.  Bethany is utterly shocked, as is everyone, and everyone quickly compliments Shelley on how great she looks.  Then a bit later, Michael & Scott introduce themselves to Adam & Bethany, admitting they already recognized her too.  Michael really admires Bethany's challenges and finds her to be a huge inspiration.
---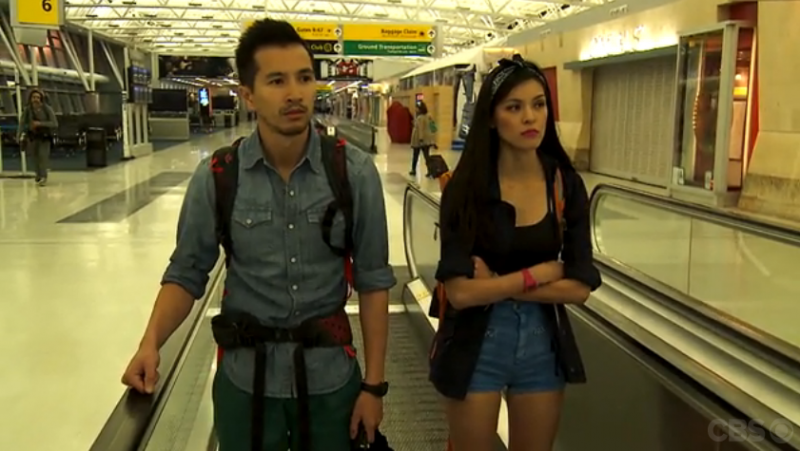 A Rocky Start:  Already at JFK, Dennis is upset with Isabelle for something and they're arguing heatedly about it.  It seems they don't agree about when it's wise to ask questions to others, with Isabelle thinking it's better to be more reserved while Dennis reacts to her by facetiously claiming he'll from now on make sure Isabelle controls all their conversations with others.  She's getting upset that he's speaking to her like that and he is tired of her speaking to him like that.  GEEZ – this team is already arguing and they haven't left the country.  Is it worth recapping this?   He is still pissy about getting grief for talking to strangers and won't let it go.  Isabelle would like to just go to the gate now and focus on being productive.  As they walk by the camera, he looks at the camera and just shakes his head in frustration.  Mere moments later, the argument is back on.  Over on the moving walkway, neither is talking to the other.  Eeeek.
---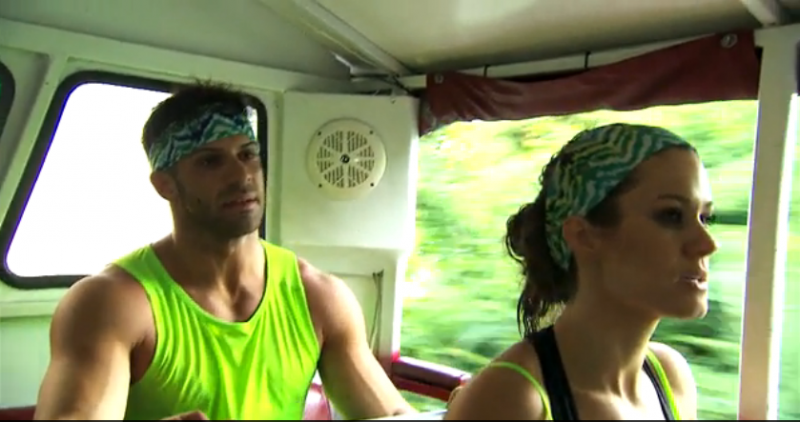 The Scenic Route:   We are treated to a fantastic vista as Brooke & Robbie and Kym & Alli's cab comes to a stop but abruptly they realize the cab driver was taking them to a scenic vista for pictures!  Hilarious!  They immediately get the crew back into the taxi to head to the Pit Stop.  Brooke states out loud that she hopes every team was doing this.  Alli exclaims "what the fuck?" but Kym quickly reminds her to check her attitude.  Brooke tells us about the situation again and worries that they may have lost ground in the race with this random detour.  She's pissed but then she notices the scenery as they're racing down the mountain and can't help admire the beauty.  I love Brooke.  Kym then leans out and into the driver's area to confirm he's heading ONLY to Fort Christian at this point.  Kym then sarcastically notes that no one should mind her, she's just hanging out of the fucking car.  I love Kym too, it seems!  Robbie notices that it seems they are going back from the same direction they came from which means this was just a massive waste of 15 minutes.  I'm dying though – that first moment with all 4 of them freaking out collectively is absolutely hilarious.  It was a nice view though!
---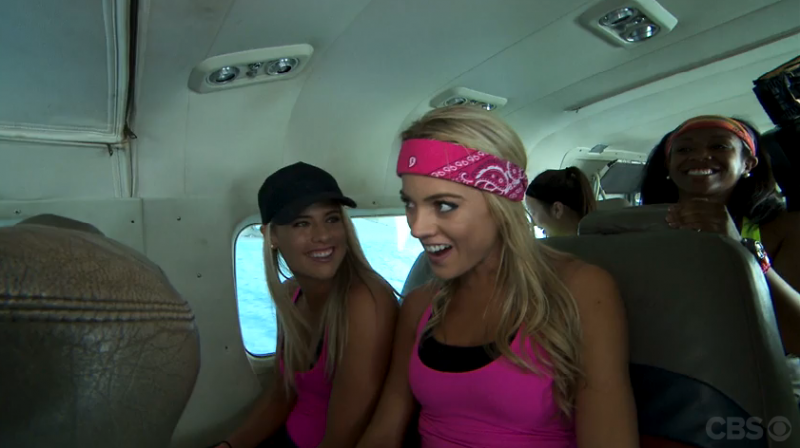 Does Life Get Any Better?  While in the seaplane, Amy & Maya and Lisa & Michelle are thrilled with the experience.  As the plane starts to accelerate to take off, the ride gets noticeably rougher and Maya compares it to an old wooden rollercoaster.  Once they're up in the air, it's way smoother and everyone is happy again.  They all admire the view outside and the various homes they can see.  They're all amazed at how clear the water is.  Lisa exclaims that a day ago they were in NYC and now they're in seaplane in St Thomas.  It's quite the life!  They finally land after having speculated as to what they'll be doing once there.  Happy applause greets the successful landing.
---
At the Pit Stop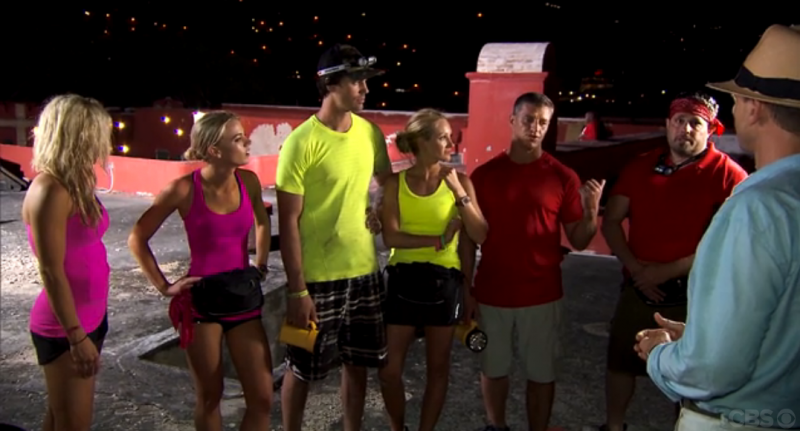 I Want to Go Back To Work:  Phil asks if Keith & Whitney want to say anything to Lisa & Michelle.  Everyone kind of says to the other that they can't believe any of the teams here are at the back of the pack.  Phil figures that when he mentioned the winner of this leg would get The Save, all three of these teams figured they were destined to win it.  All agree.  Scott tells Phil that he's navigated NYC for 10 years and they ended up getting lost in a cab, so crazy things happen.  All three teams seemed to have that kind of luck in New York and ended up on the second flight to St. Thomas. Michael & Scott regret they didn't get a chance to continue learning about Lisa & Michelle as they're good competitors.  Lisa & Michelle look like they're over it.
Phil notices Lisa is looking away and asks why.  Michelle tells him that Lisa's tired as it's been a very long day.  Phil doesn't want them to walk away feeling bad about their performance and Lisa reassures him they had an amazing day as they had a lot of fun.  Phil is mostly disappointed that he never got to see their ruthlessness in play.  He reminds they'll still get to have a fun time after this as they'll get a break from work…makes me wonder if they still have some semblance of an Elimination Station.  I miss those videos!!  Lisa & Michelle look down and admit they'd rather go back to work.  Lisa has realized that she's not good at anything except selling real estate.  Phil insists that's not the case.
---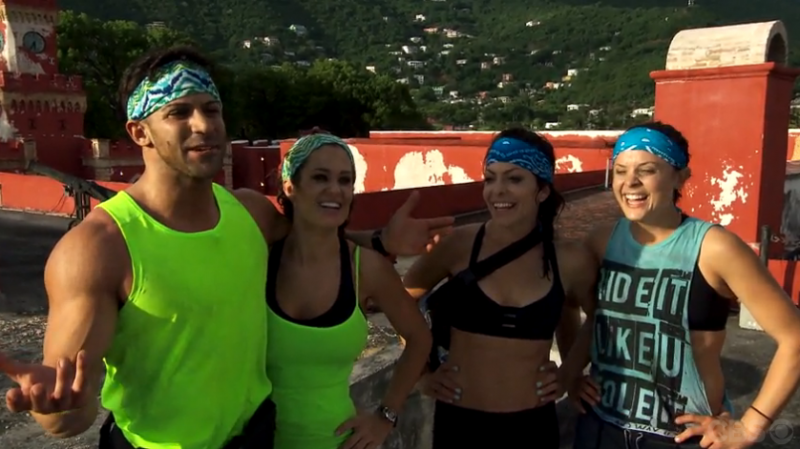 A Long Day:  Out of breath, Brooke & Robbie exclaim how hard this leg was, which always amuses Phil.  He notices that Kym & Alli's thighs are quivering too and they admit they're shaking from exhaustion.  Phil points out that that feeling is going to continue as they keep going and notices Brooke briefly panicked wondering if Phil was going to tell them to keep racing.
Phil asks how Brooke & Robbie made up so much time coming up from nearly last to so high up in the pack.  Brooke gives Robbie the credit for doing fantastic at the Roadblock.  They know that a lot of stuff screwed them up at the beginning though.  Phil promises them that the race is only going to get tougher, so get ready.
Phil tells Kym & Alli there's a lot of strength there (referring to Brooke & Robbie) but Brooke interjects that doesn't matter.  Something like a compass can totally derail you.  Phil asks if the girls can take on the wrestlers, but Kym wants to know if he means arm wrestling.  For some reason, Robbie decides now's the time to flex his pecs.  Now it's a leg muscle check, followed by an abs check.  Everyone here is in pretty damn good shape!
---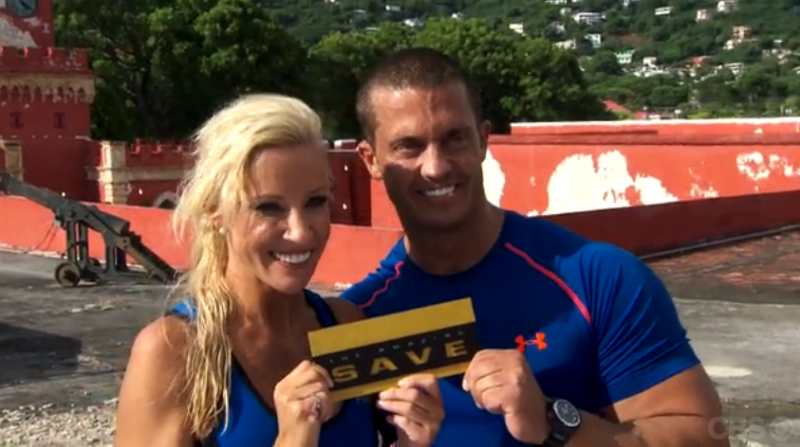 Leaders of the Pack: Misti & Jim are beyond thrilled to have The Save in their possession and know it's a priceless reward.  Jim is excited to have it as he plans for them to be the most winningest team in TAR history.  We'll see!  Jim realizes that The Save will allow them to take more chances, which could pan out, but if not, no biggie.  Phil asks if there's any chance they'd give The Save away to another team, with both of them pretty much shooting that idea down immediately.
---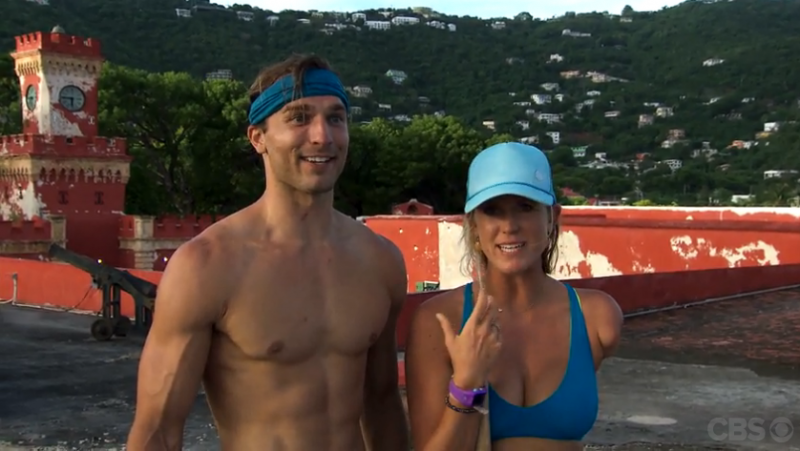 Read Your Clue:  Phil is amused that Adam & Bethany brought their chest with them all the way to the Pit Stop.  He reminds them of what he said at the Start, which is to read the clue:  what did the clue say?  Both know it said to bring their belongings…to which Phil laughs and asks if they think the chest belongs to them now?   Bethany just wanted to bring Phil a gift!
Phil compliments them on being right out front at the get-go with Tim & Te Jay, but wonders what happened?  Adam admits they stumbled at the Roadblock, and it was essential to be precise and accurate with the compass  and lengths.  Bethany's still proud of their 5th place finish.  Adam compliments Bethany's eagle eyes throughout the leg and for keeping up the positivity.  Before they stay too happy, Phil points out that The Save is gone, but both of them admit that Jim plowed through the Roadblock and earned this win.  Adam is just stoked to be actually in the race as they've prepared for it and are ready for crazy situations.
---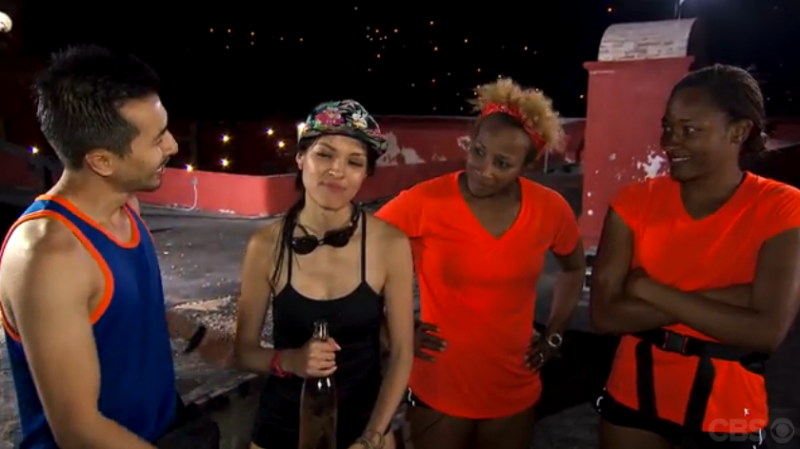 Troubles:  As has been apparent throughout these videos, Phil wants to know what's going on with Dennis & Isabelle's constant bickering.   Dennis admits there's a big communication problem as each of them have a problem with tone.  They frequently misinterpret the other.  Phil points out that this is a problem and there's a whole lot more stress coming towards them.  Isabelle sings the ol' song of knowing that they have to work fast and together to make this work.  Dennis explains that when Isabelle lost the clue, he reacted the way he did as that was just how it was.  He wants her to have fun and win a million dollars.  She's more important to him than a million bucks though.
As for Shelley & Nici, they feel like they had a pretty good race experience, even with the jumping from rocks.  It was just frustrating for Nici to not be able to help while watching her mom Shelley dig endless holes.  As for The Save, they all had hope for being able to win it but once the "Tooth Fairy" (Dennis' name for Jim) got it, they knew it wasn't to be.  They're all stunned by how beautiful his teeth are.  Dennis was at peace with how it played out which surprises Phil.  Where'd this peace come from?  Isabelle just knows Dennis is happy now.
---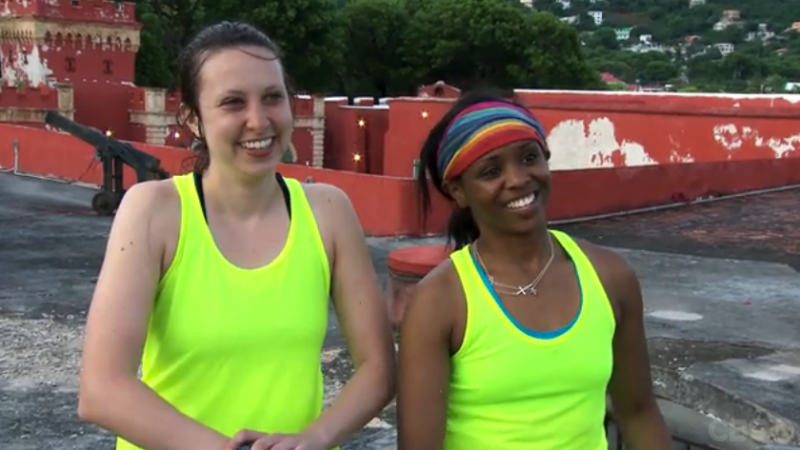 Carnival and Karma:  Amy & Maya are stunned by the beauty of where they are in beautiful St. Thomas.  Maya starts to dance and Phil indicates that his fellow greeter is dressed for Carnival in hopes to get them to come back.  Phil asks if they presumed, as scientists, that they'd have won The Save.  Amy explains that they had missed the first flight so that plan went out the window.  Apparently they got to Flushing Meadows first but their taxi driver decided to trick the other drivers which of course backfired.  Their driver, Karma, kept telling them to trust him but that definitely didn't work as expected.
As for the other teams, they finally got a chance to gauge them at the Roadblock.  The early teams had been there for 2 hours already and it was a task that required focus.   Maya loved how precise Amy ended up being.  She then explodes with joy at just being here.  Phil wonders if they have confidence to win the whole thing even though they didn't win this leg or The Save.  They indeed are confident!
---
After the Race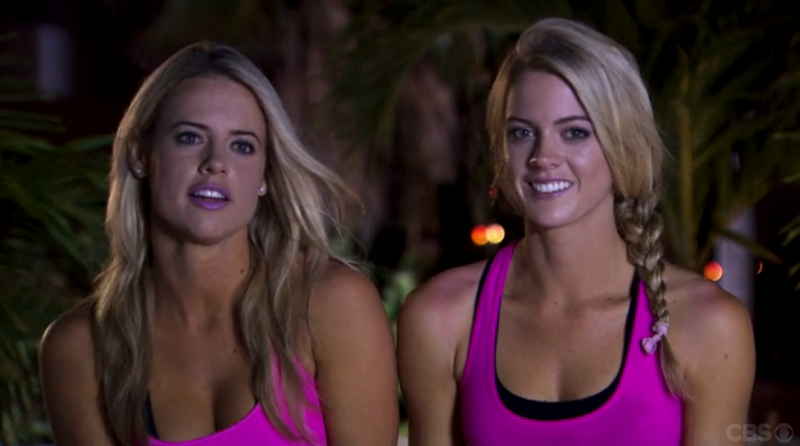 So Disappointed – Lisa & Michelle (11th Place/Eliminated): Lisa tells us that they gave up a lot to compete in this race and only took this opportunity because they figured they would do good on the show.  They're both embarrassed and admit they never imagined they'd be the first team eliminated.  But they got put in a situation with a shovel and a compass and here they are.  Michelle is very proud of Lisa regardless as she kept going during the Roadblock; Michelle admits she would have said "forget it" much earlier.  One things she's surprised at is that Lisa even made the final-3 deal they did as Lisa never gives up on a task.  Lisa admits she never would have agreed to it but she was confident they were going to win that showdown.  It was still a good time though.
Links for this Season: