Were you curious about Mark & Mallory some more? Â Experience more schadenfreude as Mallory tries to keep her rage and tears inside. Â Why did Dave & Connor seem to disappear from the front of the pack when racing towards the Pit Stop? Â Are the Afghanimals a curse to any team that dares to team up with them? Â For these first 2 legs, it certainly seems so! Â Ready to hear all sides of the Express Pass issue? Â Everyone has some thoughts but it's interesting whose opinion Phil seems to most agree with. Â All that and more from this second leg of Season 24 await you below!
Extra/Deleted Scenes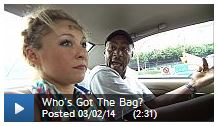 Who's Got the Bag? Â In their frantic cab ride back to get Mark's bag, Mallory mentions to him that it's fine to race without a bag but she'll support him if he insists. Â She just hopes they don't lose the race. Â Mark apologizes but wishes he had known where the bag was in the first place. Â She reminds him that it was right by his feet as she had brought them out when they were leaving the Roadblock. Â Mallory asks again if what's inside the bag is worth doing this, as if it's clothes, people will give him clothes. Â She'd give up her bag if it was her. Â He refuses that logic and says that all he's got is in this bag. Â Mallory bites her tongue.
A few moments later, Mark asks Mallory why she's so upset about this action. Â She repeats that she would have just left the bag. Â Mark snipes that she DID leave his bag which stops her in midspeech and she shakes her head vigorously. Â Mark insists that she had had the bag and after she ran off, he had no idea where it was. Â Again, she tells him, the bag was at your feet. Â Mallory wants Mark to focus on looking forward now and stop blaming her as she's going back with him to get the bag. Â Mark thinks Mallory just needs to slow down which she rolls her eyes at as they are definitely slowing down. Â As he's talking, she keeps shaking her head. Â She asks him how long he's going to keep blaming her and Mark denies that he's blaming her. Â Mallory can barely look at Mark without rage.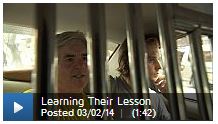 Learning Their Lesson: Dave & Connor ride in their cab but the cabbie is hitting some serious traffic. Â Connor comments that they thought they'd learned their lesson when taking a cab to the Pit Stop. Â I'm not sure what the lesson is yet. Â Dave notices that there's traffic going the wrong way on a one-way street as well as tons of pedestrians. Â Dave wonders if it the subway would have been the better option. Â I guess this traffic and associated delay was why they ended up in 4th place instead of 1st as they certainly were the first ones out of the Detour!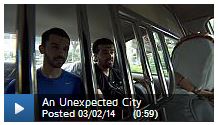 An Unexpected City: Jamal is impressed at the scope and breadth of Guangzhou as both he and Leo were expecting a more manufacturing-based city. Â Leo would have expected Shanghai, Beijing or Hong Kong to look like this so to see Guangzhou look like this is great and he likes the city. Â Jamal points out that they've really just finished their previous race so people are recognizing them and calling out to them by name. Â It's useful as people are willing to give them money and help them out.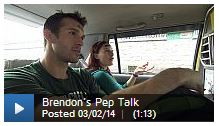 Brendon's Pep Talk: Rachel worries about the Cowboys to Brendon and he reminds her that everyone's in China now, not the "ranch."  It seems they're on their way to the Pit Stop and Brendon tells Rachel that he just wants first place so bad.  He notices Rachel's enthusiasm is pretty low and gets her to say out loud that she wants to win a leg too.  Rachel is indulging him but you can tell she just wants Brendon to shut up.  Brendon just wants her to be pumped up.  He wonders where Rachel Reilly, winner of Big Brother is?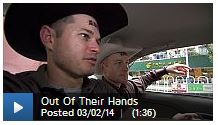 Out of Their Hands: Cord tells Jet that he's pretty sure the other teams were mad about their decision to give away the Express Pass to the Country Girls. Â Jet agrees and definitely heard audible groans, but he figures every team was scheming all night on how to get the Pass from them. Â Jet & Cord are relieved to just be rid of it, as even they stayed up half the night worrying about who to give it to. Â Jet laughs that now they just need to get through this leg without using their remaining Pass! Â Neither really want to use the Express Pass so early, but it's an easy decision to make if they're facing elimination. Â Cord knows that they don't want to use it unless it's a truly desperate situation. Â Jet recalls that they've made some new friends (the Country Girls) who promised not to beat them in this leg if they got the Pass, but he's not holding his breath on that.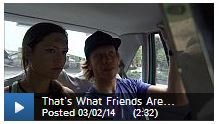 That's What Friends Are For: John explains to us that he and Meghan were helping each other at the Roadblock challenge.  Meghan was having problems with the electrical connections  and so he gave her a hint, although he's not positive how much it helped her.  There were some confusing battery wiring issues that even though they may have seemed wrong, he knew from experience that it was right and hoped that Meghan would trust him.  Then it was time for Meghan to repay the favor as she finished the car before he did, as he had problems connecting the spare tire. Meghan helped with that portion and got John going again.
John confirms that Joey & Meghan are friends with them on the race and in real life. Â They're all living in the Southern California area and are great people. Â There isn't a formal alliance though with Joey & Meghan like there was in Season 22, but because of their existing relationship, each is helping the other when they can.
At the Pit Stop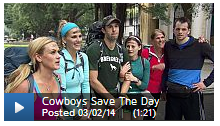 Cowboys Save the Day – Country Girls/3rd, Margie & Luke/2nd, Brenchel/1st: It's all smiles as the Country Girls embrace Brenchel and Margie & Luke at the Pit Stop. Â Rachel is happily telling them that she can't believe it's her & Brendon's first-ever win. Â Caroline is excited that they're so high up this early in the race. Â Phil chimes in and officially declares and signs that Caroline & Jennifer are team #3. Â 
Phil immediately wants to know what happened with the Express Pass. Â Caroline segues to her sadness at being single after hearing Rachel's constant statements to Brendon about him being an awesome husband. Â Jennifer gets the convo back on track, telling Phil that the Cowboys were awesome and helped them out as they were in total last place. Â It was really bad at the Roadblock as Caroline only had the wheels on the truck while everyone else still there was basically done. Â Brendon lets Caroline know that it was a tough challenge even for the guys.
Caroline praises the Cowboys' action of giving them the 2nd Express Pass as good strategy as the girls immediately burned up the Express Pass – now the Cowboys are the only ones who have one.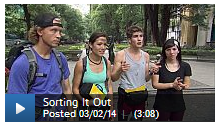 Sorting It Out – Jessica & John/8th, Joey & Meghan/9th: Jessica & John and Joey & Meghan tell Phil about the situation at the Roadblock and how bad the Country Girls were doing at the challenge. Â Meghan snarks that they couldn't even open the box. Â Jessica continues and tells him about the Cowboys deciding to give away the 2nd Express Pass. Â She had tried to talk to them as well and guilt them into feeling bad for her since in her previous race, they didn't even get to use theirs (and got eliminated holding one). Â  Phil wonders if it was a mistake to give the Country Girls the pass. Â Joey thinks so as it was just another team racing for last place. Â Jessica thinks it could have been given to a team that actually could offer something strategic in return in the future.
Phil asks John if he thinks it was a mistake and all he can remember is hearing Jessica exclaim that the Express Pass had just been used. Â He was confused as he had no clue that the Country Girls even had one to use. Â Meghan actually thinks the move made sense as the Cowboys know they can beat the Country Girls – hell, she knows everyone can beat the Country Girls. Â So if you ensure that the weak Girls are still in the race, a possible strong team gets eliminated. Â Also, it looks like a nice gesture and the pressure is off of them. Â Phil loves that perspective and agrees that it makes sense to do what the Cowboys did.
Concerning the impending last team's arrival (Mark & Mallory), Jessica tells Phil she thought that the Cowboys would give the Express Pass to them. Â Mark & Mallory have a compelling story and pretty much everyone wanted Mark to have a good chance at running this for Bopper. Â She recognizes how well they did at the Roadblock so it's sad to see it end like this.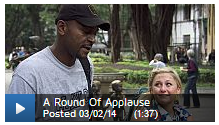 A Round of Applause – Mark & Mallory/Last Place: Phil reminds Mark that there is a lot of respect for him running the race without and actually for Bopper. Â He lets him know that everyone gathered there (all the other racers) is sorry to see him go, accompanied by a round of strong applause. Â Mark thanks them for that. Â Phil also wants to applaud Mallory for stepping in and doing her best knowing full well that Mark & Bopper are best friends. Â Phil knows it couldn't have been easy to step in like that and she nods knowingly and with some small glances at Mark. Â For me, you know there's anger there as she knows they'd be in this race still if he had just left the bag behind. Â She thanks Phil for the kind words and apologizes for not being able to fill Bopper's shoes. Â Mark tells her that she did a great job while Phil reminds her that she wasn't there to be Bopper, it was to run the race as strong as possible. Â Phil tells them both he's very sorry that it's over despite it being clear they ran as hard as they could. Â (Did they? – or rather, did Mark?)
After the Race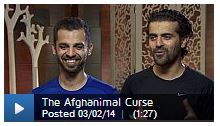 The Afghanimal Curse: Jamal comments that in the first leg they were working with the Twinnies but then they got "separated" and wouldn't you know it, the Twinnies were eliminated? Â Then in the second leg, they started working with Mark & Mallory, again they got separated, and uh oh, Mark & Mallory were eliminated. Â Leo & Jamal are realizing they may be a curse to whichever team works with them. Â Jamal reasons that what makes the most sense is to…and Leo interrupts and says to "work by themselves" and Jamal contradicts him and thinks they should be targeting teams. Â First up: the Cowboys. Â The Cowboys are too big a threat and both Leo & Jamal put Mark & Mallory's elimination on them, as they didn't give them the 2nd Express Pass. Â Leo's sad at that elimination as they had just said goodbye to Bopper and now they have to say goodbye to Mark & Mallory. Â  Leo pledges to win the race for them.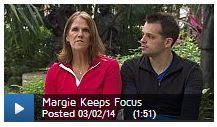 Margie Keeps Focus: Â Margie recalls getting to the Roadblock and being intimidated because Dave was there with all his car parts laid out and then Mark got there and she knew he'd do well. Â She then saw Brendon and it felt like this was the "boys" challenge. Â Margie had to focus and get it done although there were difficulties as the kids were doing things like taking her screwdriver and hitting her with toys. Â Being focused seemed to work for her as she thinks she only had to take one thing apart to fix it. Â She feels good about her performance and jokes that maybe her husband will let her do this kind of stuff at home now. Â Despite the kids being a distraction at the Roadblock, Margie didn't really mind as they were adorable. Â A last kidz moment occurred when they were trying to get checked out as the little girl driving it wouldn't get out of the truck!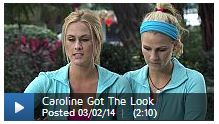 Caroline Got the Look: Caroline tells us that the decision for who would do the Roadblock was simple because Jennifer can get a very bossy tone of voice and she did in this case. Â  Jennifer absolutely insisted that Caroline do it. Â Caroline was pissed because she did not want to do it either. Â She admits that she threw a fit about it and even stomped by during the challenge and told Jennifer how mad she was. Â Yet Caroline also stepped back and realized the situation was what it was and got to work. Â After getting the pieces all set out, she started bothering Flight Time with tons of questions which annoyed him to no end. Â Jennifer also began to freak out realizing that this was going to take forever and everyone was about to finish, leaving them in last place. Â She did try to comfort and encourage Caroline but Caroline wasn't having it at the moment. Â That's when Jennifer realized she had to do something else.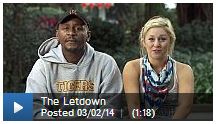 The Letdown: Mallory explains that it was really hard to prepare for the tough situations in the race like leaving a bag with someone you don't really know. Â She knew that with her dad Gary, the mindset would be to just leave the bag. Â It's not something she and Mark had the time to discuss and there was no sure way of knowing what their decision actually would result in and she chose to go back with Mark for his bag. Â Meanwhile, Mallory's nearly in tears again, from either sadness or rage it's not clear. Â Mallory knows that she was here though to help her partner and that's why she committed to his decision. Â She does hate that while she came here to help it certainly didn't seem to work out that way.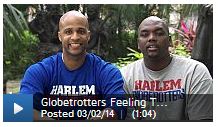 Globetrotters Feeling The Love: Â Big Easy explains that because he & Flight Time are such good-looking guys, they're getting recognized a lot in China. Â  At the Roadblock, a lady walked up to him and said he was pretty while another corrected her and said he was handsome. Â Big Easy made sure to let them both know that he agreed with both of their assessments. Â  They've been here recently for basketball as well as it's huge in China. Â He's hoping that perhaps that recognition will come in to play for their advantage soon.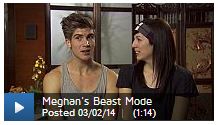 Meghan's Beast Mode: Joey & Meghan discuss how Featherball is like Hackeysack, but Meghan clarifies that there's a satisfying "crunchy" sensation each time you hit the ball. Â They both enjoyed playing it but what was frustrating was that their first attempt was really good and really close, but after that it was just terrible. Â Meghan admits she goes into a "beast mode" while playing sport or video games and so after not totally understanding that the 10 hits had to be between her & Joey and not the group as a whole, she got very frustrated. Â Joey was actually surprised when they successfully completed the task as his head was somewhere else completely. Â For Meghan, she'd played soccer growing up so there was a familiar element to it all and she managed to get into playing featherball.
Links:
Leg 1 Recap | Leg 1 Bonus Clips
Leg 2 Recap | Leg 2 Bonus Clips
Leg 3 Recap | Leg 3 Bonus Clips
Leg 4 Recap
Leg 5 Recap
Leg 6 Recap | Leg 6 Bonus Clips
Leg 7 Recap
Leg 8 Recap | Leg 8 Bonus Clips
Leg 9 Recap
Leg 10 Recap
Leg 11 Recap | Leg 11 Bonus Clips
Leg 12 Recap