Another shit-ton of clips ahead, since we've got so many teams left to talk about! Â I'm growing more in love with Brooke the more she's on screen as she is just awesome and holds her own and more against Robbie. Â I've also got to say that Michael & Scott's set of videos are a bit worrisome, as they just don't seem that bright. Â Maybe it's excitement but I'm not so sure. Â  From these videos though, I think Amy & Maya are going to be in trouble if they're not able to play hard out there while Dennis & Isabelle prove they just weren't cut out for this race long-term. Â At all.
Extra / Deleted Scenes | At the Pit Stop | After the Race
Extra / Deleted Scenes: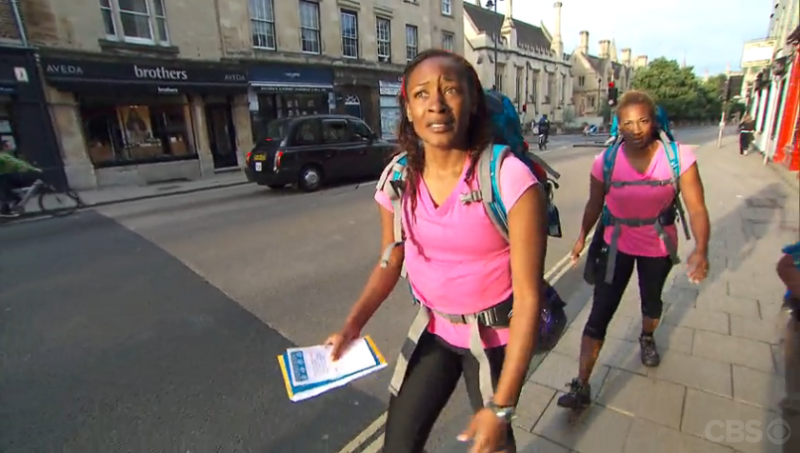 Epileptic Toes:  Shelley is trying her best to keep up with Nici in their scramble to the Pit Stop but can't keep up, complaining to Nici that her "toes are spazzing in her shoes."   Nici asks her if she wants to lose a million dollars due to a foot spasm?   Further she tells her that she just doesn't care that her toes are hurting.  Shelley asks Nici to just breathe and to give her a break as she was rowing the boat all by herself and is accordingly exhausted.  Nici doesn't care and won't let them lose because of Shelley's foot.  Nici insists she'll carry Shelley if she has to and keeps cajoling her to run.  Shelley is sounding like she's dying, while Nici shouts out motivational chants to keep Shelley moving.
---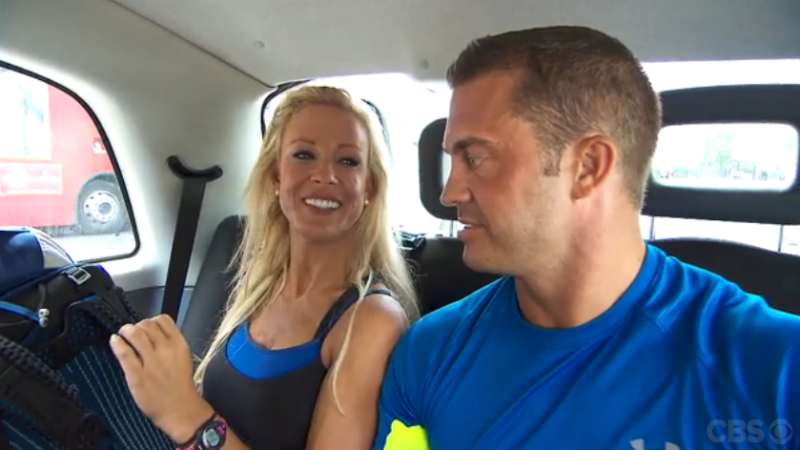 The Shamrock King: Misti & Jim are in a London cab which happens to be driving by the Tower of London. Â Jim explains that's where the crown jewels are, which Misti recalls are spectacular. Â Jim jokes that the 118-carat diamond in Queen Elizabeth II's crown is just slightly bigger than the rock on Misti's ring. Â Just slightly. Â Concerning the upcoming Detour, they're heading to Somerset House and are quite ready to be in a parade. Â Misti's been in a lot of parades as a beauty queen. Â Jim has also been in a parade with her once, as he was the Shamrock King.
---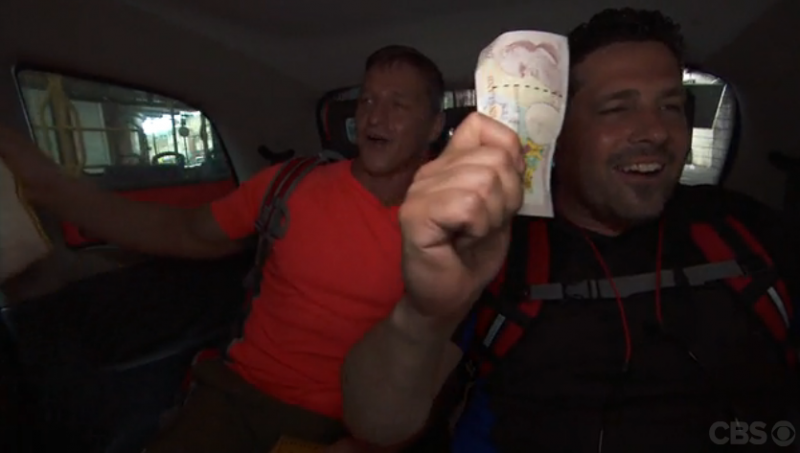 Poppycock!  Michael & Scott are in their London cab and it's currently passing Buckingham Palace.  Michael hopes the Queen is home and looking out the window right now, while Scott wants to thank her for defending freedom.  Uh, what?  They both talk about how England is our closest ally and we are always on the offense defending our freedoms.  So a big thanks to QE2.  Now we get a historical perspective of England's contributions to the world from Michael.   Moving on, it's time to discuss the "weird" pronunciation of the word "Thames," and it's about now that my mind checks out of this conversation.  These guys' smalltalk is mind-numbing.  Talk turns to British accents vs Boston accents, and Michael jokes that they get mistaken a lot for being British or Australian due to their accent.  Hmm…
A bit later, and they're full-on shouting in the cab "order, order!" and "poppycock!" The taxi driver tells us that MIchael & Scott are probably doing a good job but they're absolutely crazy. Â Since they're headed for the Pancake Detour, they wonder out loud if an American pancake is the same as a British pancake. Â The driver reassures them that they're the same. Â Michael's relieved as when he went to France, all of the food was too small. Â Back home, both have to do their part at the fire house to make meals, as the team that cooks and eats together is a stronger one.
---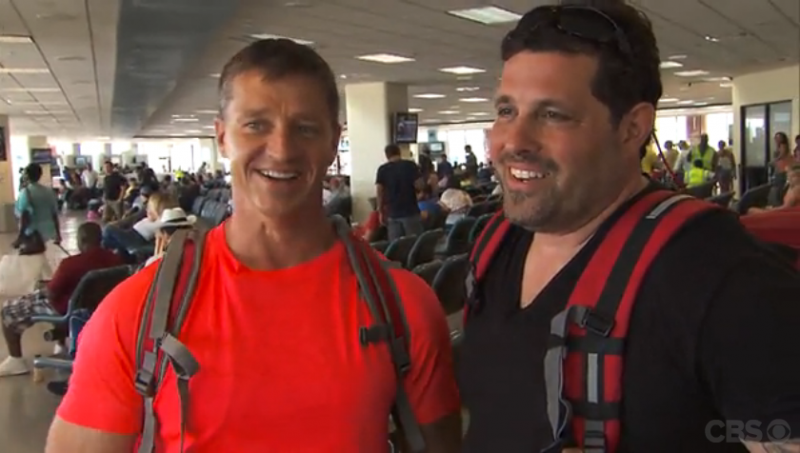 Boston Tea Party: In the St. Thomas airport, Michael tells us that he & Scott recognize the first leg wasn't a great performance. Â He's happy that they have a chance to redeem themselves as everyone's kind of reset in the trip to London. Â  They're excited to see what happens on the other side of the pond. Â Scott pledges that the other teams haven't seen them at their full capability yet. Â He tops his statement off with a "Cheerio." Â Michael is excited to bring the Boston Tea Party to London. Â Please make this stop.
---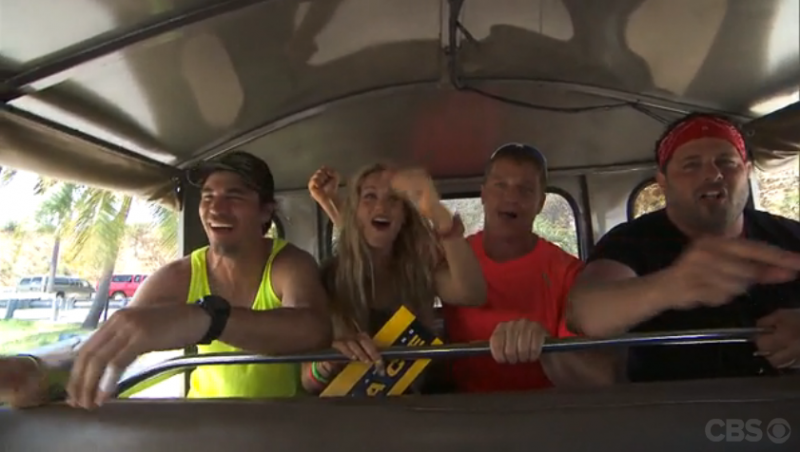 One Nation: Â While in their shared cab to the St. Thomas airport, Scott compliments Keith & Whitney as good solid people. Â Michael promises to head down to Tennessee to get some barbecue. Â It immediately turns to there being no North or South, it's the United States of America, one nation under God! Â  Everyone cheers! Â Unity for everyone! Â Keith tells them he's from the North too so Whitney is really the one representing the South, and both agree that their love is a direct analogue to the United States.
---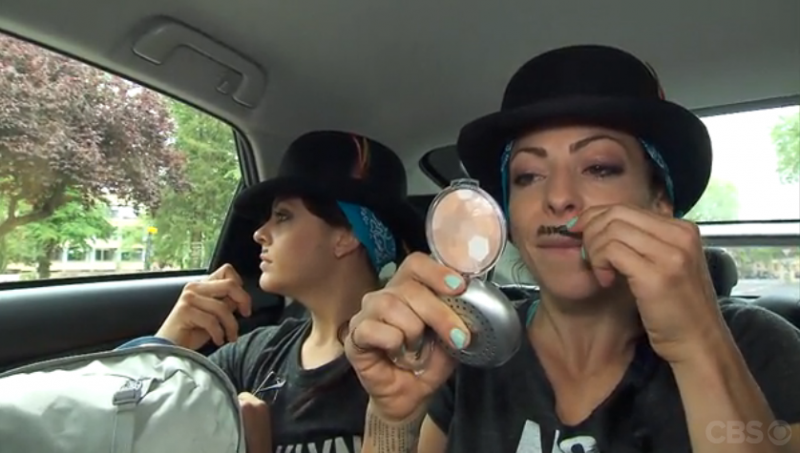 City Lights: Kym & Alli admire themselves in their bowler hats while riding to the Pit Stop. Â Kym then realizes they're thisclose to looking like Charlie Chaplin, so she finds a pencil and starts drawing a Chaplin mustache on Alli. Â This little activity also helps to keep their minds from wandering while on a long cab ride. Â Kym finishes her artwork and it looks absolutely nothing like a Chaplin mustache. Â Well, maybe it does look a little like it, the more I stare at it. Â Kym then works on her mustache and likes the result. Â They then crack up over how they look. Â I don't remember seeing those at the Pit Stop – I'm wondering if they had to wipe them off since someone could think they might look a little Hitler-y?
---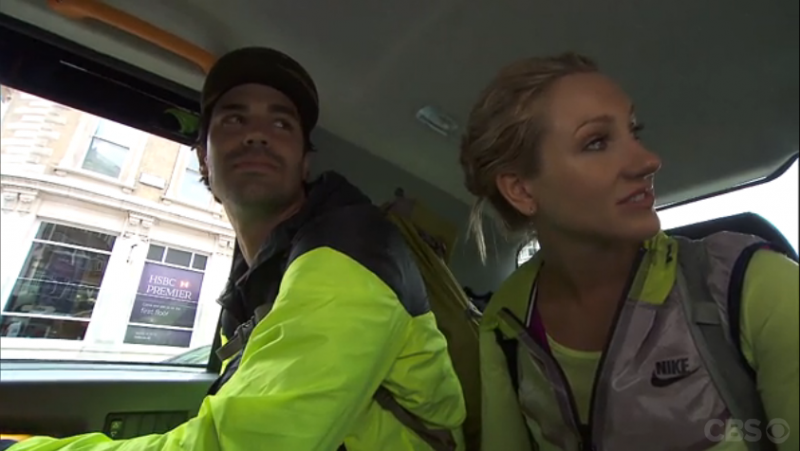 Rainbows & Puppy Dogs:  Keith & Whitney panic in their cab when they notice that the team they're following makes a U-Turn.  Keith asks Whitney to please help out in keeping a look out, which is a slightly passive-aggressive way of bitching her out.  Whitney doesn't miss his intent and jokes that she's just sitting there chilling.  After some awkward moments, Keith is concerned as they're in last place and the cab driver was the one who noticed that other cab turning, not her.
As they continue on past Big Ben, Keith gets super excited to see it! Â Whitney's confused and looks for a person, thinking Keith saw someone he knew! Â Oh boy. Â They continue to make their way into London with Whitney being excited but Keith tells her it's driving him crazy because he's so stressed out. Â For her, everything is a shiny object like rainbows and puppy dogs. Â Whitney points out it doesn't do any good to get all worked up.
Whitney tells us they chose Pancake Race for the Detour, but Keith interjects that it took her 10 minutes to make that decision. Â She wonders why it was up to her then and if he wanted to decide, he very well could have done so. Â Keith wants her to be 'on the spot' making decisions which means he's just afraid to do it himself and can blame her if it goes wrong. Â  Anyway, they review the clue and Keith points out that it's not just making pancakes but also running around a course in a set time. Â Whitney hadn't seen that before and Keith wants to get acknowledgement from her that she understands that. Â He's definitely stressed out and stressing her out too.
---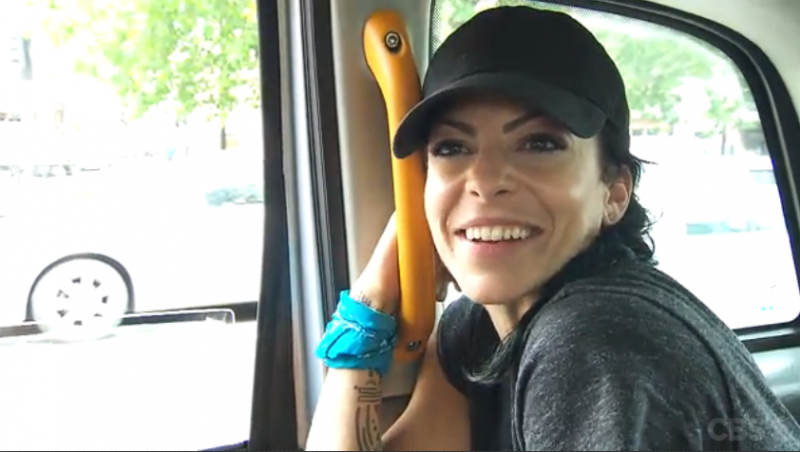 Playing Hard to Get: Kym is laughing as the commander at the About Face Detour didn't want to get her parting kiss, but she wonders if maybe he was just playing hard to get. After giving him the kiss while standing on her tip-toes, Kym immediately left so she's not sure what his reaction was.  She wonders if he was grossed out because she was sweaty.
---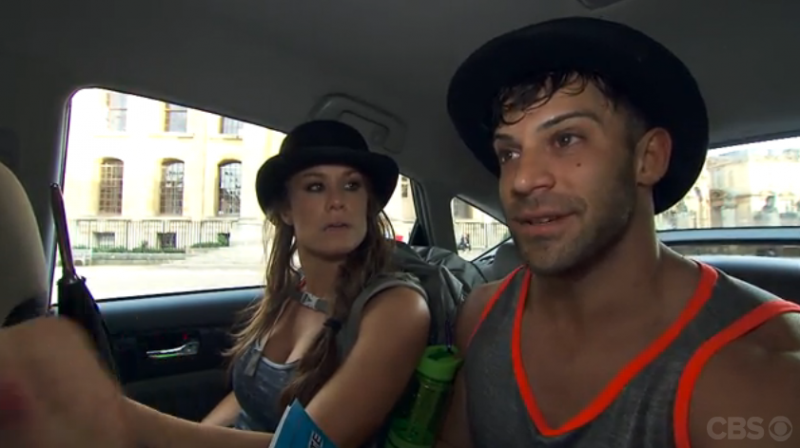 Punting Peril:  Totally sweaty Robbie relays to us that we can't imagine how hard that punting challenge was, and this is coming from a professional wrestler.  It may have looked easy, but when you've never done that before, it's not something you can jump in and power through.  Once the current turned on you, all you could do was stay focused and positive.  Brooke admits it was hard to stay positive as you were falling every 5 minutes, bugs biting you, and bird poop on her head at one point.  Robbie laughs that he fell into the water what felt like ten times.
---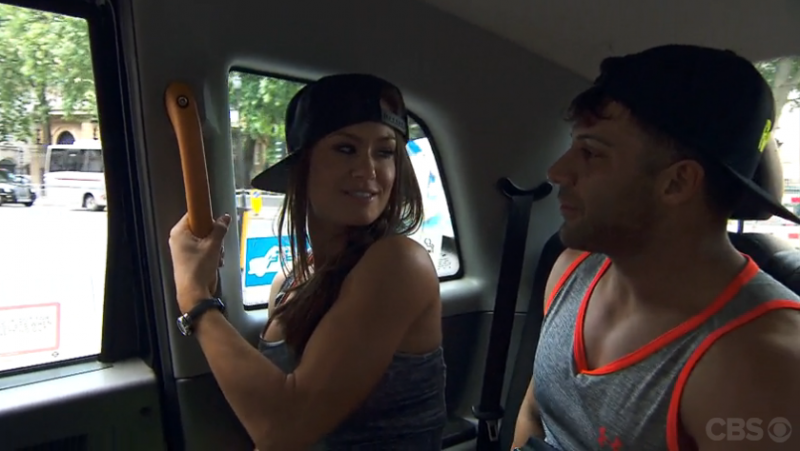 The Ding: While in a cab, Robbie is bitching about the traffic which the cab driver hears, who apologetically tells them he's doing the best he can. Â Brooke thanks him and explains why they're stressed out. Â The traffic continues to remain terrible and the cab driver continues to apologize. Â He's way too nice! Â Brooke & Robbie remain a bit bummed at how the traffic has taken their mood down from a previous high. Â As they pass Buckingham Palace, Robbie asks what that is and who Buckingham is….while Brooke laughs to herself as the cab driver explains that's where the Queen lives.
Robbie is still curious who Buckingham is and the cab driver tells him that there was a Duke of Buckingham and that was his house from years ago. Â Robbie says that he's a Duke too and Brooke gives him a look like WTF? Â He tells her that makes her a Queen but she thinks that means she'd be a Duchess. Â Robbie retorts that he's both a Duke and a King, which makes him a Ding.
Back to the traffic woes, the cab driver apologizes again for how bad it is. Â Robbie offers to take the wheel but Brooke explains to us that he's the world's worst driver. Â  Robbie brags that his nickname is "Wheels," which Brooke immediately denies. Â Finally, they're close enough to Tower Bridge that the driver says it'll be better for them to just run there, while apologizing again. Â Although the next moment shows them outside of Parliament, and that is NOT near Tower Bridge. Â Good luck, guys!
---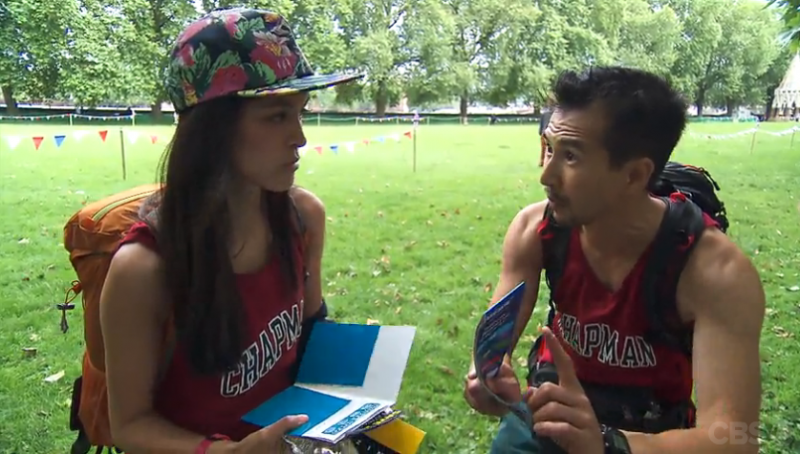 Overthinking: Â After finishing their Pancake Run, Dennis & Isabelle are disagreeing as to what they're supposed to do next. Â Isabelle isn't convinced that "go to Oxford via Paddington Station" necessarily means taking a train, which amuses the locals who are nearby to no end. Â Isabelle is further concerned that the clue doesn't say how they're supposed to get to Paddington – since it doesn't say "taxi" she worries they have to get there by foot. Â HOLY SHIT you're terrible at this game. Â Isabelle finally accepts Dennis' logic and they run off to catch a cab while Dennis says she's getting too frazzled.
In the cab, Dennis annoyingly tells Isabelle she's way overthinking things. Â She looks beyond annoyed as he lectures her on how to read the clue. Â She wishes he'd stop talking as he patiently reads the clue to her. Â Now Dennis tells us that Isabelle is frazzled and that they're fans of the show and know that reading the clue is important. Â They then start talking about the Firefighters and that they're still there doing the pancake flip, but get catty and point out their pancakes looked horrible. Â Dennis feels bad for their fire house! Â Dennis & Isabelle are just proud that they stuck it out together and succeeded. Â Dennis explains that he learned how to cook and can make a pancake, but can't wait for Isabelle to make him one after the race. Â She jokes that she only makes pancakes for him when she's in London!
---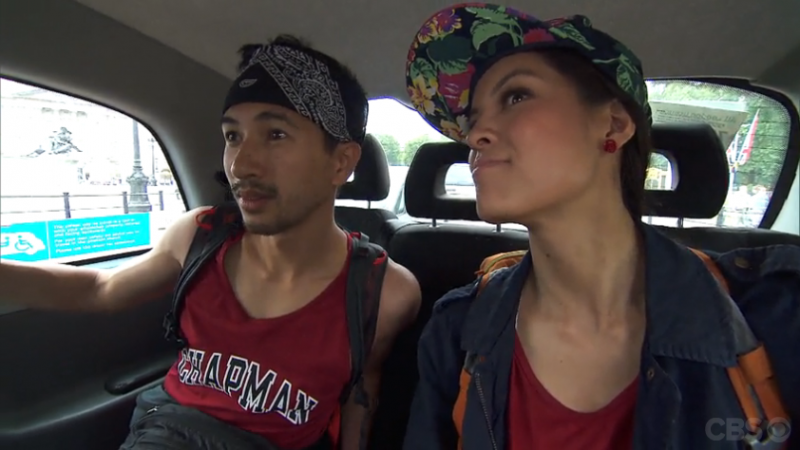 London Never Stops: Dennis & Isabelle are super excited about being in London, what with all the driving on the left side and the super cool cabs. Â Isabelle tells the driver this is her first time in London and Europe. Â She loves the telephone booths too but Simon (the driver) indicates no one actually uses them anymore. Â They pass Buckingham Palace and are impressed by the actual legit guards posted at the gates. Â Next up on the tour is Big Ben and Parliament (cue European Vacaction!). Â Isabelle hopes to hear the chimes of Big Ben as they pass as it's close to the hour. Â They certainly don't seem to be hitting the traffic we saw Brooke & Robbie hitting in their video above. Â Dennis comments that London seems pretty busy for a Monday morning and Simon tells him that London never stops. Â They then pass the London Eye which Isabelle had just wondered if it was the Tower Bridge.
---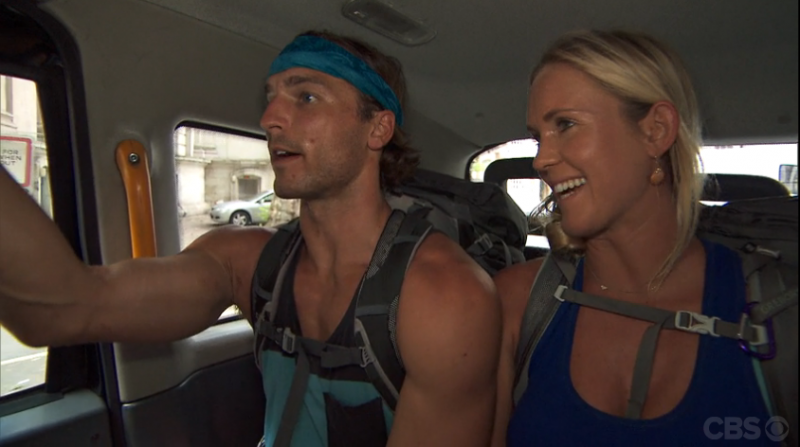 Hippie Flippers: Â As they leave the Pancake Race Detour, Adam & Bethany are thrilled with how well they did. Â Bethany was trying to keep focused while also staying fast and Adam is stoked they finished in one try. Â Bethany liked that they got to wear chef's hats too. Â Although she would have liked running the course in flip-flops or even barefoot. Â Grass on the feet feels so good!
---
At the Pit Stop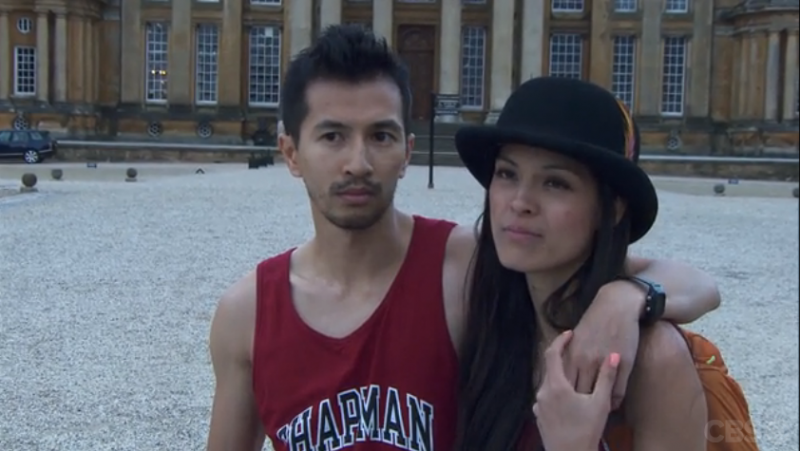 Parting Thoughts – Dennis & Isabelle (10th/Eliminated):  Phil asks Dennis & Isabelle how their relationship stands and Dennis reassures him that their relationship is strong.  They bickered a lot but always made up immediately.  Isabelle does point out that she's never been as frustrated with Dennis as she was during the race.  Yet she saw how hard he worked and the frustration would go away.  Phil is curious where the frustration came from and why, and they both think it's that this is the first time they've had to work as a team.  Isabelle admits that's a bit neurotic because as a couple, you should already be working as a  team.  Phil asks if this frustration concerns them but Dennis responds that they both knew there was going to be some tension coming into this.  Isabelle was never concerned this would tear them apart as she loves him.
---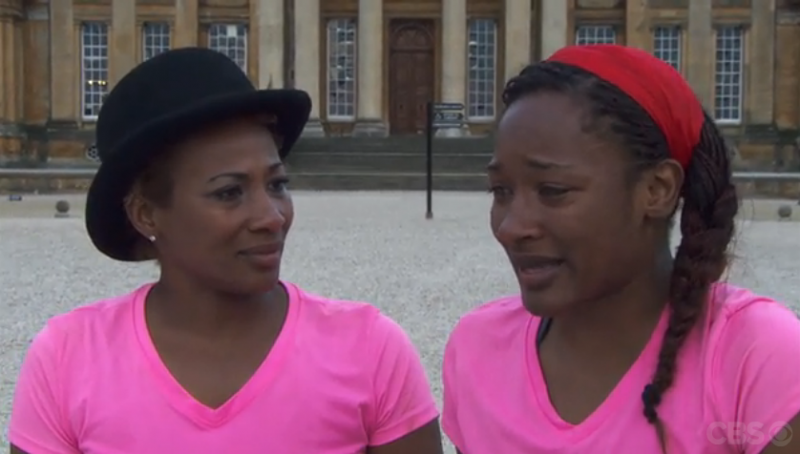 Thirteen Years: Â Phil wants to understand why Nici is full of emotion. Â She tells him that they had come from behind and had a good shot at placing in the front but then ended up fighting just to stay in the race. Â Shelley agrees and tells Phil that they always give their 100% and you have to do so, even if you're broke and bleeding. Â Shelley tells him that Nici perseveres like this in all kinds of competitions. She then tells Phil that they've been watching for thirteen years ever since Nici was 10. She promised her that they'd do that when she grew up, but then military commitments came up, but finally it just happened and BOOM, it's time.
---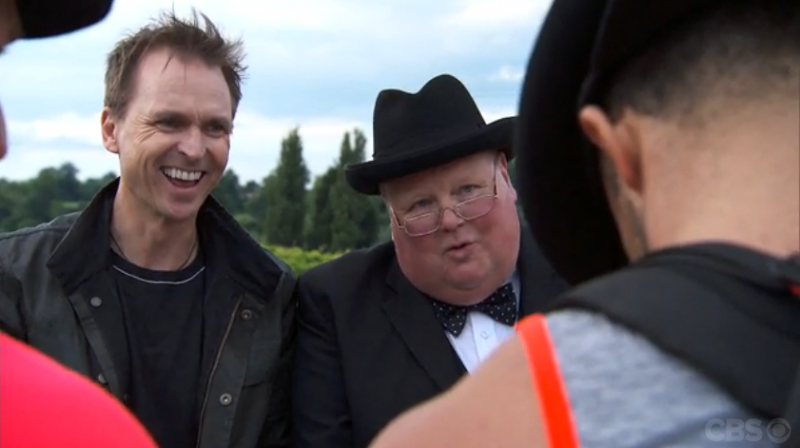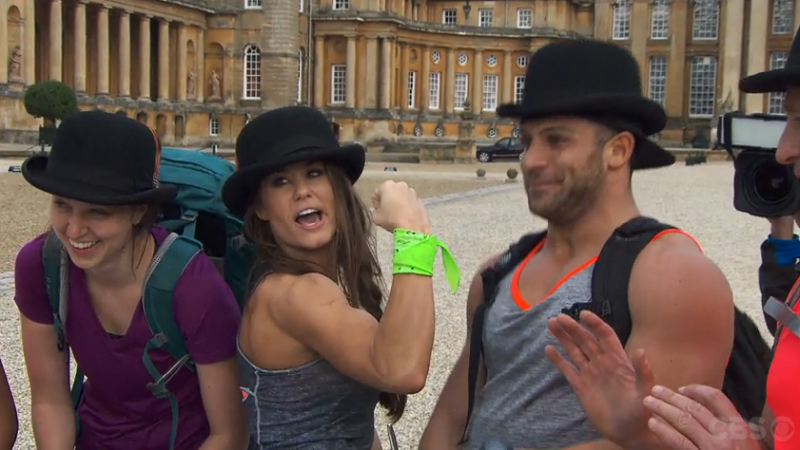 What Do You Do?  Phil asks Winston Churchill what he thinks the three teams in front of them actually do for a living.  With Michael & Scott, he guesses undertakers.  Michael & Scott quickly point out they're firefighters and like working with people who are still on two feet.  For Brooke & Robbie (Brooke quickly strikes a Heyyyy pose and I love her even more – seriously, Brooke's amazing), Winston points out that Robbie has the mobile (pronounced like a Brit) chest and we see that Robbie's flexing his pecs.  Ah, Robbie.  Winston continues and guesses a professional bodybuilder or entertainer, and Robbie says the first word is correct.  Although to be honest, Winston's guess is almost completely accurate when it comes to pro wrestlers.  Anyway, he eventually has to be told and then Brooke flexes her guns and it's impressive. Brooke asks if he'd like to give her guns a kiss which Maya happily takes the opportunity to do.  As for Maya & Amy, Winston is stumped!  Phil gives him a hint that they're very smaaat (New Zealand for smart) and do analysis, which prompts him to guess laboratory techicians.  SEXIST!!!  :-p  The girls clarify that they're food scientists.  Once he finds out that they  research candy, Winston realizes he may not have the best job after all.
---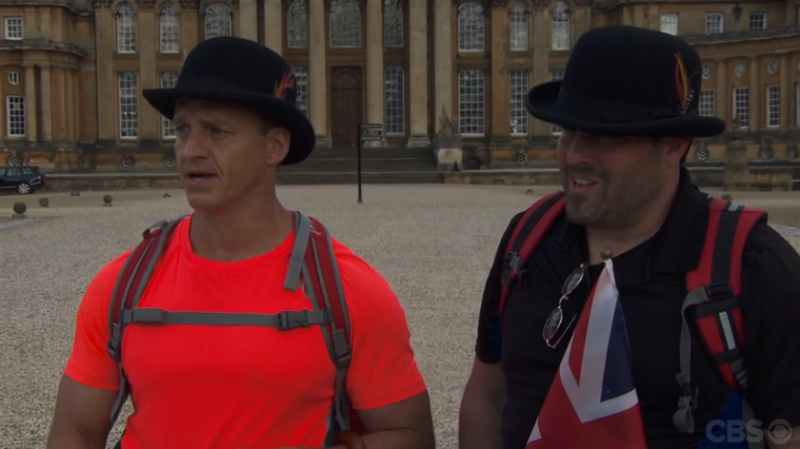 My Fellow American:  Michael & Scott reiterate their belief that the US and the UK are brothers.  Winston agrees and that he feels that way about FDR.  Michael points out that he knows Winston's mother was American and she gave birth to him outside a party being held here at the castle.  Winston's impressed with their historical knowledge!  Michael is massively enamored with Winston's strength of character during WWII.  Winston is again impressed and wonders if Michael is part of the tour!  I begin to wonder if Michael knows this isn't the real Winston Churchill though as he actually thanks him for his contribution to winning the war and all that he and his country have done to defend freedom and liberty.  I wonder about Michael some times…
---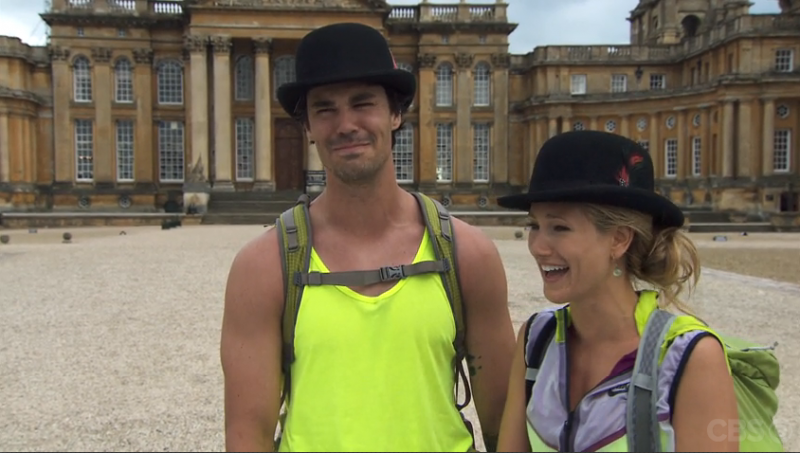 I Do. No, I Do!  Keith & Whitney are proud of each other and the wedding is still on.  Keith admits there are ups and downs but it's been good, which makes Phil ask if the race has been nothing but good.  They both have to correct him and clarify that it's been far from that.  Yet they're fine with the bumps and recognize that they'll always bicker at each other, although Whitney confesses she may bicker more than Keith.  Winston wonders if they're about start bickering right now about who bickers the most!
---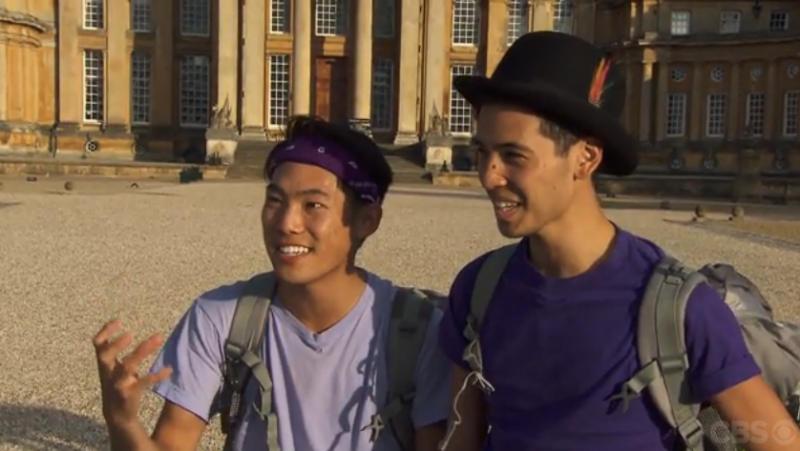 Not Jim-Fit: Both Tim & Te Jay had hoped there was going to be an "Oxford University" challenge but instead they get punting! Â They're glad they could hold their own especially against teams that are physically strong. Â Phil points out that they're fit too, but they don't think they're "Keith"-fit or "Jim"-fit. Â He wonders if they're intimidated by that physical impression, and Tim does admit that they are. Â Especially when they see those guys power through the punting while Tim is over there flailing. Â Winston thinks that even if they don't consider themselves the fittest, it will be their positive attitude and determination that will make them go far.
---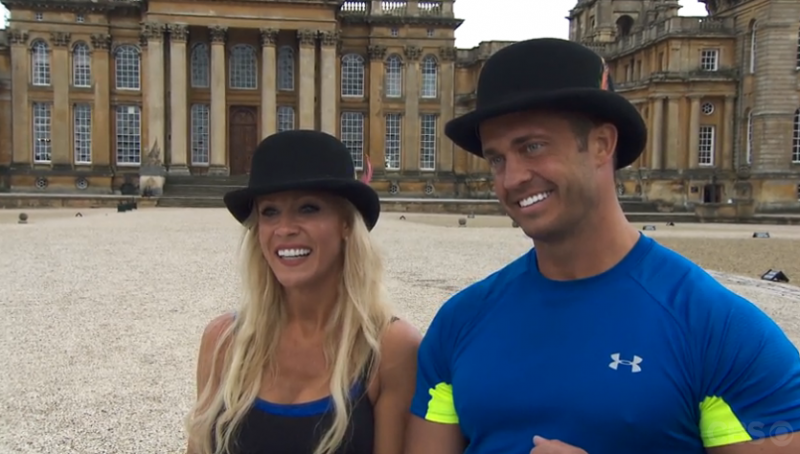 Specially-Made Dentures: Â Phil asks if they had a good day and Jim admits that he's disappointed in some of the decisions made today. Â At the punting challenge, they rushed into it and followed other teams' lead which of course was a mistake as the other teams were backwards. Â A lot of time was wasted. Â Winston suggests if you're going through hell, keep going! Â Phil tells them Winston was noticing their teeth and warns them to take care of them or they'll need to get specially-made dentures. Â He asks if they have good dentists and they laugh and explain that they're each other's dentist. Â Winston admits he's never seen such spectacular teeth before. Â Misti wants Winston to know that she's had to make specially-made dentures in America too and that he shouldn't feel bad.
---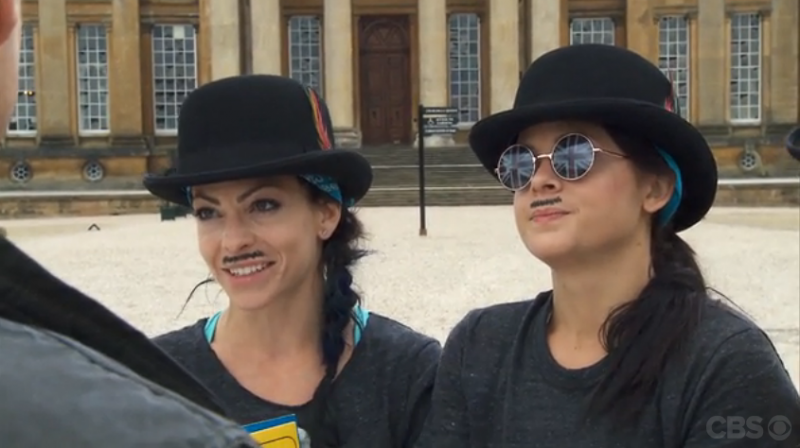 You're Older Than Phil!  Hey, I was wrong!  Kym & Alli do have those mustaches still when they got to the Pit Stop!  Anyway, Phil praises Kym & Alli for being the strongest all-female team so far this season.  Winston likes the mustaches and the glasses and Kym explains to them what they were going for.  Winston talks about being born here 139 years ago and Kym jokes that she didn't want to ask his age!  She then laughs that he's older than Phil, which gets a chuckle out of our fearless host!
---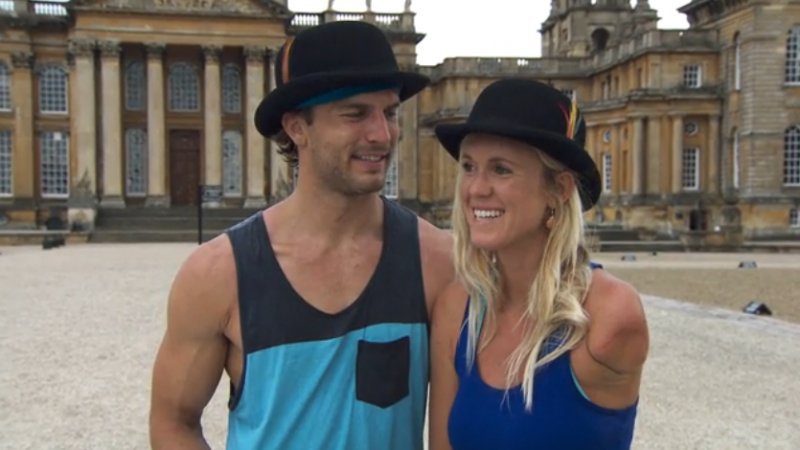 Finding Hope: Â Phil remarks that at one of the Route Markers today, he noticed that a group of young girls got really excited when they all saw Bethany. Â He asks why she inspires people so easily? Â Bethany thinks that everyone goes through hard times, just like she did, and her continuation of living her life as before resonates. Â She's appreciative of her supportive family and her religion and thinks that people can find hope for themselves in her story.
Phil guesses that Bethany's spirit and optimism was what attracted Adam to her. Â He immediately agrees as he could see that she was complete upon meeting her, as she is who she is which is strong. Â Not only as a woman but also with Christ. Â He's proud of her and loves her so much. Â Phil asks about their faith and if they got there together. Â Bethany was looking for someone who shared the same values and that they could talk about the most spiritual matters.
---
After the Leg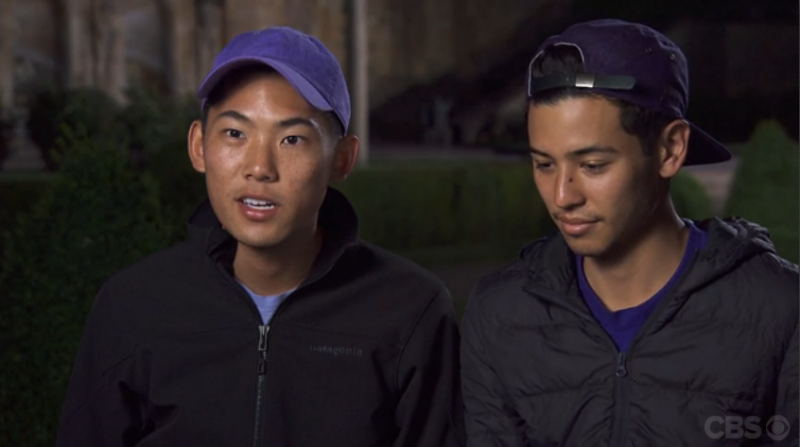 Vintage Bowling: Â Tim & Te Jay were fed up with each other this leg, with Tim admitting he wanted to push Te Jay off the boat in Oxford. Â It was a very rough current to fight against and it only got worse. Â Tim points out how hard it was to be the "punter" while the other person just needed to keep their balance. Â The other team punters were tough competition too, as guys like Adam and Jim are tall and strong.
Once done with that, they headed towards the "Bowler." Â Te Jay laughs now as he tells us that on the way there, Tim had commented that he's really good at bowling. Â Tim still thinks it could have been possible that it actually had to do with vintage bowling, as they're really good at it. Â He insists on staying optimistic and hoping that the challenges will be tailored to something they're good at.
---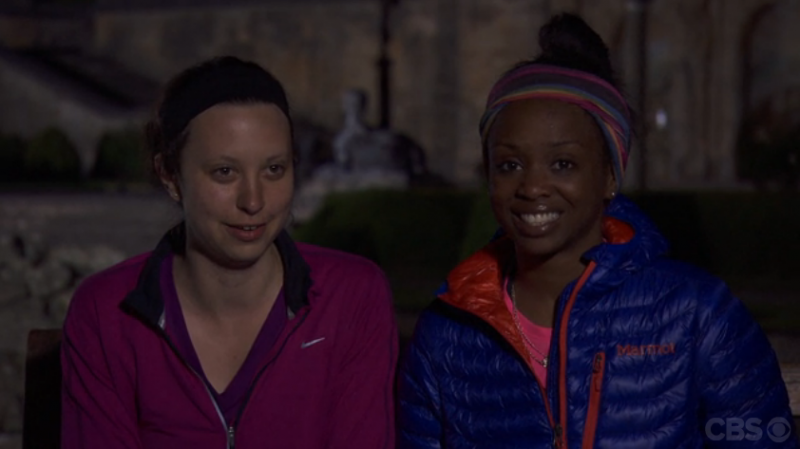 Pardon Me: Â Maya talks about the fact that they were having to act atypical to how they do in real life; case in point was at Paddington Station and buying train tickets – they asked to cut the line as the next train was leaving in 10 minutes. Â She feels bad about doing that because the people they're cutting in front of are trying to do important things too like living their lives. Â Maya wants to be mindful of that but also recognizes that she and Amy have to be willing to get out of that real-life bubble if they want to win this race as other teams are certainly not being mindful. Â Amy & Maya recall getting to a cab line and a person in it telling them another team had already come in and cut the line. Â Amy points out that they are aggressive when it comes to the other teams but not so much when it's with regards to the world as a whole. Â The other teams have no problems with being aggressive to the world to win. Â Maya jokes that they say this now…
---
Links: