So as you may or may not have seen in the ol' Internet and Facebook, last September I bought a brand new 2014 Mazda 3 5-door (hatchback) and it's RED. Â I Love Love Love it….
and it's been wildly praised in Car & Driver magazine as one of the 10 best new cars in 2014, and I can happily attest to its amazingness, as it is a BLAST to drive.
But one of the things that is kinda driving me crazy is the support for the technology package found within. Â The car has a great touchscreen console that houses a Navigation system along with being the display for your music, some system stuff, and a suite of applications that allow you to tie into your phone's Wifi and give you traffic, weather, local information and more. Â But guess what? Â You can't actually use that interactive stuff yet, as there's a component called Connected Services that drives it all but that only works when you have the "Toolbox" installed, yet….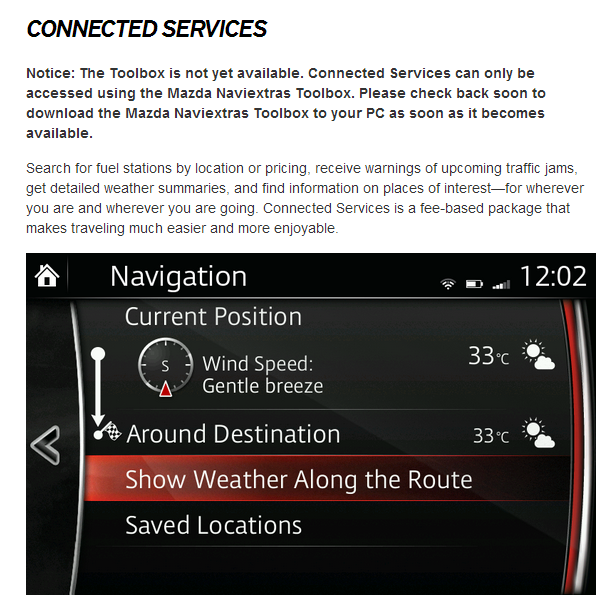 This same message has been on the website since September, when I bought the car. Â It's very frustrating and disappointing to not get access to all the sweet tech stuff that really did factor into my expected enjoyment of the car. Â I expect it will be available soon, but I was hoping that it was just being delayed until 2014….
As you can see, I'm not exactly raging, as the GPS does work, but it's not connected to traffic so who knows if it's taking me the smartest way. Â And? Â  The Mazda still is a helluva fun ride. Â And it's a beautiful red. Â I barely remember my white 3 (sorry, Sandy!). Â Nope, it's all about Joan now!