Various stuff from the past few days:
I got my new iPhone 6! Â (so did Larry)
We waited patiently during the 2 years since we both got our iPhone 5 back in 2012, and finally, finally, our day to upgrade came. Â Pre-ordered back on Sept 12Â which guaranteed our delivery of the phone this past Friday. Â I got the silver 64GB while Larry got the space-grey one. It's a fantastic device, and I like the new size. Â We didn't get the "Plus" model as that just seemed to be too big. Â Some quick thoughts on what I like about the new iPhone 6:
The security feature of using your fingerprint(s) to unlock the phone is very convenient, and even better than having to type in a code. Â I'm actually used to typing in that code, but it makes unlocking your phone now fairly seamless.
The increased size is appreciated as is the better form factor.
I'm looking forward to using the Health features of the phone, but I haven't yet.  Actually, trying to figure out if I can use my now-deactived iPhone 5 as my running system – we did a test today and it looks like it still gets a GPS signal even if the SIM card is off.
Better camera – my iPhone 5 camera somehow got dirt in the lens that I could never get rid of, so I hated using it. Â But now I've got a great new camera that has a lot of great features, including the tone-based flash. Â Looking forward to using this.
I know that iOS 8 has a lot more stuff to discover, but for now, it's just nice to have a new phone.
New Power Supply for my PC
I experienced a troubling issue last week while playing Diablo 3: Reaper of Souls – all of a sudden my gameplay would lock up after some time playing the game, suddenly coming back, but from that point on, being unplayable as it was super-jerky. Â Even more troubling, I could hear fans from within my PC losing their damn mind. Â Not a happy sound. Â I'd end up having a locked-up PC and need to reboot my computer. Â WHAT WAS HAPPENING?
The symptoms only were coming up in Diablo 3, especially after I had updated to Reaper of Souls expansion. Â It didn't make much sense, but I started the internet investigation to figure out if anyone else was having problems. Â I started seeing in Nvidia (my video card's chip set), Blizzard (Diablo 3's publisher) and EVGA (my video card maker) certain similar threads about the fact that the Nvidia GeForce GTX 770 requires a fairly strong power supply. Â Now, I had actually JUST bought a new power supply back in April, an Antec True Power Classic 650W unit, when I bought a new case. Â Figured that was good enough, but when investigating, I read that my video card has a high requirement of Amps on the 12V rail (42A, specifically).
There are power supplies that have a single 12V rail while others have it on multiple rails: Â the Antec one was on multiple rails. Â There doesn't seem to be a clear consensus on if that's an inferior methodology, BUT, many contributors indicated that these super-powered graphics cards have high requirements. Â Recommended by many are power supplies with a single rail for 12V – and some people who had experienced similar issues to me reported that once they replaced their power supplies with single-rail versions, the problems went away. Â Well, I can add my name to that list. Â I bought an EVGA SuperNOVA 750W G2 model (with a single-rail 12V line with 62.5A on it) and after spending Friday morning taking the old one out and putting this guy in (VERY cool feature: Â all the cables are modular, meaning you only install those power cables you need, avoiding having too much excess cables within), I nervously started up Diablo 3 again. Â Guess what? Â No crazy slowdown problems or terrifying fan noises. Â It was weird how I hadn't had that kind of a symptom until Diablo 3, but it is what it is. Â I'm back in business.
Movie Review: Â The Skeleton Twins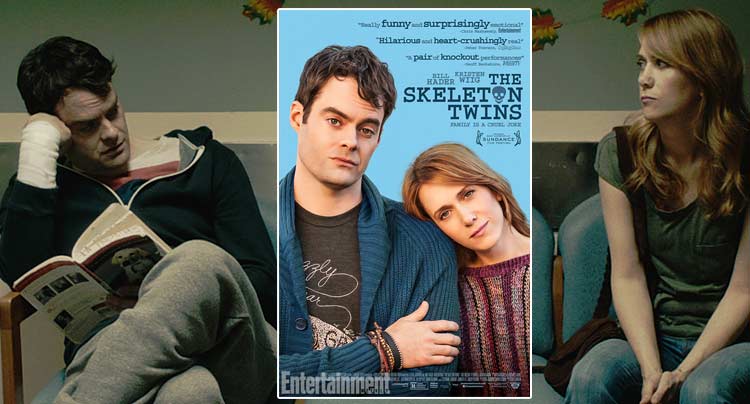 Plenty of reviews of this movie starring Bill Hader and Kristen Wiig as long-estranged siblings have raved about it.  Larry & I had read about a scene that involved the two of them singing Starship's "Nothing's Gonna Stop Us Now," which is a bit of an in-joke for us, and it was supposed to be a high point of the movie.  So we went and saw it yesterday as we'd been having a pretty good track record of selecting and watching good movies!  Alas, that record came to a close today.  BOO!
First, the good stuff: Â Bill Hader, Kristen Wiig and Luke Wilson are all great in their roles. Â They all have chemistry together and a lot of the writing can be very funny, when the situation dictates. Â But damn, the situations these characters find themselves in just are all over the damn place. Â Suicidal tendencies, habitual fucking around, after-effects of a Lolita-like situation, terrible parents….there's just so much to process. Â Those plot elements aren't really too hard to deal with, honestly, but the way the end of the movie comes about defies pretty much all logic. Â So, yeah, I wanted to like the movie, I really did, but I feel that it tried to do too much. Â The Starship scene was amusing, but it certainly wasn't as amazing as had been kinda promised by other reviews. Â It's also one of those, "nobody does this in real life" scenes too, but hey, it's the movies. Â You just think that movies like this, independent-y dramas, go for less of the movie cliches. Â And man, you get a ton of them here.
My advice?  Pass on this.  Watch You Can Count on Me with Laura Linney and Mark Ruffalo if you want a truly great movie about estranged siblings.  Trust me.