Let's have a post where I get the picture situation under control and take care of it before I get way out of date!   Got a few sets of photos for this post, one of work stuff while the rest are fun fun fun!
January 22 – 24, 2014 – Denver, Colorado
During this past week, I was out at the Dry Creek facility in Denver.  It was a good trip and I got to see a lot of interesting stuff and see a lot of people.  (I know, that was extremely detailed).  It was a trip that definitely needed to be done and I'm glad that I had the opportunity to do so!
January 24-25, 2014 – Colorado Springs, Colorado
I was most excited about this trip to Denver as I was able to visit my Colorado Springs-based friends, Susan and KD & Eric.  Timing and availability all worked out for this to happen, and so on Friday after everyone at work called it quits, I went back to my hotel and awaited my chariot.  My chariot happened to be driven by Susan!  She was actually up in the Denver area for Guard stuff (hello, Major Ruby!) so it really did work out for the best.  She picked me up and drove me back to the Springs, which gave us tons of time to catch up.  After getting there, it was dinner time at Rock Bottom Brewery (their Mac & Chicken is especially good, as are their beers).   KD wasn't going to be back until around 10:30pm as she had concert rehearsal, so we managed to kill time until then and went to KD & Eric's awesome new home.  It's ridiculously awesome.   More catching up ensued and I really got nostalgic for those days of 2006 and 2007.  These folks are the best.  We hung out until around midnight (BEYONCE tracks were played, to be sure), then Susan and I left for her place for the night.  Early the next morning, we headed back to KD's as Eric was also flying out from DIA at pretty much the same time I was.  So we had more time to laugh and bond – LOVE THEM.
We are going to try to go back in March for vacation purposes – hopefully Breckenridge will be the destination!  Oh, and if you doubted my assertion re: KD & Eric's place, THIS is the view from their backyard!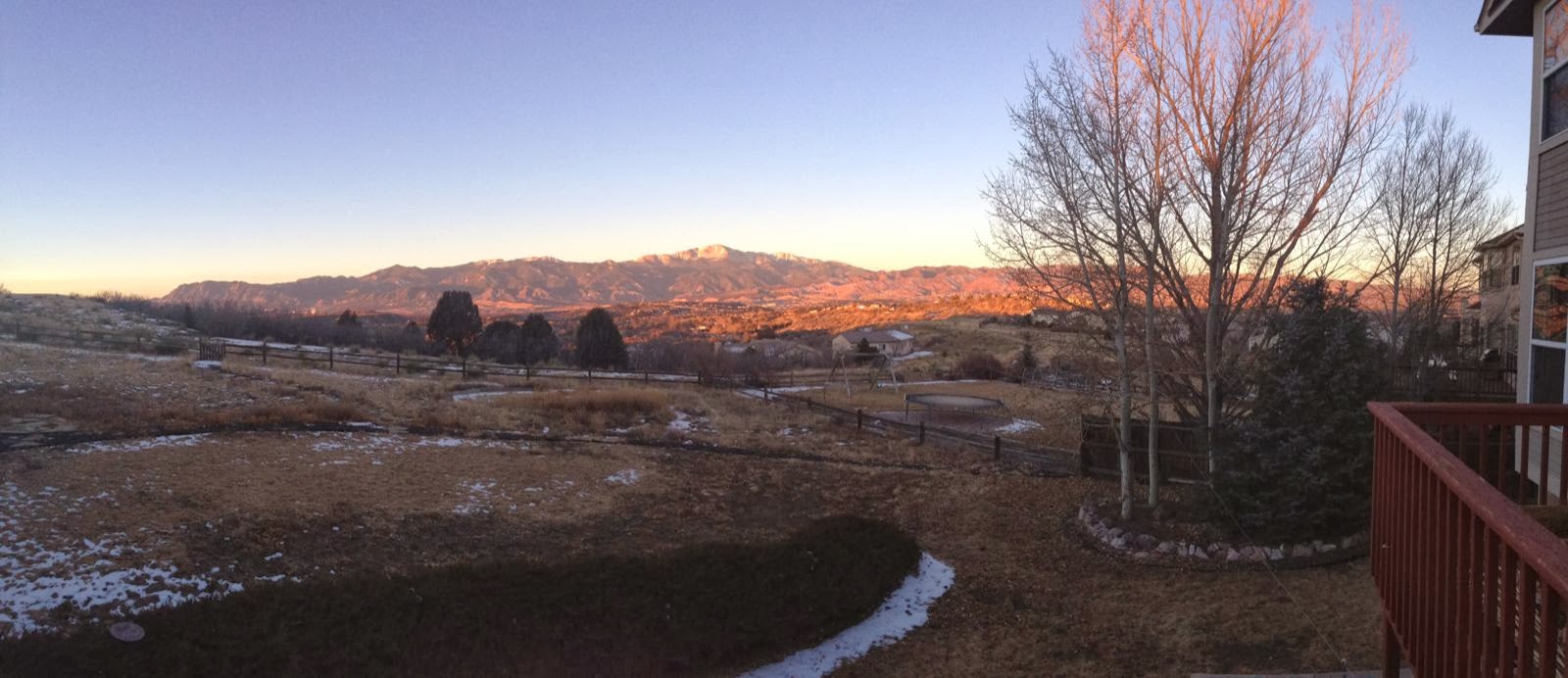 From L to R, that's Cheyenne Mountain, then Pike's Peak and the Garden of the Gods, with assorted views of the city also there.  IT'S RIDICULOUS.
Okay, here are the pics I took from my oh-so-brief adventure with Susan, KD & Eric:
January 25, 2014 – Pics of our New TV!
We bought a new TV!  It had been since 2009 when I bought the 52″ LCD TV that had held the fort down in the living room starting with the UWS New York apartment, then to Santa Monica, and finally now with our Silver Lake apartment.  But in the time since 2009, TV technology has been constantly improving, and it was time for us to indulge.  The new TV is now 65″, 3D (with 4 pairs of glasses), a Smart TV, and is even thinner than the last one.   After setting it up when I got back from Colorado on Saturday, we played around with it and it's just amazing.  I don't have the best depth perception (I think it's time to go to the optometrist to see what can be done about that) but I can still some of the amazing 3D we now have at home.  It's awesome.  And the Smart TV functions are pretty amazing, as well as the fact that the TV can really act as media machine too with Netflix and Amazon Prime built in (along with a ton of other video features).  So yeah, it was an awesome upgrade.  We ended up moving the other TVs around too so that we're making the best use of them.
So yeah, it's been a good weekend.  And then this upcoming week?  I'm headed to NYC for a few days yet again for work.  Another day in the life of me, the jetsetter.  LOL.
Random things:
– We ate at the Burbank Media Center In-N-Out yesterday after Larry picked me up from the airport.  We ended up eating next to Mirielle Enos (the star of The Killing on AMC as well as Brad Pitt's wife in World War Z) and Alan Ruck (Cameron from Ferris Bueller's Day Off!!!!) who apparently are together and have a little girl together as well.  It was kinda shocking to find ourselves next to them.  Larry first gave me the eye-indication that something to be seen was next to us.  Sometimes that look is for super hotness…in this case, it was celebrities!
– We checked out an open house on our walk back from the barbershop today.  It's a fantastic house that we'd certainly be right at home in, as it's got a modern design sensibility (the MLS listing calls it "architectural") and a lot of great space.  Going for the super reasonable price of $1.2MM.  🙂  Chump change, truly.