Larry and I have had a few previous downtown days, with some being harmless fun exploring the sights….
https://www.hobiebarnes.com/?p=3354
…in which we looked at some potential apartments as well as the MOCA and Union Station; and then a trip in which it was pretty much a pub crawl….
https://www.hobiebarnes.com/?p=6420
….it did start out educational as we saw the Space Shuttle, but then it became pretty much an exercise in drinking around downtown LA.  It was awesome.
So today was a bit random, as I just proposed going downtown to the Skyspace experience on a whim.  I didn't want to sit home and there were no good movies out, and after proposing it, Larry agreed, and off we went.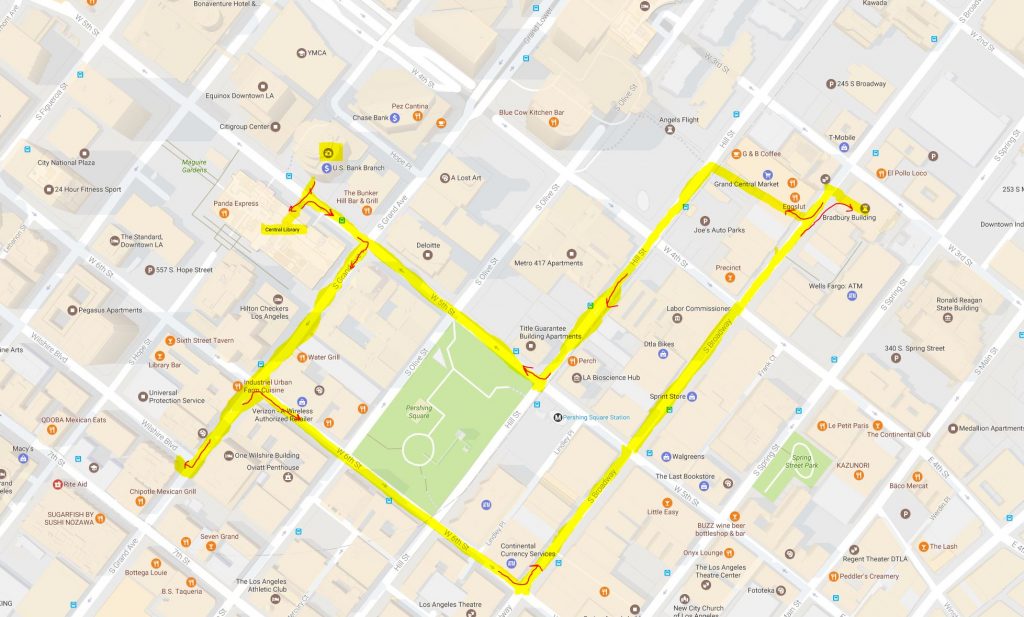 The OUE Skyspace LA attraction is basically the long-awaited Observation Deck that Downtown LA should have had since the U.S. Bank building was built in 1990.  But DTLA wasn't really a tourist destination for the longest time, but now with the Staples Center, LA Live, and a whole host of people living down there now, DTLA is much different.  And I think finally it made sense to keep expanding what there was to do, so last year the top deck of the building was built to make this observation deck a reality.   Not content to be just a view, they also built a glass slide that drops you from the 69th floor to the 68th – outside of the building.  It's a very short ride, but it is quite a thrill nonetheless.
Anyway, I get ahead of myself.  You first make your way into the lobby of the building, process through, and then go up to the 58th floor.  Up there are a few neat interactive exhibits like giant video screens showing various LA cityscapes at different times of day, a very cool peak down a very deep hole lit up like a disco, and some other random stuff.  I guess it's to justify the cost of the ticket?
As you can see, the magic chasm was pretty fun to play around with in pictures.  After you walk through all this excitement, you take another elevator up to the observation deck on 69 – and it's pretty damn awesome.  A nice job has been done making a very clean, open space with quite clean windows to look out and take pictures through.  I do hate when observation platforms don't bother to keep the windows clean as you're kind of beholden to them for pictures.  Anyway, I digress – we did take a lap around the enclosed 69th floor to get a sense of what the views were, but held off on taking too many pictures as I wanted to be outside to get those.
But you don't take the stairs to go down to the level below…you take the SKYSLIDE.
Yeah, it's kind of awesome.  Brief, but awesome.  Some more from the Skyslide experience:
Alright, the remaining pictures are a lot.   I couldn't help myself though as there's just so much to take in.
Initial Looks:
View of the Oviatt Penthouse!
Alright, a whole lot of pictures of DTLA:
Okay, I then tried to capture LAX in the distance…
And some last pics before we went back to the ground:
Alright, so that was quite a cool experience.  I'd like the opportunity to go up closer to a sunset and get those kinds of colors too, but that can be for another time.
Once we got on the ground, we were right outside the Central Library of Los Angeles, which is itself quite a stunning building.  So we went in to take a look, and also we both got a library card.  It's my first one in what feels like forever.
Central Library, Inside and Out
We didn't check out any books today, but maybe one day soon?   I was getting hangry, so we then started walking towards Bottega Louie but a block before getting there, we ran across Karl Strauss Brewery.  Love the place from its Citywalk location, and that felt a little more relaxed than going to Bottega Louie.  So that's what we did – perfect fit, getting beer and grub.   After that, we then walked our way over to the Bradbury Building.  Why?   Well, Larry had figured out where it was while we were up top and we figured if we're down here, let's go take a look.  It's well known for having quite the dramatic and unique interior and also for having quite iconic films set within it – notably Blade Runner.  My pictures here didn't come out quite as clear as I'd hoped, but you get the gist.
Food, Broadway, and the Bradbury Building
Then it was a walk back to where we parked, and along the way, caught one last glimpse of the US Bank building and the Skyslide:
And now we're back home after a  fun afternoon.  Still figuring out where to eat having had a fairly late lunch.