The list of things to do in Paris posted in Buzzfeed all look spectacular.  I'd certainly want to do stuff more off the beaten path when going back (and it will be a WHEN, not an IF).  I have visited a few of these previously (Visiting the Musee D'Orsay, Pere Lachaise Cemetery) but many I haven't.  I've linked to the Buzzfeed article if you click on the picture below, but I've also listed out the things they recommend just in case the link dies in the interim before heading back to Paris!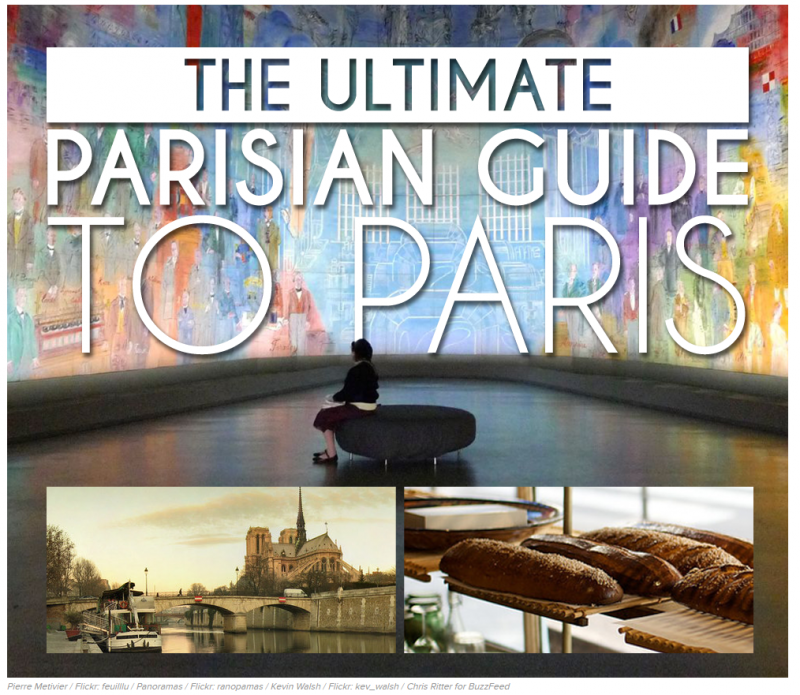 The Marché des Enfants Rouges
The Jardin du Luxembourg (did it!)
The Arab World Institute
The Jardin des plantes
The Great Mosque of Paris
The Coulée Verte
Les Déserteurs
The Palais de Tokyo
The Communist Party Headquarters
Saint-Ouen Flea Market
The Aligre Market
Du Pain et des Idées
The Canal Saint-Martin (I remember this from Amelie)
The Comptoir Général
The Parc des Buttes-Chaumont
The Church of Saint-Serge
Rue Crémieux
Rue Montorgueil
Le Bon Marché
Passafe Jouffroy
Le Grand Rex
The French National Library and its Neighborhood
Breizh Café
The Musée d'Orsay (did it!)
The Palais Royal (did it ….in Assassin's Creed Unity)
Merci
The Galerie Vivienne
The Passage des Panoramas
Jacques Génin
The Opéra Garnier
Pére Lachaise Cemetery (been there!)
The Riverfront (of course I've been there)
Molitor
L'Avant-Comptoir
Villa Léandre
h/t to Buzzfeed as I clearly would have no idea what these are on my own.  I so want to though!
Also, in other news, NBCU is throwing a West Coast company-wide Christmas party at the Universal Studios Theme Park tonight.  Here's hoping it's a fun night where we get free reign in the park!  Pictures to come tomorrow.