(2014 Note:  These pages are transfers from my original site so I can better view the many pictures I have from that trip and so it's searchable within WordPress Search. Here's a link to the original page!)

Oui Oui, we were in Paris! (If you read that with a French accent, it totally rhymed). As you may have read from Day 3's recap of events, we spent most of the night before traveling from London over to Paris, and didn't get to sleep seriously until about 3:30am. So would you want to wake up at 8 or 9 the next morning? Yeah, didn't think so. Unfortunately, we really needed to get our asses out of bed at that time, as we were meeting up with Jeff's friend Brian (the one who was supposed to get reenlisted on the beaches of Normandy) and his wife Shannon that morning. They had decided to just come to Paris for the weekend so they could still visit with Jeff (and Susan and I, by virtue of us all being a group) anyways, and they were taking the Eurostar train in from London that morning. The plan had been to meet up at the Gare du Nord (which is the train station that services the UK) when their train arrived…. and when we finally woke up around 12 noon, well, yeah, it became obvious that we had missed that meeting. Oops. So we scrambled to get ourselves up and ready, with Jeff getting up first so he could go and meet up with them downstairs in the lobby. We all eventually got our act together and the day began, albeit late!

So once Susan and I went on downstairs to the lobby, we met Brian and Shannon. They're both very cool folks who are stationed in England now. Obviously meeting new people can be hit or miss, but as the next few days revealed, we would get along great and I definitely think that I made some good friends, even in only a few days. Anyways, back to the travelogue (just be aware that in addition to Susan and Jeff, I'll be tossing out the names Brian and Shannon!).
We ended up finally getting out to the streets of Paris around 12:30 or so, and needless to say, the three of us were STARVING. So first order of business was finding a place to eat – fortunately in Paris, you can't walk very far without walking by a cafe or restaurant of some sort, and about a block away we saw a place that had meat, so that won! We did find that the staff spoke minimal English, so it was time to break out the French phrase guide – and amazingly, I didn't do that bad a job of getting the bare French essentials out. Eventually, both Jeff and I were pretty decent at communicating the basics, which is a true testament to the Rick Steves' phrase book. Again, that man rules.
After having lunch and the ability to get to know Brian and Shannon a bit more, it was time to see some Parisian sights! We first walked down to Gare Saint Lazare (in English, that's St. Lazare Train Station), sort of the long way in, as we managed to walk right into the main train platforms of the train station. After finding our way to the central lobby of the Gare, we then picked up our 3-day Metro Paris Visite card and headed on the very efficient Paris Metro system over to La Cite, which is the little island in the middle of the Seine. It's also where the world-famous Notre Dame resides!
We made our way over there and got in, and of course, Notre Dame never fails to impress. Click here for Wikipedia Notre Dame goodness, although if it's pictures you seek, look no further than below. It truly is a magnificent cathedral, both from the outside and once you go inside. The amazingly gothic construction and the fantastic stained glass, particularly the Rose, are wondrous. During this visit, we also were there during a mass, which is always an amazing thing to witness, especially in such a historical, ancient structure. What was cool, specifically in Paris, was that Rick Steves created some iPod Podcasts that you listen to while walking around certain attractions (Notre Dame, Versailles, the Louvre and the Musee d'Orsay), which I did while in Notre Dame. It adds a little bit more to the whole experience, and it provided me more justification for buying my new iPod. Anyways, after seeing the inside, we decided to also go up to the towers of Notre Dame; unfortunately for us, by this time it was just about 4:00pm and that's when they cut the line off. Bummer – it's quite a view and to see the gargoyles up close is pretty cool. Instead, we went to the nearby cafe and everyone but me got crepes! I tried one of the Nutella ones that Susan had and I after the second bite, realized that I am ALLERGIC to Nutella. While my throat started closing up, I started drinking tons of water to wash out my mouth, and eventually my allergic reaction subsided. Crepes no more!
One thing I didn't know about the plaza in front of Notre Dame: it has what's called the Zero Point of Paris, which is basically the geograhical center of Paris. See pics below! And then we visited the Archaeological crypt right in that same plaza, thinking it was the same crypts that Melissa had told us were a 'must-see'. This was the wrong one. Still kinda neat, but kinda eh.
Anyways, here are the pics. There are lots for Day 4, so pace yourself.
March 30, 2007: Meeting Up with Brian & Shannon; Notre Dame and Environs

After the impressive sight that is Notre Dame, we all headed along the Seine next to Notre Dame, which is where you can truly get a great sense of the gothic architecture and the flying buttresses (heh heh). We then veered across the bridge to the Left Bank of Paris, which is where the more artsy, hippie, and basically fun part of Paris resides. It's here where we had a great dinner, followed by going back to the hotel. We then had a chance to rest up before embarking upon what was to be one of the coolest things we did during the trip (and an awesome recommended trip idea by Rick Steves – and next time you're in Paris, you HAVE to do it): a chartered nighttime taxi trip around Paris' most amazing sights.
March 30, 2007: Strolling Past Notre Dame and Over to the Left Bank; Dinner!

In the Rick Steves Paris book, he suggests an awesome thing to do: charter a cab for 2 hours and have the cabby drive you around Paris, at night, and stop at all the beautiful monuments when they're illuminated. And let me tell you, after doing it, I can only say that you HAVE to do this. But since this isn't just a photo journal, of course I'll have to tell you the story of everything!
First, it was 'fun' to just get a damn cab. Not many cabs are going to be able to fit 5 people – unless you charter a limo or something. Fortunately our concierge took a liking to us and helped me order a cab big enough. He got in touch with a cab company that definitely caters to tourists who want to do something like this. Rick Steves advocated for only an hour or so, but based on this experience, that is FAR too little time. We actually didn't even make it to all the stops he suggests and we chartered the cab for TWO hours. Anyways, I jump ahead. It was well worth the price to charter the cab though, as if your cab driver is cool, as ours was, he will usually stop right at the monument and let you get out and just wait for you. These guys aren't afraid of no meter maid! So our guy came and picked us up at the hotel in a minibus and off we were! I've modified a hella-ghetto map to give you an idea of what our route approximated. On the map are 5 numbers indicating where we stopped and to also help identify where we took pictures in the sections below.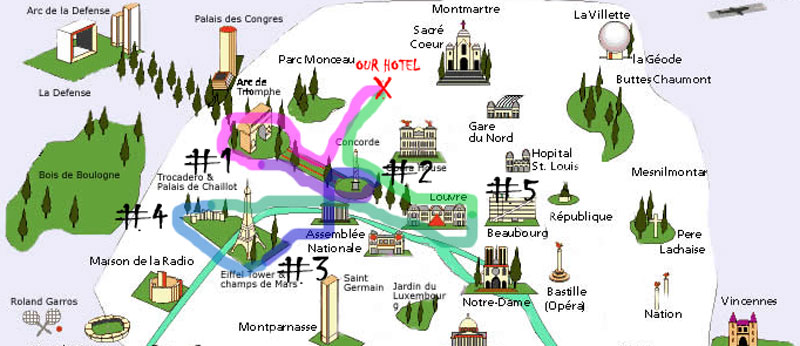 The route begins at the spot marked "OUR HOTEL" and follows the light purple path (in honor of Suzanne – Susan's French name given to her by our taxi driver!) first. So where did our cab driver (whose name I can NOT remember now!) take us first? Well, we first worked our way through the Montmartre section of Paris down to the Champs Elysees, the grand Boulevard of Paris. There's quite a bit of history to this street in addition to it being the premier shopping area of Paris. Read more about the Champs Elysees here if you're so inclined. With it being a Friday night, this street was pretty crowded and hectic, but it made it that much more exciting to drive down it. We were headed towards the Arc de Triomphe, which you can't help but see as you drive in its direction. One thing that I had not yet done in any of my trips was actually drive around the Arc in its ridiculously huge traffic circle – I think it's 12 lanes wide, which is if you actually could see lanes. The traffic here somehow knows how to function, which is good. Our driver helpfully stopped on the perimeter of the traffic circle for our first stop (#1 above) and where we took our first set of pictures!
Nighttime Taxi Tour Stop #1: The Arc de Triomphe
From the Arc our cabby then drove us back along the Champs Elysees (on the map it's the cerulean blue color) in the opposite direction and towards the end of the boulevard, which is the giant intersection called the Place de la Concorde. In the middle of this mass of road collusion is an ancient Egyptian obelisk which is hard to miss at any time of day. Our cab driver then stopped right in the middle of the 'island' and let us off at the obelisk. Pretty sweet. We also could see the Eiffel Tower doing its sparkly thing from here, but of course more on that later. I've also included a mini-video I took while out there. Did I mention that this idea was ridiculously cool?
Nighttime Taxi Tour Stop #2: Place de la Concorde
So after getting back into the cab, our next destination (shown by a lighter blue path) was one of the world's most famous landmarks: The Eiffel Tower. Need I say more? Okay, I will. Our cabby drove us to the back side of the Eiffel Tower (nearer to the Rue Cler area) and parked and we all walked up to the Eiffel Tower at night. There's something amazingly incredible about the Eiffel Tower at any time, but at night, and forgive me for saying this, but at night, the Eiffel Tower is magical. It now does a whole 'Sparkling Diamond' effect for the first 10 minutes of every hour, and where it was purely magic before, your jaw drops when you see this. And it doesn't get old, no matter how many times you see it. I hadn't had the chance to really explore the Tower at night before (dusk, yes, but true night? No.) so this was awesome. I could go on and on so I'll stop. Here are some pics below!
Nighttime Taxi Tour Stop #3: The Eiffel Tower
Although there were only six pics here of the Tower, don't think we didn't spend a long time here – in fact we did. But I knew we'd come back at night to actually go up in the Tower, so be prepared for an onslaught of Eiffel Tower pics in the Day 5 page. After gawking at the Tower for a while, it was time to go back in the cab….so we could get an even BETTER view of the Eiffel Tower. And there's nowhere you can get a better picture and vantage point of the Eiffel Tower than from the Trocadero, which is where the Palais de Chaillot sits across the river from the Tower. It's elevated just enough to give any amateur and professional photographer the dream to take the most beautiful pictures. See below for some beauts.
Nighttime Taxi Tour Stop #4: The Trocadero / Palais de Chaillot
Our last stop, unfortunately (because it would have been awesome to have hit Notre Dame and Sacre Couer at night, but alas, our two hours were almost up because we had to include taxi time back to the hotel as well, and on a Friday night, that takes a while) was the Louvre. We didn't make it inside the Louvre, obviously, but looking at it at night, especially the dichotomy of the modern glass I.M. Pei pyramid vs. the ancient Louvre architecture, illuminated at night, is breathtaking.
Nighttime Taxi Tour Stop #5: The Louvre
I must say it was a truly awesome trip, and we made it right back to the hotel two hours after our trip started, meaning we got back about 12:30 in the morning. Not bad for timeliness! Like I said – if in Paris, I highly recommend you do this! Afterwards, it was time to get some sleep as we did have some rest to catch up on – and tomorrow we were headed to Versailles first thing in the morning. But more on that on the Day 5 page!