This week was my first one in which I'd spend the entire week at work without any bit of training, even a 1-day jaunt to Atlanta! So the beginning of the week was me first having a bit of a stress-out realizing that I have to start making things happen!  Guess what?  Things started happening and I've been fairly busy this week – it's a great feeling.  I don't feel totally useless.  I love it.
Also?  I was chatting with one of my fellow managers at work and she told me about taking the Metrolink into DTLA, and she pointed out that there's a Glendale station I could be using.  You know what?  I knew that – but I totally didn't associate it as an option for me to go to work.  But guess what?  It totally DOES work.  I started researching that option and I found out that a Metrolink pass is also a Metro Rail pass, so I can ride the LA subways, light rails and buses.  HELLS yeah!  Back to Riding the Rails for me!  Although what my route will be is driving to the Glendale Metrolink station, taking the Metrolink train nonstop into Union Station (Glendale is the next stop from Union Station), then transfer to the Red Line and go to 7th/Metro Center and then walk a block.  It may end up taking slightly longer in the morning BUT in the afternoons it will be completely worth avoiding the nightmarish 110 North traffic.  Also also!  PwC works with LA Rideshare and I'll get reimbursed almost the entire cost of a monthly pass!  Tomorrow morning will be my first trial run to see how it all works out.  I plan on making it work regardless but I figured even before moving that it would be fun to use the rails and avoid Thursday insanity on the freeways.
In the map below, you can see the gold/green line that goes through Glendale on its way to DTLA.  Yay!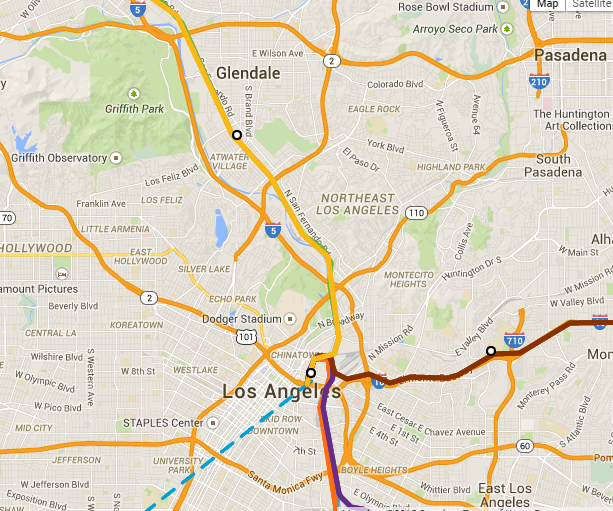 Oh, and then of course, the other source of stress this week!  We're moving!  This weekend!  I may need to take some mind-altering substances to remain calm – JUST KIDDING.  I can't wait to be done.  We ended up deciding to get a storage unit anyway, even with the massive amount of junk disposal we've done.  It has to be done.  It's nice to know we have that in our back pocket.
Larry went by the place this afternoon and they finished painting the two accent walls we wanted done.  This timeline is really working out well!  Here are some pics he took:
Completely random pic time – my walk in the mornings has included being able to see the Wilshire Grand building as it gets built.  I took a picture of it three weeks ago and then one on Monday.  It's already grown 2 stories!  At least its inner superstructure.  This building will be the tallest building on the west coast when it's done and it will look pretty stunning when complete in a few years: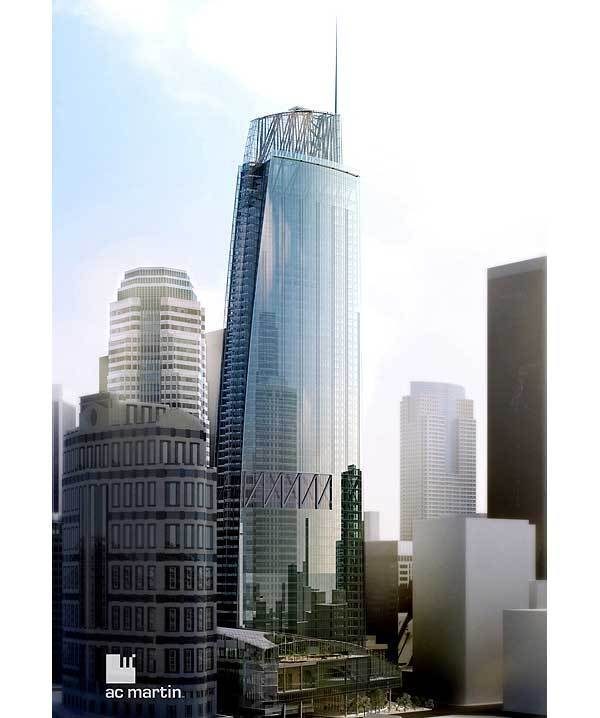 The poor PwC building will look so small next to it!  Anyway, here's what the Wilshire Grand looks like now, as well as three weeks ago.  You can see they've conveniently numbered the floors as they build them:
We've finally been able to start watching Netflix' newer shows!  House of Cards is obviously good and we're 2 episodes in, but the show I think both Larry & I are REALLY in love with is Unbreakable Kimmy Schmidt.  It's amazing and sooo funny.  That's not too surprising since it comes from Tina Fey and Robert Carlock, the people directly responsible for 30 Rock.  Ellie Kemper is awesome and the return of Jane Krakowski to my television is most welcome.  Carol Kane is also in this and that just makes this show magic.  Plus the theme song is just hilarious and seems directly reminiscent of the following: