I haven't mentioned it all that much on this site or to that many people in person as I was trying not to jinx myself, but late last month, I found out that I had gotten selected to come in and audition for Jeopardy!   FINALLY!
It only took 4 online tests for this to finally happen, and I have to admit I was somewhat skeptical it was the real deal.   Yet I also knew it was real, so off I went and bought the 2016 World Almanac and started reading that bad boy almost every night up until my audition date, yesterday.  I'm FILLED with facts.
So yesterday was the day, and so I was up early in the morning to get ready and dressed in advance of the commute from Glendale to Culver City on a Friday morning.  UGH.  Who said fame would be easy, amirite?  Got to the hotel where the audition was taking place with plenty of time to spare, although not too much time so I didn't start freaking out.  The audition doesn't happen at the studio, which makes sense, but it would've been cool if that were the case.
For this audition session, I think there were 18 of us, and we were told we'd be there for about 2.5 hours – pretty much exactly right on that count.  The main host of the audition was a woman who was all energy and all chattiness – meaning she was extremely good at her job of getting us to relax and encouraging us to be "on".  As she reminded us, it's great that we know stuff, but this is a television show.  Show us energy and enthusiasm, and you're more likely to get on the show.  Guess what that meant:  I turned up my energy levels!
The session started with getting information about the process, and the fact that 70k took the online test and 4k were selected, from which only 400 were going to get put in the applicant pool for 18 months.  So I do feel a bit good that I made it through the first process!  She also let us know that it's extremely rare that people ever get all 50 questions right on the online test, helping me to realize I'm not a complete idiot.  🙂
We got to then play a group round of Jeopardy!, as there was a projected screen up front with a game board and 6 columns of clues.  We all got to practice answering (in the form of a question) at least once, following it up by politely asking for the next clue.  It was also our first time practicing our performance voice, and she was pretty clear about making sure we did so.
The next part was another 50-question test, this time written.   No hints from me on this site about what was on the test, as they even said it's confidential, while also saying that you really don't want to help others taking the test who then do better than you and get on the show, right?  Concur.  I will say that I found I did pretty damn good on this test and it gave me some confidence that perhaps I might make it to the next round.  At this point, I do NOT know anything, and I'm not even sure when I really will.
The crew collected our answers, information sheets, and our polaroid headshot (have to say, my picture wasn't all that bad considering it was a close-up polaroid, but those are unforgiving images, okay?), then left us in the room while they organized all that documentation.  Gave us all a chance to kind of chat amongst ourselves.  I met some nice people and it'll be great to see if they make it, but I'd have to pay attention to the show for the next 18 months.  I think some people I met really have a good shot of being selected, while others, not so much.
Once the crew was done with the paperwork activity outside, then it was time for the game show mini-simulation.  What happens is the crew selects 3 of us at a time to go up front, grab a "signaling device", and play the actual game of Jeopardy!  It was awesome.   We were directed on how best to use the clicker, and the rules around the clicker's use, such as "Don't click before the lights come on!" and "Click that bad-boy like a maniac once those lights do come on!" Of course, the other rule in effect:  Be enthusiastic and use your performance voice.  After about 10-12 clues were played, and it was real play as your clicking would determine who got to respond, then the host would conduct the personal interview with each of the three, one at a time.
Happily, I was part of the second group of 3 to go up as I absolutely hate having to suffer the anticipation of watching everyone else do something like that.  So yeah, I was so relieved to get my chance and go early.  I was still aware that performances and enthusiasm were being watched,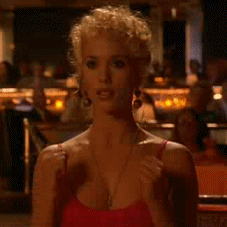 and so when we got up there, the host was still talking about dancing and for some reason I can't remember, even just a day later, I busted out the Showgirls intro arm-dance.  They loved it up there, and asked me to turn around and show what I did.  And I did.  I'm almost mortified but also glad I didn't hold back because it was pretty fucking funny.  But if you had told me that would happen….wouldn't have believed you.
ANYWAY, I did okay on the playing Jeopardy! stuff.  Some of the questions just were a bit harder and it might have been a bit of nerves.  The part that I was more nervous about was the damn personal interview stuff.  This part was just like when Alex Trebek talks to each contestant for a few seconds, but more like 3-5 minutes.  I think I did well here too, talking about my job a little, having been in the AF, enjoying eating what my husband cooks and that one of his specialties is spaghetti carbonara, as well as enjoying going to the Hollywood Bowl, and talking about having just seen Diana Ross there.  She also brought up that I was on America's Funniest Home Videos, and I jokingly did say I was a child star having been in the audience as a featured laugher.  She would ask everyone what they'd spend the money on, and I mentioned a house and maybe a Tesla.  🙂
After that, I got to then relax and watch all the others go through the process, playing along in my head when they were going through the game.  We then were wished luck and sent packing once all was said and done!   I feel pretty good about my chances but I also know that it is really up to whatever the contestant crew wants on the screen.  I was myself for them and fairly outgoing, so we'll see.  Fingers crossed!