BB18 Episode 3 – June 26, 2016
<–Previously, Nicole Boldly Draws a Line
The game is evolving, folks!  Those twists keep coming and alliances are shifting, in quite surprising ways.  And damn, I think there's either very horny women or horny gay men in control of the season thus far, as there is ample opportunity for these men to show off all they've got.  Loving it!
Okay-a, Jozea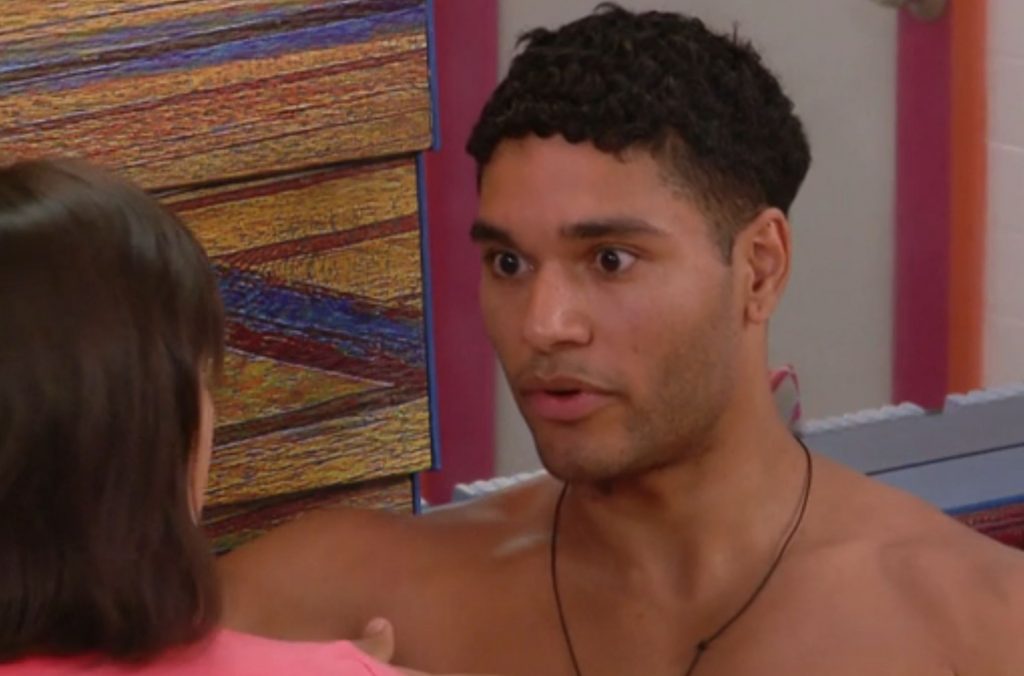 This guy is all confidence.  Or delusion.  Delusidence?  Is that a thing?  Regardless, Jozea has got it.  Not only is he ready to go after Nicole, he tries to foster a rising tide of resentment against her with the other newbies when he lets it slip that he's been gunning, openly, for Nicole since Day 1.  Both Bridgette and Paulie, who are the recipients of this particular rant, immediately ask why he'd do that?  Of course, it's because he's not afraid of that thing (his words, not mine).  Man o' man….I think this week's eviction might issue some harsh reality checks for Jozea – or if not this Thursday, soon thereafter.  His comments at the end of the episode about him being the heart and joy of the house meaning everyone and anyone winning the Veto will inevitably use it on him….?  whooo boy.  Revel in it though – why not?  You're not on Big Brother every day, so be that character.
Jozea does end up going upstairs to talk with Nicole, and like her, I was wondering if this was going to be an ugly scene.  Surprisingly (?), there's no emotional outbursts or attacks.   I guess we'll save all those kinds of hysterics for Week 6+, right?  Jozea does mention that he didn't campaign for himself before the nominations as he doesn't see the point of doing that.  If he's ever HoH, people shouldn't even bother talking to him and begging, as he's not going to listen.  whoooo boy.  You're a MASTER at this game, Jozea.  Never let anyone tell you different.
The Episode Where Alliances Form….
….soon to be followed where that said alliance is filled with sub-alliances that will soon shatter this first alliance.  Alright, so first off, DaVonne, playing a fantastic social game, to me at least, is bonding with Zakiyah.  Zakiyah confesses that she did have Jozea and Paul's back before, but she has no idea where their heads are as they're just playing so stupidly.  DaVonne knows this is the time to bring in Zakiyah, which then leads to figuring out a bigger group to get through the first half of the season.  That leads us to….
The 8-Pack!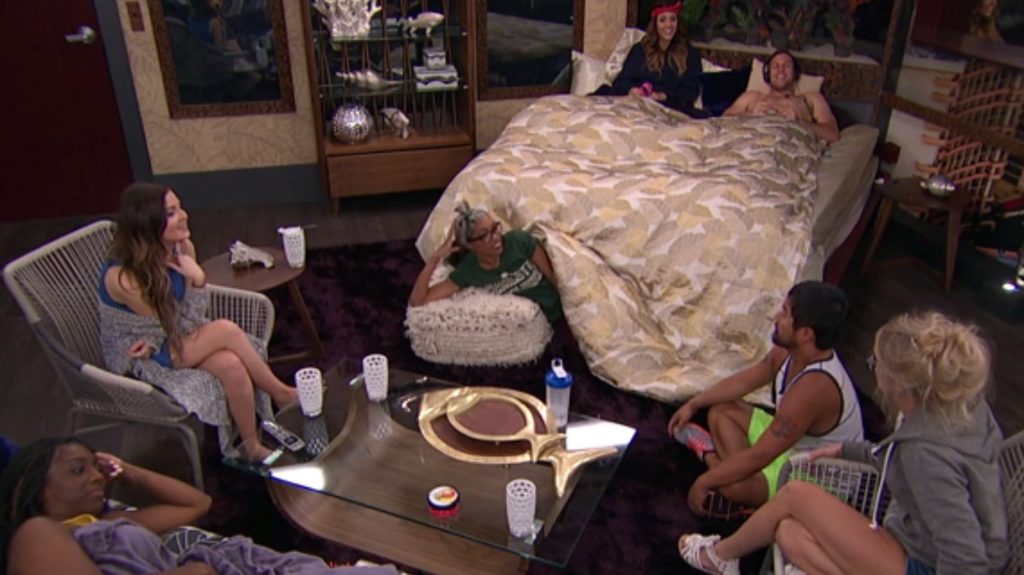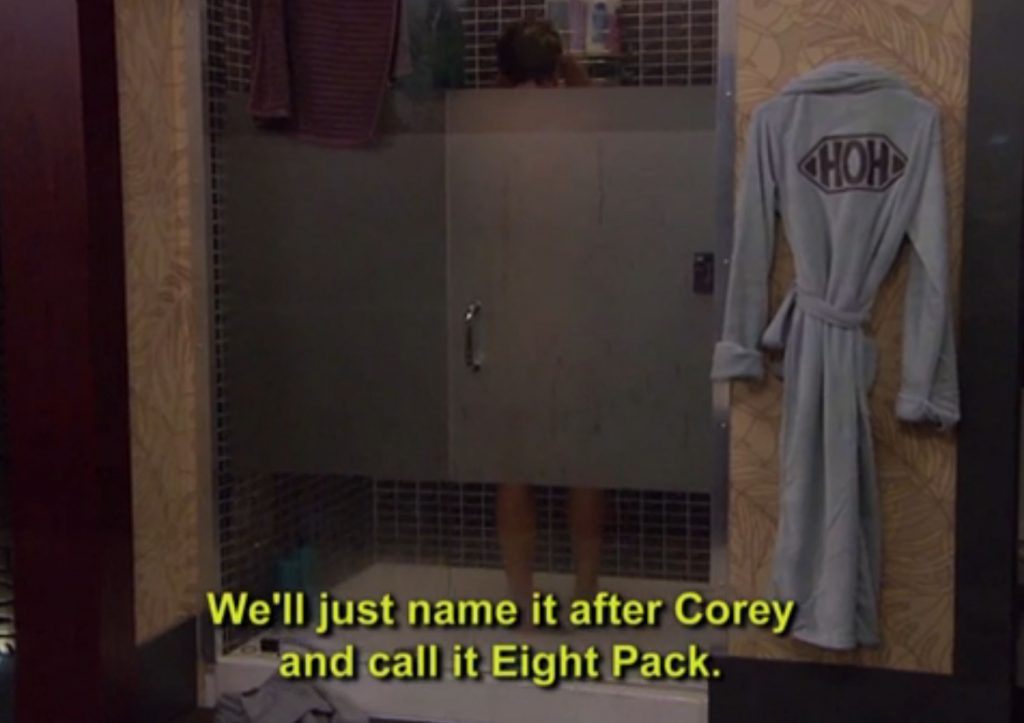 Up in the HoH room, 4 newbies and 4 vets decide to cast their lot together, for at least this episode.  I'm jaded enough to know the likelihood of The 8-Pack lasting long is pretty small, but I've been surprised before!  Gotta say though, I feel a bit bad for Paulie – who is very boldly being left out of this group.  As it is now, The 8-Pack consists of:  DaVonne, Zakiyah, Tiffany, Corey, Michelle, Nicole, James and Frank.  Does Corey have an 8 pack though?  For all my lusting of him, he hasn't struck me as ripped, just tall, cute, and athletic.  Paulie and Victor though?  Damn.
Another Twist?  Yep, We've Got the BB Roadkill Now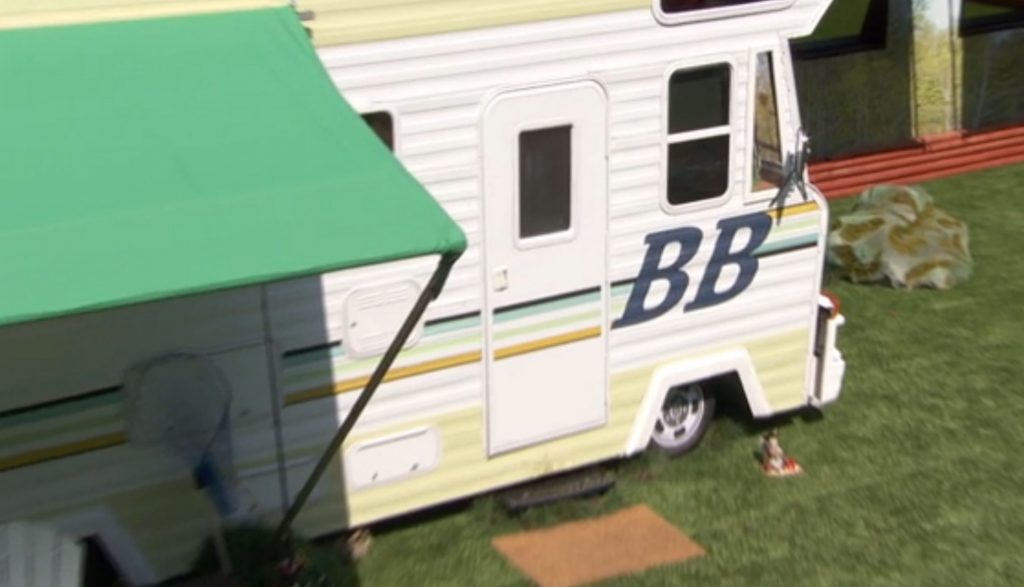 Nicole summons everyone to the living room to announce that there's a new game being played this season called BB Roadkill.  After nominations are made, the BB Roadkill RV will pull into the house to host a challenge.  Every houseguest gets to compete, and the winner gets to anonymously nominate a third houseguest for eviction.  That is quite a wrench in the works, ain't it?  An HoH's best laid plans could go quickly to shit with this happening, and that's even before a Veto comp.  Safe from the nominations this week are Nicole's team because that was the deal, as well as James' team since they won SafeVille.  So what was this week's challenge?
Roadkill Challenge:  Strip Awkwardly, Now! And Fast!
I'm not complaining, mind you.
Anyway, the challenge was to undress from a complete sweatsuit down to your swimsuit while holding down three buttons placed on the console – one on the brake pedal, one on the steering wheel, and another on the gear shift.  If you released one or more of the buttons, time would speed up exponentially faster depending on how many buttons were released.  Paulie may not have won this challenge (spoiler alert!), but he won something else: objectification.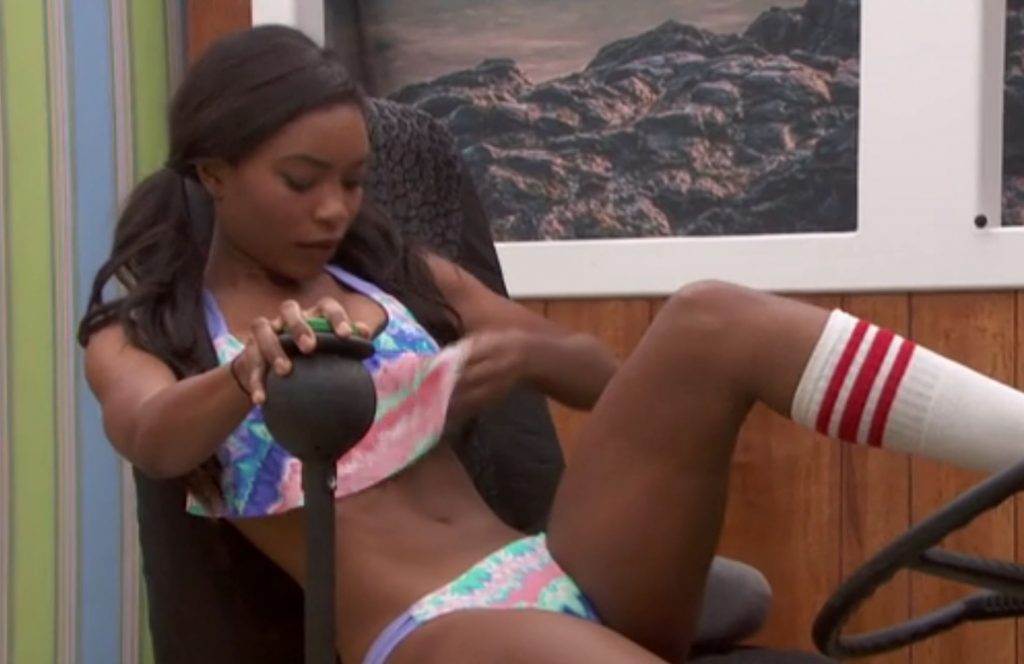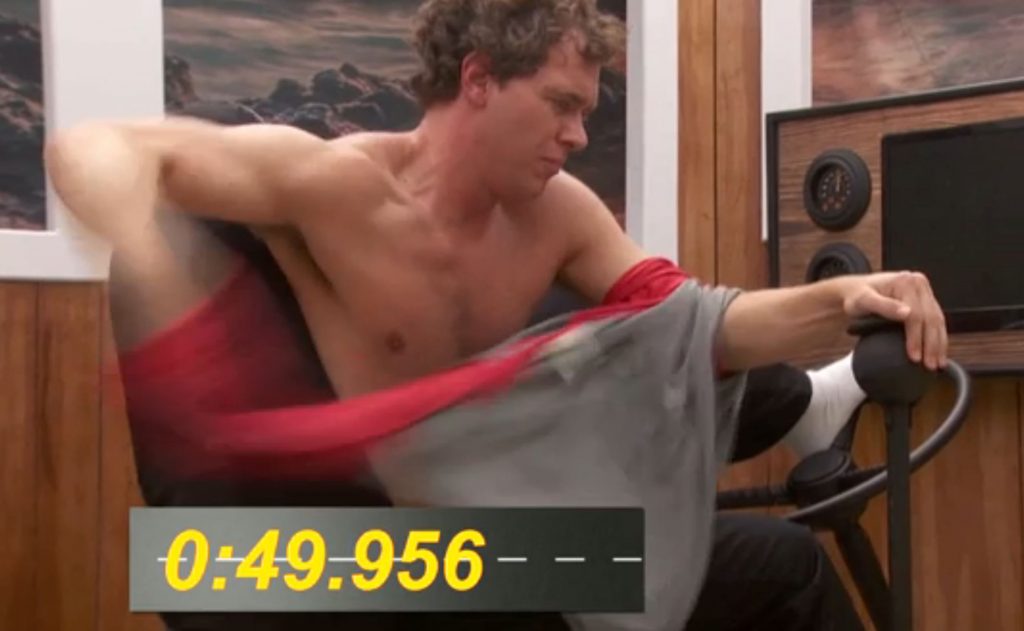 The guys got something too, although I guess I don't mean that with the Frank picture, although maybe i do?  Whatever, I'm showing Frank's pic as well…..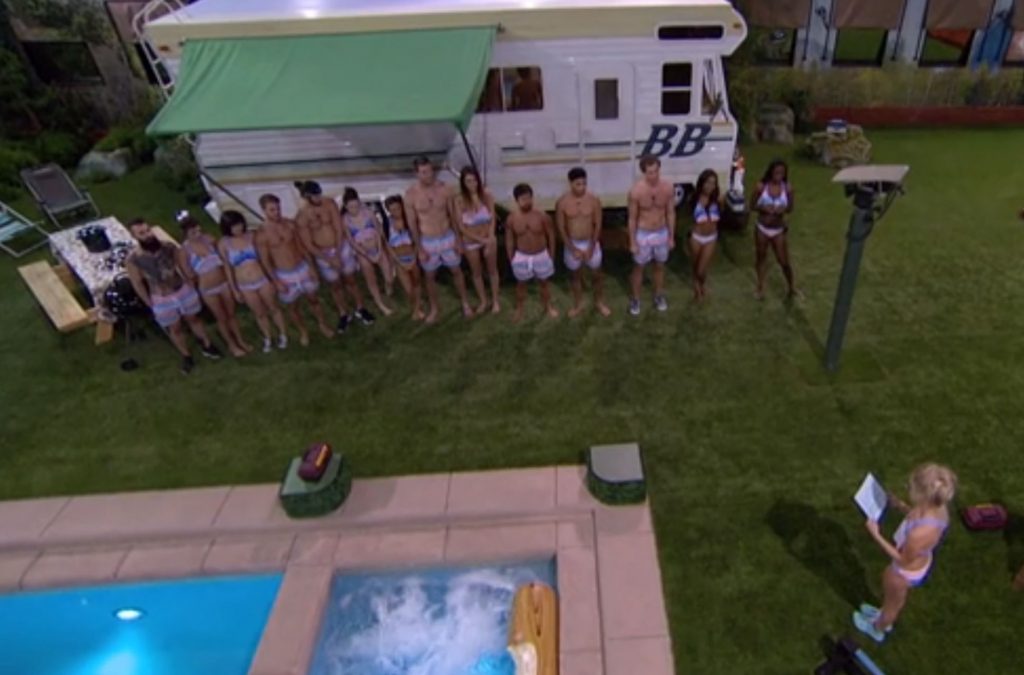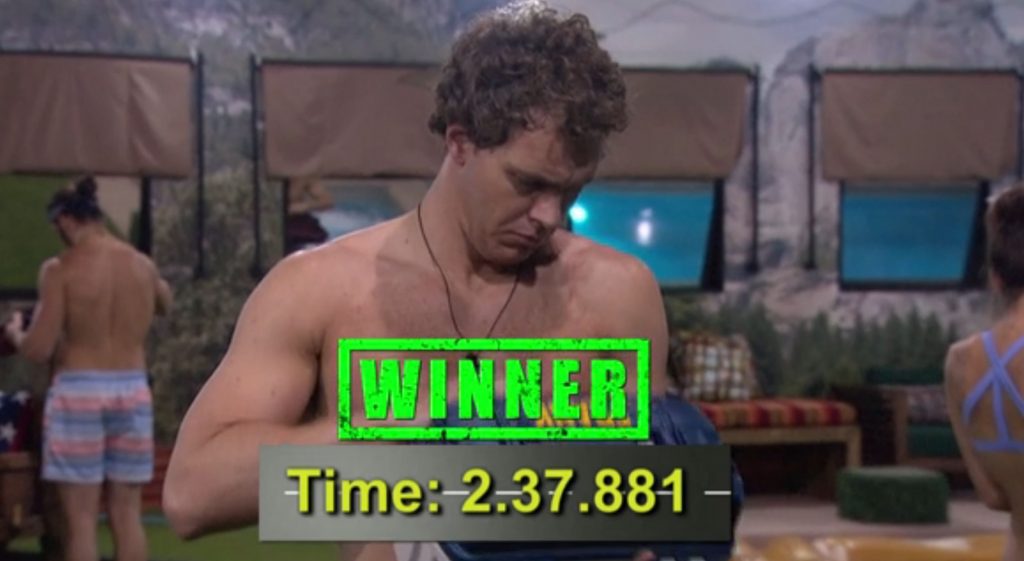 because in his anonymous tacklebox, it was revealed Frank won the challenge.  He most definitely needed it as the newbies were seriously targeting Frank as who to nominate.  Go, Frank!  So who did Frank nominate?   We'll of course get to that, BUT FIRST!
Paulie's Pixels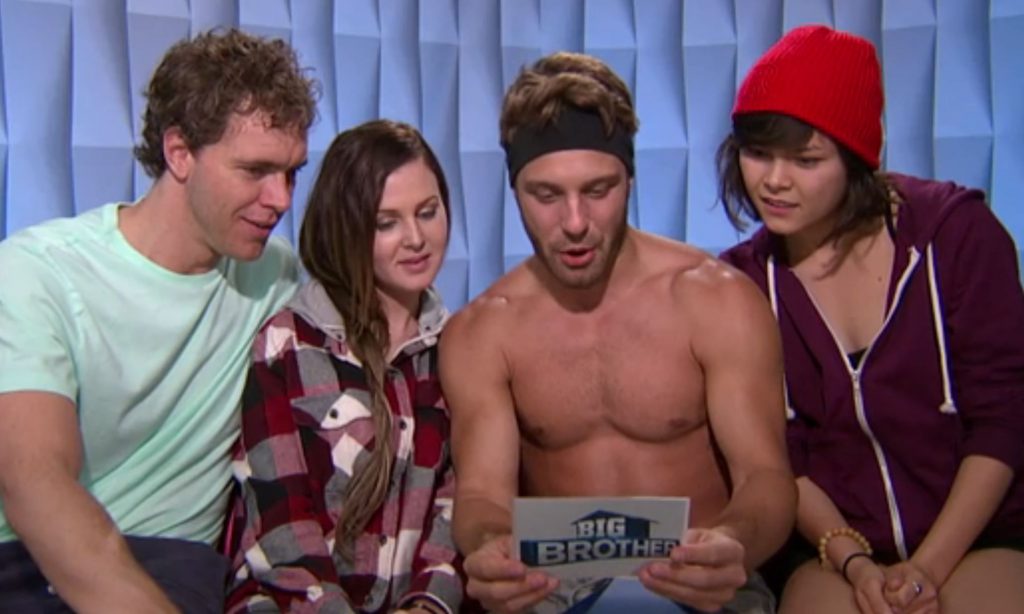 Category 4 finally got summoned to the DR to pay up on winning the Mystery prize from the first challenge of the season, and James smartly called what the punishment was going to be:  wearing something.  But he wasn't completely correct, as the twist here is that they weren't going to be wearing anything, actually.  They'll be having to wear pixelized modesty panels for a week!  That honestly sounds awful to have to do yourself, but as a viewer seeing that for Paulie?  Well, I'm not proud.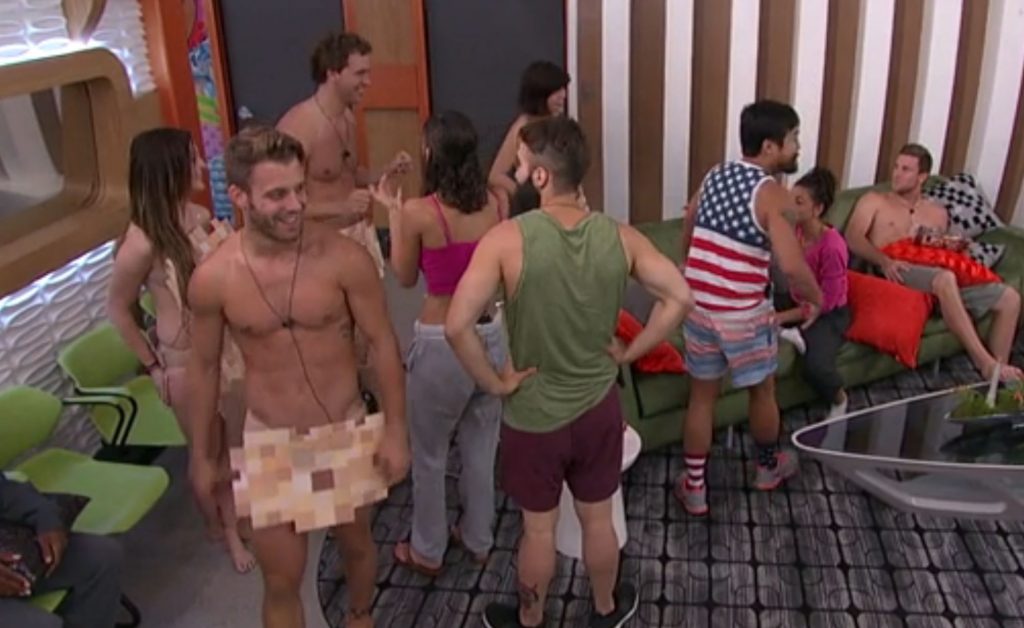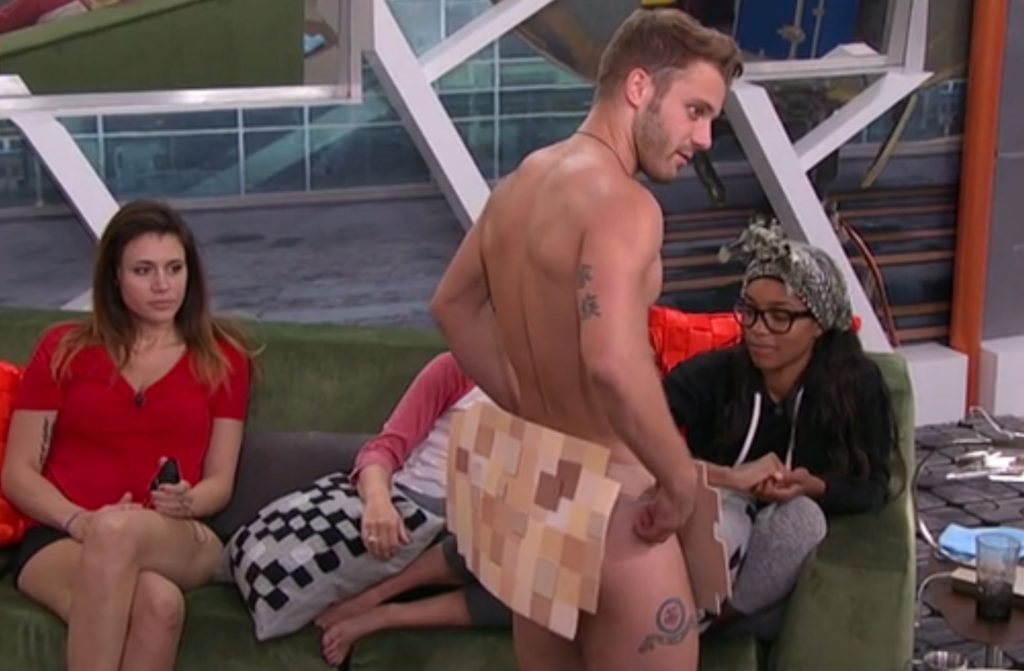 I'm not proud at all.  Or maybe it's that I have no shame.  Yeah, that one.  HEY PAULIE.  And guess what, I'm not the only one….
…I am really beginning to think we're going to find out more about Corey this season, as he was ALL EYES when they came out, and he was even commenting that both Paulie & Frank looked great.  Combined with his hope to have a bromance with oh-so-attractive Victor in Episode 1…..I'm optimistic for some Corey surprises.
Oh Yeah, Spy Girls
This barely warrants a paragraph, and I'm far too lazy to get a screenshot and wait through 4 internet ads, but trust me that Bronte, Bridgette, and Natalie conspire to form a girls' alliance.  While solidfying their name and individual codenames out by the pool, they of course have no idea that Tiffany is in the hammock hearing everything.   Trust me, if this alliance makes it …let's say TWO episodes into the future, I'll post seriously about them again.
Who the Eff is the Third Nominee?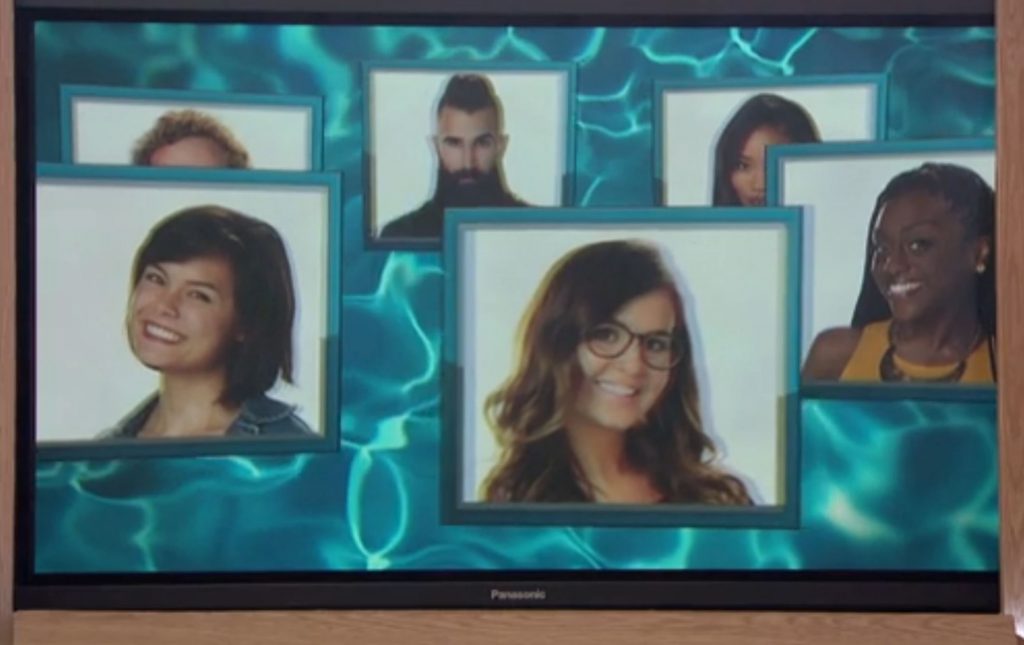 Geez, chill would ya?  Frank consulted with The 8-Pack and most think Paul's the best nominee, but Frank also considers Bridgette.  I can't remember why, but hey, why not?  In the end though, the reveal was that Frank chose Paul, meaning that our first set of nominees is pretty much all strong guys.  This is actually kind of surprising.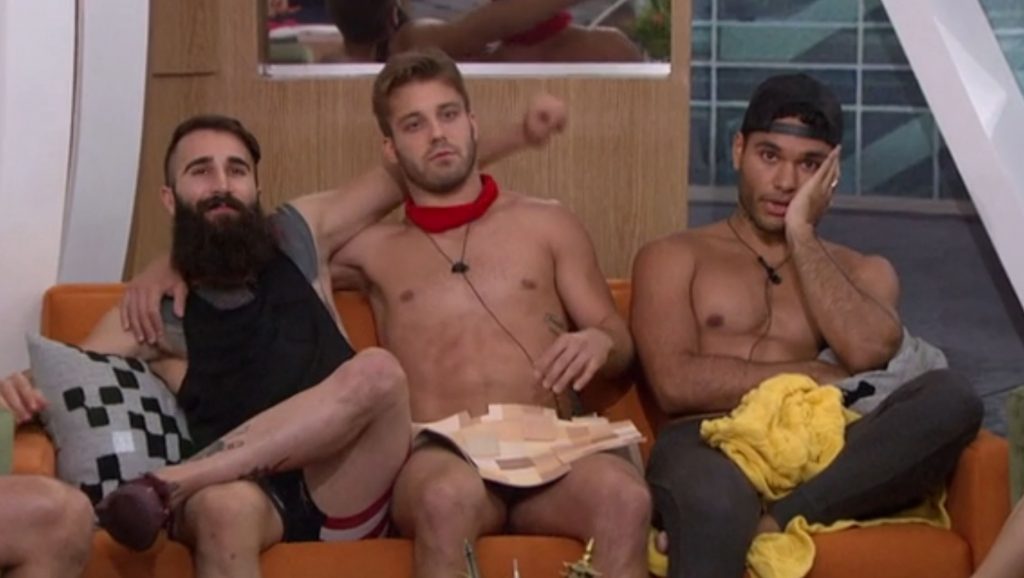 Maybe not mentally strong, or socially strong, or strategically strong, but they're able-bodied for sure.  Paul & Jozea's games have been pretty awful and based heavily on arrogance, while Paulie is hot and that is enough.  He better not go this week.
Status & Standings: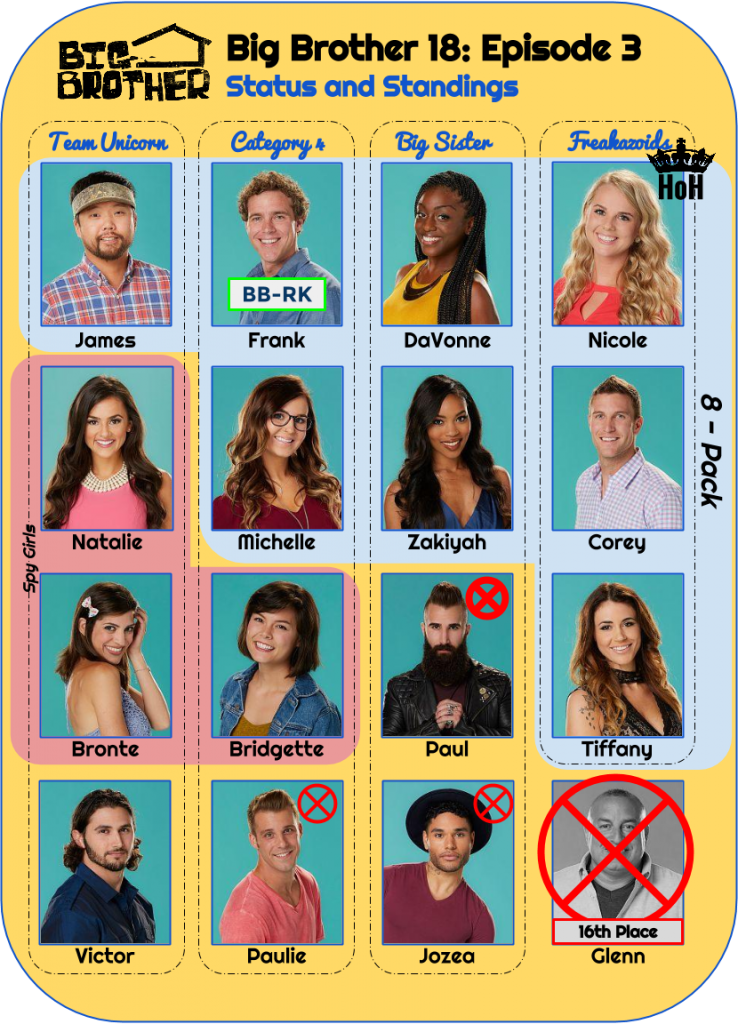 Head of Household:  Nicole
Nominated for Eviction:  Jozea & Paulie
BB Roadkill Winner:  Frank
Also Nominated for Eviction:  Paul
I had to reshuffle the board a bit while keeping the teams intact and also so I could draw the alliances in as they stand currently.  I can't see Spy Girls lasting long at all, and foresee 8-Pack shifting and evolving shortly.  These outsider guys will likely form an alliance too, if they're smart.  Certainly an impactful first week, and it doesn't look like sending home a weak player is in the cards this time.