Amazing Race 27 – Episode 1:  "A Little Too Much Beefcake"
I do declare that quote to be horrendously inaccurate.  There's never enough beefcake, dammit!  NEVER.  And with these FOINE gentlemen on the race this season, I am quite content: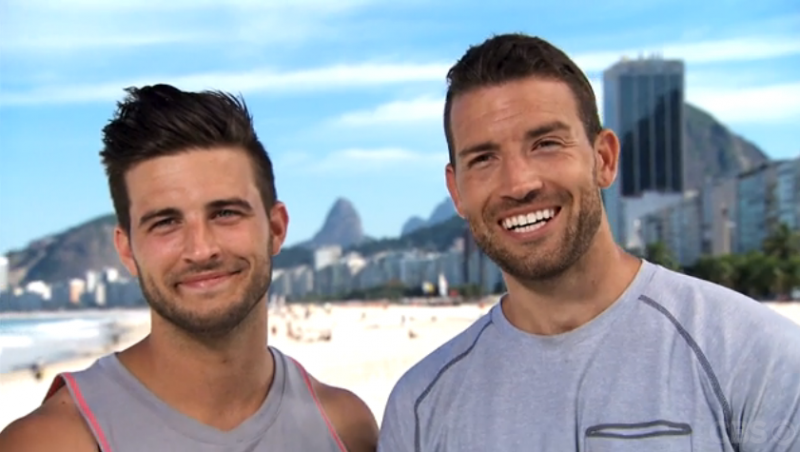 I have no doubt that by the end of the season, we'll find out they're really a couple.  Because come on, look at that.  Trust that there will be more screencaps of Tanner & Josh.  Trust.
Where'd Everyone Travel To This Episode?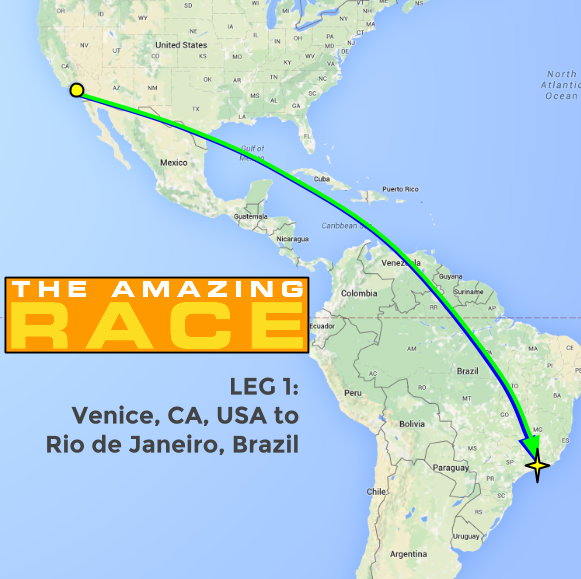 Starting Point:  Venice, CA
Pit Stop for the Leg:  Rio de Janeiro, Brazil
Starting at Venice
I am having an internal struggle about whether to bother profiling the 11 teams, and I frankly don't really care all that much about them individually yet.  You know, here's what I'll do…broad categorizations!
Seems Like They'll Have a Shot:
Cannon Fodder For the Mid-Race:



No Chance In Hell:
So yeah, that about sums up what I've got in terms of feelings about these teams.   Obviously one of the "No Chance In Hell" teams, the TMZ team, is out after this first leg because they completely blew it at the Detour.  It was a little surprising to see that bad of a performance so soon – it's a freakin' SLIDE PUZZLE.  Come ON.  Anyway, I have now jumped the gun.  Let's talk about Venice!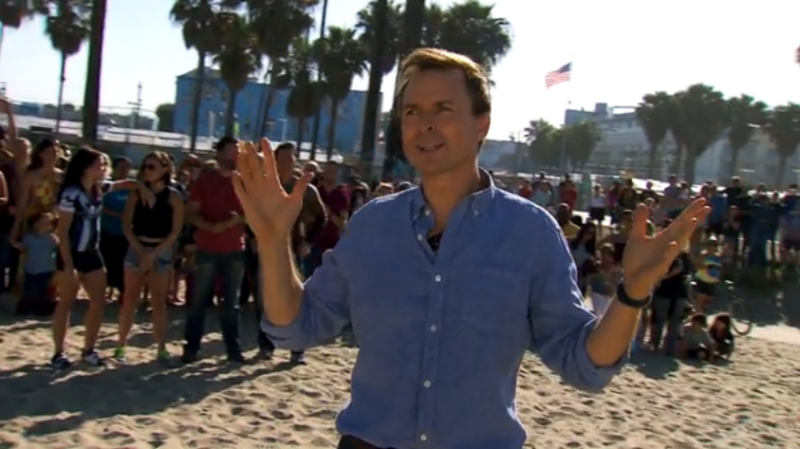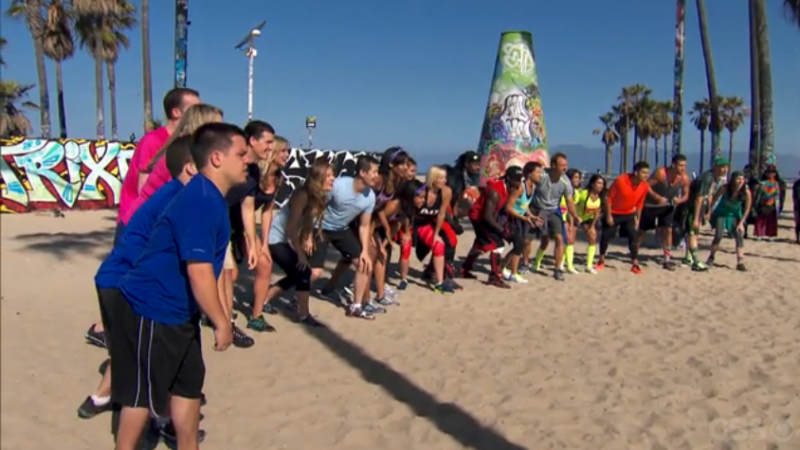 Phil, who I must say I've missed since skipping the last season, welcomed our 11 new teams while out on the Venice beach.  He immediately told them that Rio was their next destination and also told them that an upcoming "bike race" in nearby Marina Del Rey would determine who would get on the first flight out.  Only the winner of that race would be on that flight too.   STRESS!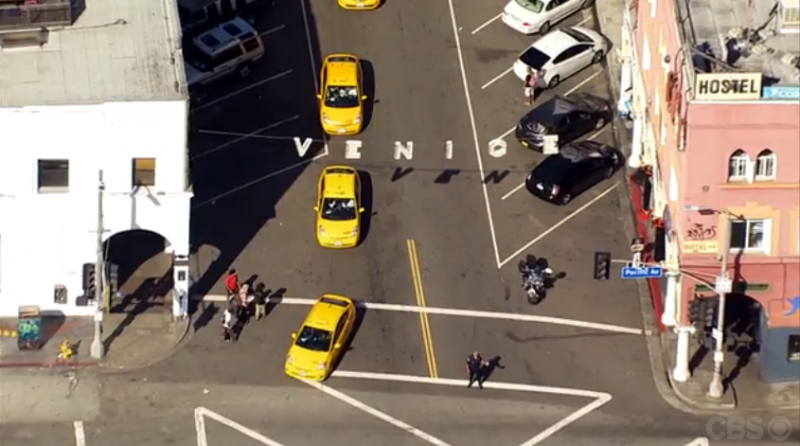 So with his patented eyebrow arch, Phil set our new contestants off into the world, with everyone having a waiting taxi ready to take them to the first challenge.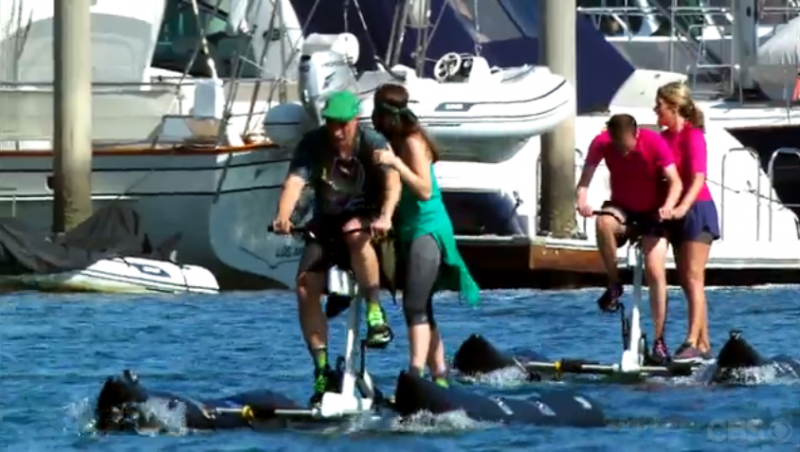 Turns out, the "bike ride" was actually a water bike.  The hotnessDuo, Tanner & Josh, were so hot that they broke their bike and ended up coming in LAST at this point.  I suddenly got sad as I was like, of course, the hot guys are going to be stupid and mess up immediately.  In the meantime, WeepyMcGee (aka Justin) & Diana took the lead and the win (but just barely as Denise & James Earl were right behind them) and earned that sole spot on the first flight, which was supposed to give them a 30-minute advantage.
SPOSEDA!
Sposeda is the cool way to write "supposed to" and what I'm using here to indicate that WeepyMcGee & Diana's 30-minute lead evaporated due to flight times down to a 5-minute lead.  The other teams got in quicker than expected, so that advantage withered away.  They were still in the lead though and got to the clue box first, where a Fast Forward beckoned teams to take the chance.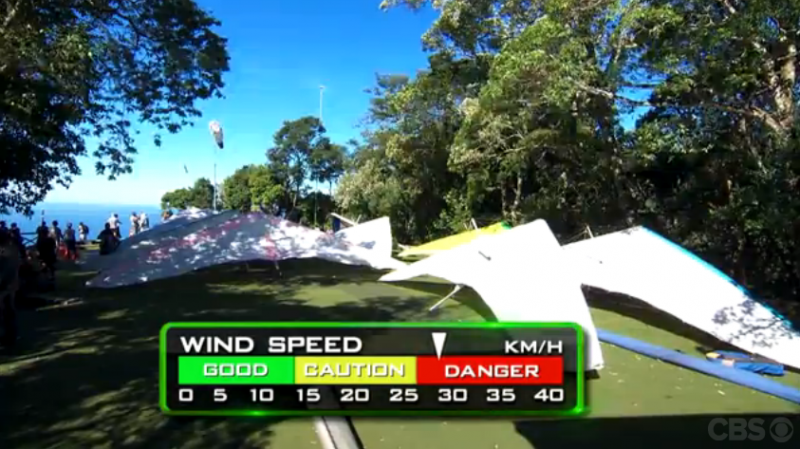 The Fast Forward would have involved hang-gliders if not for the dangerous winds, and as a hyper-competitive team would be expected to do, Justin & Diana went for it.  That of course backfired as the Fast Forward was cancelled and this put them automatically in the back of the pack.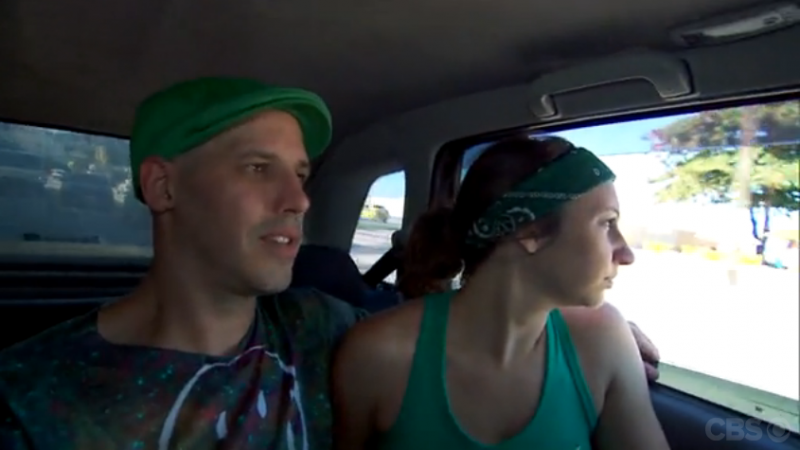 Wah wah.  Justin should be lucky I was nice and didn't screencap when he was full-sob.  He should feel LUCKY!
Bienvenidos to Rio de Janeiro!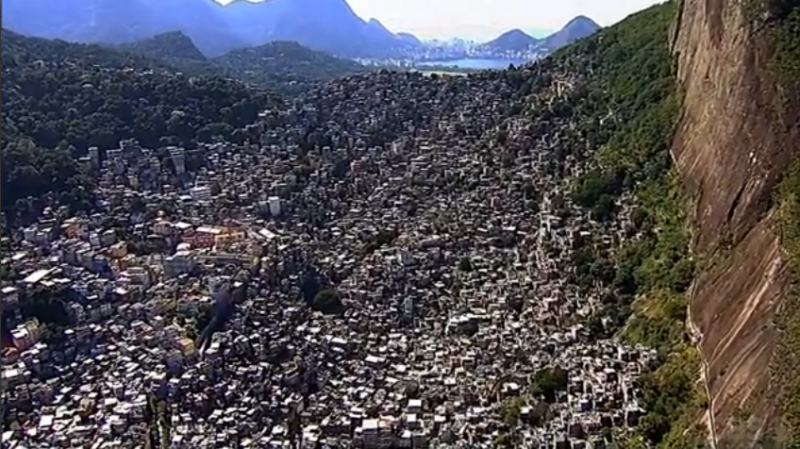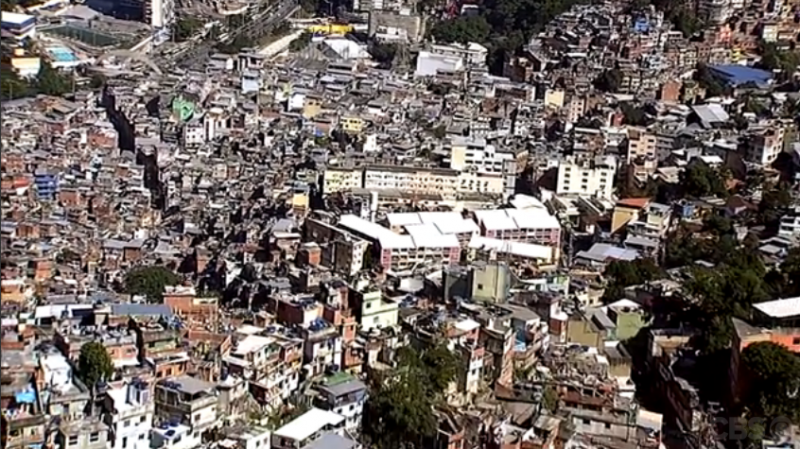 Everybody else ended up racing to a heliport where they would get flown over and around the city.  Most were stunned by the sheer enormity of the housing and congestion mixed in with the stunning natural beauty of the area.  My friend went there and had an amazing time as it really is like another world.  A very fun, exotic world, but completely different from us in the U.S.  They got to buzz Christ the Redeemer and that was key to remember, as they were quizzed upon landing to name the landmark.
Off to the Detour!
There were puzzles and there was volleyball.  I'm sooooooo glad the HotnessDuo chose volleyball.  It was like Top Gun up in here.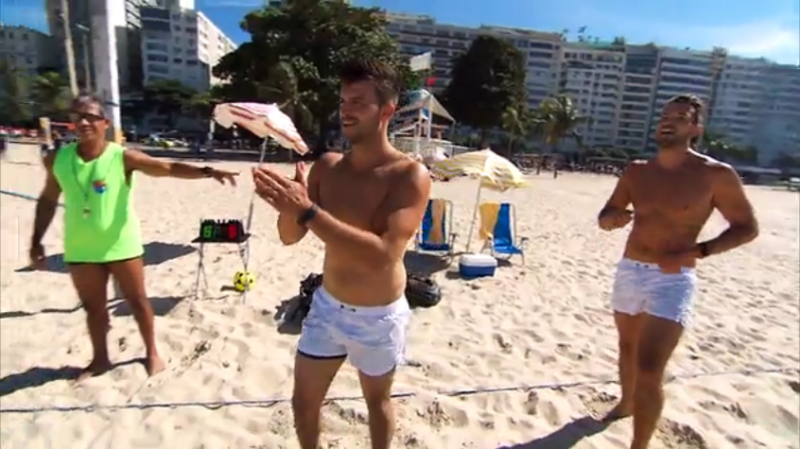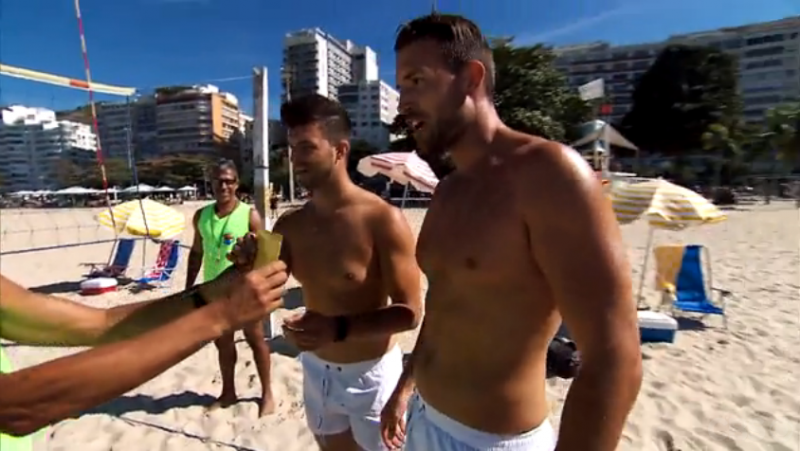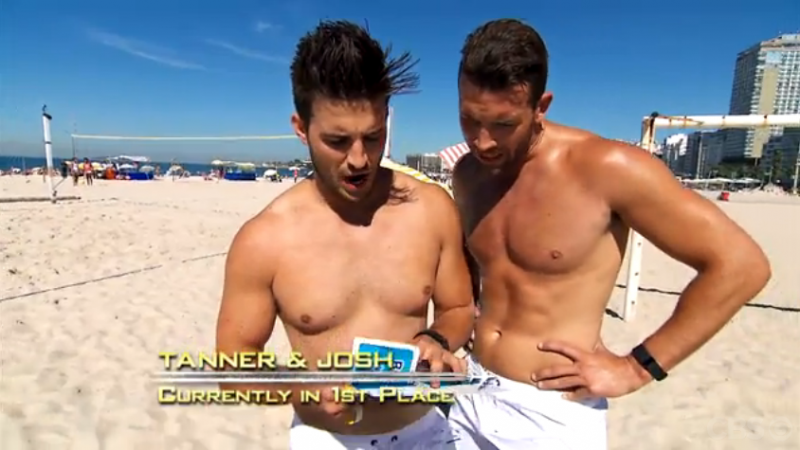 HOLY HELL.  These two are ridiculous.  They came into their own in this Detour and pretty much annihilated it.  Also, Jazmine & Danielle came on strong here and made an impression.  Unfortunately for them, I like gawking at dudes and not the ladies, so alas, no screenshots of them.  But I do anticipate they'll be around awhile so eventually you'll see them!
On the sidewalk near the beach, the other Detour option was the slide puzzle.   It proved remarkably challenging for most.  I don't get it.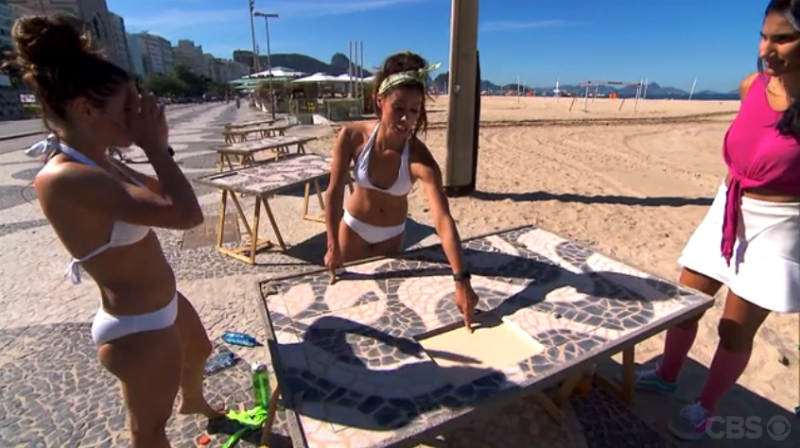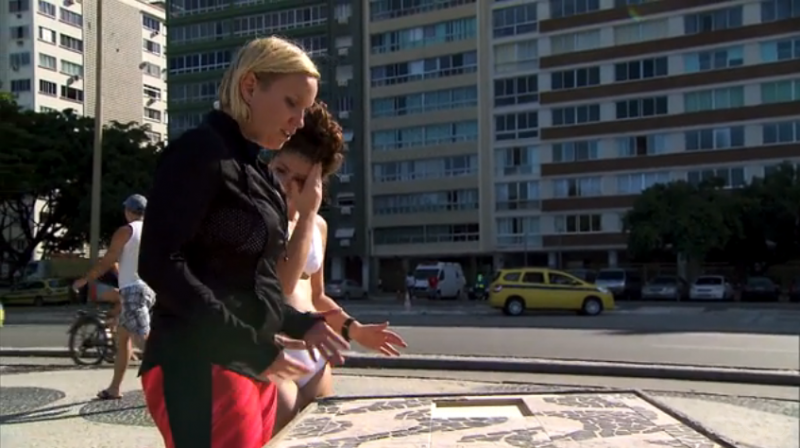 Those who chose this option pretty much all got frustrated at it.  But those who persevered and didn't panic and understood how puzzles work made it through while these two teams here had major issues getting through this.  A slide puzzle.  a 4×3 slide puzzle.  ZOMG.  The TMZ girls ended up losing to the Cheerleaders and they noted astutely that they'll never live this down – the timer in the corner when they finally solved it?  3 hours and 45 minutes.  WTF.
Winner Winner, My God They're Hot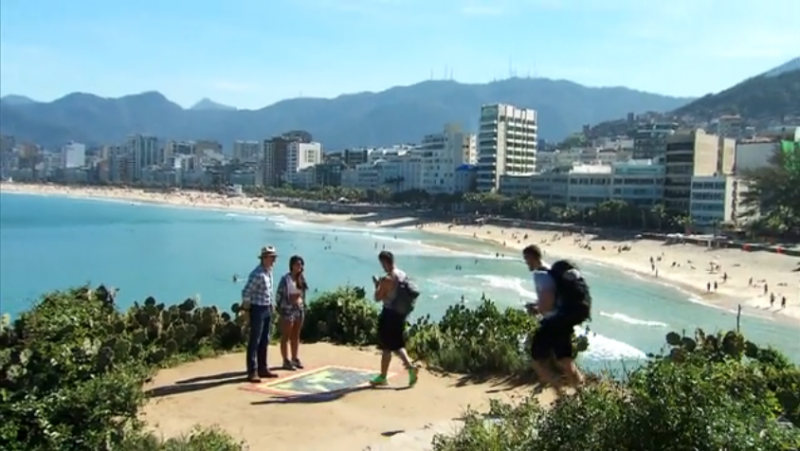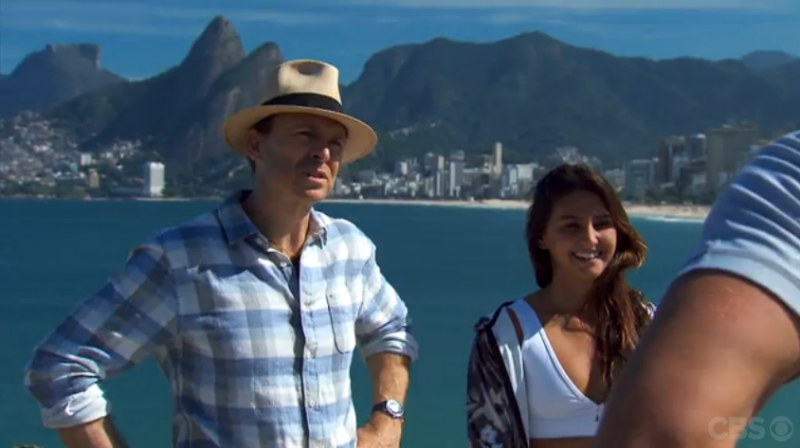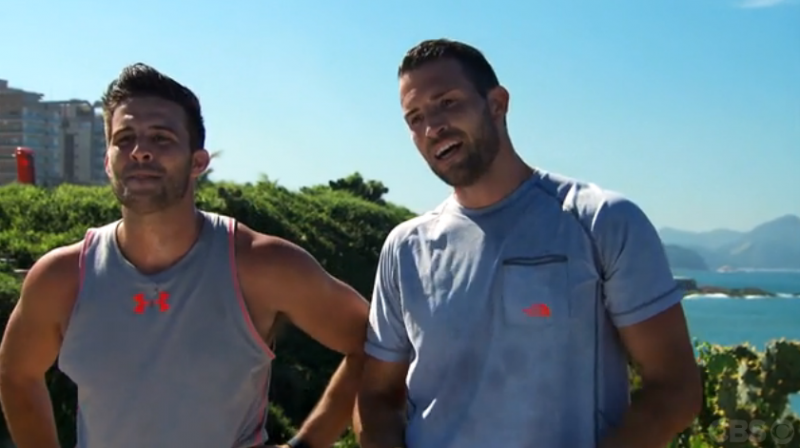 Phil welcomed the HotnessDuo with his Rio co-host and she was appropriately impressed with the specimens in front of her. That's because she's not blind.  Tanner & Josh not only were first but they also won this season's Express Pass.   Phil explained that it had to be used by the end of the fifth leg (that seems earlier than previous seasons), and when they do use it, they then are required to give it to another team who has to use it in the next leg.  Hmmm…strategy!  It will be interesting to see how that Pass plays out.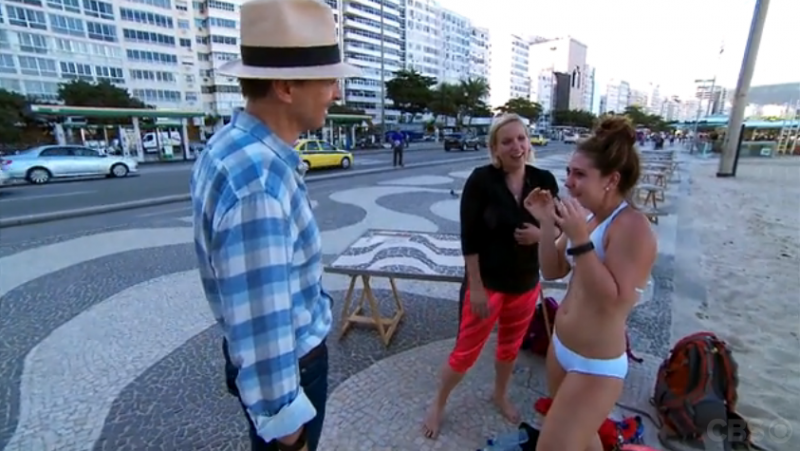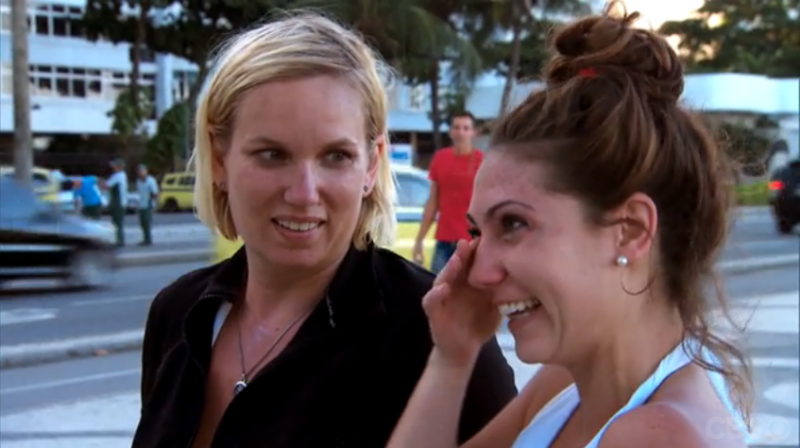 And the TMZ women were so far behind when they finally solved the slide puzzle Detour that they didn't actually have to go to the Pit Stop as Phil came to them.  No non-elimination this leg.  Honestly, they showed a super-catty side earlier in the leg and it wasn't a fun catty – it was mean catty.  So I'm not sad to see them go.  Best of luck to them back at TMZ though.  They're going to be annihilated.
This Leg's Standings: