BB17 Episode 36 – September 13, 2015
<–Previously, Julia Gets Tripped Up Right Out the Door
Vanessa in power is a frightening thing for the other houseguests. Â She has no qualms about interrogating you and doubting every word you've ever said. Â Vanessa doesn't even attempt to conceal her contempt for your other deals and your desire to stay in the game too. Â So it was this last episode when Vanessa had to decide, yet again, between two alliances (see the previous Vanessa's Choice dilemma) – and her decision is basically the exact same as last time too. Â Steve & John were so right to fear Austin staying in the game!
But First, Episode 35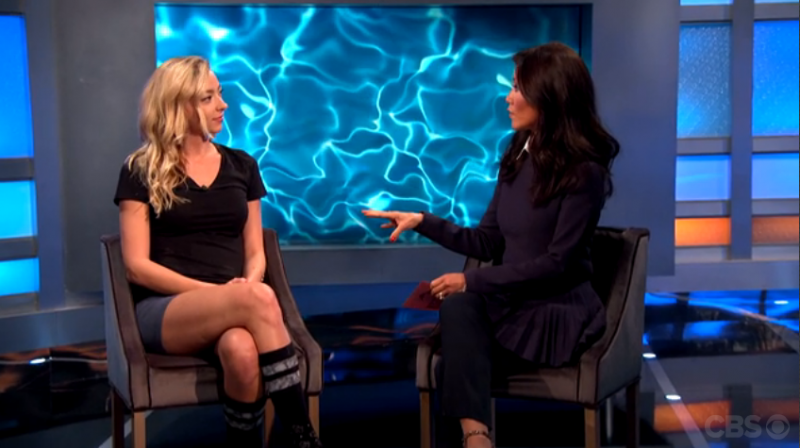 Due to some fairly distressing events that have befallen my family these past few days, I was drawn away from my duties of BB blogging.  I know, stupid life getting in the way of IMPORTANT things. Anyway, can you believe Larry & I had to watch Ep 35 on my iPad?  I must admit that I was surprised that Julia ended up getting voted out.  While there was some buildup in the drama around who the others thought about voting out, it did seem that was all irrelevant as Julia and Liz basically agreed that Julia should go as Liz has the better chance at winning.  Why that request held sway over the others kind of astounds me, but whatever.  I imagine you want to make jury voters happy but c'mon – what a great goat!  So Julia said goodbye, happily.
Another Eggy HoH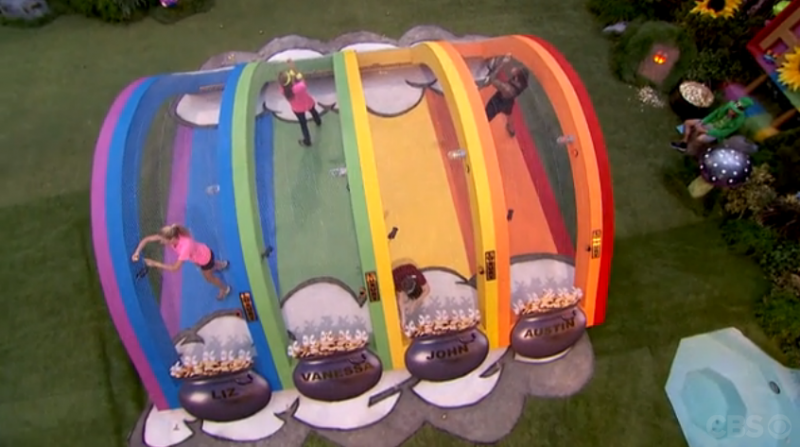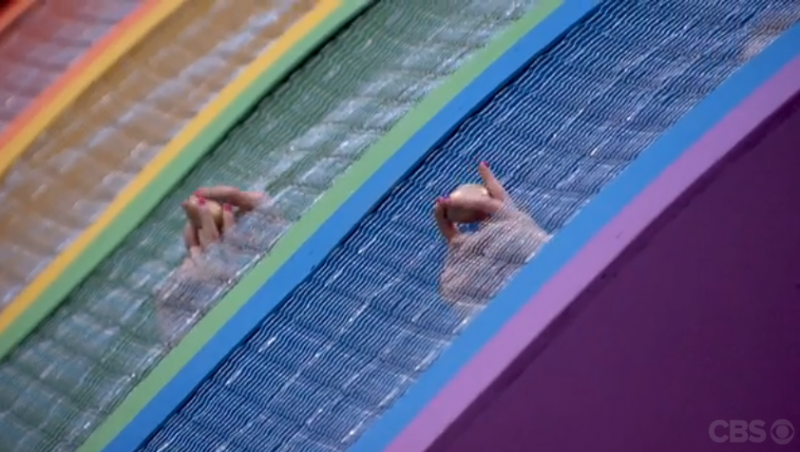 We didn't know who was going to win HoH at the end of Episode 35 as it was another long, challenging competition in which each houseguest had to transport 10 eggs through a rainbow arc made of chicken wire. Â Whoever can get all 10 transported and in position first wins HoH. Â A side note is that there is a Luxury Slot you can put an egg into if you so choose…and I thought perhaps it would be used by someone who makes a huge lead. Â Both Austin and Vanessa had pretty good leads at times, but in the end, it was far too close of a race with John on Vanessa's heels to allow any of the leaders to use it. Â BUT, Liz was never in contention so she went for it and got it! Â Ha.
Anyway, Vanessa ended up winning – and thus began the horrific ordeal for the houseguests as no one ever expects the Vanessa Inquisition.
Vanessa's Choice, Part 2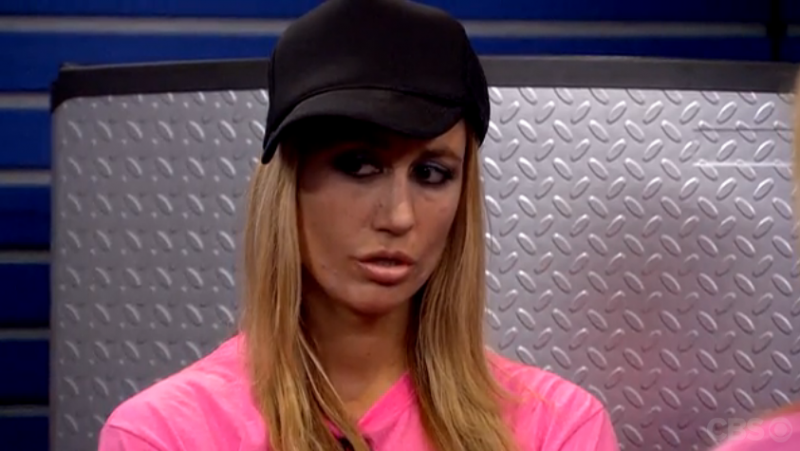 GIRRRL. Â The amount of doublespeak you've pulled yourself makes you such a huge hypocrite to then be judging and doubting everyone else in the house. Â I get you have to make the best move here as this is quite a big turning point for you – you've got Steve & John on one side and Liz & Austin on the other. Â  Your nominations will draw a line in the sand as to where you stand. Â  But to put people through what you do, accusing them of fake deals and making deals and denying conversations you had with people which you now use as evidence they're plotting against you? Â It's going to be hard for those same people to vote for you if you make it to the Finals. Â This behavior is a giant middle finger to everyone and while you objectively have a very impressive record to justify your win, you might just be too big of an emotional, paranoid asshole for people to give it to you. Â Tread carefully, Vanessa, although it may already be too late.
Luxury Time with Frankie & Ariana Grande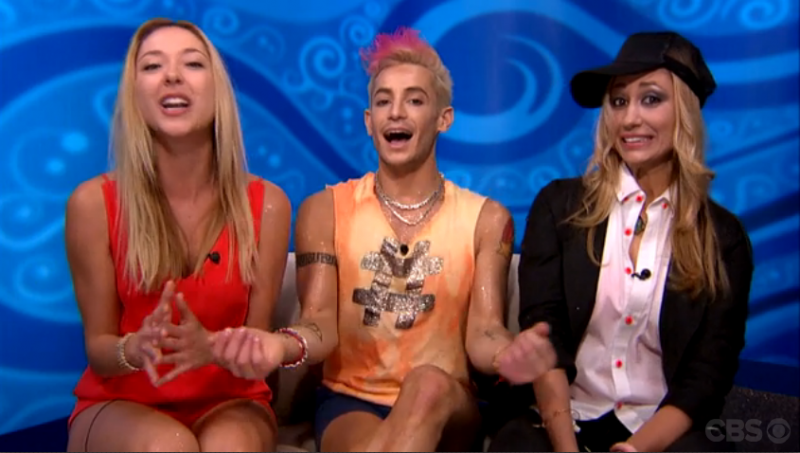 Liz lost her damn mind when Frankie made his entrance back into the Big Brother house.  I fucking loved it although I think it did take about a year off from him to appreciate seeing him again.   Frankie was there as the Luxury prize that Liz won ended up being a giant VIP experience going to the Staples Center and meeting and seeing an Ariana Grande concert.  Of course, Liz had to pick another person to go with her and somewhat wisely and luckily, she chose Vanessa to go with her.  Vanessa's reaction to us about getting selected kind of revealed her tell:  all you need to do is grovel and flatter Vanessa, sincerely, and she will happily trust you.  When Liz did that by bringing her along, I think that was the tipping point for Vanessa to decide to go with Liz & Austin towards the end.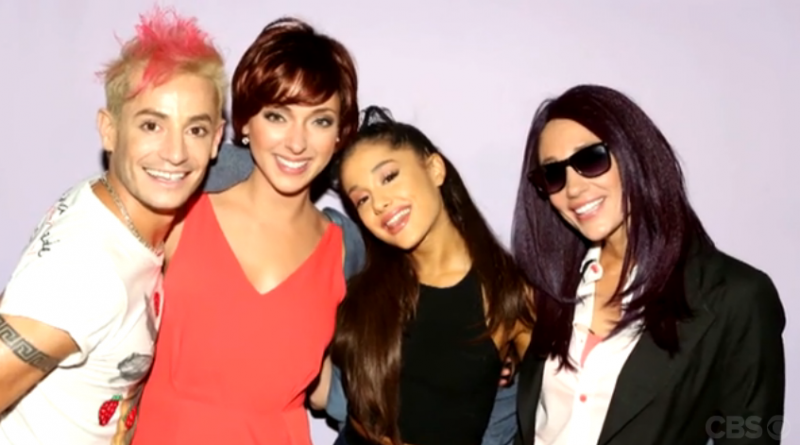 I loved that Liz & Vanessa had to be in disguise. Â Liz honestly looks like a different person – that was a fantastic look for her. Â Vanessa looks good, but c'mon, it's just Vanessa wearing a goth-colored wig. Â But the big shades help hide her face, so it's still effective as a disguise. Â  Anyway, they had a blast and I think that has got to be a fantastic reward to just get away and be a regular person again.
The Line Is Drawn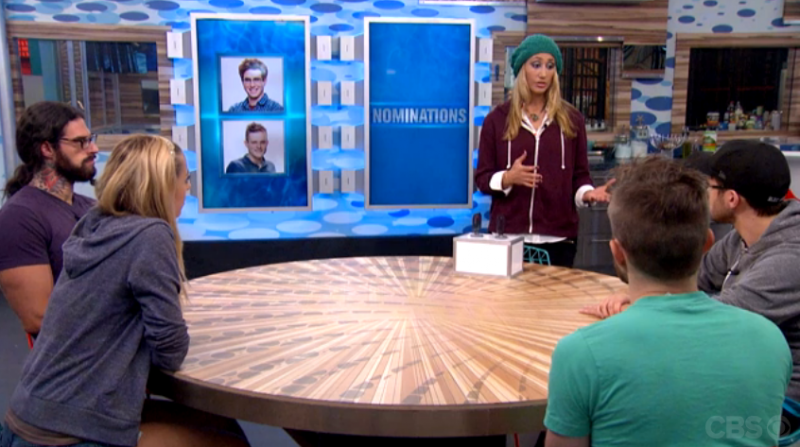 Was it really a surprise that she chose Austin & Liz? Â Nah. Â Vanessa reasoned that John was a liability for her as he hasn't proven lately that he can win competitions, and would thus not be a good set of protection in that next Final 4 round. Â With Steve, Vanessa just didn't feel safe as she learned of other deals he was making with Liz. Â Of course, she was looking for any reason to turn on them, and those were enough. Â I honestly don't know which way I'd have leaned if I was in Vanessa's position, but I probably would have gone the other way and targeted Liz & Austin. Â They for SURE will never turn on each other while John & Steve are still their own players. Â Man, John was right when he advised Steve that Austin needed to go last week as he'd be a ripe opportunity for Vanessa to return to….and exactly on cue, that's what she did.
Status & Standings: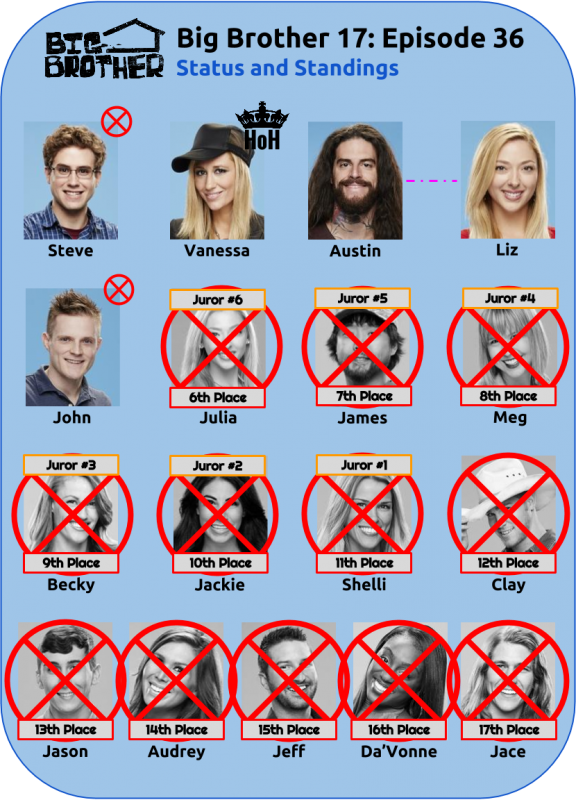 Outgoing Head of Household: Â Steve
New Head of Household: Â Vanessa
Nominated for Eviction: Â Steve & John
The season goes turbo-speed until the finish with the NFL Thursday nights coming back to CBS. Â Apparently tomorrow night is when there will be not only a Veto but also the Eviction, then a second elimination is on its way on Wednesday. Â The concluding 2-episode finale will be next week then, although I'm not sure exactly when.
As for our fearless houseguests, I'm still okay with any of the remaining people there winning as they've all done enough to deserve it. Â I think John's chance is the biggest longshot and people will likely not think he deserves it just for being a returning evictee. Â Vanessa is still going to be a hard sell to the jury I think. Â We'll see.