BB17 Episode 20 – August 6, 2015
<–Previously, the Power of Veto seals their fate
Well, we knew it was gonna happen this night – that fateful night when the truest love in the land was finally going to be shattered – it just remained to be seen who would live and who would die (get evicted).  As we found out…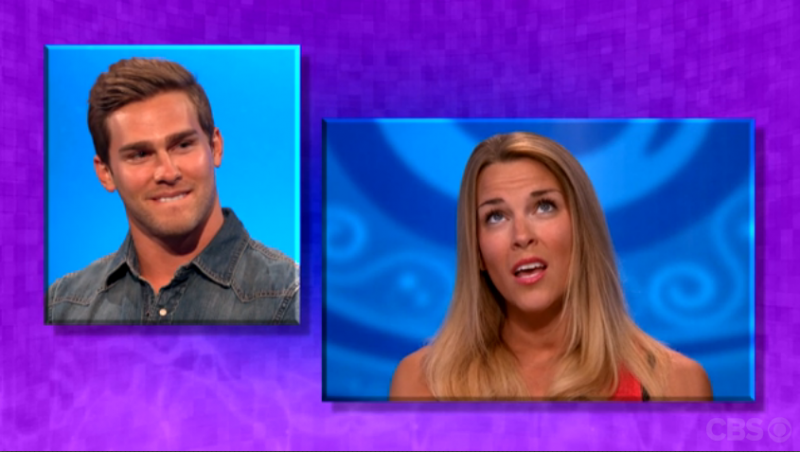 …it was Mumbling ManCandy himself, Clay, that got a unanimous vote out of the Big Brother house tonight.  As a viewer, I think Shelli staying in is going to be more entertaining, as she's far more strategic and devious than Clay ever hoped to be.  So her in the house means there's a person who will be dedicated to fighting against James.  Good, I like the conflict (said in my best Emperor Palpatine voice).  As a houseguest, I can't imagine why you'd want to keep Shelli in the house.  The Sixth Sense, sure, I get their reasons as it seems they're on an upswing.  But the rest of the house?  Not sure at all why they'd all be on board to keep her around.  As a gay man, I am absolutely devastated at the travesty of Clay's eviction and need to somehow deal with the fact that there's absolutely no one left to lust after.  NO ONE. Although, John, when not speaking, can look kind of cute.  So for now, here's our last shot of Clay as he leaves for the world.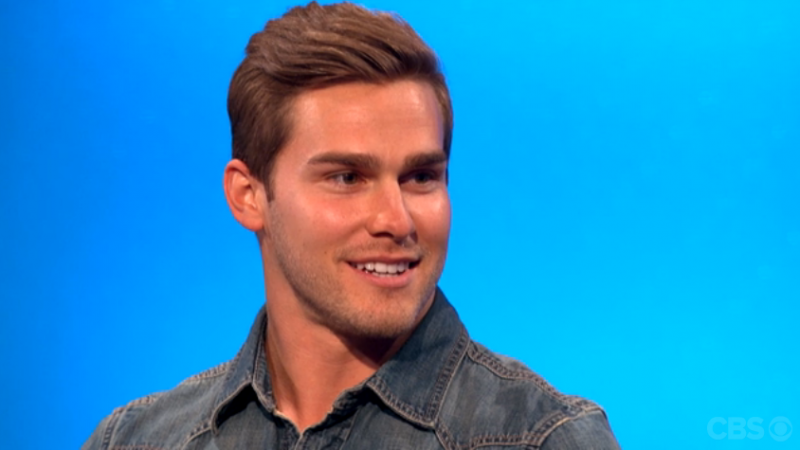 Will he stay faithful to Shelli?  2 months is a long time…
The Sixth Sense Remains Calm and Carries On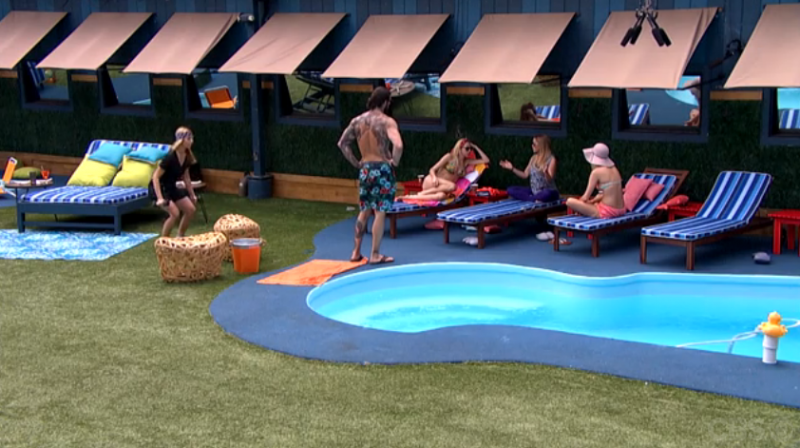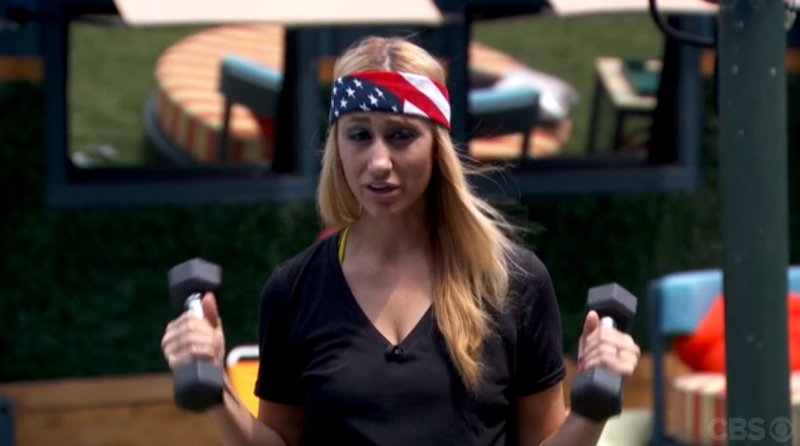 Wisely, Vanessa knows that her game is in jeopardy if she allows the Sixth Sense to fracture.  Vanessa would have nobody and becomes a huge target on her own.  So she goes to Shelli to mend fences and offers up her services to campaign for Shelli to stay so Shelli won't have to campaign against Clay herself.  Then the five non-Clay members get a chance to get shit out in the open and work things out, with Shelli claiming her back was against the wall when she sold out Austin.  Her apology and confession seems to do the trick, especially with Vanessa backing her up.  It's possible they can see that it's better to work together than to let the house reassemble into different factions – and I agree that it certainly is a smarter strategy.  I just wish Austin wasn't involved in this power play.  Everyone else I'm fine with them sticking together to win – but Austin??? UGH.
Random Clips Notes: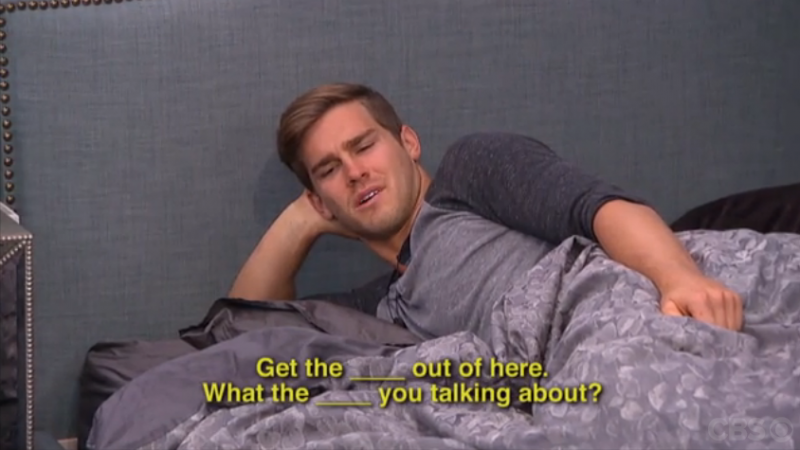 I go to the CBS.com Big Brother site to watch the video clips they have there and generate screenshots from them.  Typically I'll just watch the featured clips from the episode as you only have to deal with one ad as opposed to watching the whole episode again, which involves way more commercials.  Plus, I'd probably screencap way too much stuff.  🙂  Anyway, the leading featured clip was released today and showed Clay & James nearly coming to blows over something, and I was like whatwhatwhat?  It seems Clay was trying to get the house to turn against James by telling Vanessa that he'd heard James was telling John that Vanessa was going to target John.  (it's exhausting typing that let alone understanding what I wrote if you're not me, I know).  So James is consumed with nervous energy and rage and confronts Clay, who has the response above.  James accuses Clay of being a coward which prompts Clay to get up;  James perceives this as aggression and asks if Clay is planning to punch him.  There's no resolution as we cut to some of the women listening in shock from the Have-Not room.  WTF?
I started watching some of the featured Live Feed clips and there were some hilarious ones:
Vanessa is doing her hair and spraying it with some aerosol canister when she happens to glance at the label – then does a double-take when she realizes it's hair clipper sanitizer!  The smell is awful as both she and Shelli start laughing at what Vanessa just did.
Another video has Liz lingering outside the bathroom – an evil smirk comes across her face and she trots quietly away to go hide but as she rounds the corner of the bathroom sink, she EPICALLY wipes out and falls to the ground.  She doesn't seem hurt and can't stop laughing as Austin ends up coming out of the bathroom to see what happened.  Liz had planned to scare him but admits she got what was coming to her for trying to do that.  It does seem the pain is coming on strong though and she probably has a decent bruise on her side.
Visit with the Hit Men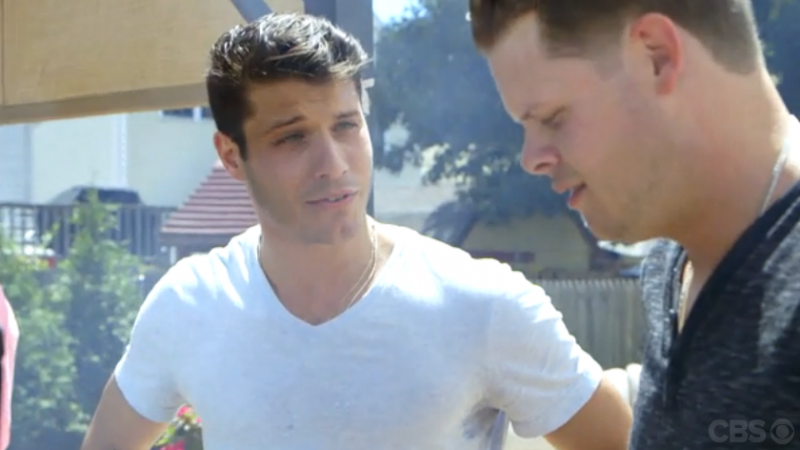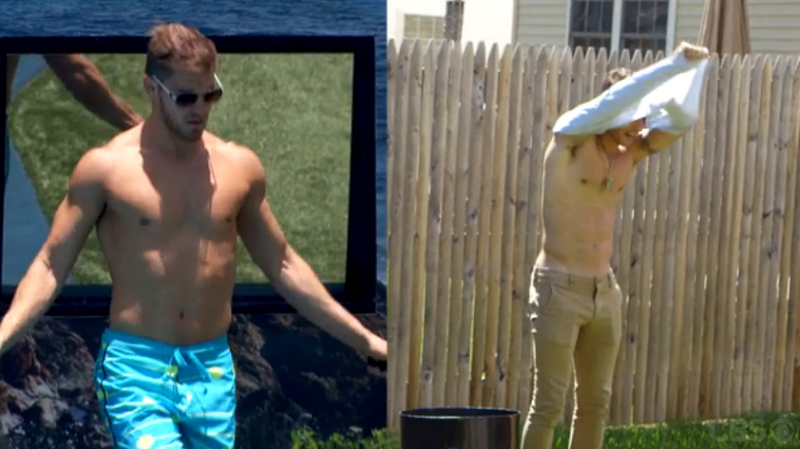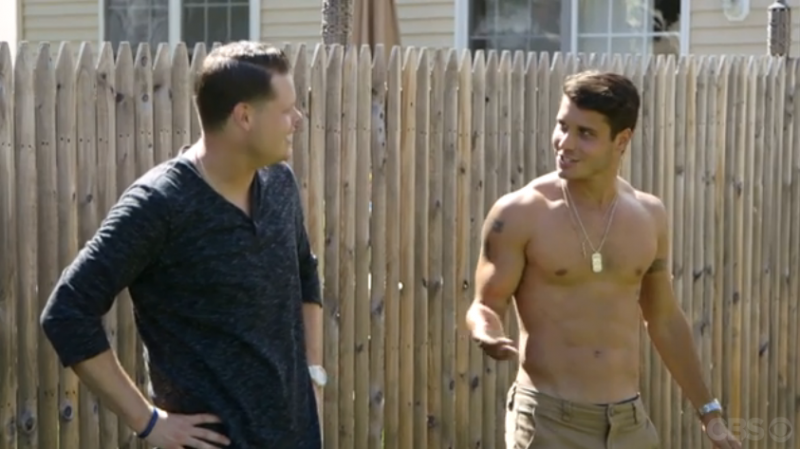 Damn, I sure do miss seeing Cody on my television screens.  Just look at the guy.  And now we're losing the one bit of eyecandy left.  It's not right.  I did enjoy this visit with last season's winner, Derrick, and the runner-up, Cody.  They're really great guys.  Cody is still hot as fuck and is modeling, because of course.  Derrick is still awesome.  Their commentary about the game was enjoyable and they respect James' gameplay the most, respecting his breaking of that HoH agreement with Shelli.
Our Next Long-Play HoH Comp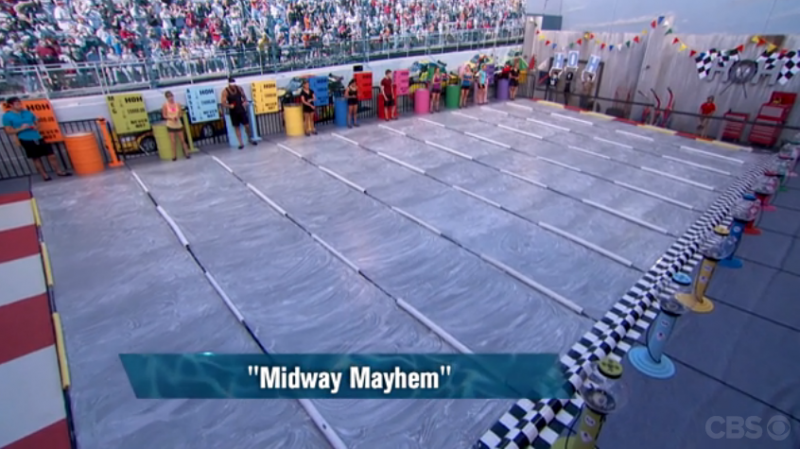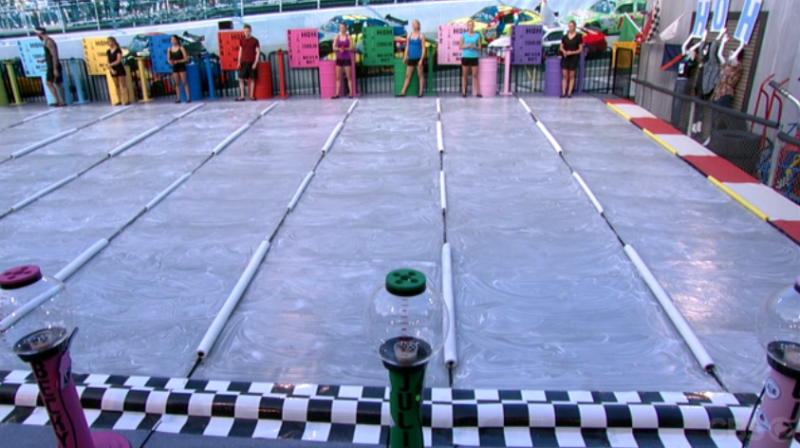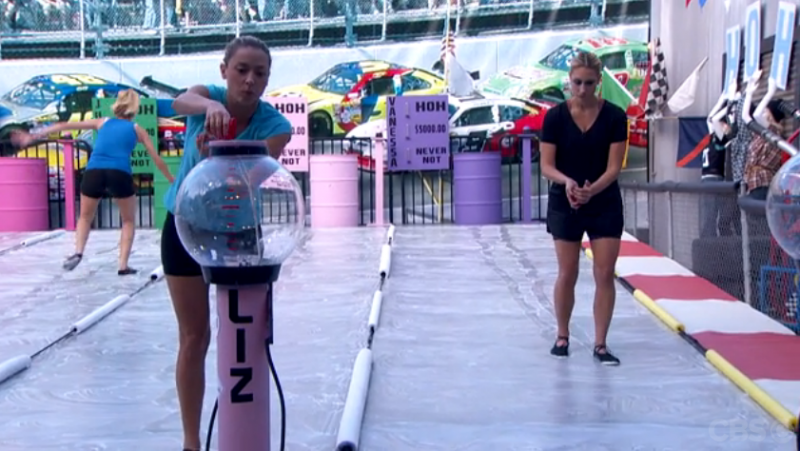 This competition is the ol' transport liquid from one side of the course to the other while doing your best not to fall on the super-slippery path.  Whoever can fill up their bowl the quickest will have the best shot at winning, but the new wrinkle as compared to seasons past is that there are three checkered balls available.  There are then three prizes available too:  HoH, $5000, and a Never Not.  If you get a ball out and place it on the HoH spot, the game is over for everyone.  But if you are truly fast at this game and have a commanding lead, it's possible to get all 3 of the balls out and claim all 3 prizes if you select the prizes before HoH.  I like this new twist, and I bet there will be someone so far out in the lead that they can get at least 2 of the prizes.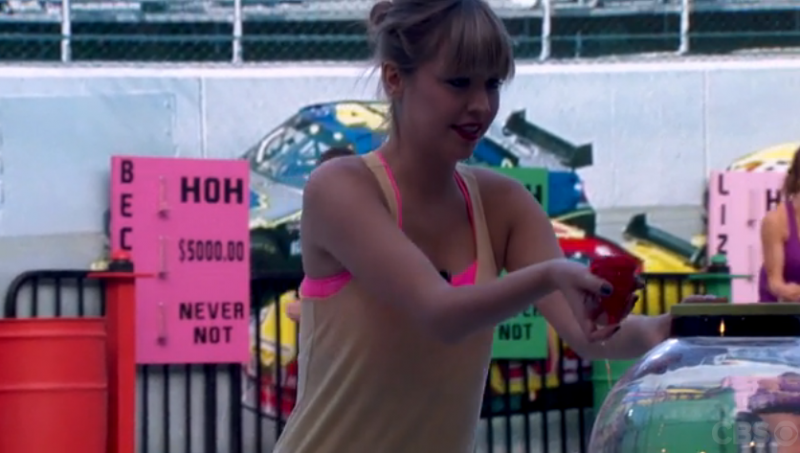 Here is a person who won't win shit during this competition.  Damn, Meg, you're fucking over your boy James by being this terrible at the competition.  Only Jackie can hope to save you guys from getting targeted it seems.  I'm not sure if this is your strategy to appear as  the least-threatening target, because if it is, I imagine it will rub James & Jackie quite the wrong way.
Status & Standings: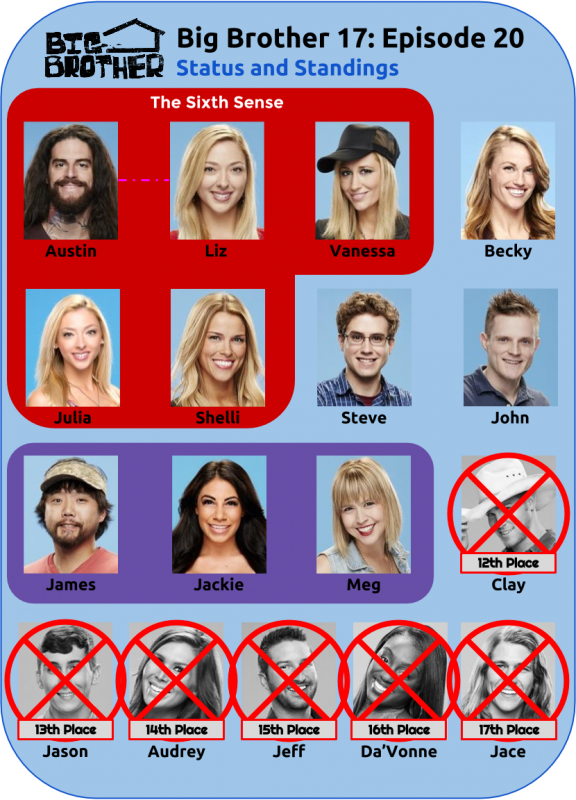 Outgoing Head of Household:  James
Nominated for Eviction:  Shelli & Clay
Evicted:  Clay (9-0)
When you look at the chart above and you take into account that it seems the Sixth Sense have made up, the James/Jackie/Meg group is in quite a bit of trouble.  James made one helluva move last week in targeting the Sixth Sense head-on like he did.  Unfortunately James comes from a vulnerable place as he's unable to vie for HoH this week, and of his two closest allies, one (Meg) is absolutely a non-entity in keeping them safe.  There's 8 other people in this house competing against Jackie & Meg and 5 of those 8 (the Sixth Sense) would happily return last week's treatment to James.  Becky, Steve, and John are playing the Floater role and I think even they can see the #s, so if even one of them wins, James is an easy target.  So basically, James is fucked.  I wanted to put that as my post title today, but thought I'd be a little more polite.  But yeah, James is really fucked.  I expect to see his smiling face during the Nominations accompanied by a harsh speech.  We'll see how right I am!
UPDATE: Here's an animated version of the Standings chart, made by amazing graphics and internet sensation Larry – we're hoping to get it working so that there's none of these scrollbars, but it is pretty cool in the meantime: