BB17 Episode 17 – July 30, 2015
<–Previously, Jason Gets a Surprise Backdoor
That's where Vanessa tells Jackie she found herself when deciding to backdoor Jason.  It's obviously a story to appease Jackie as she asks about what happened, and it's kind of true in that Vanessa realized she was making a hard choice one way or the other with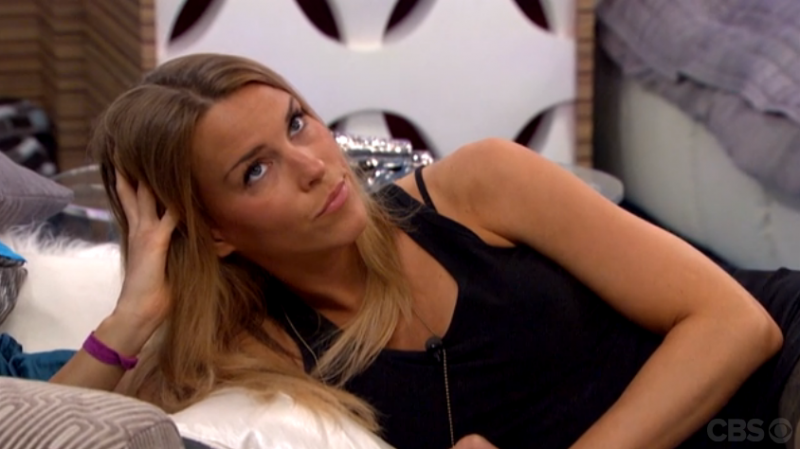 that decision.  But the sentiment extends to Shelli too, as she had been doing her best to be friends with both sides of the house and to seem as harmless as possible.  But now the other side of the house is waking up to the fact that Shelli & Clay (Clelli?  Ugh) were playing them this whole time.  So it does seem we're on the verge of a new dynamic, not only with this bold drawing of the lines, but also with some of the other things that happened this episode.
Jason's Days Are Numbered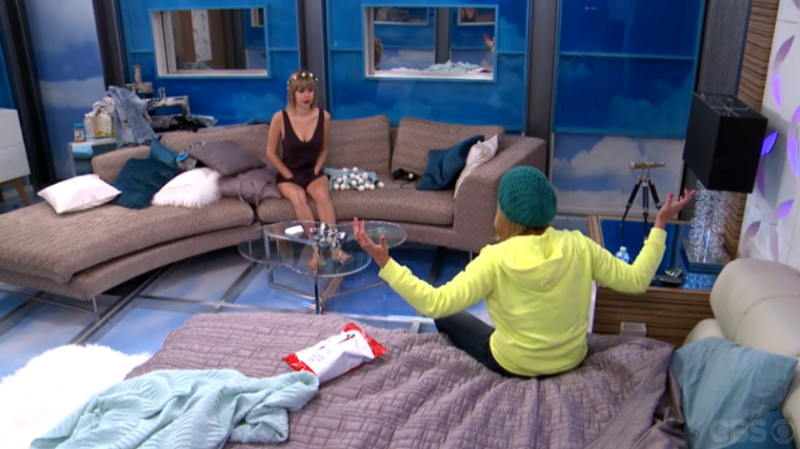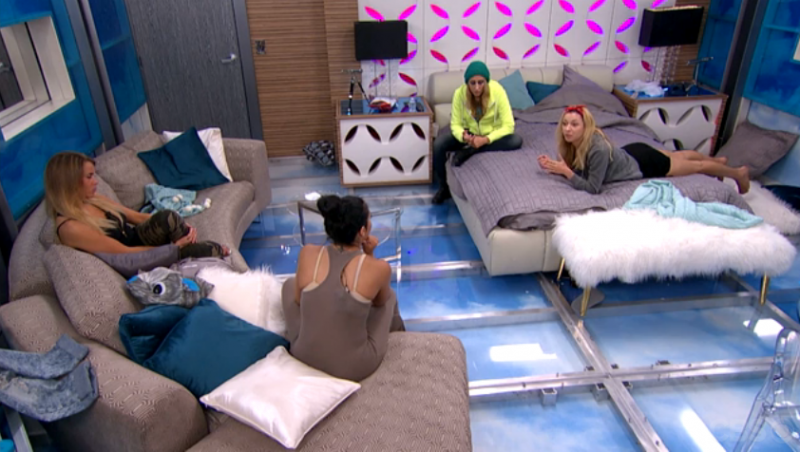 Those who felt super-betrayed by Vanessa wanted to know what was going on.  Meg and Jackie both ask for some explanation from Vanessa.  With Meg, Vanessa finds out that Shelli & Clay are feigning ignorance and making it seem they had no idea what Vanessa was going to do – intel Vanessa uses a bit later.  In Jackie's case, she gets a dose of RealLiz who tells her Jason should have kept his trap shut about the Twin Twist because it infuriated her that he'd reveal it.  Ohkay.  But more importantly, Vanessa gets to see first-hand that Shelli wants no blood on her hands as when Jackie asks if Shelli's part of "that group," Shelli totally pivots on the question like a skilled debater.  Vanessa clearly sees this.  Will this come back to haunt Shelli?  I sure hope so, as I'd love to see the Sixth Sense splinter.
Vanessa is Like WTF?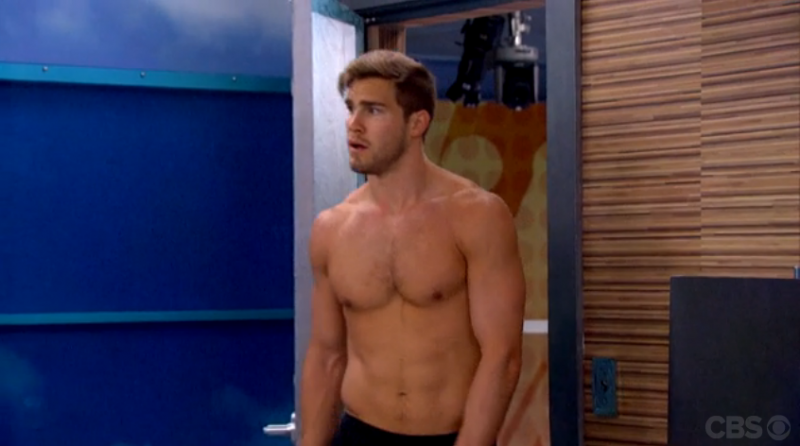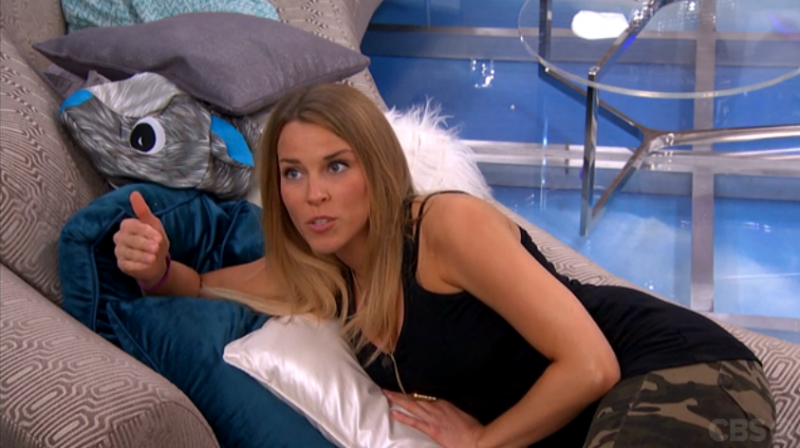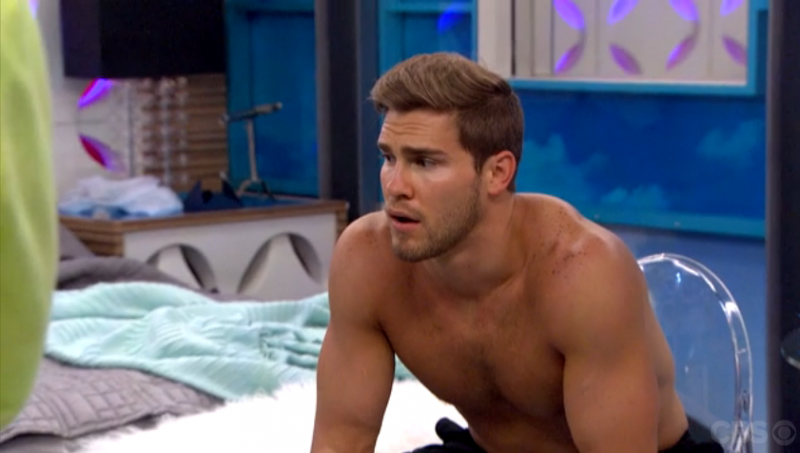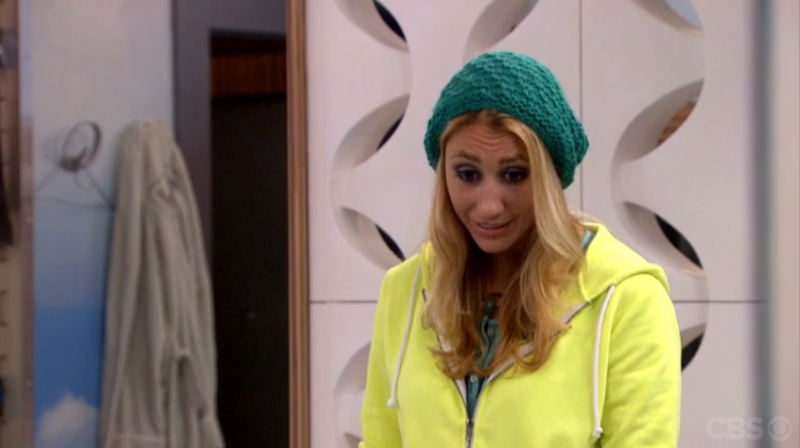 Clay really is such a non-entity in these schemings, but the damn beautiful man does know that it's best he keeps his shirt off, so screencaps are a necessity.  Anyway, the conversation is mainly between Vanessa and Shelli as she tries to understand if Shelli is intentionally making Vanessa a target or not.  They don't outright fight, but it's clear that Vanessa has doubts about Shelli & Clay's motivations and Shelli can see that the game may be up with regards to playing nice with the rest of the house. Interesting.  And oh yeah, Clay keeps his shirt off and earns these screencaps.
The Un-Fantastic 4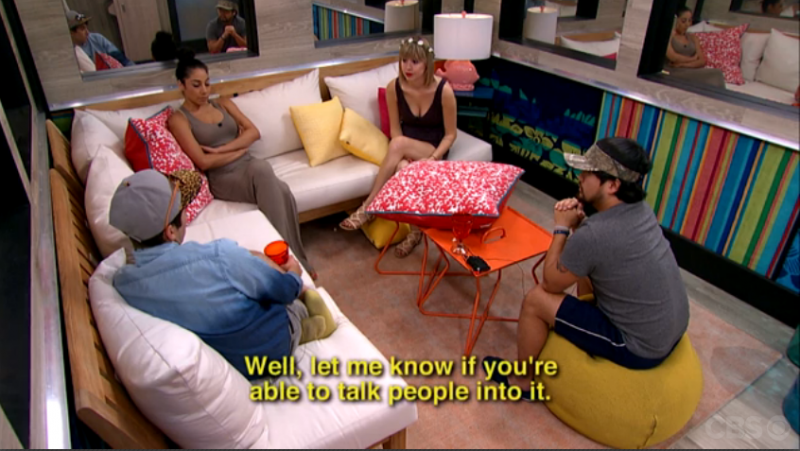 Meanwhile, it dawns on these four numbskulls that there's an alliance in power that has influenced the evictions all season long, and that Shelli & Clay are behind nearly all of them.  They then strategize to figure out if it's possible to keep Jason over Becky.  Jackie thinks it's better for her game to keep Jason around, and that's obviously the case for Meg and James.  Unfortunately, their choices are limited:
Liz & Austin are non-starters
John & Steve aren't even mentioned, which is just weird.  We still don't know where Steve's hostility towards Becky came from, but that appears to be secret info which can't be used.
So it becomes Shelli & Clay as the only hope – good luck with that.
To prevent you languishing in suspense, Jason does try to convince Shelli that keeping him is the smart move and that if she & Clay do that, they'll have four super-grateful people at their side.  Apparently that didn't end up swaying Shelli's mind…
Julie, Meet Jason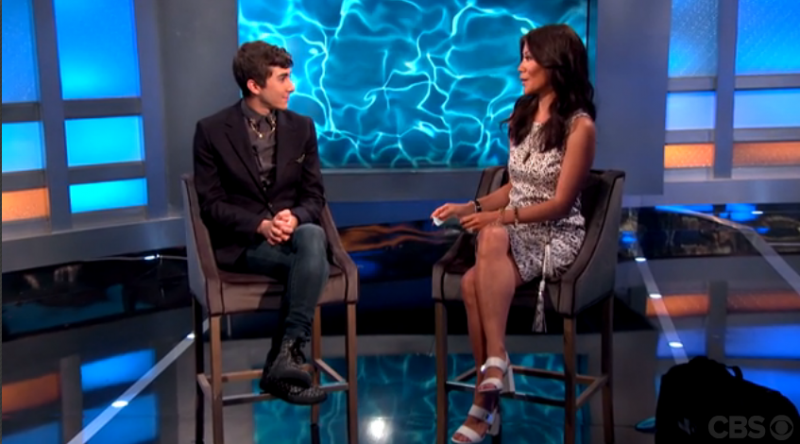 In an unsurprising vote, Jason was evicted.  Jackie was a surprise vote against him, but in the interview Jason had with Jeff Schroeder after the show, we found out that Jason didn't want Jackie to ruin her game more than necessary by voting against her good friend Becky.  I did like Jason but he just wasn't a good player of the game.  He even admitted the boredom of the day-to-day game got to him and it was more about just hanging out than playing.  Sure enough, he got evicted for that lack of gameplay.
Can I just say?  I'm no fan of Liz at this point.  Her super-catty kiss-off to Jason about going back to his basement was a touch BITCHY.  I hope that she gets a bit of karmic retribution in the near future, but with my luck in this regards, she'll probably end up final 2.
Twins Reunited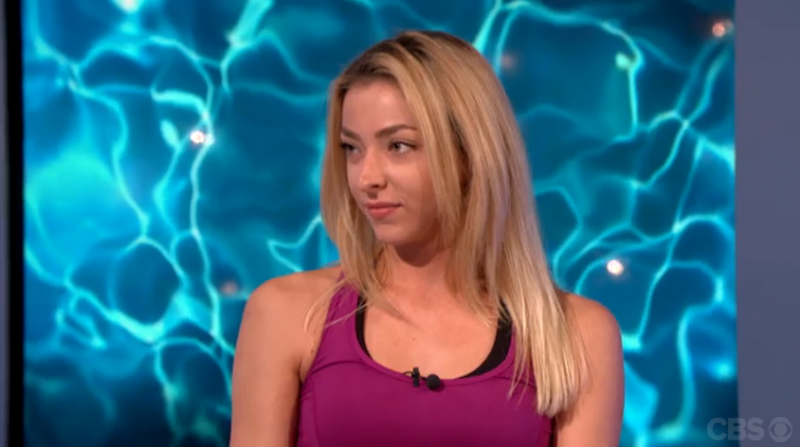 Julie put on a good show to prolong the suspense for Julia, but she quickly revealed that Liz had survived nominations and won the Battle of the Block a few days ago, so Julia was about to go in the house and play as herself in the game.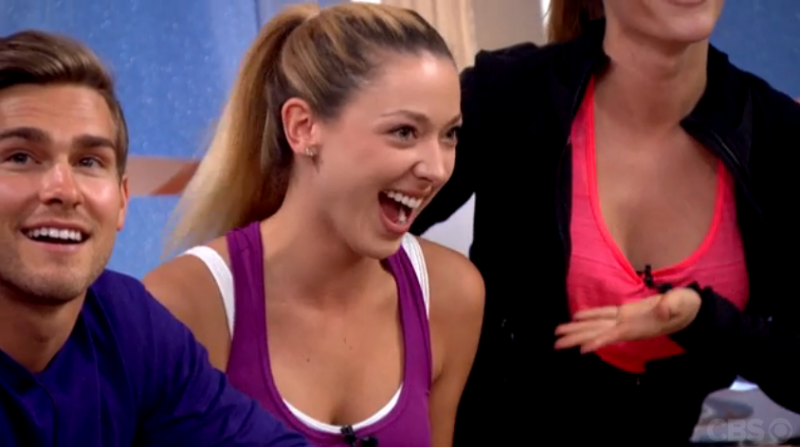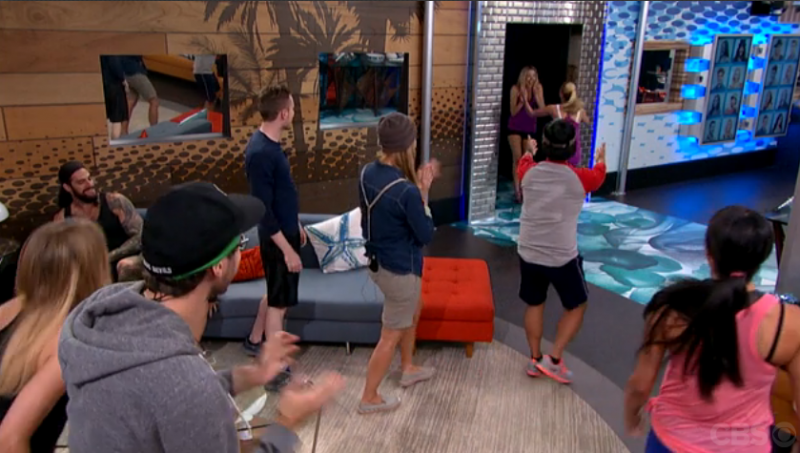 And thus it came to be that both Liz & Julia get to play the game.  Lots of cheers for now from the house, but I imagine that'll end soon enough.  I think Julia has a chance to stay longer in the game with her revulsion of Austin fully in place.  It will be interesting to see how this all plays out after a few days of Julia being there as herself.
HoH: To Be Continued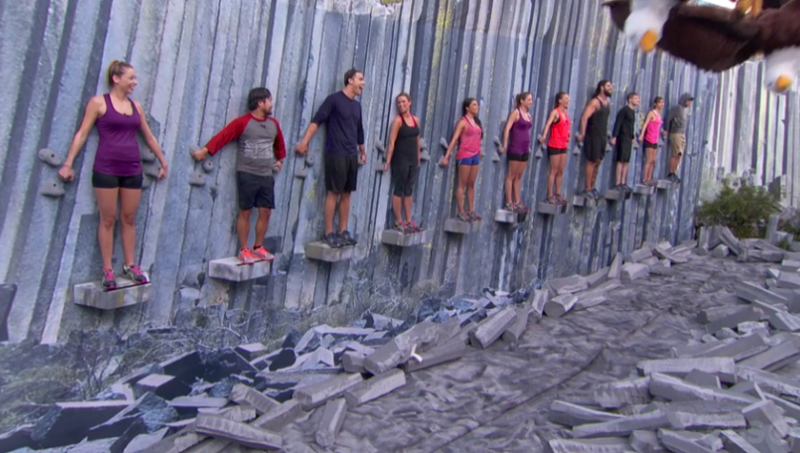 Well, we finally are past the 2 HoH thing and no more Battle of the Block.  I imagine this could last a while, but perhaps we'll see everybody fell off in super short order yet again.  What I'd like to see?  Meg or Jackie win HoH.   Make the Sixth Sense sweat.
Status & Standings: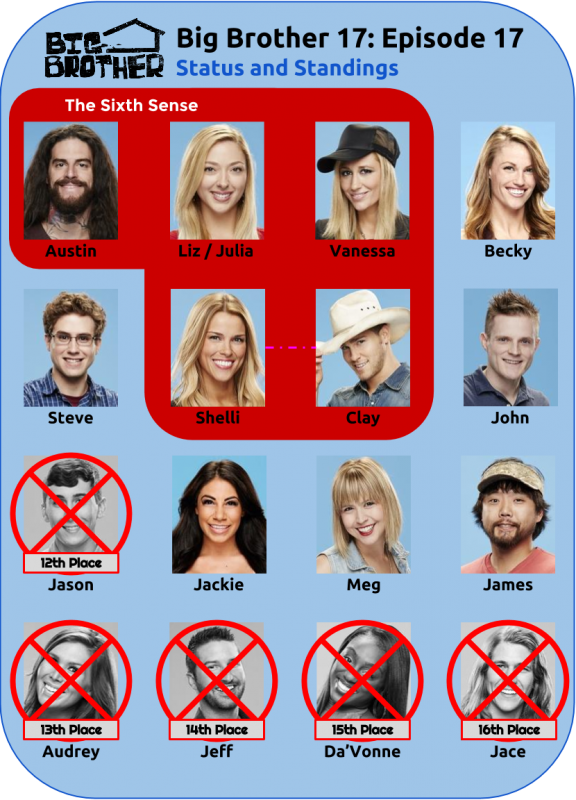 Outgoing Head of Household: Vanessa
Nominated for Eviction:  Becky & Jason
Evicted:  Jason (7-2)
Alright, we'll see what happens soon enough.  Regular season begins tonight…and still no Double Elimination in sight.   Interesting, CBS, interesting.