Larry & I were surfing through the movie channels this past weekend and stumbled upon the Cinemax groupings – one of them was playing Beyond the Valley of the Dolls, an infamously crazy movie written by none other than Roger Ebert.  I hadn't seen it and we turned it on well past the halfway-point and jesus that movie is insane.  I mean, it's literally crazy.  The ending massacre, and I literally mean massacre, has to be seen to be believed.  Cocaine is a helluva drug…
Anyway, I had settled on Beyond…. because I had noticed that The Rocky Horror Picture Show was up next on whatever Cinemax channel that was, and I was totally IN for seeing it again.  I haven't watched it in quite a while, and I even freakin' own it on Blu-Ray (I think – for sure on DVD).  Just you have to be in the right kind of mood for Rocky, is what I'm sayin'.  And Saturday, I guess I was.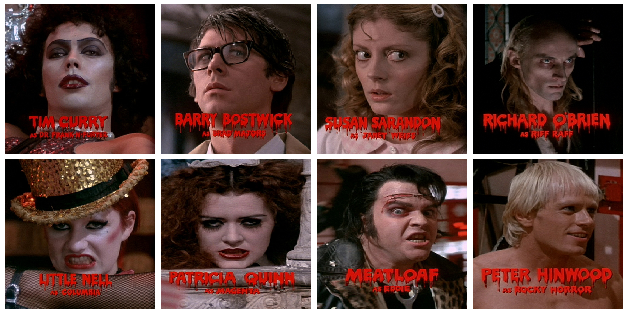 It's funny – as soon as it started and the first song, "Science Fiction / Double Feature" started to play, I was singing along and knew nearly all the words still.  That's what having this instilled in your head during your formative high school years will do to ya!  I can still remember being introduced to the world of Rocky Horror – I had just joined the Annual Staff at MHS in my Sophomore year and had become good friends with Beth Oakley.  I guess there was something about me that indicated I was to be part of the club.  So her and Liz Helmuth took me to the Rialto Theater in South Pasadena (RIP, Rialto, for now – I hear it's getting renovated and coming back, although not sure if Rocky is too) one Saturday midnight.  I was hooked.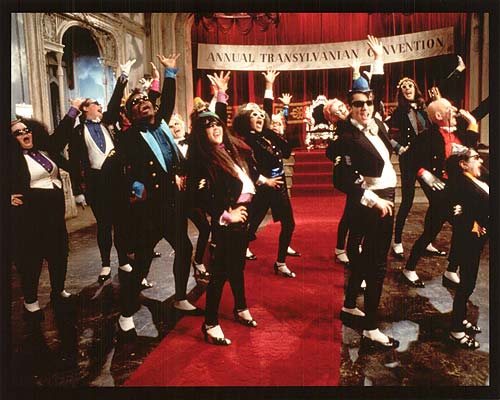 The songs are a major part of what draws you in to the movie. Â They're so fucking good. Â Some of them are iconic, like "The Time Warp", "Sweet Transvestite", and "Touch-A, Touch-A, Touch Me"; what makes the experience though is being able to sing and dance along with it (I think my first Time Warp was one of the best times ever) as well as shout back lines to the movie. Â And there are TONS of response lines to know – at one point, I did know a lot of them as I ended up buying a cassette of the Audience Participation version of the soundtrack, and I listened to that a LOT. Â But time has withered away a lot of that knowledge, regrettably.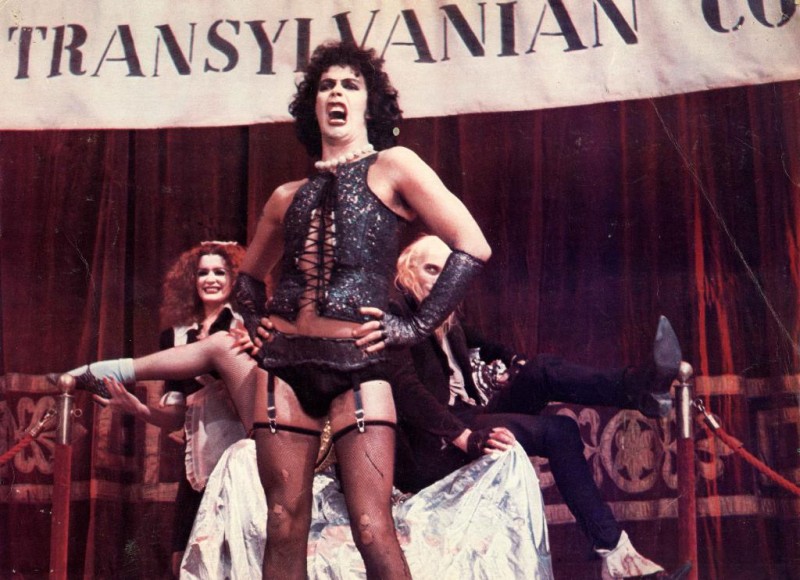 Sveta & Mila became long-time fans of the movie too – and it became quite a quotable thing for us in high school and life. Â Tim Curry rocks the hell out of his role as Dr. Frank-N-Furter, both in terms of singing amazingly but also his delivery of lines like, "Do you have any tattoos?….oh well, how 'bout you?"
This movie was a huge part of my high school life and it's surprising to me that it had been so long since I'd seen the movie. Â We actually didn't even watch the whole thing this weekend as we're old and ended up going to bed. Â But I did just now go and buy the 2011 release of the movie soundtrack as this one contains many of the songs that were cut out of the very original movie soundtrack release like "Sword of Damocles" and "Planet Schmanet Janet."
All I know now is that I really want to round up Mila & Sveta and find a midnight screening. Â It's time.