Love jaw-dropping coastal scenery?  Amazing food?  Ridiculous roads and fearless drivers?  Yes?  Then you're in California!  HA, I kid I kid.  But maybe that's why I felt at home during this port of call on our cruise, the lovely city of Naples.   Before I end up repeating myself though, let's just paste what I wrote and leave it at that.
May 20, 2013 – Drive of a Lifetime: Sorrento to Amalfi via the Amalfi Coast
We were back at the place where I nearly melted down because of my exhaustion and sciatica last time. The differences were present immediately as instead of docking in Salerno this time, we were in Naples proper. It's a beautiful area – at least relative to places like Livorno. Our excursion this time was Sorrento and the Amalfi Coast. We wanted to go back to Sorrento as it is a beautiful and fun little town. Didn't have the desire to revisit Pompeii or Capri but the drive down the Amalfi Coast sounded cool. The first stop was Sorrento where we had time to wander, and we got a bottle of limoncello and some more pasta for cooking back at home. The weather was a little dreary but not rainy, so that was good. Sorrento was not the end of the journey though, as we then embarked on the drive of the Amalfi Coast.
Naples Arrival and Sorrento
The Amalfi Coast reminded me greatly of the portion of the Pacific Coast Highway where it's precarious and white-knuckley as there are steep dropoffs and dramatic scenery. Except add in here that now the road is barely wide enough for one lane of traffic to comfortably drive – but there are two lanes expected to flow. So while you're looking at the jaw-dropping scenery of things like the coast and cities like Positano and Praiano you're also having to watch the bus driver navigate his enormous tour coach by the oncoming traffic, often making them back up and drive their cars as close to the wall as they can get. Unfortunately I don't have many pictures of the drive itself as we ended up choosing the left side of the bus, which was a poor choice as we were driving south and basically the right side was the place to be. I was a bit bitter, but when we got to certain portions of the drive, I was actually a little relieved not to see the sheer dropoff. Better not to think about it.
Driving the Amalfi Coast
We ended up having a lunch at this beautiful restaurant in Praiano that had a gorgeous view overlooking the coast, where you could see Positano in the distance as well as the isle of Capri. Good food.
Lunch in Praiano
The drive continued for a little while until we got to the city of Amalfi, where we stopped yet again for some free time. At this point the weather had gotten a bit more dreary, and in fact, the rain started to fall a bit while in town. That didn't stop Larry & I from getting our first gelato. We walked the city a bit before heading back to the harbor and eventually getting back on the bus.
Visiting the Town of Amalfi
The bus then took the main highway back directly to Naples, as our route was a big triangular loop. It was a nice journey and despite not getting the most scenic of seats, it was quite the experience.   Also, a big part of the fun for me on the drive back was they played all the "typical" Italian-themed music and songs you could imagine, including things like "Que Sera, Que Sera" by Doris Day, "That's Amore" by Dean Martin, "Funiculi, Funicular" by Pavarotti….it was almost magical.  Until one of the old biddies on the bus was yelling that it was too loud.  NO JOKE.  She wanted to sleep.  UGH.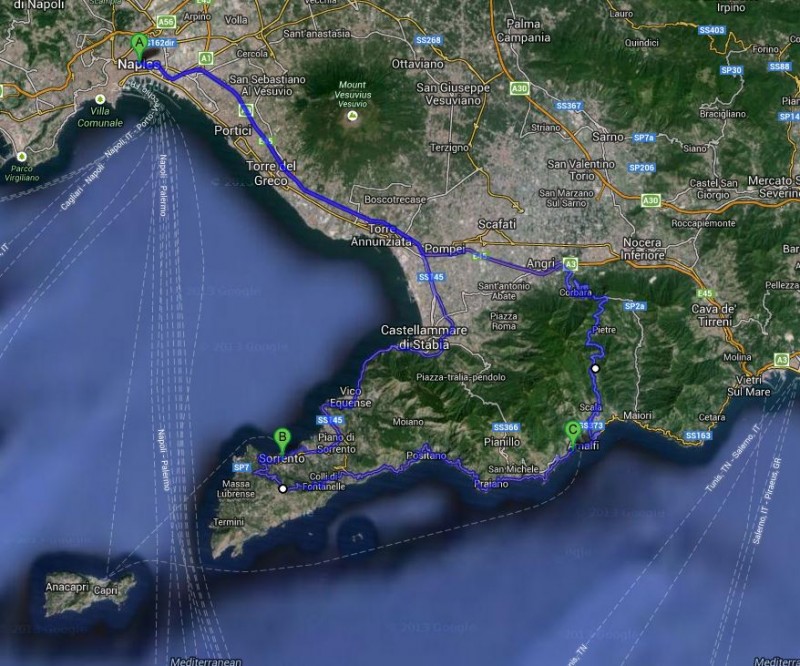 There was a stupid cameo factory visit shoe-horned in at the end – I guess some people want to buy that shit. I'm not among them. When it was finally time back at the ship, we had a little bit of time to relax before dinner. We were having dinner with Harriet and Doug tonight, and that was a blast, getting to know our favorite friends from the cruise thus far. After that, well, Larry & I continued the drinking. Boy, did we. Since we weren't heading out on an excursion the next day, we figured why not. So after the few drinks of wine at dinner, we then headed down to the wood-paneled Ensemble Lounge where our first few rounds of cocktails were enjoyed while also enjoying the sounds of the various musical acts that performed, including North by Northwest (who apparently got sick since and have cancelled their performances) and the Strings Trio. Then it was time to go to the Martini Bar, where we got properly toasted. I drank way too much. Also saw Melissa and her friend Lacey this time. Good times, good times.
Back on Equinox in Naples
2013 Mediterranean Adventure Pics
Mediterranean:  Day 5 – Sorrento & Amalfi Coast, Italy