Let us continue the journey!  In this installment, we made it to the wonderful country of Italy and the completely fabulous city of Firenze, aka Florence.  This proved to be a very entertaining stop, although let's be honest, you can't "do" Florence in a day, let alone 7 or 8 hours of the day.  But for an overview, or a taste, if you will, it was pretty fantastic.  But I'll stop being so chatty so you can read words written by me 2 months ago!
May 19, 2013 – Journey to Florence
I'll try to keep this fairly linear, so I'll first write up about yesterday's events, which were on Sunday, May 19 in the Livorno, the port city of Florence/Firenze! The theme of the day was "Yay, Sun!" and thank God for that. It started off hopeful with it being just kind of grey as we awoke in the city of Livorno. Think Long Beach or Elizabeth, NJ when you think Livorno. It just sounds more exotic, that's all. More Italian, actually, and that helps.
Anyway, we were booked on the Historical Florence excursion, which included a walk around the city but importantly included a trip to the Accademia, which is where Michelangelo's David sculpture is. We had considered doing an excursion that did the whirlwind trip of not only the highlights of Florence but also included Pisa. From my previous experience with Jason and Wendy a decade ago, I felt fairly safe in saying that Pisa isn't worth it. It's just the tower. Photoshop yourself into it if you insist.
Heading into Florence
So we were on our bus with the wonderful guide of Serena (not sure if that's the right spelling, but she assured us it was basically the same as the tennis player) and she was wonderful. It's interesting to hear how the various guides sound out their words. She was very thoughtful and enunciated as much as she could. It's about an hour drive from Livorno into Florence, so we had a chance to view the scenery from the bus, and to see how it went from the industrial port section into a nice Italian, Tuscan countryside, peppered with beautiful rolling hills. The weather had looked like it was going to be rainy once again but after arriving in the city, suddenly the rain stopped and eventually the sun broke through the clouds. Thank god.
We immediately went to the Accademia, which is probably a good thing as I know that it only gets more and more crowded the later it gets. I can't write the words to adequately describe the experience of viewing the David, but just know that it is everything you'd expect it to be. Truly. It's as big, if not bigger, than you expect it to be. Serena was able to provide quite a bit of insight into the creation of the David and provide a good artistic background of what the creation and revealing involved. It's definitely a bucket list thing to do.
At the Accademia to see the David
Note:  Since you can't take pictures of your own in the Accademia, here's a shot from the wonderful Internet to peruse: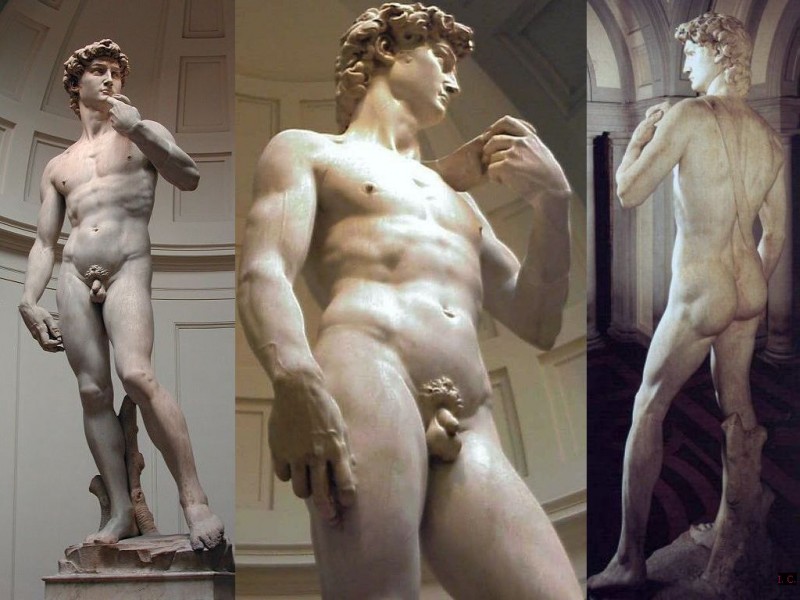 After that, we wandered through Florence, first walking by the Duomo (where was Ezio?) then down to the area by the Palazzo Vecchio and finally to the Ponte Vecchio. As I can attest, Florence is not really a city you can "do" in just an afternoon, but she was able to guide us through quite a few of the true highlights. You'll see the pictures and see we saw quite a lot. After the Ponte Vecchio, we had lunch at a quaint restaurant nearby, getting a starter course of vegetable lasagne, then a beef slice, then a salad, and finally a delicious scoop of ice cream. Yum. After that, we headed to the Sante Croce church where Michelangelo, Machiavelli, Galileo, Rossini and many others are buried. Very cool. There was some free time afterwards and we went back to the Duomo to get some more pictures – not enough time to climb Giotto's Tower, but that's fine. Really.
The Duomo
Palazzo Vecchio
Lunch and Ponte Vecchio
Outside Sante Croce
Revisiting the Duomo
Inside the Sante Croce
On the way back, we stopped right outside of the city on an Amazing overlook of Firenze. Fantastic view that really can't be beat which included stunning views of all the major landmarks. Wonderful. It was weird that just as we had boarded the bus in the city, a crazy rain storm blew in, but once we arrived at the overlook, the rain cleared and we had a gorgeous view. But then as we started to leave that, it got cloudy yet again. Lucky timing there.
Leaving Florence / Amazing Overlook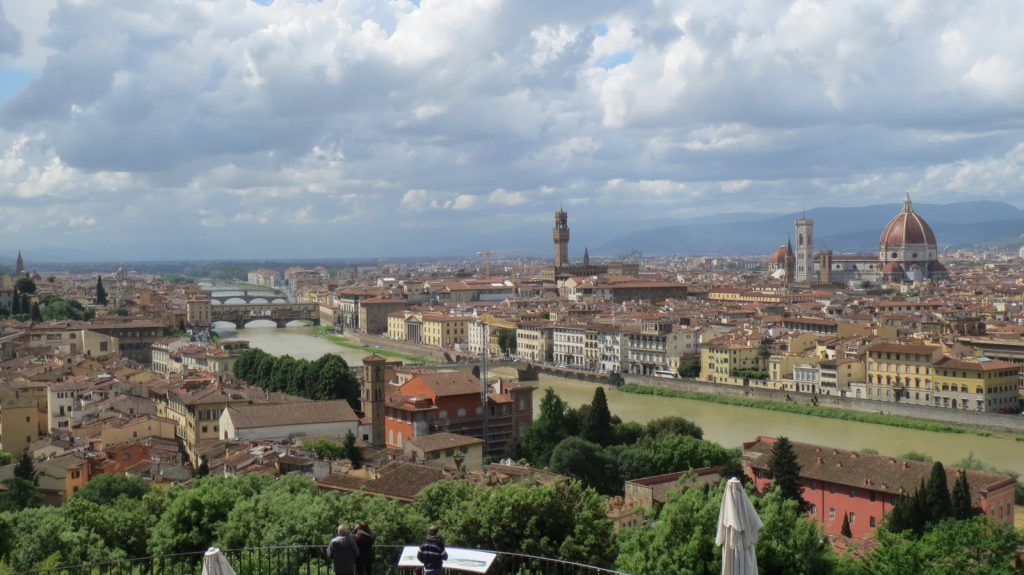 Back at the boat, we were tired but there was dining to do (btw, for food I had shrimp cocktail, with a beef bonsomme soup, and then an Atlantic cod, while Larry had pate, a split pea and ham soup, and lamb korma) and it was a Cocktail attire night. Great. We put on our suits as specified, but apparently the rules really don't mean anything. I saw so many people (old people, mainly) who clearly couldn't give a shit. So annoying. We then saw the same cheesy show we saw on the last cruise with a giant medley of Broadway songs sung by decently talented folks. We then went to the Sky Bar at the front of the ship where a 60s party was in effect and the music was provided by a ridiculously good and talented Filipino band. Unreal how good they were and how much they sounded like the bands they were emulating.
Formal Night on the Equinox
2013 Mediterranean Adventure Pics
Mediterranean:  Day 3 – Florence, Italy