Episode 10 – July 18, 2013
Seriously, meet Judd. Â You know, one of those characters like Cousin Oliver who come in halfway through a series because they want to change it up a little. Â Alright, I jest. Â But yeah, Judd winning HoH should be interesting, as it's like getting an all new character to play with and motivations to understand. Â Do we have any idea what Judd may be up to? Â Do we know his true alliances? Â How did he get in the house? Â And what about his friends, Andy and Jessie? Â Who ARE these people?
Goodbye to Jeremy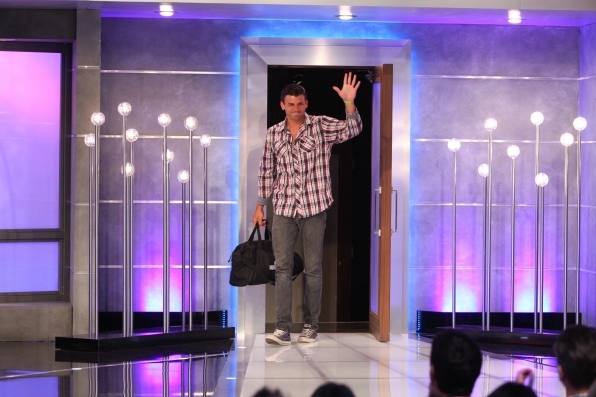 Won't lie – not sorry to see Jeremy go. Â He may have gone on a charm offensive, giving the CBS editors something to use for this episode to introduce doubt, but yeah, puhlease. Â There was no way Helen or Elissa were going to decide to keep him in the house.
The voting this time was pretty straightforward:
Candice: Â Jeremy
Andy: Jeremy
Howard: Â Jeremy
Elissa: Â Jeremy
Kaitlin: Â 

Spencer

GinaMarie: Â Jeremy
Amanda: Â Jeremy
McCrae: Â Jeremy
Jessie: Â Jeremy
Judd: Â Jeremy
With this season's twist of three people nominated, we have yet to see votes go to all three nominees. Â Don't know if that means anything, but there hasn't been any kind of close three-way voting yet. Â I wonder if there will be something like in the days ahead. Â  Of the remaining houseguests, only Aaryn, Kaitlin, and GinaMarie are from the former Bully Brigade – everyone else wasn't. Â Because that giant group is begging to get divided, I predict that Aaryn and Kaitlin have real good shots of going quite far in this game. Â GinaMarie, not so much. Â Aaryn and Kaitlin can pledge each of their votes to a future side – this has to be done eventually. Â I predict Amanda leading a charge in that regard. Â She won't do it just yet, but you know she is ready for such actions.
Not sure how riveting the show will be in the next few weeks. Â Unless Judd (who is very cute in a goober-y kind of way) surprises everyone and reveals a grand master plan. Â  That would be awesome, actually.
Amanda & McCrae

Just love this relationship. Â It's so bizarre but also seems genuine. Â Their families' reactions to it are very similar to what mine are: Â Amanda's family hoping that McCrae really is a secret millionaire; McCrae's family shocked that such a hot woman like Amanda would be interested in him. Â Yeah, we all wonder about these things, but it's kinda awesome how they are still in it and really acting like a couple. Â Loved Andy's response to one of their bickerings and remarked they seem like an old married couple. Â It's awesome. Â I could support them making it to the final two.
Our Newest Head of Household:

I finally get to use this snapshot! Â Congratulations, Judd. Â I am eagerly awaiting tonight's episode and what kind of strategy you decide to implement. Â I'd be shocked if you allied with the Bully Brigade but I could see the initial cracks form in the majority alliance if you decide to make some small kind of move, like putting up an unwilling pawn. Â At this point, it's almost inevitable.
Congrats to Civilian Jenny!
One of my oldest Air Force friends and the person responsible for me watching Big Brother in the first place just gave birth to her first, an adorable baby boy. Â  I'm so happy for her and her family and welcome him (not sure if he has a name yet, to be honest) to the Big Brother viewing family. Â He better learn to have strong opinions and love and hate total strangers just like us. Â 🙂