<–Previously, we wrapped up our fun in Seattle.
There are a couple of options available to get to Vancouver from Seattle. You can drive, you can fly, you can even take a ferry…but a recommendation I read online was to take the train! And that sounded wonderful, and apparently beautiful, so that's what we did. It made for an early morning as it does take about 4 hours for the journey, but it was a lot of fun. To make it as comfortable as possible, I had purchased us Business Class tickets on the Amtrak, and that was nice, and we ended up seated next to a couple that was a lot of fun. She had a bunch of stories and the 4 hours flew by as we made our way to Vancouver, BC.
Thursday, Sept 7, 2017 – Vancouver via Amtrak
We got to Vancouver's Pacific train station around lunchtime, and so after taking a cab to the wonderful Opus Hotel in the Yaletown area of the city and leaving our luggage, we got some food at the awesome restaurant Cactus Club Cafe.
ProTip: These restaurants are fantastic, and there are 3 or 4 of them in the city. They're staffed by absolutely gorgeous people and all of them are like REALLY nice. Almost weirdly so. I'm used to L.A. where the more attractive the waiter/waitress, usually the more they can't be bothered by you. It was refreshing. Also, the food was really good. So if you have the opportunity, go to a Cactus Club Cafe. You'll thank me later.
We couldn't check in, so we consulted our handy-dandy books and wandered around the area. Happily, Yaletown is very centrally located and right across the False Creek from Granville Island. There are also many water taxis to schlep you around that area, so we made use of the convenience to get over to Granville by walking over to one of the local water taxi stops.
Getting Acquainted with Yaletown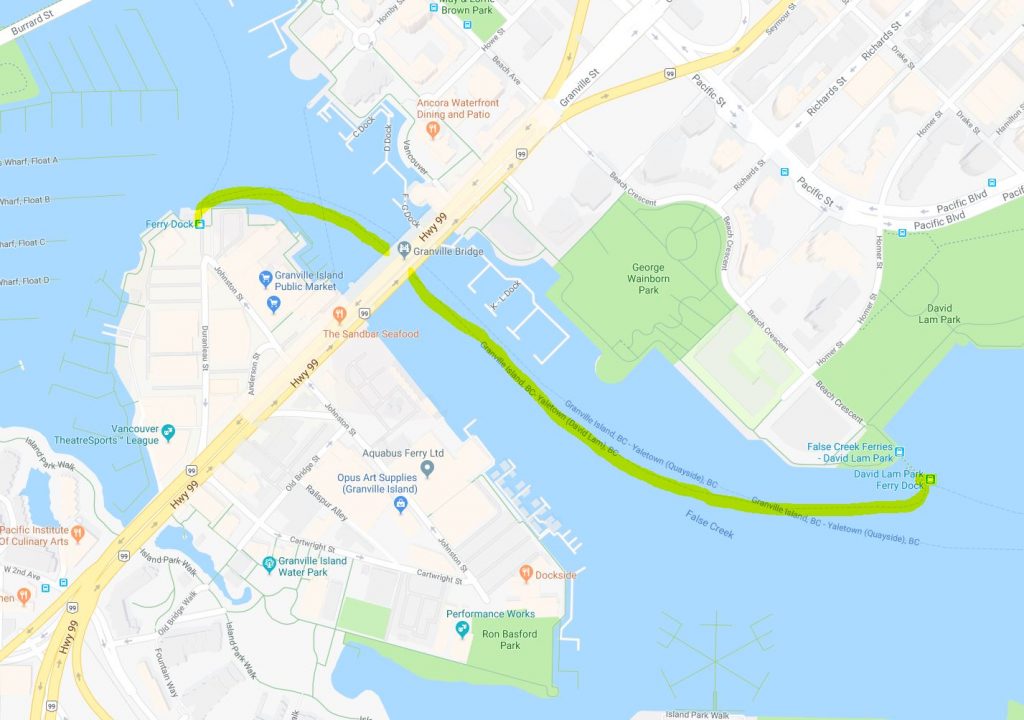 Water Taxi to Granville Island
Granville Island is well-regarded as a popular tourist destination and for being an artsy area. You can stock up on custom glass sculptures, Native American artwork, woodworking and any other number of artistic stuff. There's a functional concrete plant that has had the storage tanks painted like figurines, which are now called the Giants. It's a fun outing, but you're in tourist town, for sure.
Granville Island
All this was exhausting to do and we finally got a notification that our hotel room was ready and so we headed back there to get settled in and relax. After that, I was kind of intrigued to explore and see the actual Casino that is present in Vancouver, which happily meant we'd walk along the route where the Olympics and Expo were held. But first, dinner! Larry found us a good spot at 'The Flying Pig' which was hip and happening and delicious. A note: Vancouver definitely has a lot of fun restaurants and bars – in fact, it's a pretty great city to live in. Not cheap though, as it's quite a popular place to be. Another thing to note: Vancouver is not really all that interesting of a city to visit. There's stuff to do, but it doesn't have a distinct personality, in my opinion, in terms of 'visiting an interest city'. Yet, I could totally see us living there as it's just that kind of a city. Clean, modern, and plenty to do.
Anyway, after dinner, we went on the walk towards the Casino, passing by the big soccer stadium and through the area where the Olympics Village was. I thought it might be fun to gamble, but when we actually made it in there…it was kind of a weird, don't wanna be here anymore vibe. So we left.
Evening Begins
An unexpected thing happened as we were walking home from the disappointing Casino adventure. We were walking along the False Creek rivershore to enjoy the atmosphere, but it was also full nighttime now and it had been sporadically sprinkling rain, so we were kind of ready to get home. But as we were passing the Cambie St Overpass, we heard lots of people talking and occasional applause. Intrigued, we walked from the path over to it, and it turned out to be a site for an art installment! The art was projecting this giant movie called Uninterrupted about the lifecycle of salmon onto the underpass – we got to see it from beginning to end and it was mesmerizing. It was also very much an aural experience and just overall stunning. Also, while waiting for the movie, there was just cool vistas of the city surroundings too.
Uninterrupted at the Cambie St Overpass
After that, on the way back to the hotel, we found a gelato shop and since vacation calories don't count, we partook. It was delicious! Alas, the rain did start to come down harder and it was an omen of what was to come the next day!