Yesterday was a good day. Unexpectedly a good day. I had made a plan to do a slow-cooker recipe for carnitas, and that honestly was the expectation for the day, in addtion to playing Railway Empire and Horizon Zero Dawn (which both are awesome and I'm obsessed). I got the morning started off right with some yoga (I'm honestly past counting the days anymore as it is a daily habit now, and I intend for it to be that way from here on out), and then I got the slow-cooking started.
Slow-Cooking Carnitas – Aug 16, 2020
Larry would've been proud. Used a pork butt that ButcherBox had sent to me (I'm still not sure what else to do with a pork butt besides carnitas), then got the mise-en-place done and about 8 hours later, I had delicious carnitas for dinner. SOOO GOOD.
The main thing though that made the day surprisingly good was that I was taking some supplies over to the home where my mom is living. It has been off limits for visitors so I expected I'd just get to drop the stuff off in the lobby but when I got there, guess what, apparently I should've read my emails from them as visitors are allowed again as long as you have a mask. So I got to see mom again for the first time in over 5 months. Even typing that just makes me sad. She didn't even recognize me at first as she obviously wasn't expecting me there either – I had Gatorade in hand and she asked me to put some in the refrigerator and then asked a nurse for her phone to call me and then she realized it was me. We hugged but I kept the mask on as it's still an issue. We spent some time together but neither of us are long-term visit folks, so I left and we knew that I'd come back the next weekend. I took some pics of us together but she asked me not to post anything so I won't. But I really was glad to get to see her.
The evening was good as I had an amazing dinner and then I went and set up the rooftop cinema for another movie: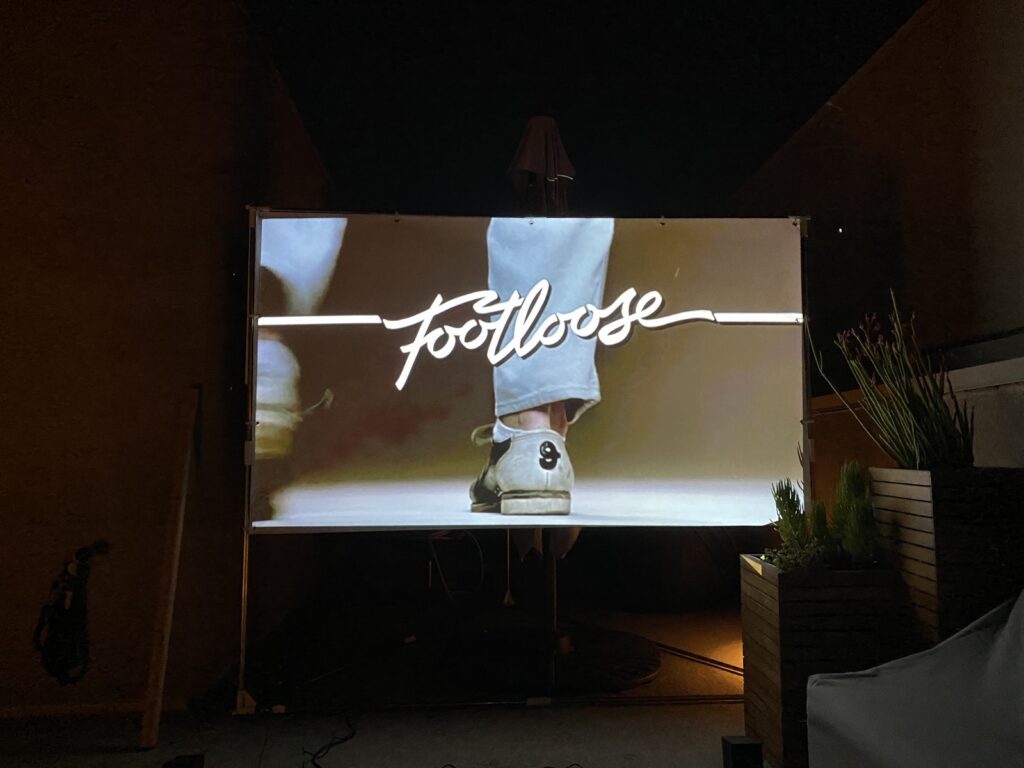 It felt appropriate to watch it as it was definitely one of those movies that my mom and I watched endlessly when I was growing up. The soundtrack is still the best. Footloose was already in my head to watch again as the Number Ones article series this past week was in 1984 when "Footloose" the song topped the charts. Anyway, it was a fun way to end a good day.
What Else is Going on Besides Yesterday?
A lot of not much? But I'm passing the time. Most importantly and awesomely, Big Brother is back. I've of course been posting about this All Stars season as it's just something new but also something I have loved for so long. I'm sad Larry isn't able to enjoy it with me (despite his annoyance it he always would get sucked in). I do have my friends Mel, Nicki, and Sarah to text about it while episodes are going on, so that's fun.
With Nicki visiting frequently on weekends, we've taken to playing the hell out of Ticket to Ride, and so I've gone and bought some of the board game expansions for it. We will have our enjoyment, dammit!
I re-discovered this picture of Larry from when we lived in Santa Monica (March 2013). It was when Stacie and Trent had come over for the day and he was cooking dinner. Larry looks so handsome here and has a great big smile while doing what he was amazing at, cooking and entertaining.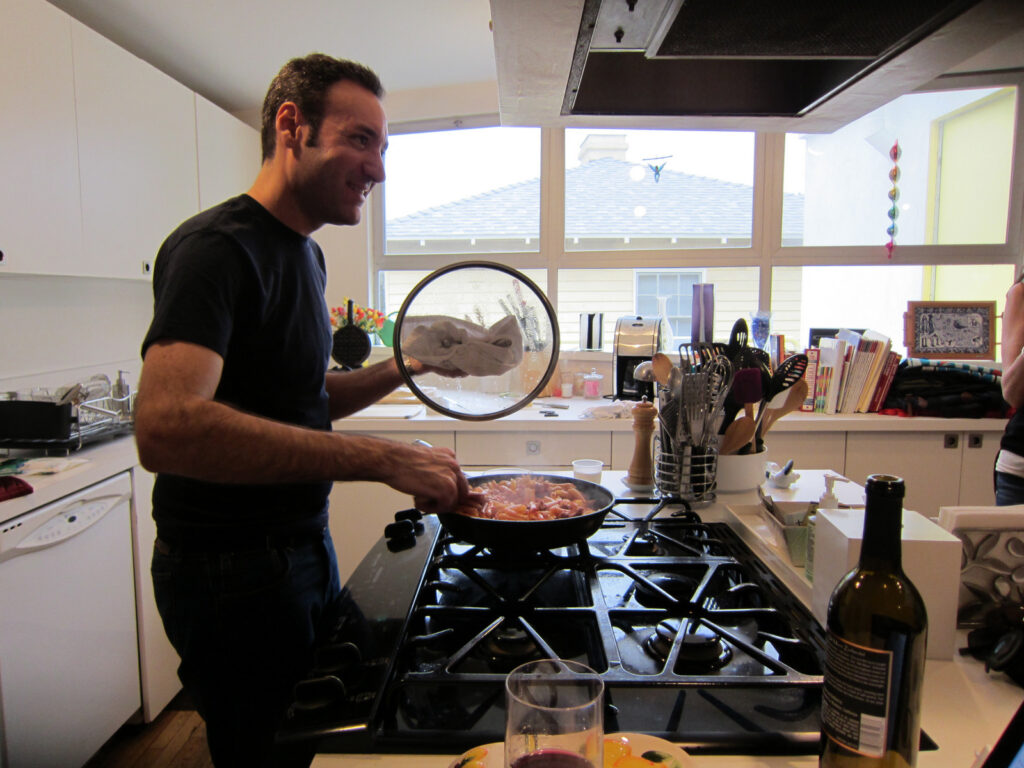 It's my phone background now. It makes me happy.
I'm going in reverse-chronological order through my pictures since my last post and while if I was better about frequent posting the pics would make it, now it's like, eh, no need. But I did try another recipe in mid July that was a Larry special: the cajun chicken pasta recipe modeled on what Chili's makes. It's soooo good. Larry had the recipe in Paprika and I decided to go for it. Honestly, it was really good, but not as good as he made it. But I can always try again. I was really happy to play with cooking chicken breasts though – butterflying them and then frying them on the stove makes them taste so delicious with a proper seasoning on them!
Cajun Chicken Pasta via Me – July 19, 2020
BTW, when Jon & Alyssa were out for last Thanksgiving, Jon, Michancy, and I went to pick up supplies. One of the stops was Mission Wine & Liquor and thank GOD for that journey as it really is one of those fantastic liquor stores that actually carries a ton of wine with many options and always always has the MONTEPULCIANO. I don't think I need wine.com anymore although I did make sure to get my money back on that membership that gets your complimentary shipping!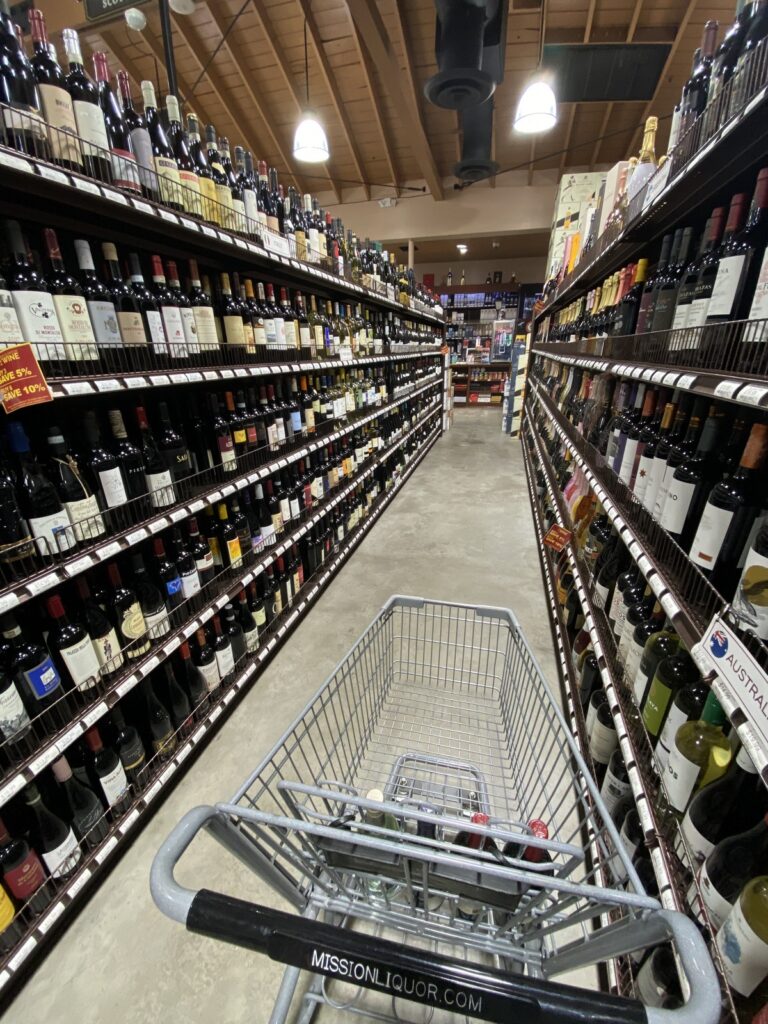 Superman & Sound of Music – July 16, 2020
Watching movies on the roofdeck is awesome. It's a little bit of work to get the screen up and the projector and sound all put in place, but it's just so worth it. One night, I had it in me to want to see Superman up on the roof, because it's awesome. It's also long, and I made an intermission for myself as I was getting a little tired. I had posted a little about that online and Wendy brought up that maybe I could have The Sound of Music on the roof this year? Part of me reeeeally wants to have that singalong here, but part of me is also like, is that irresponsible? I don't know what the best answer is. I could see having a few people, maybe? But it's like, I think we could wait too. I don't know. But for a moment I was excited and I decided to watch a few scenes from TSOM to make sure it worked up there! I also discovered you really can't go up and watch anything until it's actually dark. lol
I guess one last picture set to put up is actually what I ended up doing the night of my last posting, which was back on July 12. I set up the movie theater again for myself (knowing how to do it was half the battle!) and watched The Empire Strikes Back which was having its 40th anniversary and amusingly was the #1 movie in the nation that weekend because everything else is shut down. It's quite awesome to watch on a big screen!
The Empire Strikes Back – July 12, 2020
One weekend when Nicki was here, we watched The Goonies up on the roof deck, so it's been fun to watch some classics in that venue!
Those are the main pictures I've got. Everything else? Work is work, so that's good. I dream about Larry every now and then, and it's nice. Sometimes I want to post about those dreams so I can remember them later, but I usually don't. Some have been funny – a while ago I dreamt about us trying to get a table at brunch and it was so vivid. Sometimes I can vaguely remember that he's actually dead while in the dream and it makes it that much more surreal. Like, do I tell him?
Alright, I think I'm caught up. It's close to September. It's crazy to believe Larry's death was over 7 months ago. I can't really understand that 5 months have been lost just being stuck at home. It's fucking stupid and I hate it because if our nation had had a coordinated response that made the pain last just 1-2 solid months, we'd likely be in a position now to be rolling things out properly. But no, that's not this country. We've got "freedom" to act as selfishly as we want and god forbid your "freedoms" are infringed upon by being asked to wear a mask. People are just so fucking dumb. We deserve all that we are getting.