A miscellaneous look at the things that I'm thinking about:
This video is everything to me today.  The latest Entertainment Weekly had a reunion issue with the cast of Felicity, Misery, The Rocky Horror Picture Show, and lastly, Muriel's Wedding.  It's hard to believe this movie is 21 years old.  Anyway, this scene in the movie is the exact moment when I unabashedly started my love affair with ABBA.  The moment when they hit the chorus for the second time?  BLISS.  I'm honestly thinking Larry & I could reenact this dance at our wedding.
Wedding Talk!  Ha, well, the events of last month definitely knocked planning for the wedding out of the priority queue.  But we're finally getting in gear again and hoping that maybe a date and/or location will be decided soon.  Wouldn't that be nice?  Or we'll just go to Vegas and call it a day.  Who knows?
And then this videogame, Transformers Devastation, shows up and gets decent reviews and I'm suddenly transported back to watching the Transformers as a child of the 80's and I'm thinking, "I MUST have this videogame – it's literally the style of the cartoon but you're playing a game."  Why don't I have this yet???  Old-school Megatron and Starscream?  Shockwave?  Devastator???  Bumblebee and Optimus Prime??? I'm dying.  Dying!
Larry Update:  I won't go into toooo many details here since if Larry wanted to publicize shit, he'd publicize it.  But basically, the amount of recovery he's done since getting pancreatitis back in mid-September is amazing.  He's on a no-drinking program right now and for the next few months (hopefully that will be lightened up at that point); I'm basically following his lead on that too, as I'd rather not drink if it's by myself, both not to make him feel bad as well as it's no fun drinking alone.  But I'm not 100% on that, but I have been able to make a bottle of wine last nearly a week by just drinking one glass at dinner.  Impressive, eh?  I figure with this mindset, I'll probably lose weight.   Go figure.
Exercise:  I went running for the first time in a while.  Plus, it was this morning before work.  With the way work looks to be going for me, longer days are likely and motivation to work afterwards will be NIL.  I'm glad to get back on the treadmill but it was exhausting.  But here I am sorta self-satisfied at being done for the day!  Here comes my beachbody!  😉
Pillows:  I had a ROUGH night of sleeping one night last week.  I think I was feeling meh anyway, but I think that I ended up getting both of the crappy pillows after the housekeeper had remade the bed.  I slept for shit and knew that the crappy pillows were a heavy factor in that.  Off I went to Macy's and they were having a sale on getting the 2nd pillow for $1.  I got some fantastic Serta pillows and man, my sleeping has been fantastic. Fantastic!  I forgot how important it is to have a good pillow.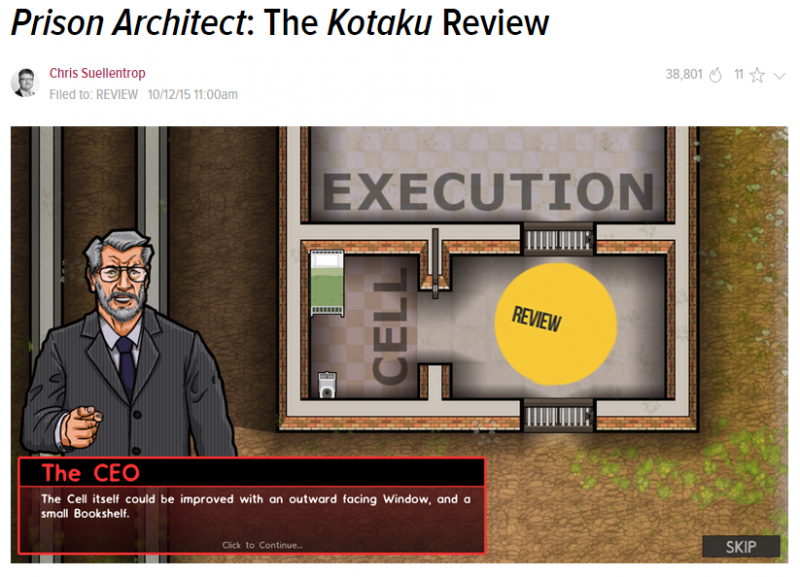 I had bought Prison Architect off Steam when it was still Early Access as it had an interesting premise and was like a Tycoon game for Prison.  Fun!  But after playing the one "tutorial" level and then just handed off to the Sandbox mode, I was lost.  It was compelling to play, but I constantly just kept getting it wrong.  So I went off to play some Assassin's Creed or something.  But the "final" version of the game was released last week and it included a new Campaign mode.  This is the mode I was looking for.  You're given guidance as to what all the features do and put in situations that actually test you to use them.  Now I'm hooked.  It's so compelling, although like the review above mentions, you kind of lose track of the fact that your little beings here are representing incarcerated prisoners.  You just want to win!! Win win win!
Larry and I went back to the TCL Chinese Theater this past weekend to catch The Walk while it was still in IMAX 3D. What an experience.  If you don't watch the video above or haven't heard of what it's about, it tells the fucking insane true story of a French high wire artist who managed to pull off the feat of stringing a wire between the two towers of the World Trade Center and walk back and forth across it.  It involved quite a bit of determination and guile and the first 2/3ds of the film are about the work getting to that point. If you've seen Man on Wire, the actual documentary of the event, this is kind of familiar territory.  Man, even that documentary was thrilling, honestly.  But the real draw of The Walk is all about being up top of the Towers.  I am no fan of heights – especially when still connected to the ground and the thought of falling from that height is present – and even though my mind knew this was a movie, the way that the director, Robert Zemeckis, constructed the shots of being up on top of the Twin Towers was both exhilarating and nauseating.  Joseph Gordon-Levitt is awesome as Phillipe, and the special effects are absolutely spectacular.  The ending of the movie is very moving too, as it just silently looks at the wonder of the Twin Towers from the Statue of Liberty, then fades to black.  I highly recommend it – what a great season for movies this is turning out to be so far!?  First The Martian and now The Walk!
Work?  Work is good.  I'm having to do a bit of hustle to make sure I keep up.   I'm not entirely sure I have an accurate assessment of how I feel about work at this point, but I am not willing to say one way or the other just yet until at least a year has passed. Then maybe we'll talk.
I'm kind of interested in the Chevy Volt.  I know, I know, I just got my damn beautiful red Mazda 3….but still.  Probably just need to let that go for a little.  No need to change at this point.
Oh yeah, I got the new Rock Band 4 – still just as fun as it was when it was Rock Band 3.  But now I can play it on the PS4.  I guess it helps I really just like these games!