Today marks 5 years from the day when I asked Larry to marry me.
It had been a long time coming, and honestly long overdue on our part to finally make that leap, but we did. We leapt.  And 11 months later, we got married.   It was amazing times, and we had our life together, and then cancer came and ended it.  I can mostly ignore the end months nowadays, but those memories don't truly go away.  It was awful.  It makes me cry when I do think about it.   I'll never not cry when I think about that.
But the times before that, engaged or not, won't be forgotten.   I've got pictures, blog posts, memories to help me remember those good times.   Nothing was ever perfect and I won't claim that here, but god damn, it really was just wonderful to have found someone who got me.  I got him.  When we needed space we figured out how to reduce getting on the other's nerves.  We helped each other live more full lives.   It wrecks me to know I won't ever see him again.
Larry's birthday is tomorrow.   A group of friends and family will be getting together on a call to celebrate.  Not everyone will be there, and I completely understand.  I'm not even sure how I feel about it – I want to see people but "celebrating" his birthday doesn't sound right – he's dead.  I just want him back and for the last 2 years to be undone.   It's naive.
I am not in the same emotional state as I was earlier this year.   I don't know how to really describe it.   I am used to being alone more than I was.  I guess old habits die hard, as yeah, I have been alone before Larry so it comes back to you.   The bed is all mine.  All this room is mine to manage, and not share.  Cooking meals is up to me.   If I get lazy, I can order and Larry isn't there to mock my laziness.  No one is.  It's just me.  The scar tissue is building up.   The good memories fill me with melancholy, but don't hurt as much as they used to.   The bad memories rip me apart as I mentioned above just as much as when they were new.  I guess it'll be about managing how to deal with that going forward.
I loved him so much.   I will always be so happy we had that time together.   He was the best husband I could have asked for.
I found myself reminiscing about times pre-Larry – basically, Air Force times.  I dove into looking at Azores memories – especially as I realized that my site links to those primitive HTML pages and small-res pictures still.   Those pages were also written when I was under DADT so it felt good to actually write a little bit more with that added context gone.  I'm going to keep diving into these older pictures and keep updating, but here are some recent ones I've posted – good times had by all!
So young!   I then also was thinking about my San Antonio summer in 2001 right before I left, and the fact that I jumped out of a plane that summer!   What a trip.  I found the official video that I bought through the company as it's like, who knows if I'm doing this again?   Let's get the video!
It doesn't look like there's a previous time I posted pictures and such from that time, and I guess when I get to it, I'll do a proper post there and include this video again.   But it was too good to pass up and not show immediately.  Again, the youth of me back then, and I remember how much I hated how I looked then.   People are always so stupid about how they look – just give yourself 20 years and you'll realize how cute you were!
A random thing that I was entertained by – while I've been heavily playing the game Anno 1800 (as it is amazing and addictive), I also work in occasional playtime of The Division 2, which I've talked about before.   So, there's an expansion that puts you back in NYC, the site of TD1, but this time in the southern tip of Manhattan.  Anyway, you can wander around Battery Park and the Castle Clinton area, and I was doing that in the game when all of a sudden it looked and felt very familiar.  It's not surprising, as the videogame makers did a really good job of recreating the city, but it was particularly jarring.   Then I remembered – oh yeah, Larry and I had walked around this park one day in February 2009.   I didn't have a post about it but I did take pictures!  And I remembered a particular picture and was like, can I find that angle again in this game?  Yes, yes I can.
So here are the pictures from that day (Feb 15, 2009) so long ago – note I had just moved into the city so I was totally a local by then.
It was a nice day for that kind of a walk, and memorable.  And then I played the game, and you can take in-game photos:
Contrast with this: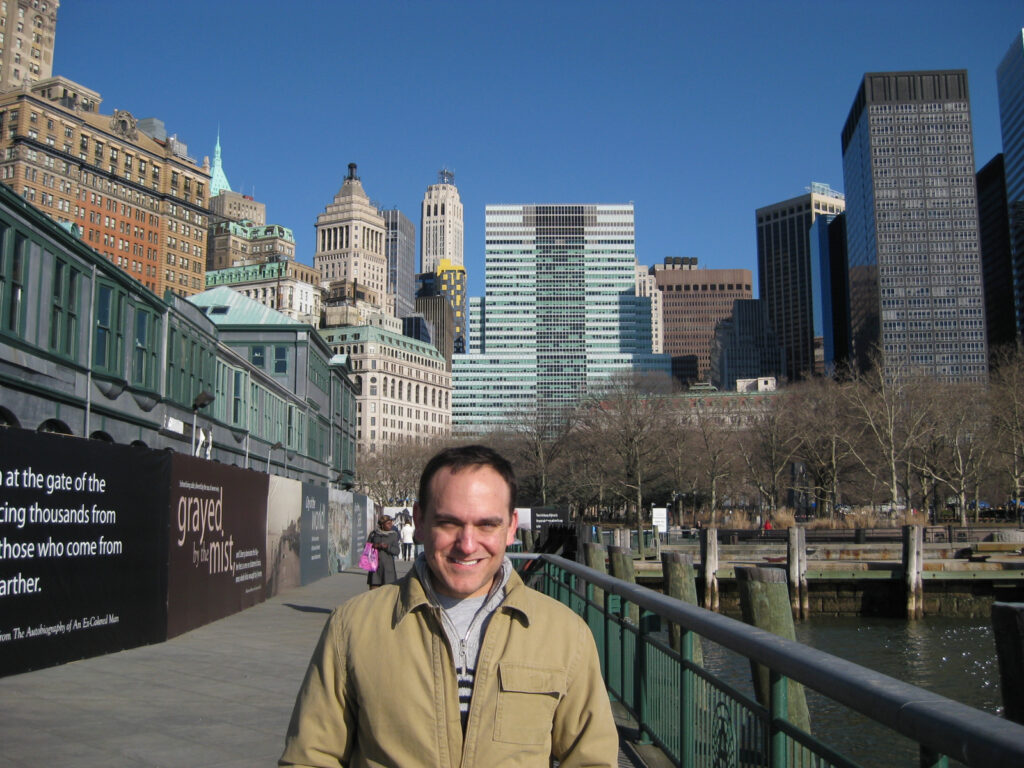 Crazy, huh?   Well, it's not insane, but I just remember tripping out realizing I'd taken pictures right there!
I've been keeping sane by still doing yoga – in fact, this was Day 96 straight of Yoga w/ Adriene.   I'm currently doing her 30-day Dedicate series, and I gotta say, it's a lot more intense than the previous programs.  I like it.
TV-wise:
Devs:  FANTASTIC.  Very visual, very interesting, and highly compelling sci-fi that while the main premise is highly improbable, everything else around felt right at home in 2020.
The Clone Wars:  Wrapped up my accelerated/targeted watch of this series and it was amazing.   The story of Ahsoka is amazing.  Obi Wan proves to be one of the more bad-ass Jedis, and I was here for it.  Made parts of the follow-up series, Rebels, much more emotional.
What We Do in the Shadows:  Season 2 is on fire, and it's honestly one of the best comedies going.  I love that crazy crew but every time Nadja speaks, I just laugh.
The Great:  Another fucking amazing show, and while it may appear that it's some kind of costume drama, oh boy you'd be wrong to overlook it.   Loosely it's the story of Catherine the Great while she's still married to her husband, the Emperor Peter (not Peter the Great, who we all agree to hate as he was the subject of my Final Jeopardy question, agreed?  HUZZAH!).   It's one of the funniest shows I've seen in quite a while, and the performances are all wonderful.  You'll love it.
Alright, this post had a lot of schizophrenia in it.   That's me lately.  Up, down, all around.   Stay safe.