Monday, Sept 12, 2016 – Paris, Day 2
<– Previously, an action-packed day in Paris seeing Notre Dame, the D'Orsay Museum, and the Eiffel Tower at night
An Early Start
So we weren't able to sleep in too much as I had booked us on a champagne day trip in Reims, which is located smack dab in the middle of Champagne Country.  But first we had to get to Reims on our own as the tour wasn't a Paris-based one.  Hence we were going to get our first experience with the SNCF trains, but even before that we had to get to Gare de L'est by taking the subway.  After we got to the train station, we had enough time to grab a quick croissant at a vendor as we knew there was going to be lots of champagne ahead of us that day and it's wise to not drink on an empty stomach.   Larry even did the ordering and used the advice of adding 'si vous plais' when doing so, as it drastically helps in getting the French to be nice.  The train ride there was very comfortable, as I had booked us in first class, and very smooth and VERY fast. Reims is quite a ways from Paris but via that train, it's only 45 minutes. I love European trains.
Getting to Reims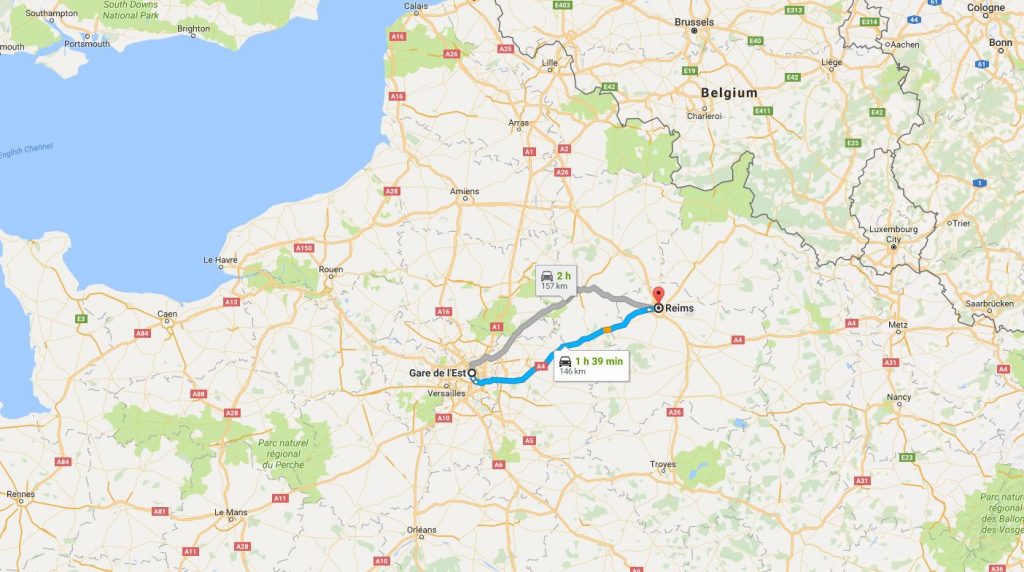 I wanted to use this map to help give you a sense of how far away we were from Paris.  By car, it takes nearly 1 3/4 hours, but our high speed train made quick work of that in 45 minutes.  Nice!
Visiting our first champagne facility: G.H. Mumms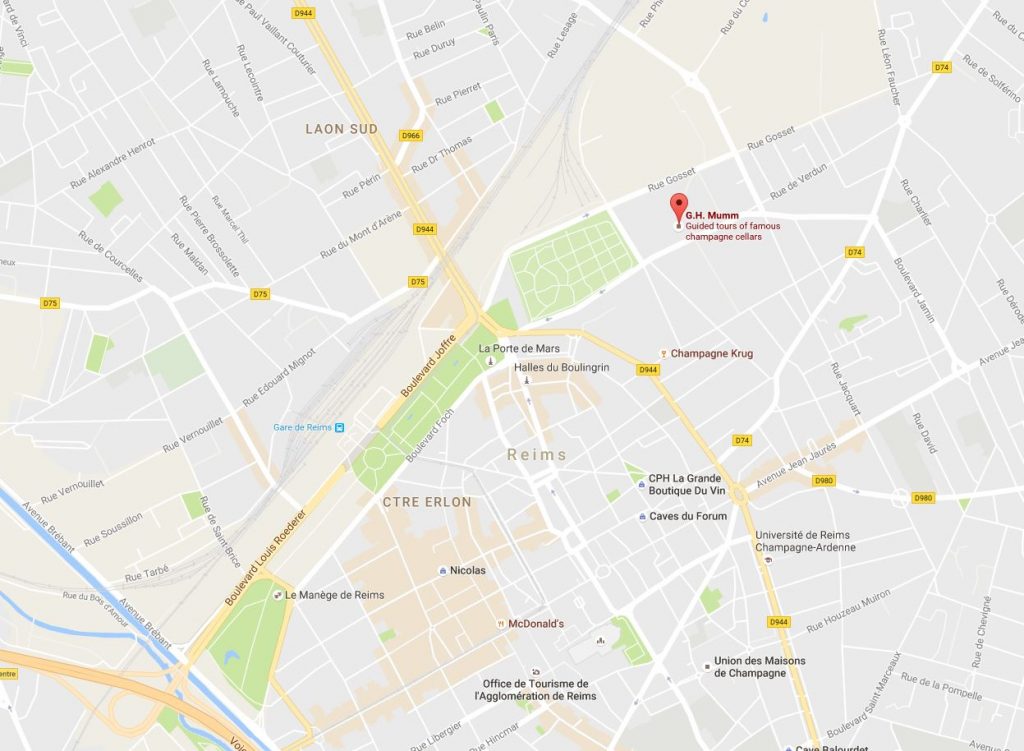 In Reims, we found our meeting point  at the tourism office and after waiting in the line there briefly, I looked back to see that our minivan group was waiting and we didn't need to wait in the line. Our seats were up in the front as we were the last to arrive and it was a crazy wide Mercedes minivan.  Our host was a cute French/Brazilian guy who was not only our driver but also the tour guide for the day.  We got a quick drive-through tour of the city of Reims first, before heading to the Mumms factory in the city.   While waiting outside the facility for our tour to begin, we all got to meet each other.  There were 3 couples in addition to us, making a total of 8 people.
Once inside Mumms, we first watched a movie of their history, but after that, we then started walking throughout the vast complex that exists underground.  We learned about the various grapes used, the various bottle sizes, and just quite a bit of how champagne is made.   Some of the things I remember, others not, but that link is helpful.  Deeper underground, we got quite a cool tour of the workings, including walking around the huge underground city that is filled with endless rows of bottles and bottles.  We got to really see in practice the part of the process in which bottles of champagne are kept stored at various inverted angles. Continue reading Visiting the Champagne Country + Moulin Rouge! →