Monday, Sept 12, 2016 – Paris, Day 2
<– Previously, an action-packed day in Paris seeing Notre Dame, the D'Orsay Museum, and the Eiffel Tower at night
An Early Start
So we weren't able to sleep in too much as I had booked us on a champagne day trip in Reims, which is located smack dab in the middle of Champagne Country.  But first we had to get to Reims on our own as the tour wasn't a Paris-based one.  Hence we were going to get our first experience with the SNCF trains, but even before that we had to get to Gare de L'est by taking the subway.  After we got to the train station, we had enough time to grab a quick croissant at a vendor as we knew there was going to be lots of champagne ahead of us that day and it's wise to not drink on an empty stomach.   Larry even did the ordering and used the advice of adding 'si vous plais' when doing so, as it drastically helps in getting the French to be nice.  The train ride there was very comfortable, as I had booked us in first class, and very smooth and VERY fast. Reims is quite a ways from Paris but via that train, it's only 45 minutes. I love European trains.
Getting to Reims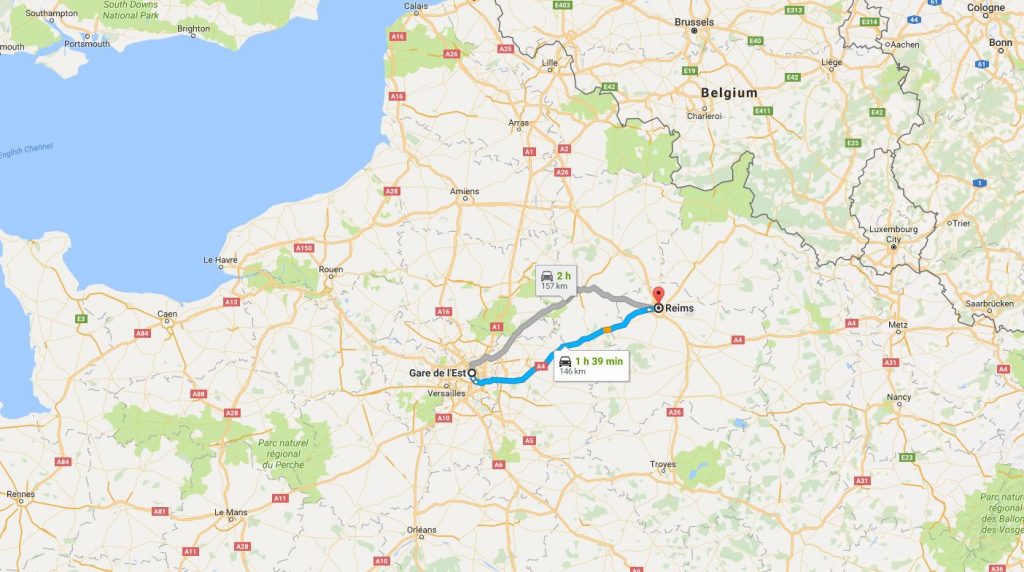 I wanted to use this map to help give you a sense of how far away we were from Paris.  By car, it takes nearly 1 3/4 hours, but our high speed train made quick work of that in 45 minutes.  Nice!
Visiting our first champagne facility: G.H. Mumms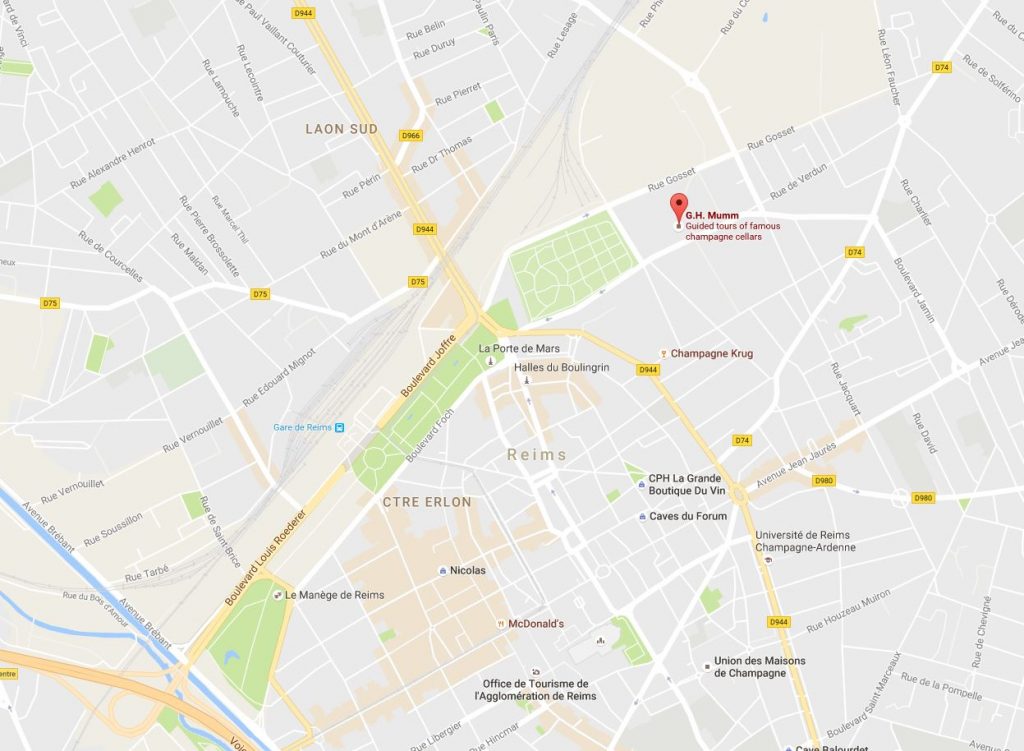 In Reims, we found our meeting point  at the tourism office and after waiting in the line there briefly, I looked back to see that our minivan group was waiting and we didn't need to wait in the line. Our seats were up in the front as we were the last to arrive and it was a crazy wide Mercedes minivan.  Our host was a cute French/Brazilian guy who was not only our driver but also the tour guide for the day.  We got a quick drive-through tour of the city of Reims first, before heading to the Mumms factory in the city.   While waiting outside the facility for our tour to begin, we all got to meet each other.  There were 3 couples in addition to us, making a total of 8 people.
Once inside Mumms, we first watched a movie of their history, but after that, we then started walking throughout the vast complex that exists underground.  We learned about the various grapes used, the various bottle sizes, and just quite a bit of how champagne is made.   Some of the things I remember, others not, but that link is helpful.  Deeper underground, we got quite a cool tour of the workings, including walking around the huge underground city that is filled with endless rows of bottles and bottles.  We got to really see in practice the part of the process in which bottles of champagne are kept stored at various inverted angles.  It's during these multi-week stretches that the champagne grit works its way to the neck of the bottle, and each phase change includes a rotation of the bottle and an increased angle.  We learned that the final part to get out the grit is to freeze the neck and knock the cap off, which then ejects the grit-ice pop out of the bottle.  Then they insert a cork finally.  Didn't actually see that process at Mumms, but in the last champagne factory we went to that day, we did!  Anyway, I swear the Amazing Race was held here in the Mumms factory once – as it would be a great place to get lost in.
Wandering the Mumms Underground Champagne Cellars
Finally, at the end of the tour, we had our first glass of champagne, of an eventual 7 for the day.
Visiting the Reims Cathedral (Notre Dame de Reims)
Before we journeyed off into the French countryside for our next champagne tour and lunch, we first stopped in Reims to visit the magnificent Reims Cathedral.  This stunning building was the site where the French Kings would be coronated – for nearly a millennia.  Isn't it crazy how brief the United States' existence really is in comparison to places in Europe and Asia?  Anyway, it was wonderful to see this quite important French historical landmark and to think it was the site where Joan of Arc insisted the Dauphin be crowned King of France during the Hundred Years War way back in the 1400s.
Off to the Champagne Countryside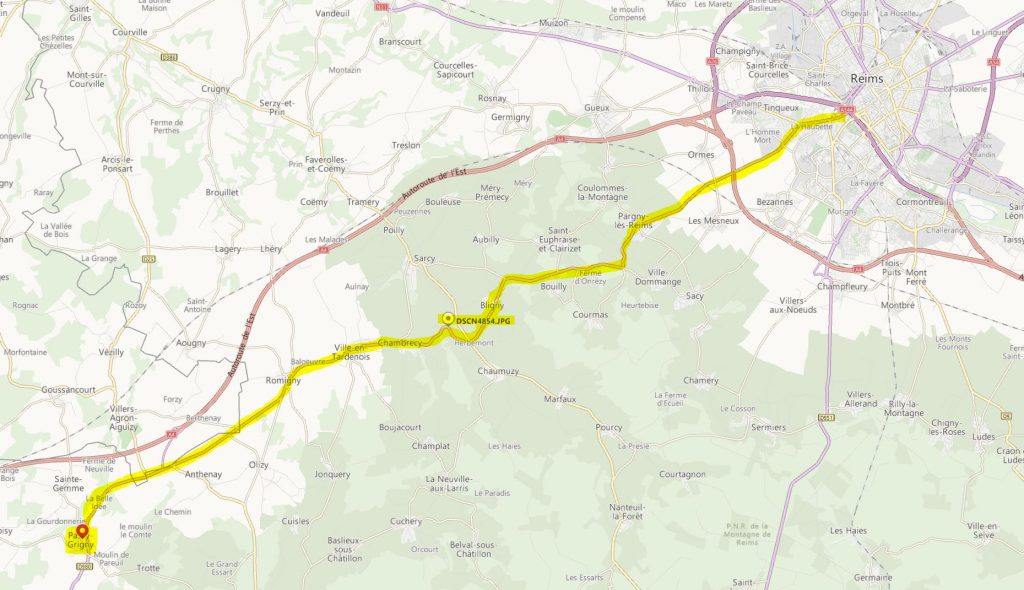 After that tour of the Reims Cathedral, we then drove out into the countryside to one of the "crus", a term for one of the 320 villages that is part of the champagne-making circuit.  On the way from Reims to Passy-Grigny, our guide stopped at a scenic point near Herbemont to not only get a closer look at vineyards but to also take in the beautiful vista.  While it was fucking hot that day as France was going an uncharacteristically warm September period, that warmth lent itself to gorgeous skies and sunshine.  It was about an hour or so drive to get to the next champagne facility, which this time was Dom Caudron.  We weren't here to take a tour of the facilities though – it was to partake in a 3-course meal along with 3 more glasses of champagne paired with the food. Oh, it was on. During the tour, we got to meet and get to know our fellow patrons, with one British couple and two other American couples, all of whom were very fun and nice.  There was a ridiculously good-looking guy in charge of the lunch though. Seriously stunning.
Our Final Champagne Stop:  Gardet
The next stop was another long, gorgeous drive through the champagne countryside to a cru called Chigny les Roses, where the final champagne cellar awaited.  This last one was the Gardet Champagne factory, and it was a great way to cap off our visits.  We did get to see again an underground city of champagne bottles under the trusty guidance of our gorgeous female host, but here we also saw the industrial side of things especially in the finishing phase.  This plant is where we saw the grit-removal step for all the bottles as well as the immediate corking and sealing of the bottle.   Pretty cool actually!  Then after that, we sat in the beautiful courtyard and drink 3 more glasses of champagne.  Best day ever.
Return to Reims, and then back to Paris
That was the end of our day trip, and we had a nice drive back into Reims where we got dropped off at the Reims train station JUST in time, around 5:05pm. We had to get some assistance buying tickets for the return journey as we weren't quite sure how to use the ticket machines and happily it was all done easily and friendly by the terminal staff. The counter staff were super nice, and while we did have to run, and run FAST, to make the 5:13, it was worth it as we were able to not have to wait around in town at all.  Once back in Paris after the 45-minute train ride, we got to walk what seemed to be the entire length of the train platform amongst every other single person from Reims, as these pictures below can show.
Back in Paris / Pics of the Hotel Room
Back in Paris, we got back to the hotel, maybe around 6:30?  It would have been relaxing to not have anything planned after that, but you know me! We had Moulin Rouge tickets for 9pm! So after getting back and changed into something a bit more presentable, we grabbed dinner at one of the cafes down the street from the hotel, with me having Coq Au Riesling and Larry having Steak Frites, along with a bottle of Riesling. You know, because we hadn't drank enough yet.
Bucket List Item:  See a Show at the Moulin Rouge!
We then took the Metro over to the Pigalle area, and walked through the bustling nightlife to get to the Moulin Rouge.  How fun that was. The Moulin Rouge was amazing. The show, Feerie, was very cheesy, but also very well done. It is interesting also how the seating works, as you sit with others at tables, much like I did at the Wintergarten theater in Berlin so many years ago. We also got another bottle of champagne. FUN. So the show at the theater though: lots of cheesy numbers with lots of exposed breasts, but happily, lots of very attractive French men. They weren't scantily clad, although occasionally their shirts were very open. Also, their costumes could be fantastically sexy, like when the main guy (very Tom Cruise-like) was dressed as a soldier on the town. Holy crap, that was hot. OF course there was a can-can number. To keep it interesting, the show also spliced in various acts, which were quite amazing. The first was a couple on skates who were very acrobatic in being able to spin and lift each other in the air. The second and third were comedians. Very funny. But yeah, quite a great spectacle, and what I imagine Jubilee at the Bally Las Vegas would be like if anyone in the US cared. 🙂  I did end up buying the official program, as I don't imagine I'll be back to see a show there.  And there are plenty of pics of the guys from the show in it too.  🙂  And alas, no pictures are technically allowed in the venue.
So after that, we made it back home (btw, the subways were so fucking hot while we were there – there was a nonsense heat wave and it just makes it miserable in the Metro system as there's no A/C, just the Windows. UGH). I was drunk and thought eating some of the chocolate cake we got from the restaurant the night before would be a good idea. WRONG. I took one bite and knew immediately I was in for it, as my allergies kicked in. I ended up taking a Benadryl as my throat got super itchy and some hives kicked in. Happily, that was the extent of it. Surprisingly, no throat swelling, which was unexpected. But yeah, not a great way to end the day. I did end up getting to sleep but certainly not the restful one I was hoping for.
Next, Off with their….Versailles tour, a wonderful dinner, and a nighttime river cruise on the Seine! –>
Honeymoon Picture Pages: