Just going to get some stuff down – of course I write this thinking it'll be brief, but you know me.
New Toy Alert!  I bought a Nintendo Wii U last weekend because this year's E3 kinda convinced me to, so why not?  I'm excited for a lot of stuff in the future, but there's a whole lot out now that I'm wanting to play.  Most specifically was the Zelda Wind Waker HD remake for the Wii U, but there's other games too that have proven to be a lot of fun. The Wii U Gamepad itself is a pretty slick piece of hardware and adds a lot of functionality to games that take advantage of it.  Also, Nintendo in HD is pretty damn cool.
Blog Alert!  Big Brother's next season (16, I believe), starts this week!  It's a 3x a week kind of show, so I'm going to have to see if I can prevent this ol' blog of mine from getting ridiculously overwhelmed by it.  But if the past behavior informs future, well, I'll do my best not to be TOO annoying about it.
Movie Reviews Alert!
We saw two movies this past week.  Crazy, right?  First up is How to Train Your Dragon 2.  Saw it at the AMC Universal on Wednesday after work, and it was a lot of fun.  The first in this series was a fantastic and thrilling animated movie and they've managed to create a very good follow-up.  In this one, Hiccup (the lead of the movie) is now mostly grown and his village is entirely acclimated to co-existing with dragons.  As he and his awesome dragon, Toothless, are out exploring the realms now that they can fly everywhere, they find themselves not only with a dangerous dragon tamer bent on conquering the world with dragons under his sway but also finding Hiccup's long-lost and presumed-dead mother.  Surprise!  It's a wonderful movie and in IMAX 3D, the flying sequences are nothing less than a thrill ride.  It's a great time at the movies.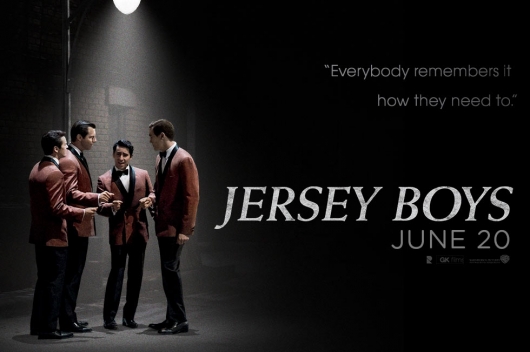 Jersey Boys we went and saw yesterday, along with my mom.  We went over to Americana in Glendale and caught it in a half-filled theater, which is probably not what the studio wanted to see in terms of returns.  It's a surprise that it's not doing well, but also, it's not.  Why?  You'd think it would be doing well because it's based off of the mammothly-successful Broadway show, Jersey Boys, which Larry & I finally saw in Vegas last month.  The Broadway show is phenomenal and while a jukebox musical, still very very unique in the way it tells the story and extremely entertaining.  The movie version?  It's got a few great spots here and there, but man, it's kind of a letdown when compared to the Broadway version.  First, I really don't think Clint Eastwood was a good call as a director.  He seemed to have made a choice to play this story as straight as possible while also keeping some of the Broadway stuff, like talking to the audience.  It makes for a strange way to do a movie.  The musical numbers are certainly fun, at times, but this movie was filmed in a greyish tint to make you feel like it's the 50s and 60s, but it really makes the movie feel dreary.  The first half is almost a slog to get through.  The latter half is a lot better when we finally get into the full Four Seasons and Frankie Valli stuff, and the ending montage over the credits are a lot of fun.  But to me, if I had directed the movie and kept the "story parts" in that greyed-out tone, whenever they'd have done the songs, I'd have made the experience pop.  Go full vivid colors, or change up the art direction so that you knew that when the music was on, this was something special.  Anyway, this option is certainly cheaper than buying Broadway tickets, but if you were to ask me, I'd say it's worth it to see the show.
My Summer Movie Rankings, Thus Far! (as of June 22, 2014)
X-Men: Days of Future Past
How to Train Your Dragon 2
Godzilla
Edge of Tomorrow
A Million Ways to Die in the West
Jersey Boys

Hollywood Bowl, here we come!  Yeah, this is the first of the official shows that Larry & I got tickets thru Mila for.  Tonight is Janelle Monáe, who is a fantastic pop/hip-hop performer.  I can't really explain her music, but that it's a lot of upbeat, fun stuff that sounds utterly unique and interesting.  Ugh, I don't know.  Find a track online and give it a listen – I'd suggest "Dance Apocalyptic" or "Q.U.E.E.N." as those are my favorites.  I'll post pictures tomorrow.
Lastly, I am annoyed as all hell at myself for letting June fall apart with respect to my blogging.  Posting once a day has been a big bust this month.  My only defense?  This has been a horrible fucking month, for the most part.  There've been plenty of good points, but they don't outweigh the negative.  Not by a longshot.