Today was a hiking day!  The weather in Los Angeles is still unbelievably nice and comfortably 70 degrees so the hiking group was out and about, this time over on the eastern side of Griffith Park.  The hike was nowhere near as challenging as something like the Wisdom Tree Hike we did a few weeks back, but it certainly didn't lack for strenuousness as it was a lot of constant incline.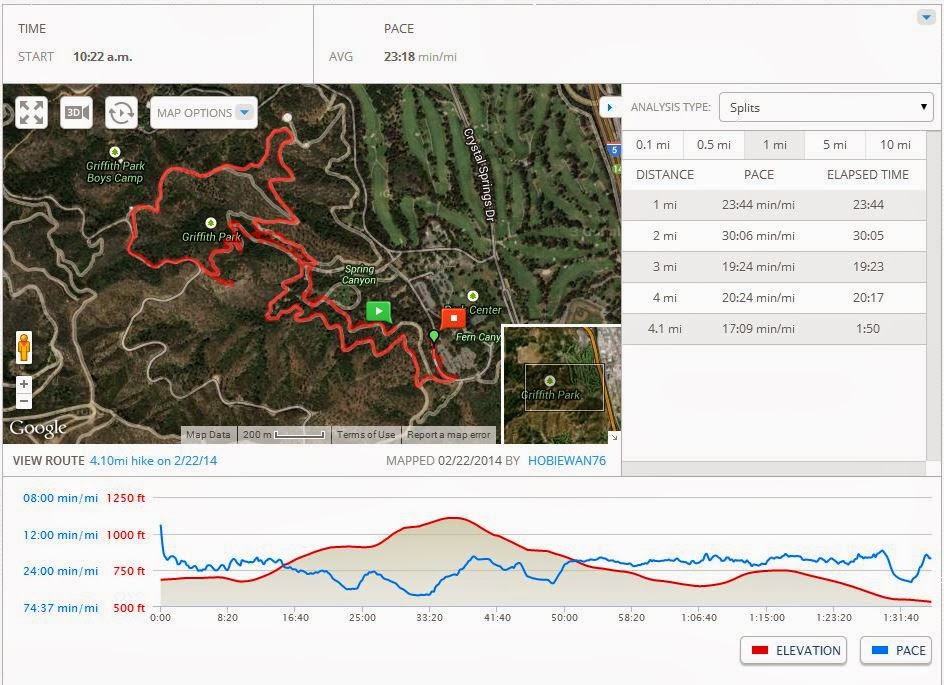 As you may be able to see, I kinda forgot to start the app once again at the true beginning, but I caught most of it and probably lost about a quarter of a mile of hiking.  It was a nice hike though and while the view wasn't as dramatic as Wisdom Tree, it still was a very clear view of Glendale and certainly was just nice to get out and about.  So here are some pics….
February 22, 2014 – Griffith Park Hike
After that morning fun, we all headed out to visit a great taco place over on the other side of Glendale.  Unfortunately for Nicki, Brian and Kevin, they somehow made a wrong turn somewhere and ended up in a vortex of terrible Saturday traffic.  We never saw them again.  But Larry, Rob and I made it and had some ridiculously good tacos at a little place called Taco Azteca.  YUM.  After saying goodbye to Rob, it was time for a trip to Target where of course we didn't get out of there without spending hundreds.  Damn you, Target!
Now, it's evening and almost time for dinner.  Think it's time to watch some more Oscar-nominated movies.  We'll see how that goes…