Today is the last day of my Christmas vacation.  WTF?  How did this happen so damn fast?  I guess it really wasn't all that fast, but it did feel like it as not much really of note happened last week while off from work.  But that was nice at the same time.  I got our tree down and stored away, a much-needed haircut, my ride around on the Gold Line…then we had New Year's and it was nice and uneventful, in a good way, but then all of a sudden it was this weekend and damn, here we are.  Yesterday was actually a great and productive day, especially with regards to the wedding.  Not only was cake ordered, but we also made a decision on the officiant.  That's a huge relief and I think it'll be a good choice for the ceremony we want to have.  It'll be somewhat Jewish in nature, but not really super religious in nature.  It's also the rabbi who performed Fran and Joel's wedding, and that was a fantastic ceremony.  And I also played plenty of video games, finishing up Assassin's Creed: Syndicate and its Jack the Ripper DLC, while also starting Hacknet (finishing that) and Undertale (in progress still).
Anyway, that brings us to today!
First, Larry was going off to run the bike trail by the LA River and Griffith Park, so I joined him – thanks FitBit Guilt.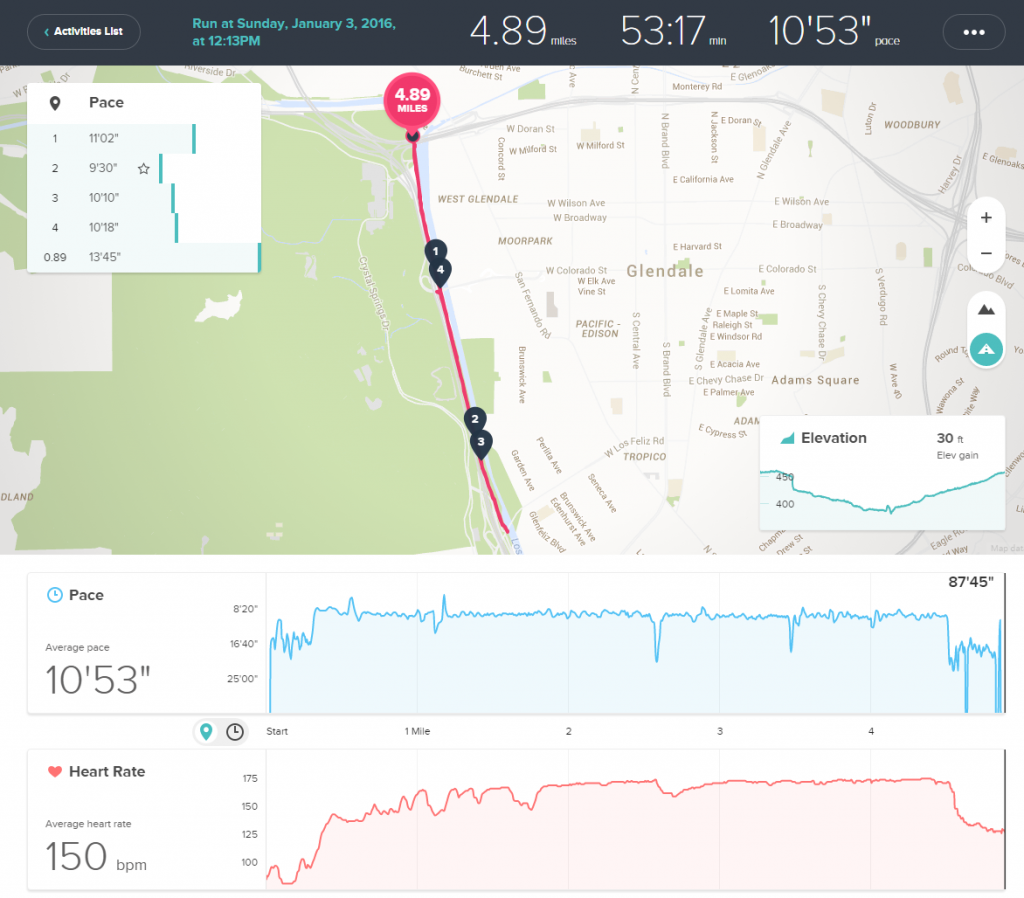 It's a nice and flat run, which is much appreciated.  You run along both the LA River and the 5 Freeway, which is kind of interesting.  I made it down to the Los Feliz bridge, where I turned around and ran back.  I can see that my heart rate is getting pretty high in these runs which motivates me more to get in better condition.  But I'm happy to be able to have the endurance in me still to do a 4.5 mile run.
After that run, I pretty much stopped being productive.  It was an afternoon of movies.  I ended up satiating my celebrity crush fixation on Chris Evans (aka Captain America) by watching both of the Captain America movies.
These are by far my most favorite of the Marvel Avengers movies.  By far….
…for reasons, obviously.  Also, because they are just far more interesting characters and movies.  Totally unbiased opinion though.
Then after that, Larry asked about watching The Towering Inferno – as we had actually watched The Poseidon Adventure on Friday.  Talk about some retro disaster movie fun!  We fit in San Andreas yesterday too (I still enjoy that movie but some of the motivations for the characters there really are bothersome – but the special effects are insane!).  So watching The Towering Inferno sucks up a whole 3 hours.  Poseidon Adventure is certainly the better movie.  Much better characters helps make it a more enjoyable movie.  I still don't get what Irwin Allen had against some of the characters – he kills off extremely likable people in both, while letting characters like Nonnie the catatonic lounge singer skate by while being a hindrance to others.  But anyway.
Off to work tomorrow.  No break in sight for a quite a few months – honestly, probably not until the wedding time.  Ugh. I will be off to NYC and Philly this week too.  Exciting times!