Yep, less than 8 months away from my transition to being a Civilian. Yikes!
So today was the first day back to work, and my motivation level was at an all time low. Okay, I take that all-time-low business back. But it certainly was hard to try to care about the job. But you know I did, anyways!
So what's there to talk about? Not much – my previous 5-day New Years weekend pretty much blew. BORING. So in a weird, masochistic way, I actually was looking forward to going back to work, for at least the social interaction aspect of it.
But I did have to check in, see how you all were, and share with you an observation I made while having cereal this weekend. I went and splurged and bought Cocoa Krispies – I don't allow myself the Krispies too much, as it really isn't that great for you as a breakfast, but sometimes, Hobie gets what Hobie wants. So into the shopping cart it went. Anyways (none of those first two sentences really help set up the observation…sorry) I was blissfully having my 4th bowl of Cocoa Krispies (perhaps THAT's why it's not really all that healthy for me…?) and I begin to actually look at Monsieurs Snap, Crackle and Pop on the front of the box. And I actually look at their faces and what Snap and Crackle (in particular) look like they're doing. I nearly spit out the cereal because I started laughing so hard. Here's the front of the box – you take a look: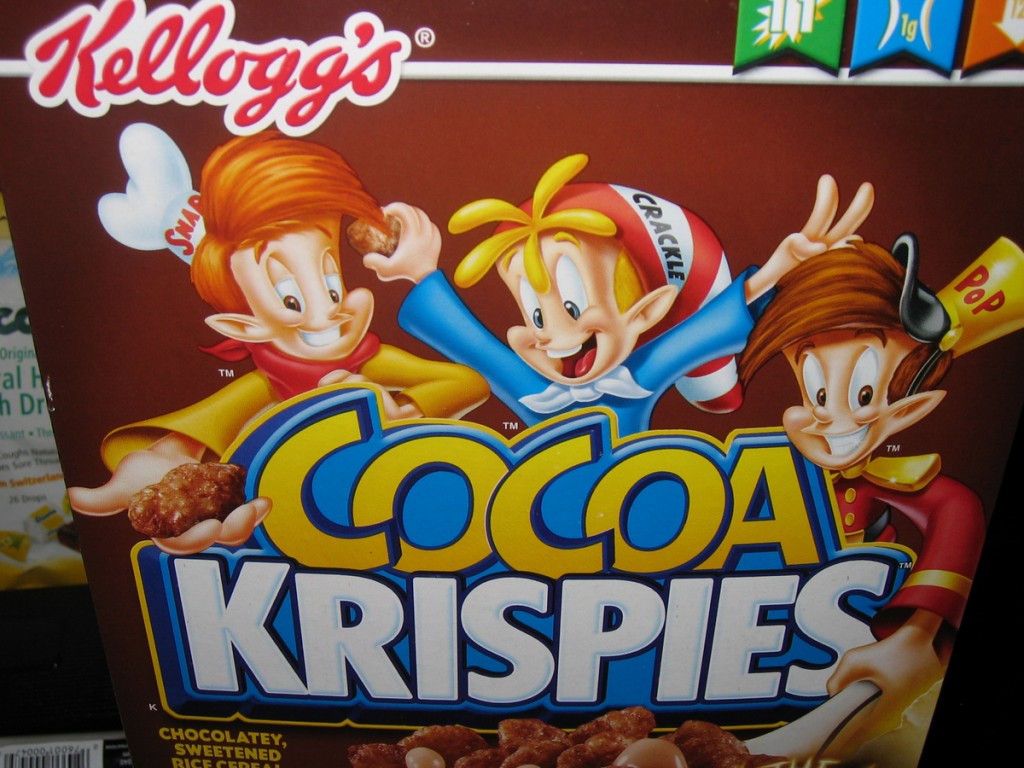 Take a moment.
Okay, here's what I see: Snap looks like he's holding a piece of shit in his hand. Look at his face. He seriously looks like he can't believe he's holding a piece of crap in his hand. And good ol' Crackle there is the exact opposite – he literally looks like he's reveling in the whole Shit experience – he's cheering Snap on & holding his own piece of crap right near Snap's head. What a dick. And so twisted. Anyways, I didn't let this observation ruin my Cocoa Krispies. They're so damn tasty and addictive. But I did have to turn the box around because it was just so damned disturbing.
Anyways, that's my observation for the day. Just had to share. Now I can throw that damn box out!
Oh yeah, I got an email from Amazon.com today – I had signed up to be alerted by email when Twin Peaks: Season 2 was finally available for purchase or pre-order. And finally, day of days, Season 2 has a sales date – April 10, 2007! It's only taken say…6 years for Season 2 to come out after Season 1 came out on DVD. REEEEEDiculous.