Last night we drove down to DTLA to meet up with Fran & Joel as they're out here for a banking convention.  We've not seen them since our engagement and Fran hasn't seen Larry even when he got sick, so it was good that we all got a chance to see each other.  Not that Larry is doing bad, in fact, he's doing pretty great.  Just can't drink for now.  🙁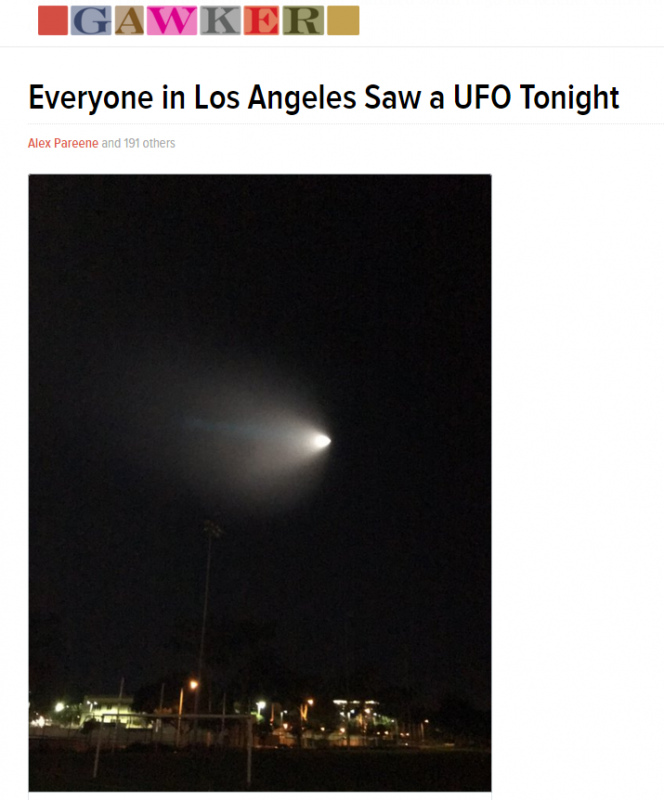 Anyway, did you hear the story about the Trident missile that got test-launched over Los Angeles?  I was one of the many many people last night who did see that while we were driving down in to the city and believe me, I really didn't know what the hell I was seeing.  It was kinda surreal as to me, it looked like a spotlight from a hovering aircraft, but you couldn't see the aircraft.  I almost thought maybe a blimp's searchlight was what I was seeing, but I did actually see the blimp that was hovering over the Coliseum for the USC game, so I knew that wasn't it.  I didn't think much more of it after it disappeared and then when I looked at my phone later, my NBC4LA app headline briefly talked about residents seeing weird lights in the sky, and I realized I wasn't crazy!  While the rational side of me can appreciate the story of it being a missile test-launch to remind other countries we also have long-range ballistic missiles, I also like the idea that it was a UFO checking out the lights of DTLA.  As you can see below, they're pretty!
2015 11 07 – Driving Downtown at Night
Dinner at Public School with Fran & Joel
More Shots of the Oviatt
Fran & Joel were up for some walking, so we walked from their hotel at the JW Marriott to Public School for dinner, then from there, it was just a few blocks over to the Oviatt.  We couldn't go up top, but we did want to show them what it looked like.  It's pretty cool at the bottom at night all lit up.