The last two weeks or so have been more of the same while staying 'safe at home'.  If it's Monday through Friday, I'll get up, I'll get myself going and do yoga with Adriene (as of now, it's been 56 days straight – go me).  Shower, then breakfast, and then I'll head downstairs (I honestly thought the word 'downtown' in my head while typing, lol right – I honestly wonder when I'll see downtown again) and get to work at my desk.   I'm happy that I did make my desk a standing desk via the on-desk Flexispot thing I bought and put on it late last year: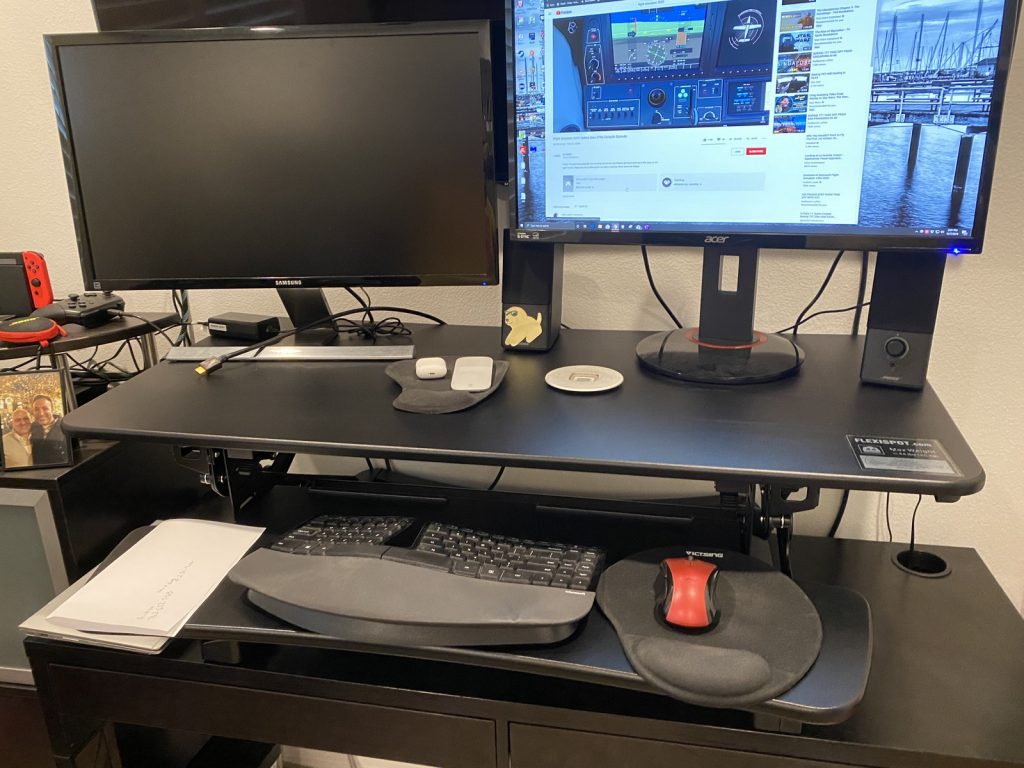 I'm using a webcam to then dial in to any meetings that we have, as that is now basically kind of our default way to do meetings, which is using video.  Before this, video calls were never really part of the paradigm and it was just voice and maybe sharing your screen.   Anyway, I'll then continue that until around lunchtime, and by now I've kind of gotten into a rhythm of ordering a big family meal of El Pollo Loco, and then spread that out through the week.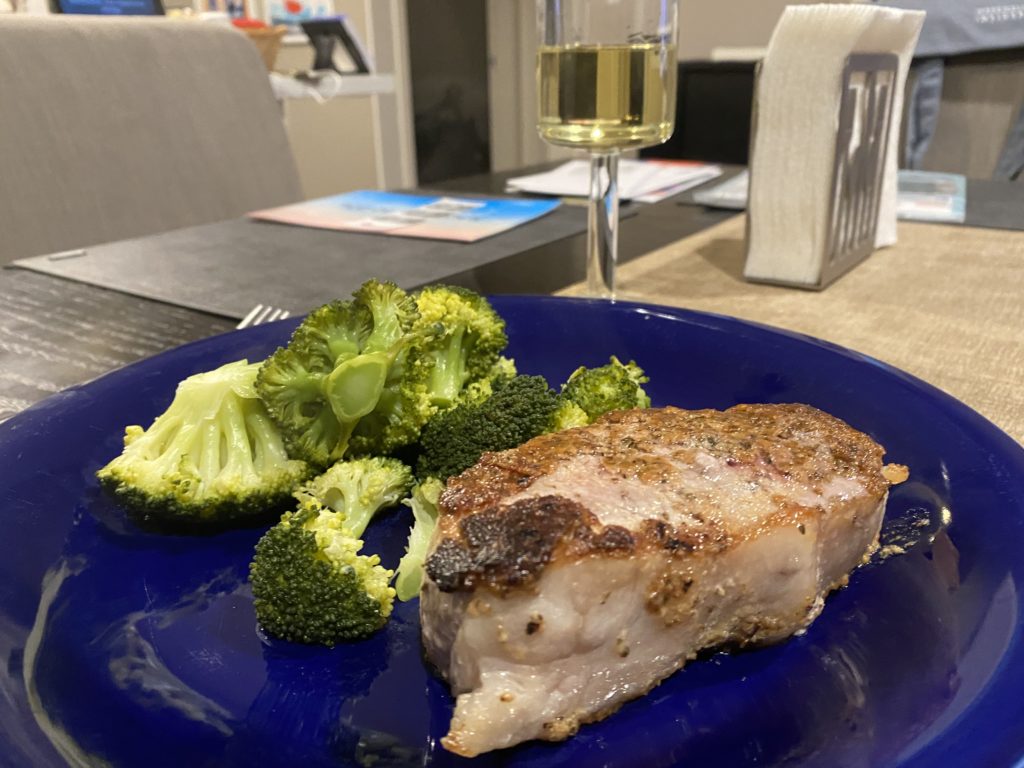 Then back to work until 5:30 or so, and then the excitement begins as now I can relax at home.   Home, which I haven't left except for small things for nearly a month.  If I'm not ordering food in, I'll probably make my chicken-rice-beans or broccoli combo, or if I have a particular meat in mind, I might grill that up.  It's good.   The image above is how my pork chop turned out – it was spectacular (I even used Larry's cast iron skillet to do it – intermediate level skills there).
Lately for fun, I've been continuing to rewatch Twin Peaks, as I've mentioned multiple times previously.  I'm right now right at the penultimate episode of Season 2, right before the crazy 2-hour season finale (now season instead of series!).   Or I may watch a Marvel movie in my rewatch – I just watched Age of Ultron this morning and that movie still is a slog.  Some fun stuff in it, but it's just a big meh.  Or I play video games, and honestly, that's a huge part of my time lately, as it just lets me get lost in something else besides crying over Larry, whether it's thinking about missing him, thinking about him dying, thinking about if I'll ever have another relationship again, thinking about if he loved me, thinking about if he's watching me somehow (it sometimes feels like it when I dream and he's there – this morning I dreamt I had come home and while trying to turn the alarm off, realized it was off already because he was there.   I didn't think of him as dead, so I was in a rush and he told he had to talk to me, but I was in the middle of something and that I'd get right back to him in a sec but of course I woke up.  Fun.).  Anyway, some video games have helped me tune the world out.
The latest game is Final Fantasy VII Remake. It's a thrilling remake (I know, I know, that's in the title) of the classic 1997 Playstation game that got everyone in the US excited over RPGs – Final Fantasy VII.  Indeed, I was amongst that group of folks who had our minds blown when playing this game – my UCLA roommates Ryan and Rolondo and I played this that year, and it was a blast.  I've replayed it throughout the years, but I don't think I ever finished the whole thing again as well, it's a lot.  But since 1997, there's been talk of getting a remaster or a graphical update of this classic game whenever new video game hardware emerges, and every time, it's always a no-show.   But in 2015, it was formally announced, and by golly, in 2020, we got it.   And hot damn, it's amazing.   The early news back in 2018/2019 was the game would be episodic, and the first game is set only in Midgar.   That riled up a lot of people as episodic games can sometimes leave a lot to be desired.   And Midgar's opening 5-6 hours in the original game are literally just an intro, as the whole world opens up to you after it.  And now this whole first game in the Remake is only there?   Potential concern – but the final product has shut my whore mouth.   It's fantastic – the graphics are spectacular, there's voice acting now, and the city of Midgar is immense.   A whole lot has been added to the game and it's all been entertaining.   My first few hours though were spent gawking at the completely stunning and HAWT side-character named Biggs who is just….dayum…..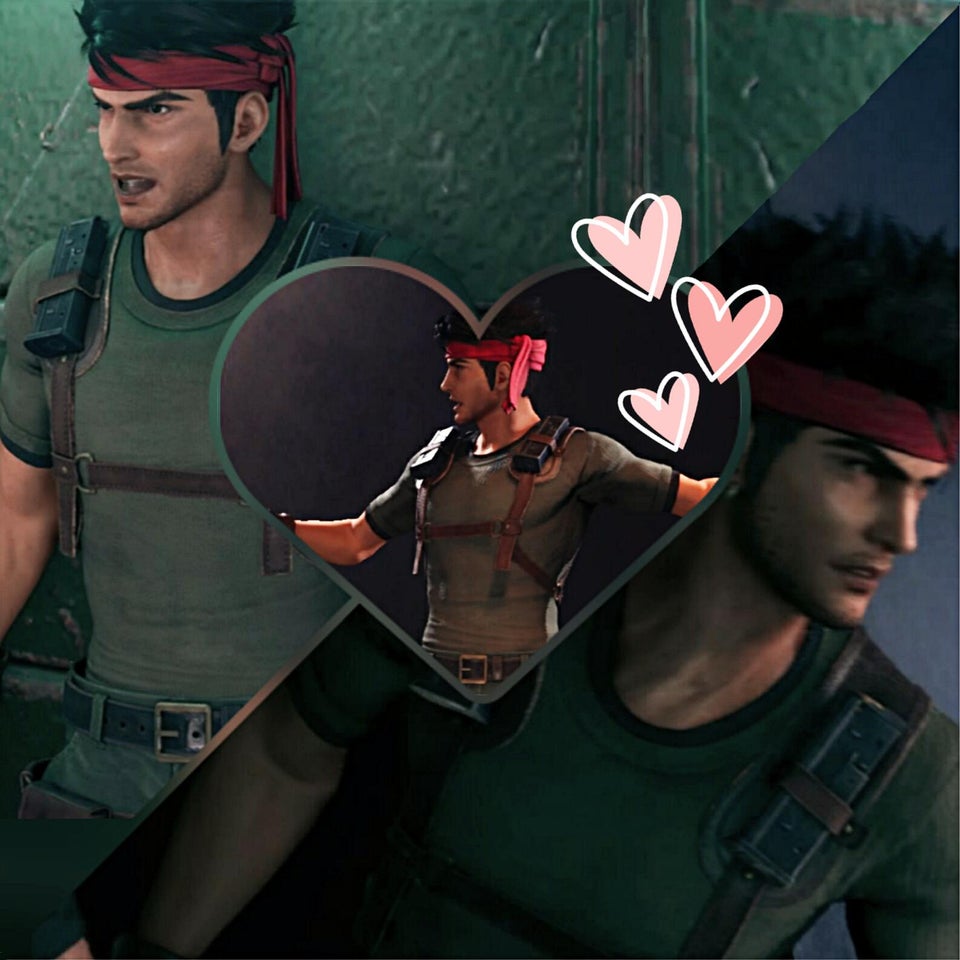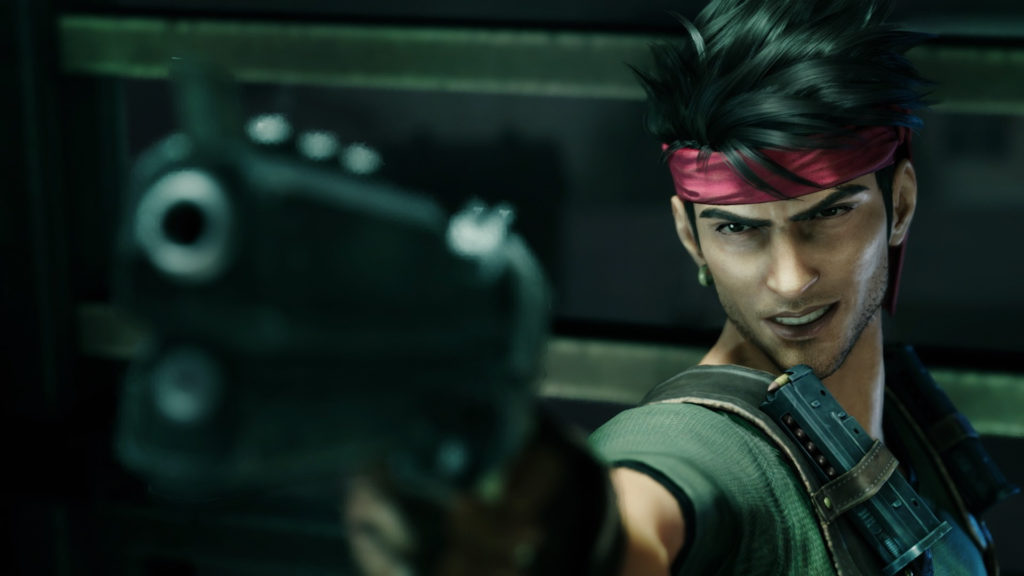 I didn't make this image but it captures my feelings completely – thanks, Reddit.  Biggs' looks and his voice performance are all so damn sexy, and honestly, this whole game is overtly horny and honestly, I'm here for it.  But yeah, Biggs.   Nice.
Anyway, I'm loving playing this game for just the fun of it and for the escapism.   I've continued getting through the end-game-ish stuff of The Division 2 as well.   I'm done with the main campaign (although they keep re-invading Washington DC and it's annoying) so I now am playing the add-on episode content (National Zoo, Pentagon, Coney Island) and I'll then get to the New York City expansion (which is where The Division 1 was set).   After that, I think I'll be content to move on to other games.   Anno 2205 is also a background play for me when I need to zone out (you get to build on the moon, ffs!) as is No Man's Sky (in VR this game truly is just spectacular; in non-VR it's another addictive, zen game).
So yeah, that's my life.   I chat with my friends over text and WhatsApp, we have occasional video calls, and it's just who knows where this all goes.   I'm tired of it, but the alternative isn't that great without treatment or a vaccine.   So yeah, great year 2020 is.   We manage to have birthday celebrations via Zoom video chat – earlier in April was Paras' birthday, and it was fun, but it sucks that 2020 will be a do-over year. 
I bought a new Dyson vacuum as I wanted a cordless one so that I didn't have to schlep the canister one I also have up and down the staircases.   I went all out on it and got the latest, nicest one, and I gotta say it's pretty fantastic:
It even came with its own stand and a couple of attachments.   I also bought a film negative scanner that I will use to go through a lot of my old pictures as what else do I have to do?   And while I do love the Google Photo Scan app for a quick way to effectively take a picture of a picture, actual scanning of the negative will get really good quality.  That should come this week.
Some fun stuff is coming up – wine.com has virtual video wine tastings and the first one I signed up for (along with some coworkers and friends who I sent the invite to) is Tuesday – to taste a French Pinot Noir and a California Pinot Noir.   Wine is also what gets me through the day.  So there we are.  Other than that, no pictures I took are worth showing as it's just sunsets and looking outside.  I look like hell, and what's the point anyway.