Episode 3: July 18, 2012
Power of Veto Winner: Shane
Veto Used?  Nope
In the aftermath of Willie nominating his bro Frank as well as Kara, it was made perfectly clear to Boogie and Dan that the blondes were neither stupid or to be underestimated. Boogie had the amusing observation that Britney and Janelle were basically also-rans from their seasons and that Dan only won because he played against a bunch of newbies. Ha! Like he has any foot to stand on- he won his season solely on the chill town alliance and that succeeded nearly entirely because of Dr Will and the fact that Erica's a complete idiot. Janelle and Britney are amazing competitors and if Boogie thinks they will fall for either his "charms" or that he can run circles around them strategically, he didn't pay attention.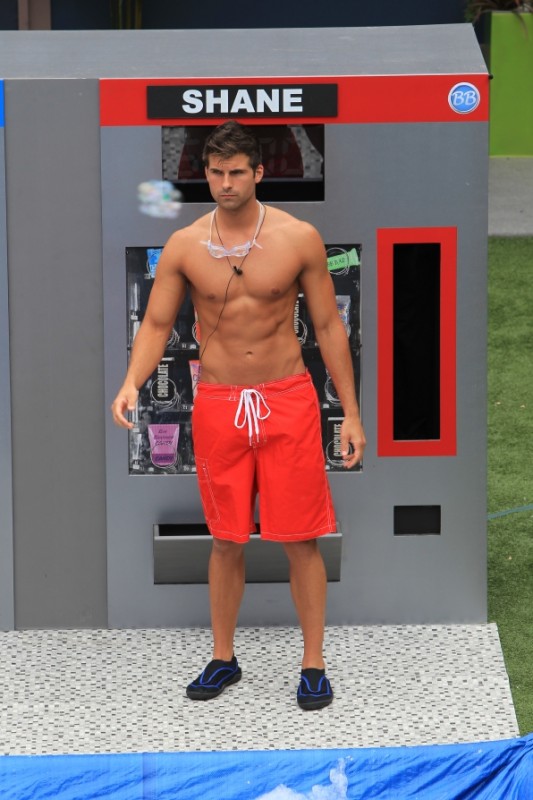 Anyway, Willie and Frank have chats, basically indicating that if only Frank wasn't associated with Boogie, he'd go all the way with him to the final 2! Yeah, sure. Kara is off being sad and Dan does his best to improve the situation, yet let's be real here, he's holding a losing hand. Dan realizes he now has to compete against Boogie basically, but still wants to team up with him for the long game….until of course, Boogie opens his mouth!
Yeah, when Boogie decides to overwhelm/intimidate Britney with strategy, it blows up in his face. First, he threatens Britney that she will face his wrath if the Veto is used and one of Janelle's members isn't put up instead. Britney remains unimpressed. Britney laughingly runs to Janelle with this threat and immediately afterward, Boogie proposes to Janelle that they should team up and go after Dan. No sooner does THAT scheme get concocted does Janelle run to Dan with that. Now everyone knows Boogie is a piece of shit. Janelle flat out declares she hates him…not looking good for the Chilltown member!
Veto time! So now it's time to see if someone can win the PoV and save themselves from elimination. The competition involves the six contestants having to run through a laundry wasteland, searching for oversize coins and then try to toss exactly $1.30 worth of them into a giant slot. Ha, I said slot. Anyway, the first to do this wins veto. Frank gets really really close to finishing first, but hotness Shane pulls the win out a split second before Willie finishes.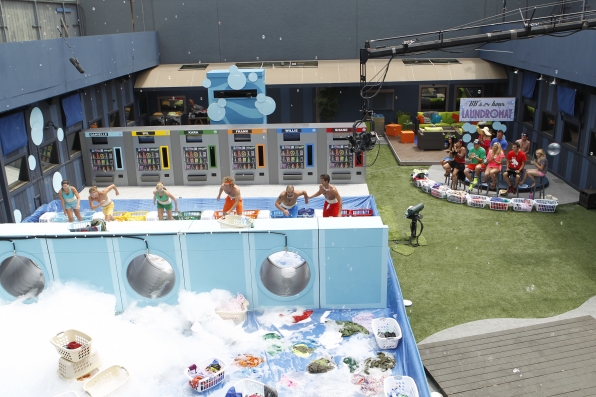 We are treated to lots of proposed deals by the victims, and even Shane realizes he has to think long term. I can't disagree with that strategy to be honest, as it's the houseguests who are up for the $500k prize, not the coaches. I also think that the coach element has forced alliances into the mix that may never have occurred otherwise. That is one big thing that has been a huge difference from past seasons – the initial alliance search and eventual crumbling (unless you are a member of the Brigade which bucked the odds and remained true the entire season two years ago) isn't going to happen as the players are just pawns for the coaches. Unfortunate in a way, but I like the change up too.
Shane isn't a total himbo though as he goes through with his coach's plan and keeps the nominations the same. Not really a surprise, and definitely ensures that the mens teams will be down in numbers after the elimination tonight. If Janelle and Britney can keep their shit together, they can last quite a while before having to turn on each other. I just wonder if they will panic or get paranoid too soon.
Here's the gameboard as of this episode, with Green = HoH, Yellow = Nominated, Orange = Veto Holder, and Grey = Evicted:
Coach
HG
Comments

Britney
Shane – Got the power of Veto this episode and showed that he was willing to wheel and deal. Perhaps there is game here. Still hot yet still douchey.
Willie – Definitely has Boogie on his radar!
JoJo – Well aware that she is on a kick ass team. Hope she doesn't fuck it up!

Mike Boogie
Frank – I am fairly certain he's going home tonight. He's way too big a threat at this point.
Ian – Seemed to mellow out after his Episode 2 nuttiness.
Jenn – Lesbian Rocker chick didn't get much to do in Ep 3. Not sure if she realizes her coach is becoming Public Enemy #1

Janelle
Wil – Not only a great head of hair, but as the challenge showed, pretty hot body too.
Ashley – Not really sure where her head is at now, but I think she'll happily keep working with Janelle.
Joe – Like Jenn, not much about Joe this episode.

Dan
Danielle – She and Kara are teaming up to come across as total non-threats. We'll see if that strategy works out.
Kara – Really put the flirt on with Shane, who seems all too happy and willing to have a showmance with one of the hot girls. Guess he's not secretly gay. I think she's safe tonight.
Jodi – Still gone. I knew a woman named Jodie a few decades ago. She was awesome.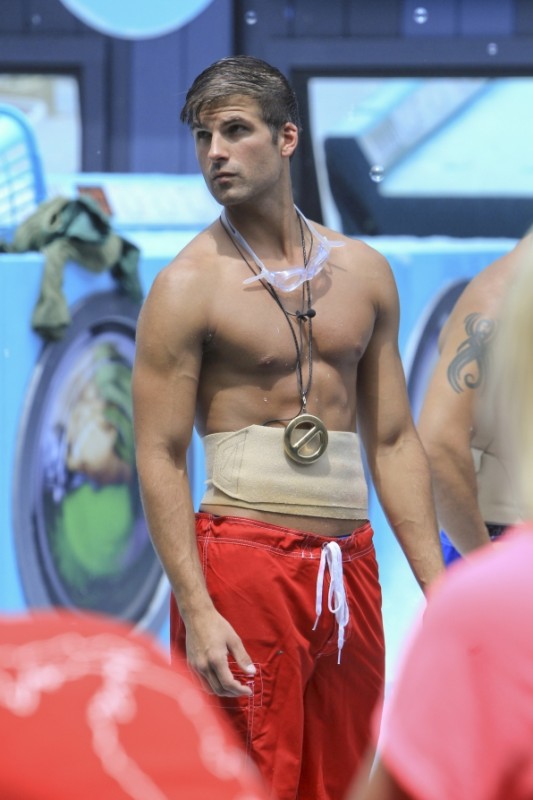 And you know what, since CBS posted it online, I might as well put up this second picture of Shane being hot, because, why not?